Functional, luxurious bathrooms in Modesto, Turlock, Tracy, And More Of Central-Valley & Tri-Valley, CA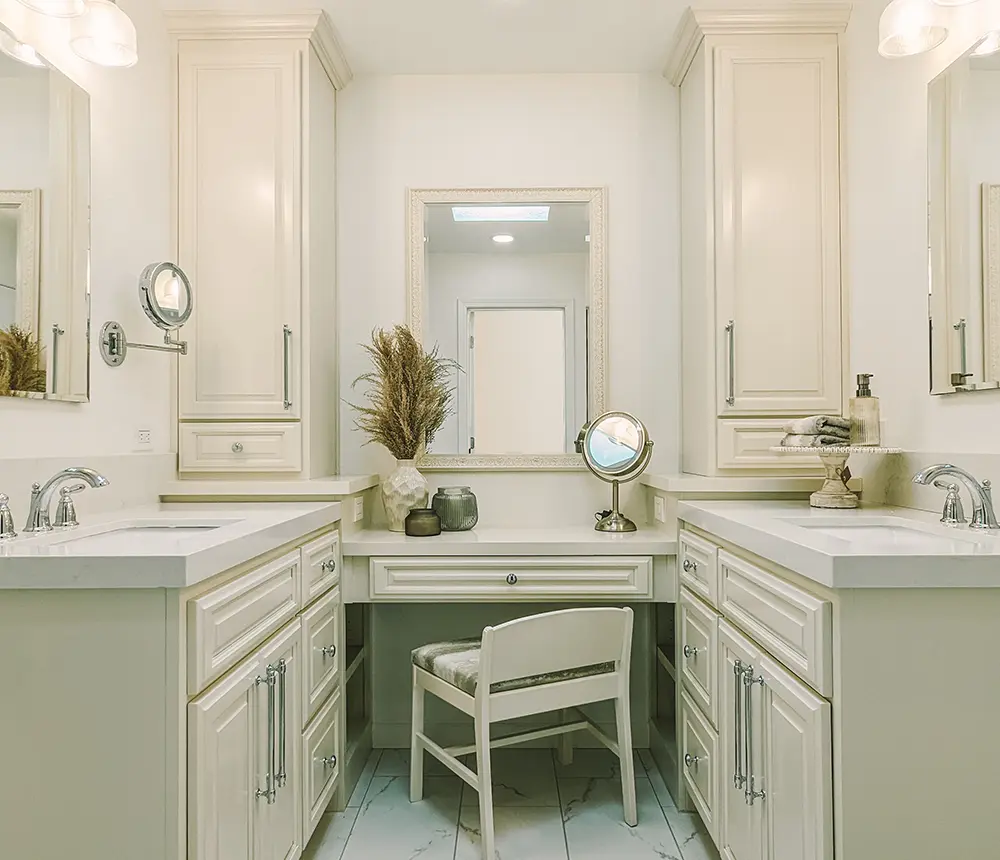 Scroll to discover options, process, and pricing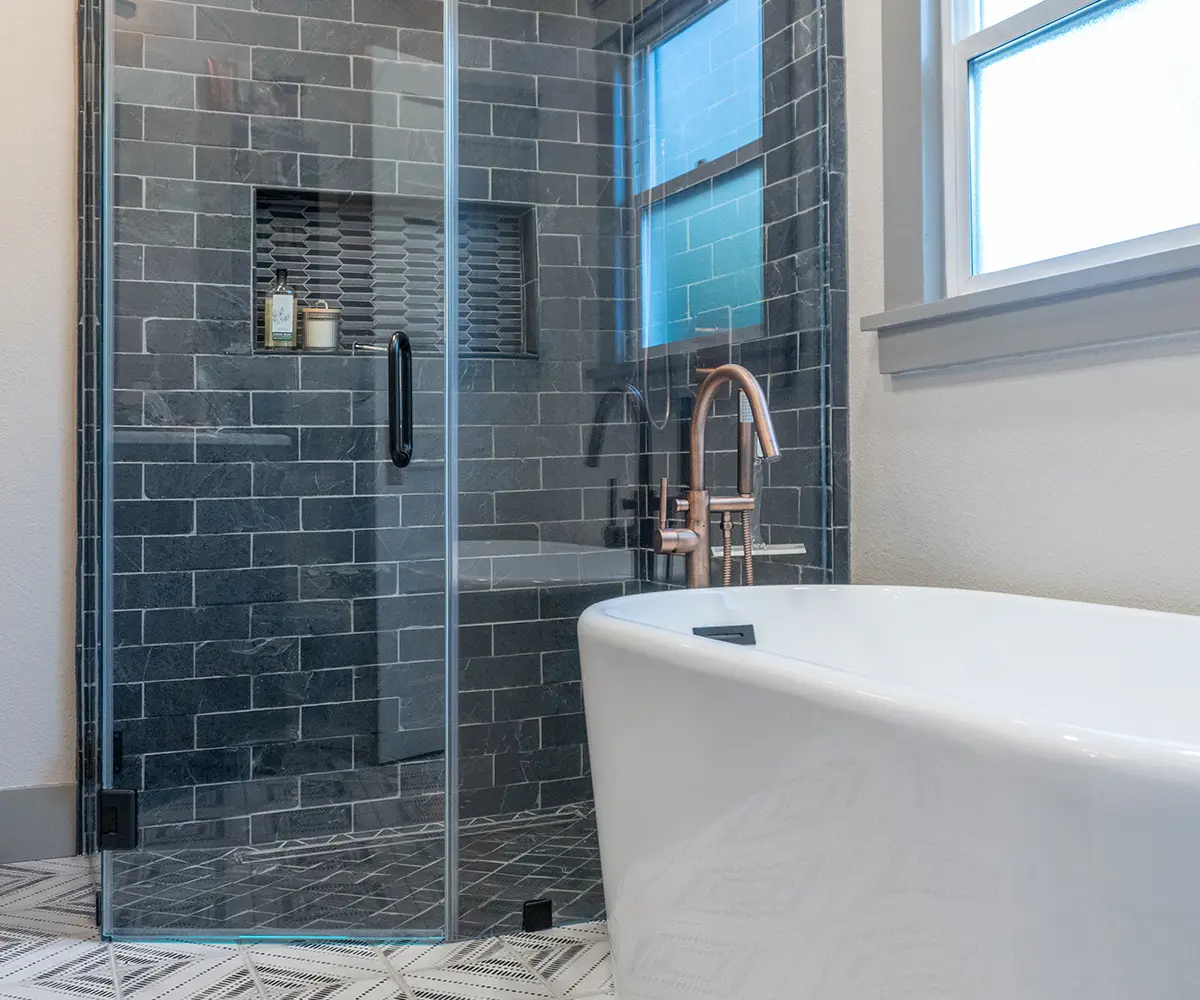 Start And Finish Your Day In The Most Comfortable Way
Whether you're taking a relaxing bath or just brushing your teeth, your bathroom should be a place where you can relax and feel at ease.
With a bathroom remodel, you can have a space where technology blends seamlessly with accessibility and style. Embrace the beginning and ending of each day in a bathroom that's refreshing in every way.
Enjoy a design-inspired bathroom with tailored upgrades:
This Is What Your New Bathroom Could Look Like
Stay In The Know With Your Bathroom Remodel
Bathroom remodels typically take anywhere between 3-7 weeks to complete depending on the scope of work. A small "like for like" hall shower remodel is a much shorter and less intrusive renovation than a larger master bathroom remodel with a walk-in closet addition or an extensive layout reconfiguration.
Because we take pride in our work, we do nearly every trade in-house, with the exception of some custom cabinetry work. We have partnered with and vetted dozens of local subcontractors who are true artists in their field to help bring your bathroom transformation to life.
Bathroom remodels can range from as little as $30k to as high as $90k. The biggest difference in price is your choice of finishes and the scope of work to be completed. For example, relocating your new lighted bidet toilet to an entirely different end of the bathroom or moving custom vanities to different walls require careful planning, plumbing, and structural work.
Similarly, shower body blasters with a rain head, wall head, and wand from the hottest designer on the market will increase the price. In contrast, a bathroom with a "like-for-like" layout with just some simple updated fixtures from a local supplier will not be as expensive. We'll work together to design a new bathroom that fits your budget and looks the way you want.
In California, all work being done to a home requires a permit. We take care of all permitting, architecture, and engineering needed to facilitate your bathroom remodel.
Vacating the entire home is not necessary, but we do recommend staying with a family member in the evenings or borrowing a friend's bathroom for the time being, if this is your only bathroom. We put up dust, floor, and wall protections strategically to partition off the renovation from the remainder of your home. There may be short periods of time where the water will be shut while we modify plumbing, or your power might be off while we run a new circuit for your heated fan, but your home will function normally at the end of each day.
A Pricing Guideline For Your Bathroom Remodel
Before
After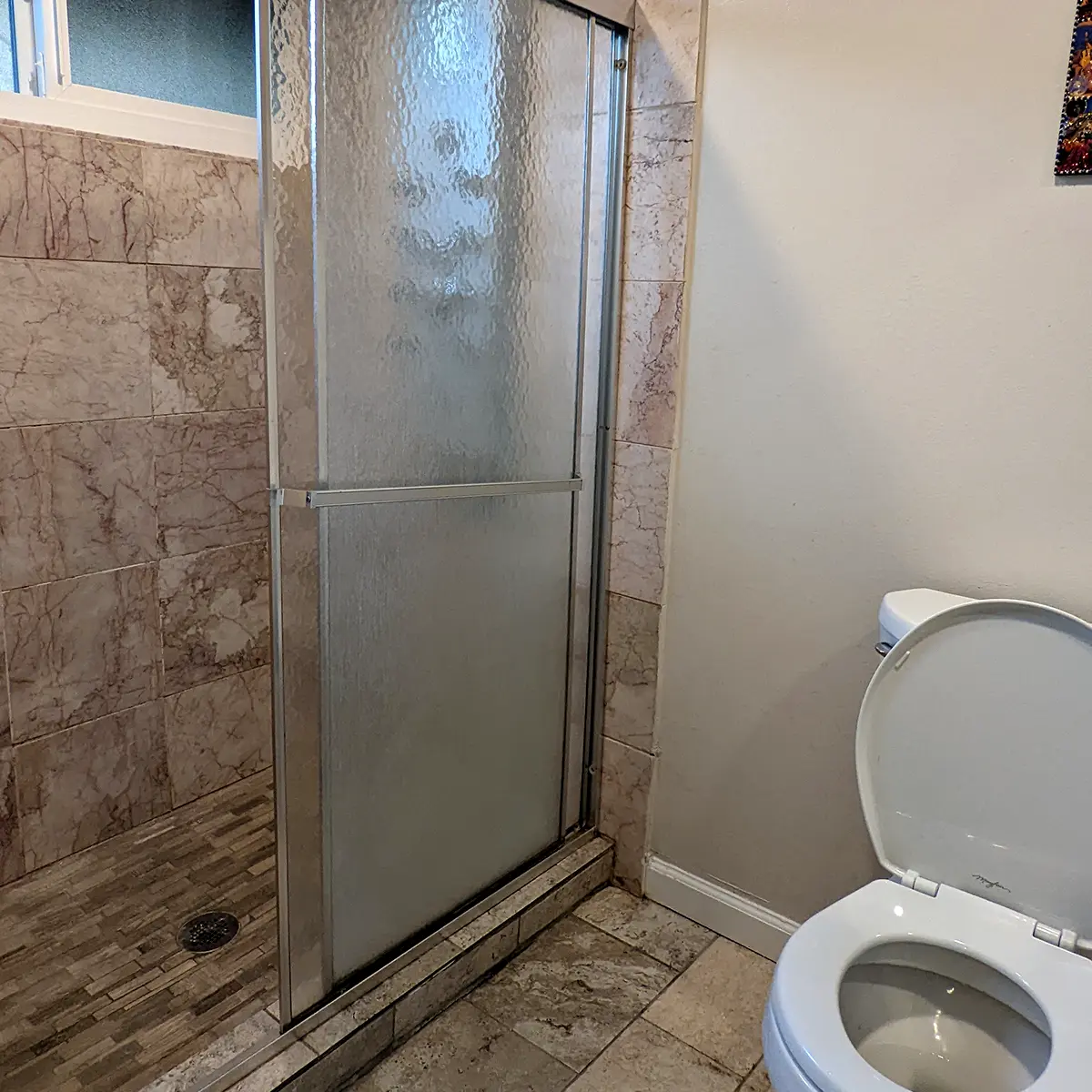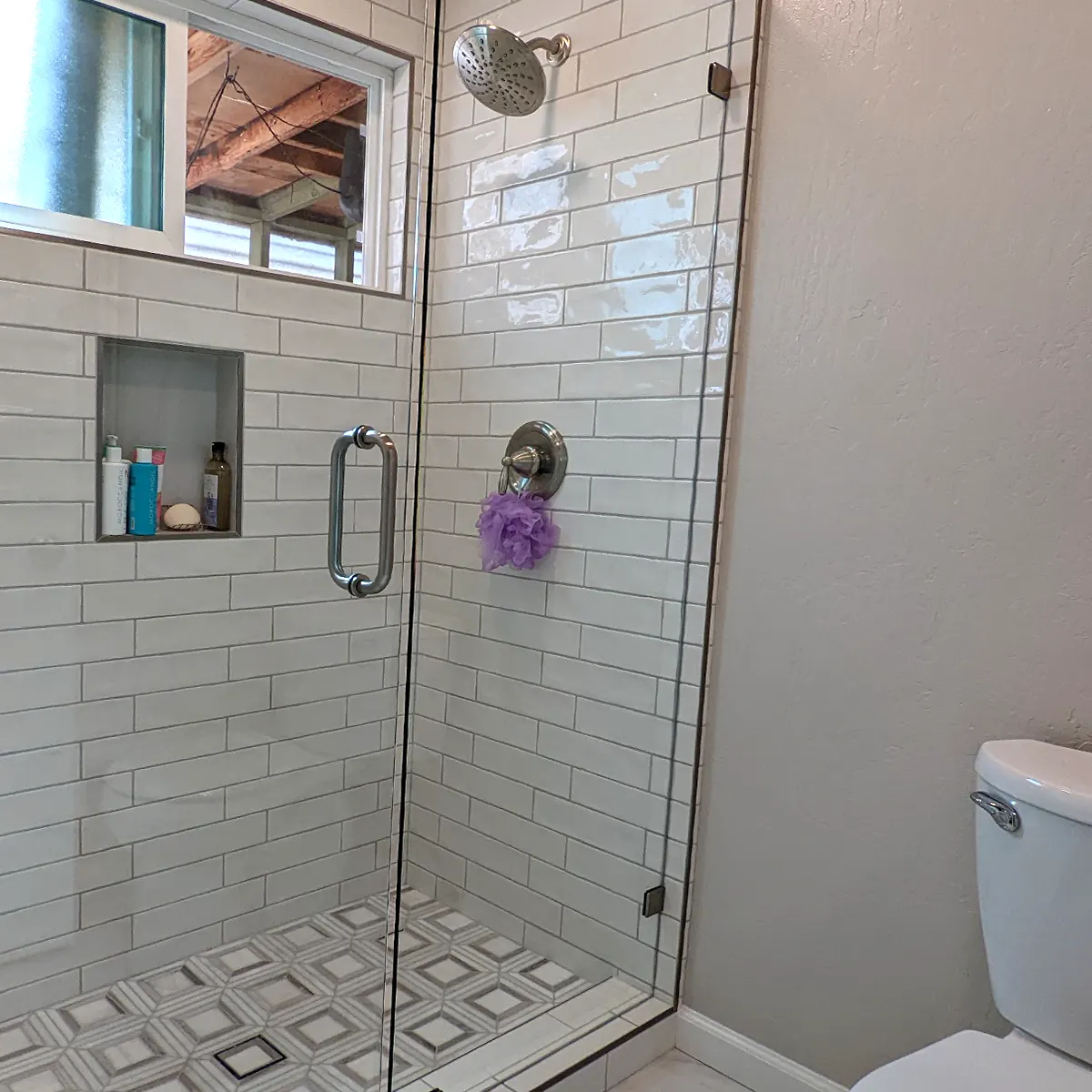 Shower Remodel In Livermore
This 40 ft² shower transformation included:
The project was quoted at $35k, where the tile alone was over $7k.
Before
After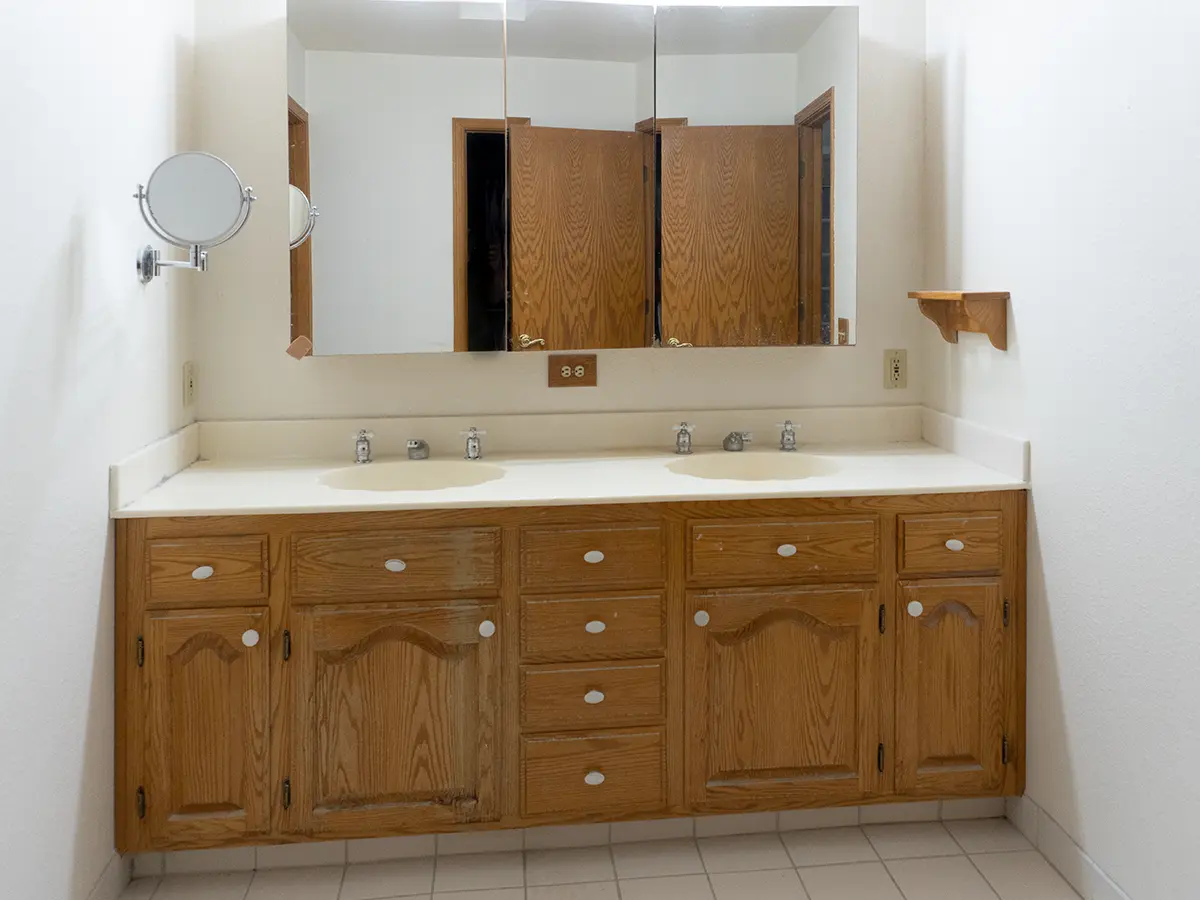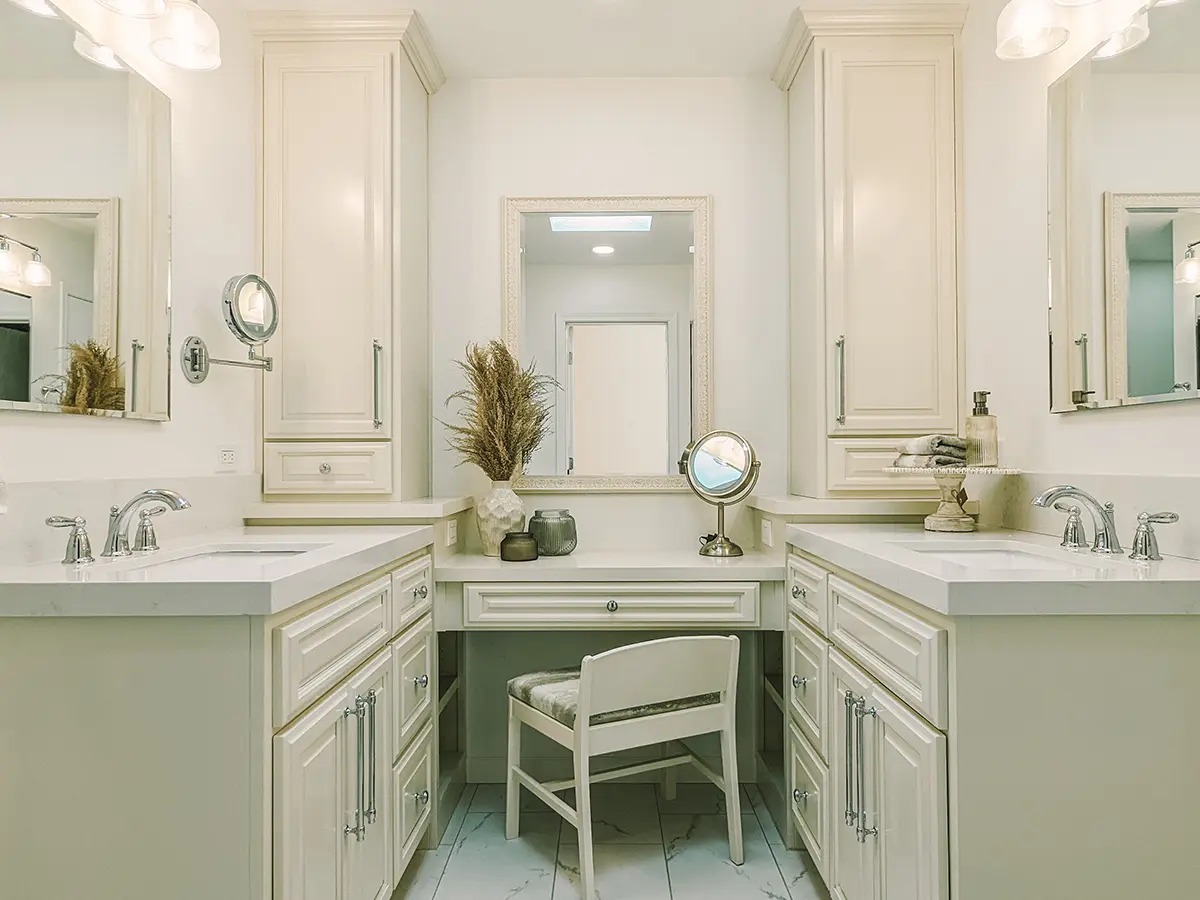 Master Bathroom Remodel in Turlock
This 86 ft² bathroom remodel included:
The project was quoted at $85k, where the walk-in tub and tile was over $25k.
Before
After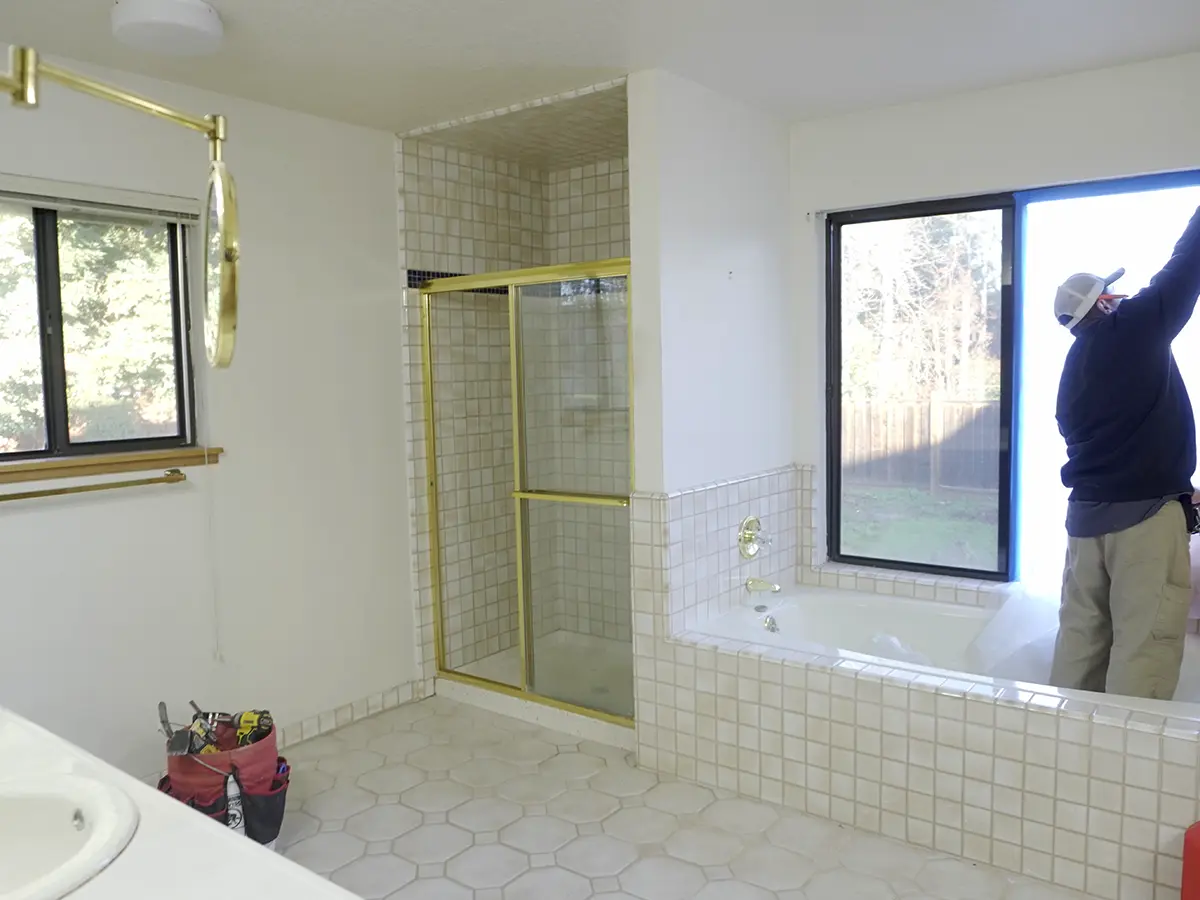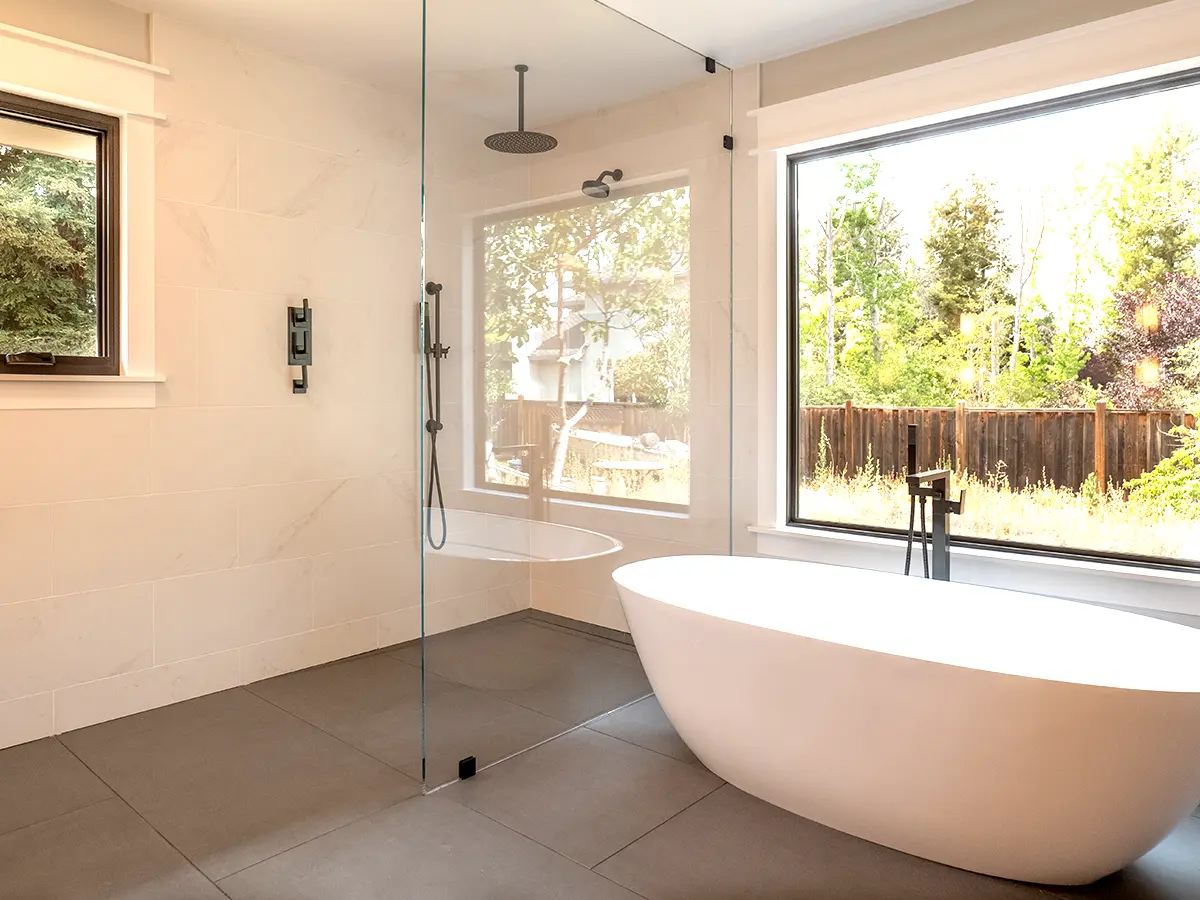 Livermore Master Bathroom Remodel
This 156 ft² bathroom remodel included:
The project was quoted at $98k, where the plumbing fixtures alone were over $25k.
A Simple Process To Your Luxurious, Functional Bathroom
50+ years of combined general contracting experience helped us create a series of standard operating procedures that streamline the whole bathroom remodeling process for you.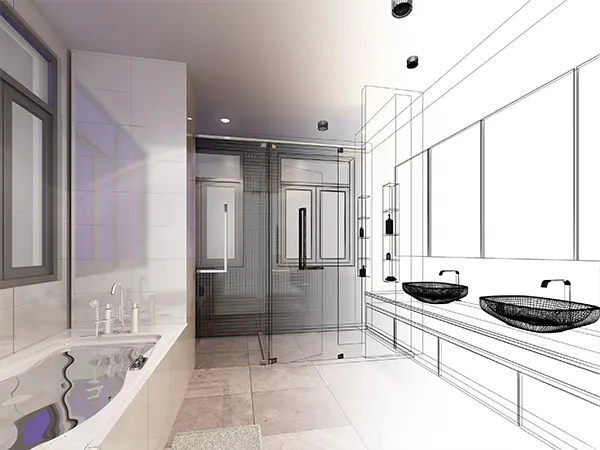 We help you define your bathrooms' look and function.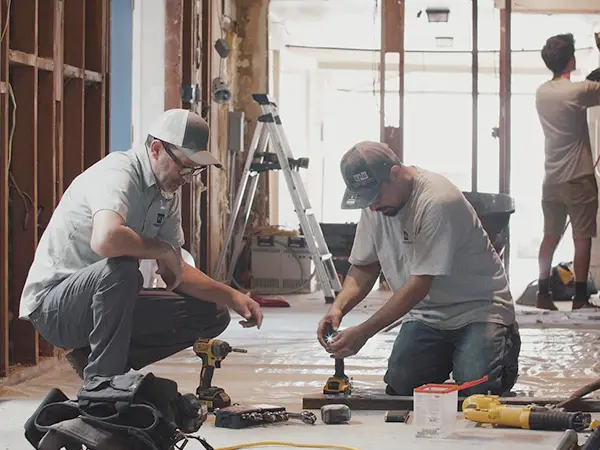 We listen, collaborate, and finalize your vision for the project.
Relax and unwind in a bathroom that soothes you.
We honor the trust homeowners put in us by delivering excellence each and every time. Watch their stories below.
Your Bathroom Remodel, Backed Up By The Google Guarantee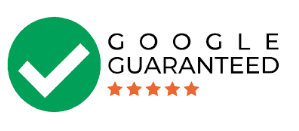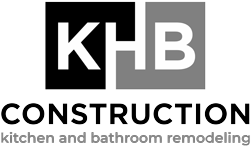 KHB Construction is a Google Guaranteed company. This means that Google has meticulously verified and guaranteed the legitimacy and reliability of KHB Construction's bathroom remodeling services.
Our unwavering commitment lies in providing you with the highest level of professionalism, expertise, and peace of mind throughout your bathroom remodeling project.
With KHB Construction and the Google Guaranteed seal, you can trust that your vision for a beautifully transformed bathroom will be executed with precision and care.
Trustworthy contractors are hard to come by but Ryan and his team at KHB followed through from start to finish they kept us informed through the whole process and kept the work on schedule.
We were really impressed with the service they offered us and are in love with our new master bathroom. We can't thank the team enough!! I'd 100% recommend KHB to anyone looking to transform their home into their dream home!
I'm glad I found KHB to perform some work on my bathroom in a new house. They were very hands-on from the original assessment through scheduling and completing the work.
They completed the work in a little less than the two days planned, and so far, I'm happy to be able to use my bathroom with a new toilet and floor.
We had our bathtub remodeled into a walk in shower. From the first meeting with Ryan the salesman and Doug the manager of our project it was a great experience.
They worked up a quote and when it was a little over my budget they worked with me to get within my budget. They set us up with a decorator to help us with tile selection and design. They gave us a detailed schedule of day to day work plans and stuck to it exactly. We are very happy with them and will definitely call them when we're ready to do our kitchen.
Your Opportunity To Enjoy A Luxurious Bathroom
At KHB Construction, we put your priorities first in every aspect of our work.
Here's What You Get When Working With Us:
You don't need to go shopping and decide on endless options. Your dedicated designer will create accurate 3D renderings so you can visualize your space before it's being built.
You deserve to enjoy a fantastic bathroom as soon as possible. We take efficiency seriously and go out of our way to meet your project's timeline no matter the challenges.
Stay on top of every change we make in your home. A project manager will be on-site and in touch with you from day one until your new bathroom is complete.
Get A Bathroom That Anticipates Your Needs
We'll guide and help you every step of the way.