We're already half-way through 2023, so it's time to discuss some new kitchen trends that are here to stay the rest of the year, but also the next one.
Homeowners around California are starting to think about their new kitchen remodel what they can do to improve their spaces in 2023. If a kitchen remodel is a part of your bucket list for the next year, you're probably ready to dive in and find what are the best kitchen trends that you need to look for.
Let's begin!
1. The Concealed Kitchen Trend
Every year, we see what is becoming more popular, and what investments homeowners are making. This gives us a pretty unique insight into growing trends, and it also means that we have a great idea regarding what is going to be popular in the new year.

For example, concealed kitchens are one of the newly popular concepts that we love, at least in theory. A concealed kitchen is a kitchen that offers a perfect minimalistic look by keeping everything behind cabinetry and panels rather than leaving it all out in the open. This completely uniform look is absolutely stunning, and it is really easy to see why people like it.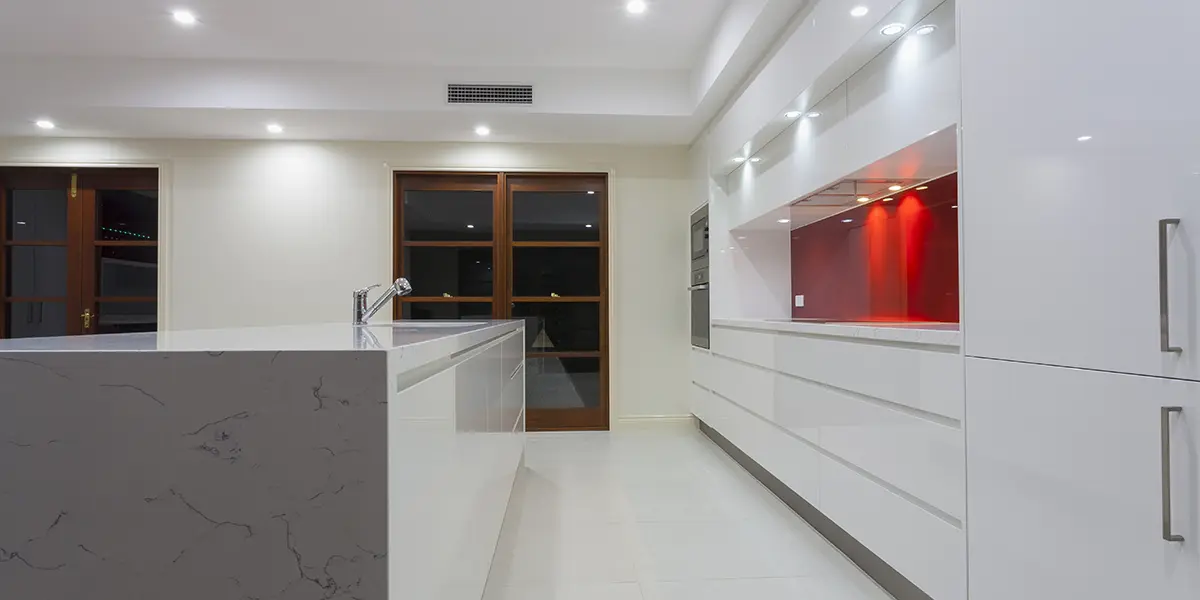 Characteristics Of The Concealed Kitchen
With a concealed kitchen, you get the best of both worlds.
Your kitchen will have that seamless contemporary look that is impossible not to love. It is the easiest way to get that perfect photo-ready kitchen that you can show off on Instagram or on Pinterest. Microwaves, refrigerators, dishwashers, and more can all be tucked away behind paneling that matches the surrounding wall cabinets, creating a smooth flow that ties everything in your kitchen together.
What makes this design so special is that it offers a sort of timeless rarity that is a lot more likely to hold its value. With this style, even if your appliances are outdated, the look will still stand—and that can be wonderful for future sales. 
If it's growing in popularity, you might be wondering why this concept is so rare.
The answer is simple: price. While these kitchens can provide an absolutely gorgeous look, they also come at a really high price point. Not only that, but matching this minimalistic kitchen with your living space might prove more challenging than usual.
Since you're paying for additional customized materials, this one choice alone can drive up the cost of your kitchen remodel by a lot! If it fits your budget, definitely look more into it.
2. Handle-less Doors And Drawers Trend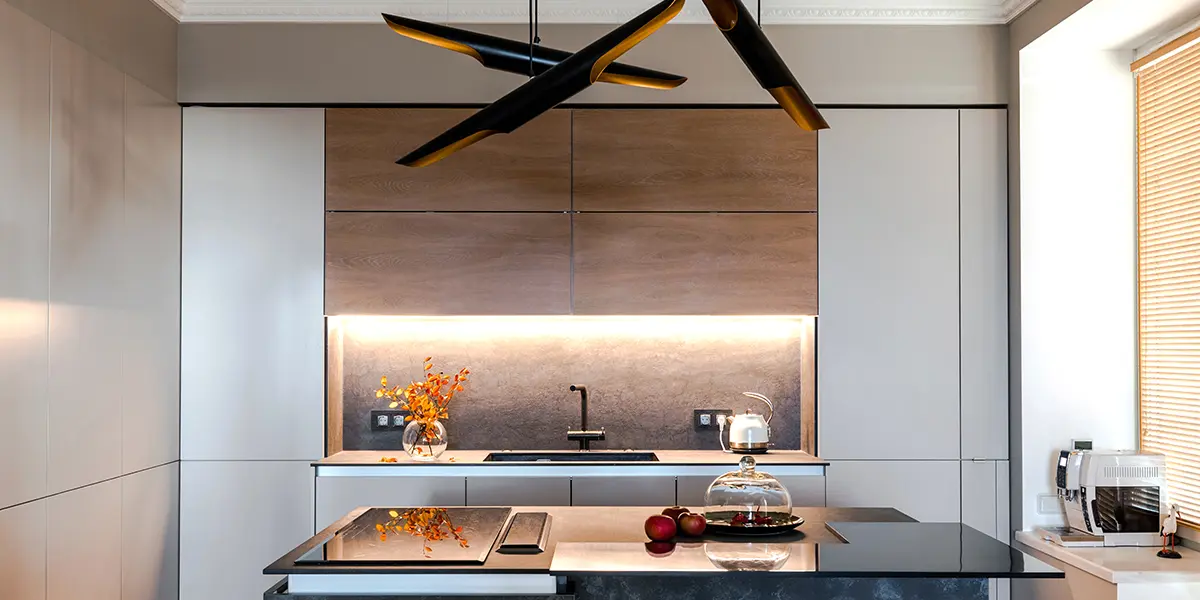 From what we can tell, the look for 2023 was sleek, and we expect sleek to be just as popular in 2024 and the upcoming years as well.
Everyone wants that smooth and polished look that is so popular on social media—and HGTV loves to push these looks as well. It's easy to see why: these designs look absolutely amazing.
Characteristics Of The Handle-less Doors And Drawers
You might not be able to swing for a full concealed kitchen, but handle-less doors and drawers will certainly take you that much closer. This style has been growing in popularity in recent years, and it does a great job of blending old and new.
These kitchen cabinets often provide the same features that homeowners know and love, like a soft close and traditional European hinges—but they add a little bit more by taking something away.
Rather than relying on handles, these cabinets and drawers are equipped with some kind of alternate. The most popular option right now is the simple finger pull approach. This means that there will be a clearly defined area where you can place your fingers and simply pull the door or drawer open. It's a subtle change, but it drastically improves the appearance of your kitchen by offering that uninterrupted design.
Beyond finger pull options, some homeowners opt for doors and drawers that open by being pushed, then pulled. It is all about preference.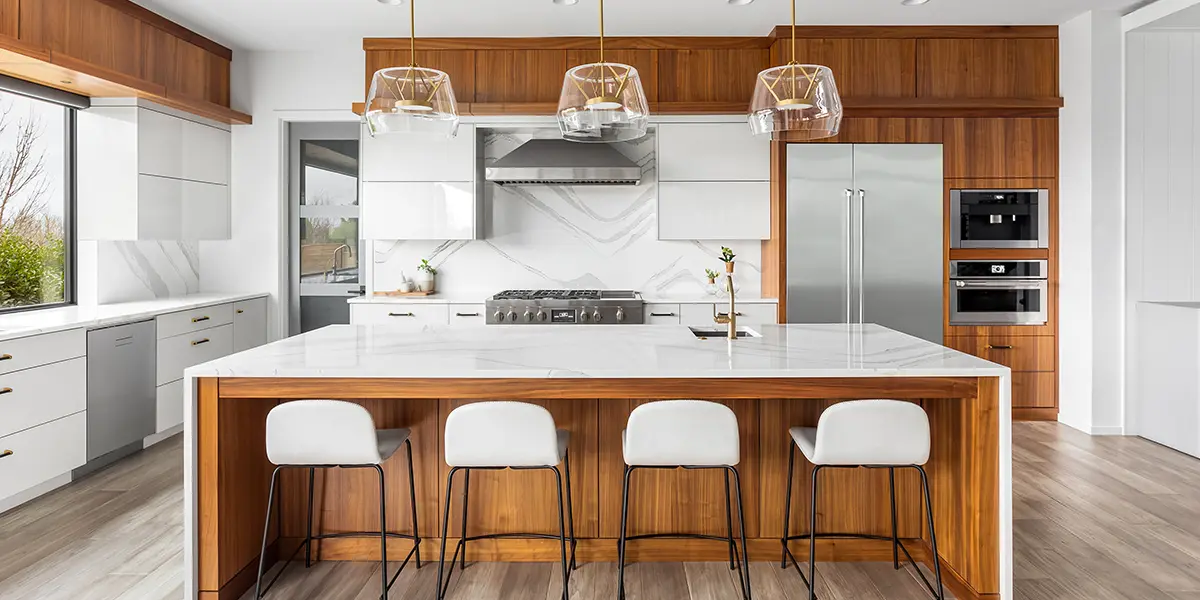 Throughout 2023 so far, it became fairly clear that homeowners were going absolutely wild for natural materials, and it doesn't look like that is changing anytime soon. This trend has been growing with time, and we think it will be at an all-time high in 2023.
We're seeing more of a push for warm earthy countertops, earthy cabinets with natural wood designs, and more of a general interest in organic kitchens with plants and hardwood features.
It provides a very comforting look that can highlight any space with natural beauty, which is why this is among our best 5 kitchen trends.
Characteristics Of Earth And Stone Kitchen Trends
People love the look and feel of these earthy textures, like stained concrete countertops and rustic wooden kitchen cabinets.
These natural elements often come with neutral color schemes like tans, browns, soft grays, and more. Though you can certainly opt for flashier colors, the real power of this design is in its neutrality.
When you'll think about selling your property, these materials keep your investments timeless. Your painted cabinets and the materials themselves are more likely to offer a clean look that will remain popular across generations. This means that even after years have gone by, your kitchen should work in your favor as an investment for future sales.
4. The Statement Hoods Trend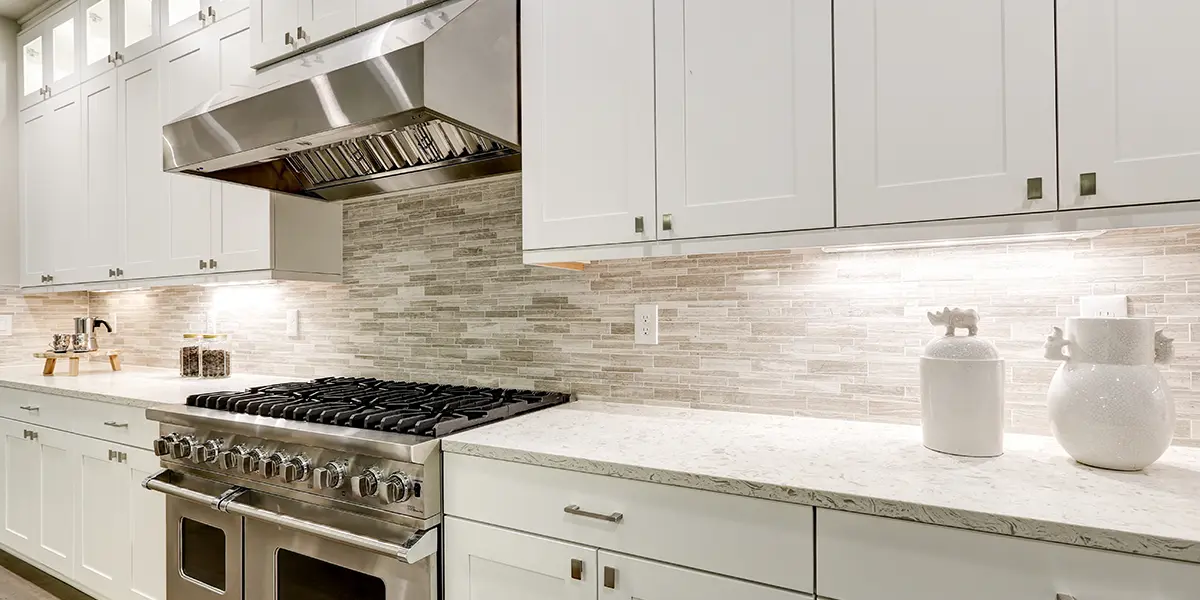 Statement hoods are an area of unique interest in any kitchen space and it seems very likely that more homeowners will continue to make these investments in the year ahead.
We believe that these hoods are going to be a popular choice for a couple of different reasons.
For 2023, we are expecting a growing interest in more distinct statement hoods. These hoods can be stylized using solid surface materials to blend seamlessly into the overall design of your countertops, walls, or flooring. At the same time, a lot of homeowners are pushing towards metal and steel accents, which can maintain that minimalistic feel.
5. The Open Shelving Trend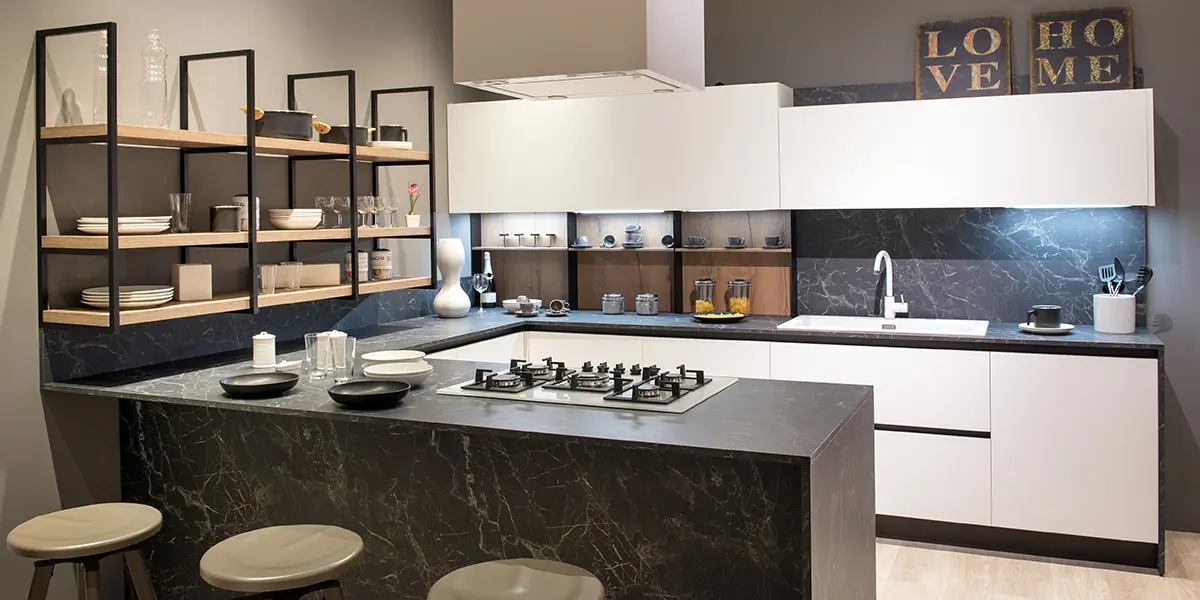 Open shelving is something that a lot of general contractors feel one way or the other about, but there is no disputing the fact that homeowners absolutely love them.
Spurred on by Instagram accounts and a constant push from HGTV, more people are choosing this kind of feature for their kitchens. We understand why people love them, but investing in open shelving does come with a few key considerations.
Characteristics Of Open Shelving
People appreciate open shelving because of their look. These shelves clearly offer a great and clean appearance in these staged images. They can allow you to showcase your favorite cookware or add little designer details to make your kitchen come alive—but it is important to be realistic about this decision.
Though open shelving does offer a really great look, it is really more of a model home feature. When you first use them, we have no doubt that you will agonize over the design and make it look absolutely perfect. The trouble comes after this.
These shelves look great, but they really don't work well as a functional home feature.
Having all of your materials on display can look nice at first, but as you begin to use them, you will see the problem. Too often, these shelves end up cluttered and messy—and something as simple as washing your dishes can leave your shelves looking awkward and barren depending on what you use them for.
They require constant dusting, which will force you to remove everything and then put it all back up. All of this is fine as long as you are aware of this in advance and are prepared for the ongoing workload that comes with owning them and keeping them looking nice.
Note: If there's one place open shelving works amazing, that's the pantry space. Sure, upper cabinets could work too, but quickly reaching the food storage without opening doors and drawers clearly helps.
6. Smart Technology & Appliances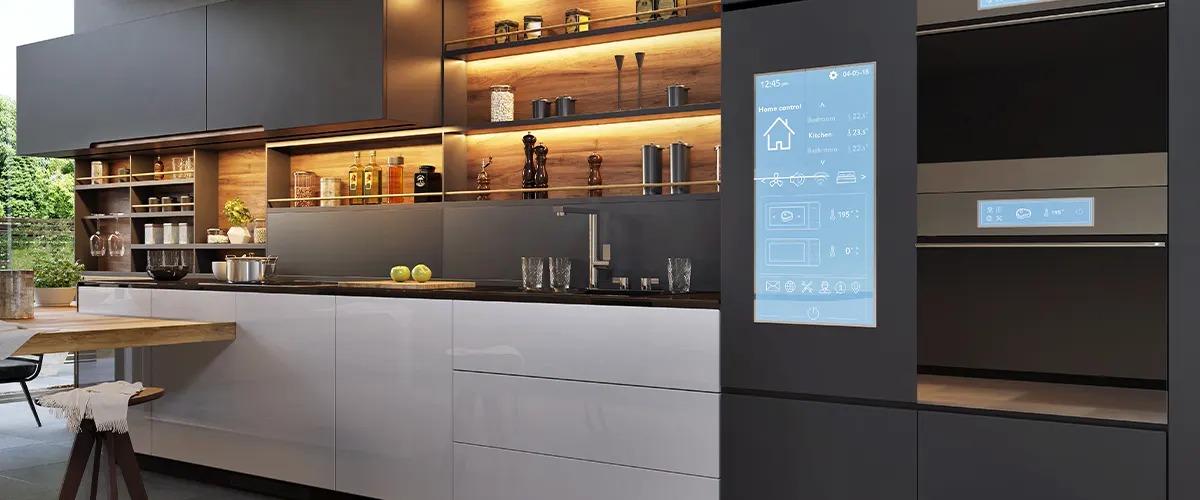 The future of kitchen design is here! Innovative technology allows seamless integration between appliances like refrigerators, dishwashers, ovens, and more — all controlled by voice-activated commands or a single app on your phone or tablet device.
Not only does this make meal prep more accessible than ever before, but it also helps conserve energy by ensuring all appliances turn off when not in use. Additionally, smart lighting fixtures can help create an inviting atmosphere while providing task-specific illumination throughout the room.
Homeowners are thrilled with innovative kitchen technologies, including mobile and voice control, touchless faucets, integrated lighting, and smart appliances. The most sought-after tech features incorporate steam cooking/air frying technology in ovens (73%), dedicated areas for charging devices or viewing media (73%), mobile apps to operate appliances remotely (51%), and motion sensor water faucets (50%).
7. Sustainability And Natural Materials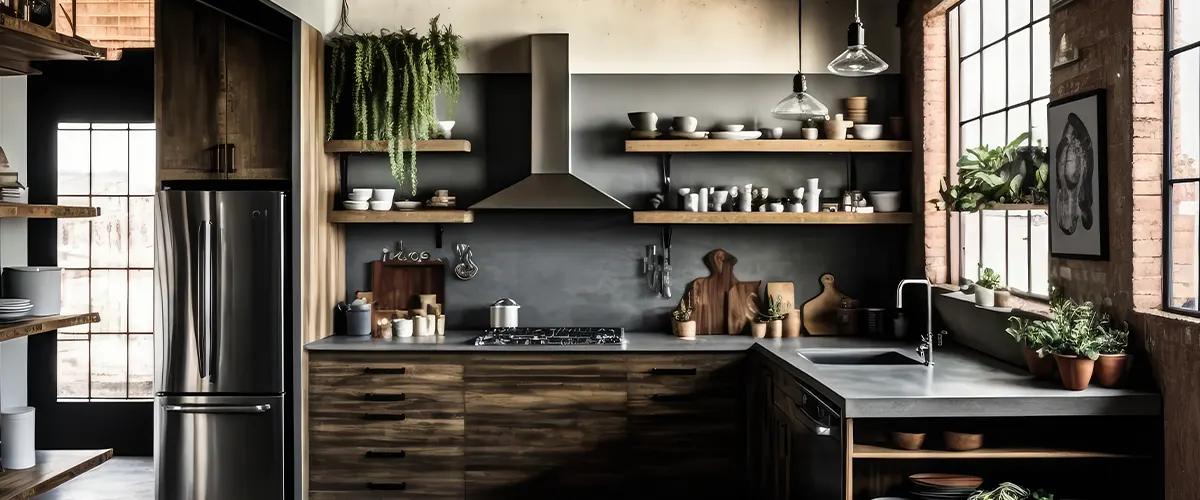 According to NKBA reports, natural materials like wood and stone are also becoming increasingly popular in 2023 kitchens. Reclaimed wood is a great way to add warmth and character to your space while preserving the environment. Granite countertops are also returning due to their durability and sophisticated aesthetic. Natural fibers like cotton and linen are also used more frequently for curtains and wall hangings, providing an organic feel that makes the room inviting and cozy.
In terms of sustainability, homeowners are eager to upgrade their kitchens with the top three green features: 100% LED lighting, separate storage for recycling, and increased natural light via low-E windows and doors. These features allow for a kitchen to be enjoyed while remaining practical and eco-friendly at the same time.
In addition to creating a beautiful and modern space, choosing sustainable materials also helps build an environmentally friendly home that will last for years. As more individuals seek homes with sustainable features, the market is uniquely poised to accommodate this need in 2023 with new and exciting kitchen design trends.
8. Color Palettes With Personality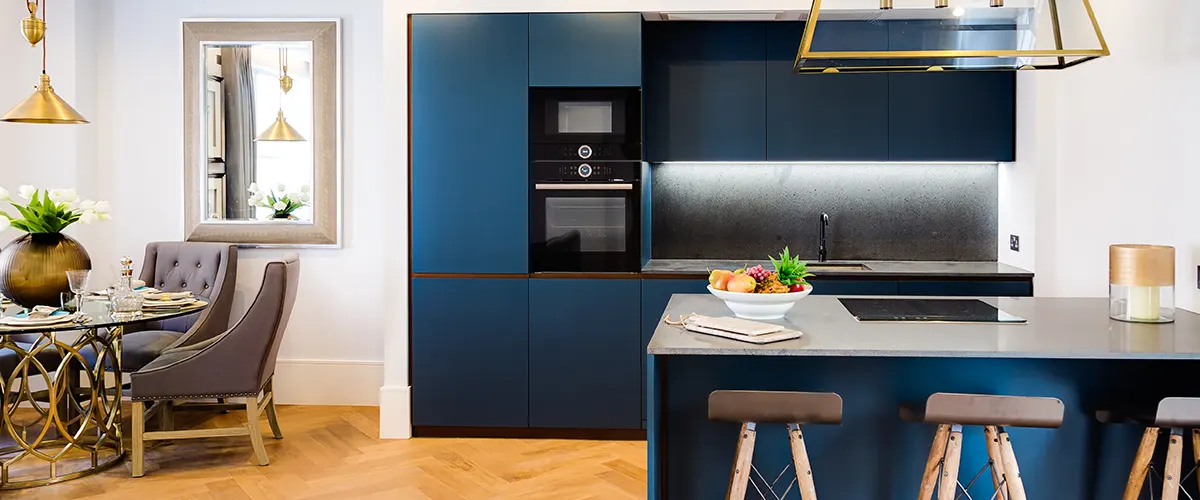 Gone are the days when white was the only acceptable color for a kitchen. Today's kitchens are full of personality, with bold colors like navy blue and forest green taking center stage. Accent walls featuring vibrant shades of yellow or orange can add a pop of color without overwhelming the space. If you prefer a more subtle palette, consider soft pastels or muted earth tones for an elegant look that won't go out of style anytime soon.
Accents add drama and texture to the room – think of copper or ceramic wall hangings and even elaborate backsplashes. Lastly, pairing different materials/themes together can really make a statement. Combining light wood, stainless steel, and stone all in one kitchen gives off a unique look that will capture attention whether you're entertaining guests or simply making meals for the family. With these smart design trends, you can turn your kitchen into an attractive centerpiece no matter the size of your space!
When you invest in a kitchen remodel, you should make choices that you believe will get you the best kitchen, but also choices that will help your cooking space maintain its value and functionality over the years.
These kitchen trends are popular and more and more homeowners are leaning towards them, but that doesn't mean that they are your only option.
Our team here at KBH will walk you through all your options, kitchen trends, designs, layouts, and materials to give you the kitchen that you want, whether it is mirroring something you saw online or helping you to create a custom look that is all your own.
Contact us today to and discover the best kitchen remodeling offer available in Turlock, Modesto, and Tracy, California. Or request a free quote and we'll get back to you with a call as soon as possible.