Backsplash Tile Installation In Modesto, Turlock, Tracy, And More Of CA
Tired of boring kitchen designs or having to scrub stains off the walls?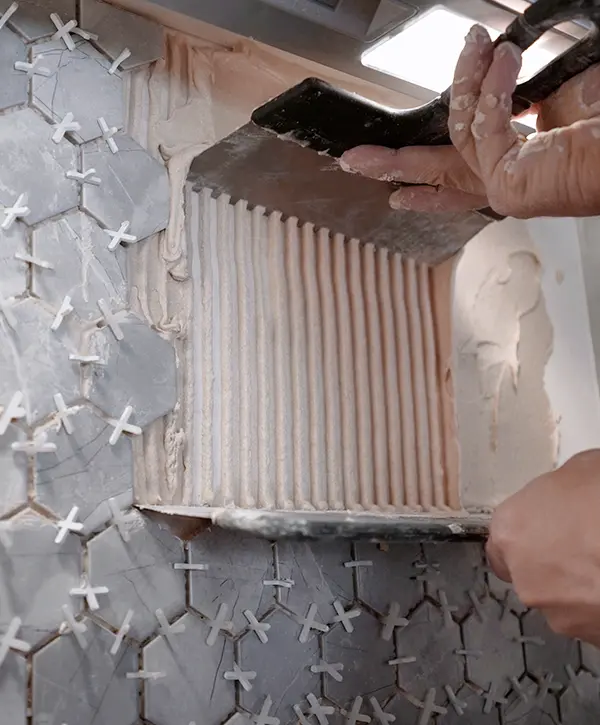 Picture your dream backsplash material – from classic ceramic and porcelain to sleek glass or natural stone. Our skilled artisans meticulously create patterns that reflect your style, whether it's mosaic marvels, timeless subway tiles, or artistic designs.
Introducing our expert backsplash installation and kitchen remodeling service–where functionality meets beauty. Imagine a kitchen that not only inspires your culinary creativity but also protects your walls with flair.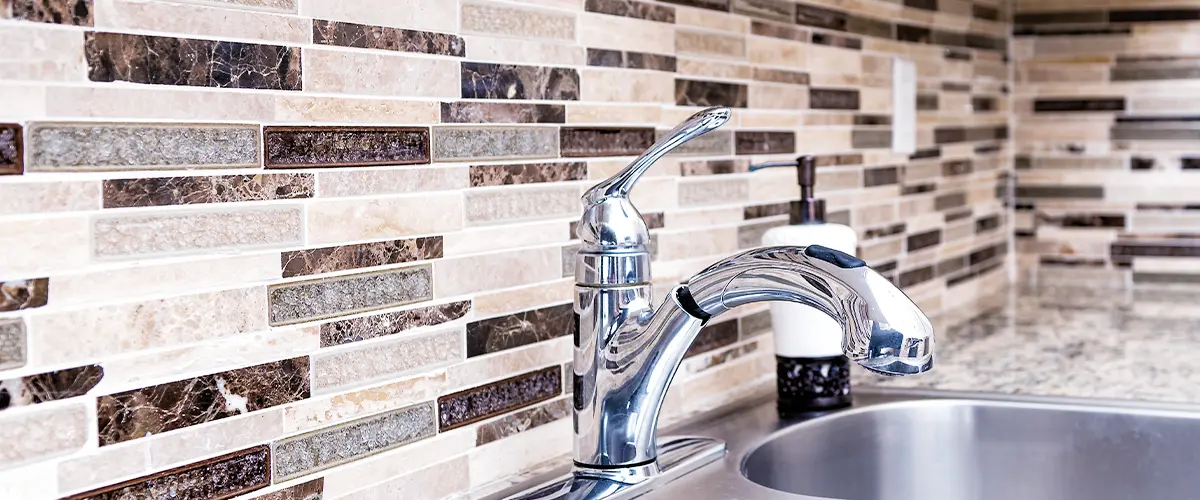 Benefits Of Investing In Kitchen Backsplash
So, you've been pondering that kitchen upgrade, and here's a thought – why not consider a stunning backsplash installation? It's not just about aesthetics; it's about bringing function and flair to your cooking haven. Let's dive into six compelling reasons why a kitchen backsplash should be on your home improvement radar.
Your kitchen is a culinary battleground, and that means cooking mishaps can happen to the best of us. From sauce splatters to steamy moisture, your walls can take a hit. A tile backsplash is like armor for your walls, guarding them against stains and moisture, and it's a breeze to clean.
Think of your kitchen backsplash as a canvas for culinary creativity. With a wide range of backsplash tile options, you can choose a design that aligns with your kitchen's personality. Whether you're into sleek modernity or rustic charm, there's a kitchen backsplash to suit your taste. It's a surefire way to elevate your kitchen's visual appeal.
Ever dreamt of a kitchen that's easy to maintain? Well, a tile backsplash makes that dream a reality. Just wipe away spills and splatters, and you're good to go. Say goodbye to scrubbing and hello to more quality time in your kitchen sanctuary.
A well-designed and professionally installed kitchen backsplash can be a game-changer when it comes to your home's resale value. It's an eye-catching feature that potential buyers will appreciate. It not only makes your kitchen look fantastic but also adds that extra selling point when it's time to move on.
Your kitchen is an extension of your personality, so why not let it shine? A kitchen backsplash is your canvas to express your style and individuality. Whether you opt for a classic subway tile or a mosaic masterpiece, it's a reflection of you and your home's character.
Imagine entertaining friends and family in a kitchen that has that "wow" factor. A beautifully designed kitchen backsplash can be a conversation starter. It sets the tone for memorable gatherings, making your kitchen the heart of your home where everyone wants to gather.
Looking to give your kitchen an aesthetic boost with a backsplash installation? Contact us today for comprehensive kitchen remodeling services. We bring a wealth of experience and creativity to ensure your kitchen reflects your style and meets your needs.
Hear What Our Satisfied Clients Have to Say
Curious about the kind of transformation KHB Construction can bring to your home? Our remodeling testimonials provide a window into the experiences of homeowners who entrusted us with their dreams.
Being no strangers to construction, we knew that 5-6 week kitchen Reno meant 3 months. We knew there'd be plenty of pain points and frustrations. From start to final sign off, it took 6 weeks and a day, was virtually pain free and we can't say enough about the craftsmanship. Every person on the job took personal responsibility and pride in their craft.
We waited MANY years to get our dream kitchen and can't thank Ryan, Bobby, Doug, George and the WHOLE team enough for a dream achieved! Proud to be part of the KHB family!
It was my first time remolding a kitchen and used KHB Construction to do so.
 They are very professional, had great communications throughout the process, and did a better job than I could have every imagined. They pay attention to all the little details and finished the project on time. I would strongly recommend using them for your home needs.
Common Kitchen Backsplash Installation Options
Your kitchen, the heart of your home, deserves a touch of dazzle and practicality. That's where kitchen backsplashes come into play, offering a perfect blend of style and substance. Let's explore some common types that can elevate your kitchen with a dash of personality.
Picture this: a New York City subway station in your kitchen. Well, not quite, but that's the charm of subway tiles. These rectangular beauties have been gracing kitchens for over a century. They're versatile, easy to clean, and create a clean, crisp look that's perfect for modern or vintage-inspired kitchens.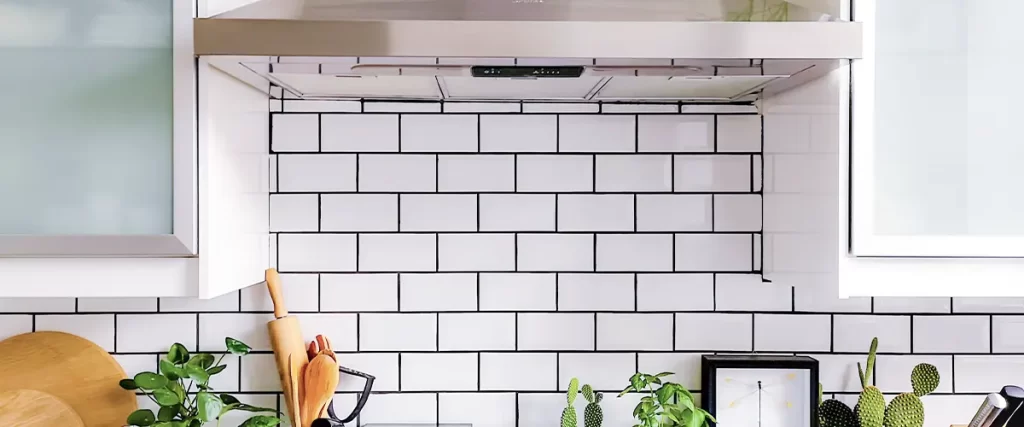 Feeling artsy? Mosaic backsplashes are a canvas for your creativity. These tiny tiles can form intricate patterns or stunning images. Whether you're into vibrant, abstract designs or serene nature scenes, mosaic backsplashes let you bring your artistic flair right into your kitchen.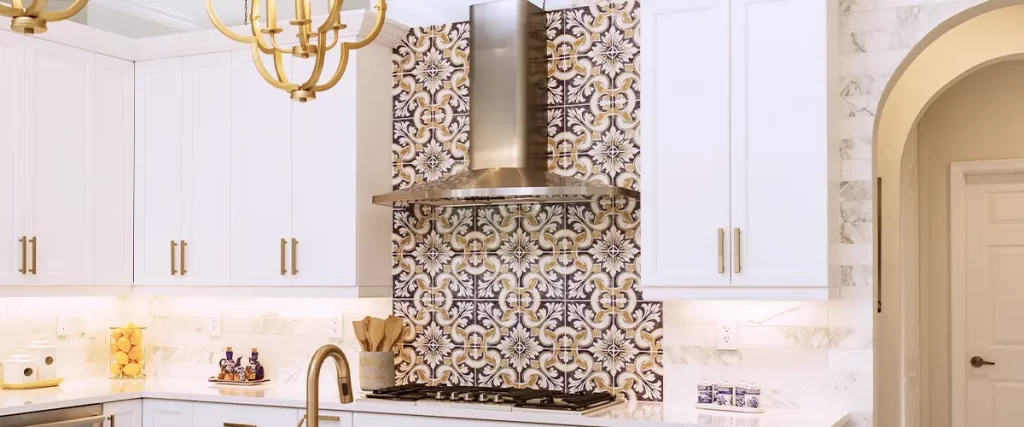 3. Natural Stone for Kitchen Tiling
If you're a fan of rustic charm, natural stone backsplashes are your ticket to a cozy kitchen. Think earthy tones, textured surfaces, and that warm, inviting feel. Each stone is unique, like a fingerprint, adding character and a touch of nature to your cooking space.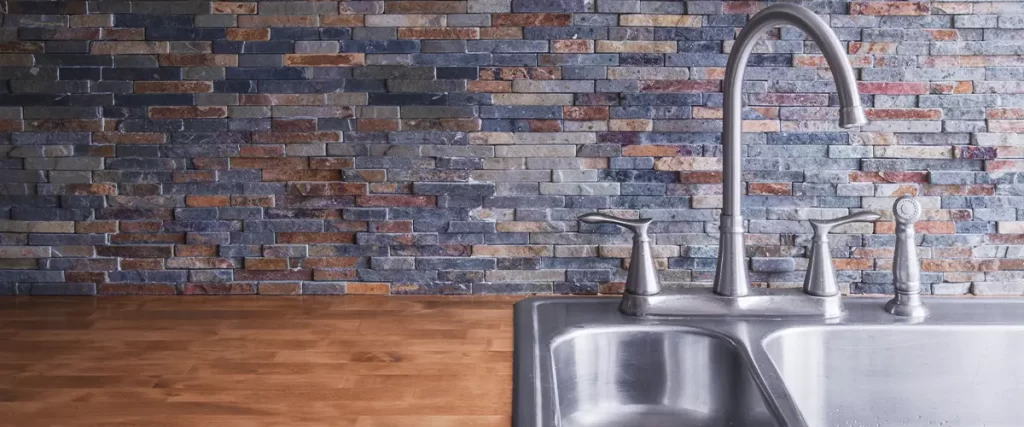 Glass tile is like the fashion-forward model of the kitchen world. They're sleek, shiny, and effortlessly chic. Easy to clean, they reflect light beautifully, making your kitchen feel brighter and more open. Plus, they come in a range of colors, from subtle neutrals to bold statement hues.
5. Metal Tiles for Kitchens
Ever wanted to feel like a gourmet chef in a professional kitchen? Metal backsplashes can make that dream come true. Stainless steel, copper, or even brass options bring an industrial edge to your kitchen. They're durable, resistant to heat and stains, and have that restaurant-quality charm.
Patterned tiles are like a passport to a world of kitchen adventure. These tiles come in a variety of patterns, from Moroccan-inspired designs to intricate geometrics. They can instantly transport your kitchen to a different place and time, adding a dash of exotic allure.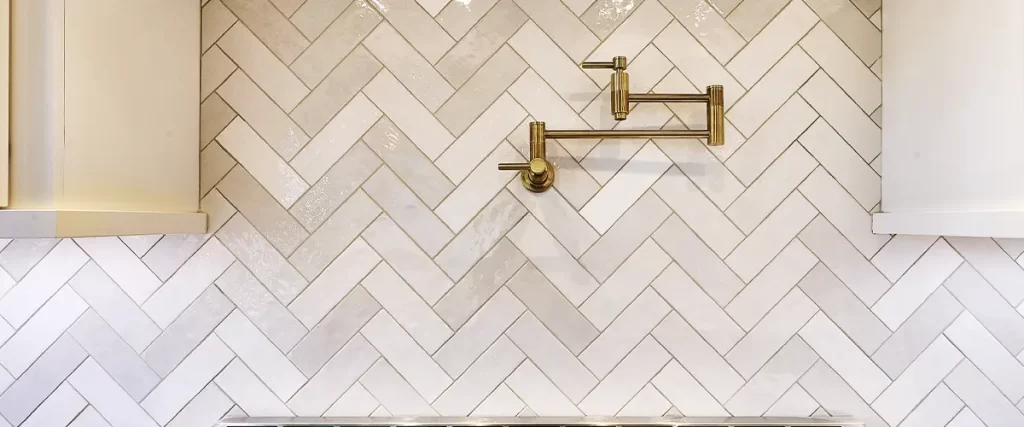 7. Ceramic Tiles And Porcelain Tiles
Porcelain and ceramic tile backsplash tiles are the dynamic duo of kitchen remodeling. They're known for their durability and resistance to wear and tear. Ceramic tiles come in various shapes and sizes, while porcelain tiles offer sleek, low-maintenance elegance. Both options offer a wide range of colors and styles to match your kitchen's vibe.
Ready to give your kitchen a makeover with a stylish tile backsplash? Reach out to us at KHB Construction. We are dedicated to providing professional, high-quality backsplash installation services.
Our 8-Step Process to Backsplash Installation
When you trust KHB Construction with your kitchen backsplash installation, you're investing in quality craftsmanship and a transformation that will leave your kitchen gleaming with style. Here's a glimpse into our meticulous eight-step process:
Before diving into the world of backsplash tile, we begin by assessing your kitchen walls. We check for any loose paint, ensure the wall surface is clean, and evaluate the existing backsplash if there is one.
To keep your kitchen pristine, we cover your countertops and kitchen appliances with drop cloths. Switch plates and outlet covers are removed for a seamless installation.
We work closely with you to select the ideal backsplash material from a range of options, including ceramic tiles, glass tiles, mosaic tiles, natural stone, or porcelain tile, ensuring it aligns perfectly with your vision.
Our skilled artisans lay out the tile patterns, considering your preferences for a horizontal or vertical layout, small or square tiles, and individual tiles or mosaic designs.
With precision, we apply tile adhesive using a notched trowel, ensuring complete coverage for a strong bond. The tiles are carefully placed, considering every detail.
Our experts take great care to mix and apply grout, filling all the joints to perfection. Stain-resistant grout sealer is applied following the manufacturer's instructions for long-lasting beauty.
We believe in frequent cleaning throughout the process. A damp sponge dipped in water is used to wipe away excess grout and maintain a pristine look.
As the finishing touch, we replace switch covers and outlet covers, ensuring they seamlessly match your new backsplash. Your kitchen appliances are restored, and the space is left looking as if we were never there – except for your stunning new kitchen backsplash.
With KHB Construction, every square foot installed is a masterpiece, and every tile is meticulously placed to create a backsplash that not only protects your kitchen walls but also adds a touch of elegance and functionality. Contact us today for your complimentary kitchen remodeling quote.
Backsplash Installation FAQs
To achieve a flawless finish during backsplash installation, follow these steps:
Assess and clean your kitchen walls, checking for loose paint
Evaluate any existing backsplash before proceeding.
Prepare the workspace meticulously to protect countertops and appliances.
Choose the perfect backsplash material that aligns with your vision and needs.
Create tile patterns based on your layout preferences.
Apply tile adhesive and carefully place each tile for a stunning result.
Fill joints with grout, using a stain-resistant grout sealer.
Clean frequently throughout the process to maintain cleanliness.
Replace switch and outlet covers to match the new backsplash.
Restore kitchen appliances and leave your kitchen looking elegant and functional.
Yes, it's certainly possible to install a kitchen backsplash yourself. However, doing so requires patience, precision, and a comprehensive understanding of the process. You'll need to carefully choose the right materials, prepare the workspace, and follow the right procedures to ensure a seamless finish.
If you're comfortable with tasks like measuring, cutting, and adhering tiles, you may find this process enjoyable and rewarding. Remember to take your time, pay attention to detail, and ensure you have all necessary tools on hand before starting.
However, there are advantages to hiring professionals like us here at KHB Construction. We bring expertise, experience, and top-quality materials to the table, ensuring a perfect finish every time. Our team takes care of everything from the initial assessment to the final clean-up, leaving you with a stunning, durable backsplash without any of the hassle.
The cost of installing a backsplash can vary widely based on numerous factors including the type of tile you select, the square footage of the area to be covered, and whether you choose to do it yourself or hire professionals.
When considering the tile type, materials such as ceramic or porcelain tend to be more cost-effective, ranging from $2 to $20 per square foot. High-end materials like natural stone or glass can cost anywhere from $25 to $50 per square foot or more.
If you decide to hire professionals, labor costs will be a major part of your budget. The average installation cost by professionals can range from $30 to $60 per hour.
Now, if you have a knack for DIY projects and decide to install the backsplash yourself, you'll save on labor costs. But, remember to factor in the time it would take and the tools you might need to buy or rent.
The easiest way for installing tile backsplash is to use peel-and-stick tile. This type of tile comes with a self-adhesive backing that eliminates the need for tile adhesive or grout. It's a simple, mess-free, and time-efficient option that requires minimal tools – a utility knife for cutting the tile, a measuring tape, and a level to ensure straight lines.
First, you need to prepare the wall where the backsplash will be installed. Ensure it's clean, smooth, and dry. 
Next, measure your wall and mark the area where the tiles will be placed. This step is crucial for a consistent and symmetrical layout.
Peel off the backing from the first tile, align it with your markings, and press firmly. The tiles can be easily cut to fit around outlets or under cabinets. Continue this process until the entire area is covered.
Though the process is straightforward, attention to detail is still key. Aligning the tiles correctly, ensuring they're straight and evenly spaced, can greatly affect the final result. So, take your time and don't rush the process.
Remember, while peel-and-stick tiles offer a quick and easy solution, they might not offer the same durability or aesthetic appeal as traditional tiles. They're a great option for a quick update or for those on a tight budget. However, if you're looking for a long-lasting, high-end finish, it might be worth investing in traditional tiles and professional installation.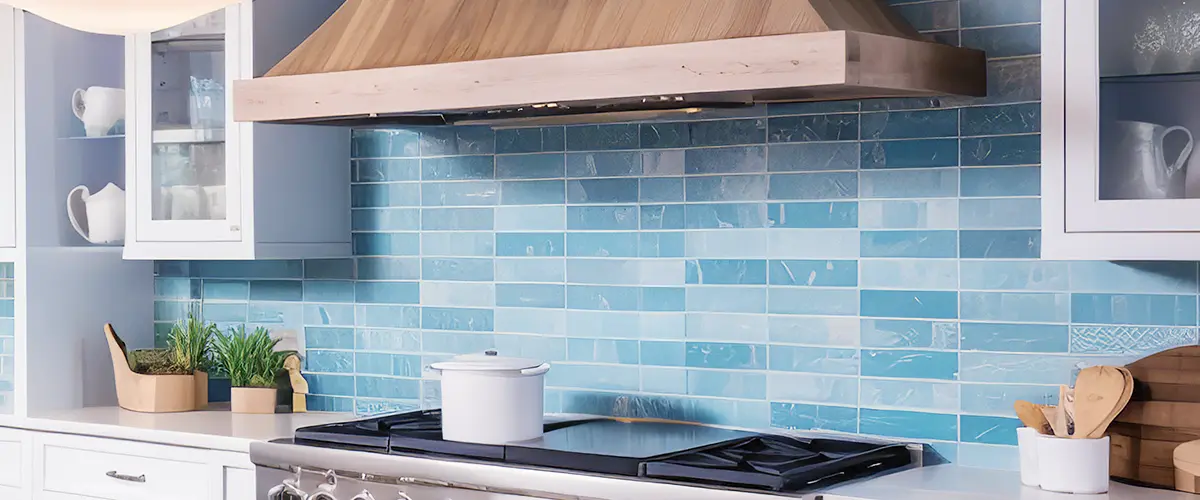 Upgrade Your Kitchen With KHB Construction Today
Let us transform your dream into reality and give your kitchen the stunning makeover it deserves. Each project we undertake is a testament to our commitment to quality, precision, and customer satisfaction.