Interior Architecture In Modesto, Turlock, Tracy, And More Of CA
Make sure your home is 100% safe by working with a certified interior architecture pro!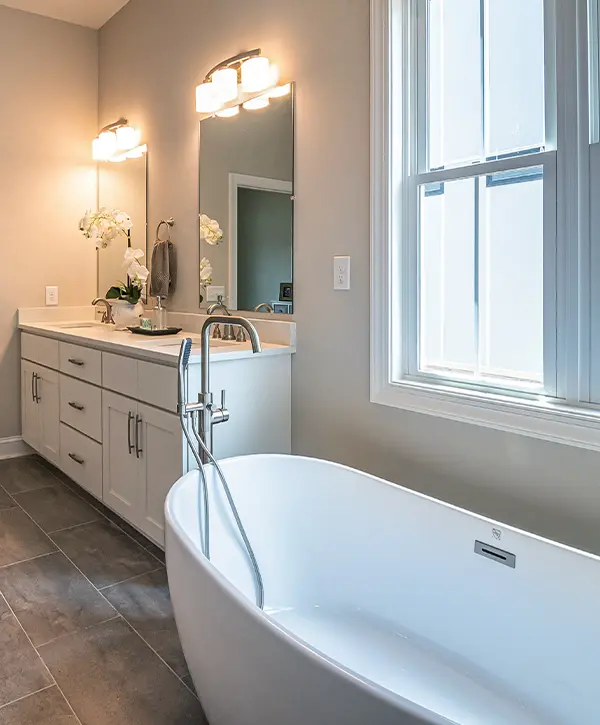 Whether you're considering a kitchen remodel, bathroom remodel, whole home remodel, or building a home addition, our expertise and commitment to design excellence make us your trusted partner in Modesto, Turlock, Tracy, and beyond.
We combine our interior architecture and design expertise to give you a complete remodeling services that ensures you and your loved ones will always be safe in your home, no matter what!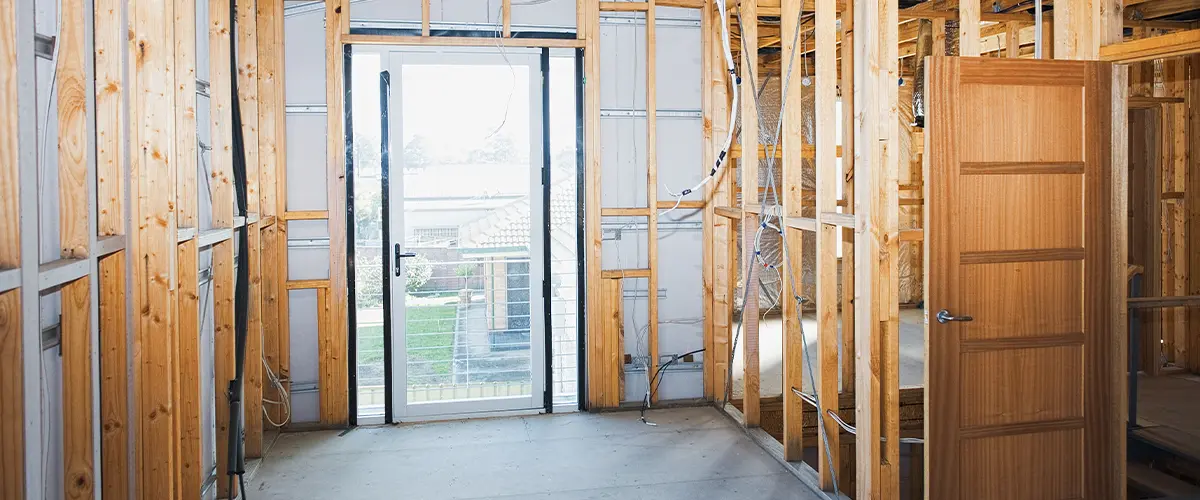 Get Someone That's Ready To Go The Extra Mile
We're bringing everything we have to the game. With us, you're guaranteed to win big-time by making a lasting investment and getting a space that's nothing short of impressive!
When you hire KHB Construction as your design-build company, you can enjoy:
Understanding Interior Architecture
Are you considering a remodeling project for your home? You've probably heard the term "interior architecture" thrown around, but what does it really mean for you and your project? Let's break it down.
Interior architecture is all about creating functional and beautiful spaces inside your home. It goes beyond just picking out colors and furniture – it's about designing the whole space planning, layout, optimizing the flow, and maximizing the potential of your space.
When you work with an interior architect, you'll benefit from their expertise in understanding how spaces interact with each other. They consider the way you move through your home, how you use different areas, and how to create a cohesive design that reflects your personal style.
Unlike interior design, which focuses more on surface-level elements like colors, fabrics, and accessories, interior architecture takes a holistic approach. It involves analyzing your space, developing floor plans, obtaining building permits, considering structural changes, and making strategic decisions to optimize your home's layout.
Whether you're considering a kitchen remodel, bathroom renovation, or a whole home makeover, interior architecture plays a crucial role in bringing your vision to life. It's about creating a harmonious balance between design and function, so you can enjoy a space that looks stunning and works effortlessly for your everyday life.
Think of it this way: just like a well-designed blueprint is the foundation for a sturdy and comfortable house, interior architecture is the blueprint for your dream home's interior space. It's about making the most of every square foot, ensuring that your space looks amazing and works seamlessly for your lifestyle.
Imagine having a kitchen that looks stunning and functions perfectly for your cooking adventures. Or a bathroom that feels like a luxurious retreat, with every element thoughtfully placed to enhance your daily routine. This is where interior architecture shines – it brings together functionality and aesthetics to create spaces that truly work for you.
Thanks to our design-build service, we have a team of talented interior designers that can transform your space into everything you've ever dreamed of.
Designing for Functionality and Aesthetics
When it comes to interior architecture, creating spaces that are both functional and aesthetically pleasing is the ultimate goal. Let's explore how this balance between functionality and aesthetics is achieved in the design process.
Designing for functionality means creating spaces that work effortlessly for your needs. It involves analyzing how you move through your home, considering your daily activities, and tailoring the layout to enhance efficiency and convenience.
For example, in a kitchen remodel, an interior architect will carefully plan the placement of appliances, work surfaces, and storage areas to optimize workflow and make cooking a breeze. 
Similarly, in a bathroom remodel, they will consider factors like accessibility, storage solutions, and the placement of fixtures to ensure the space serves its purpose seamlessly.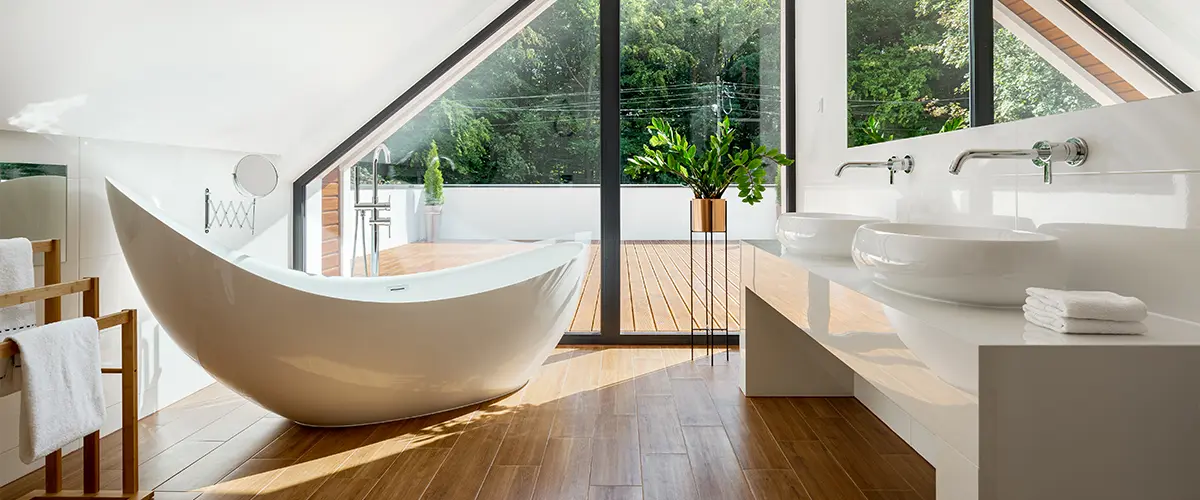 One key aspect of interior architecture is optimizing the flow of spaces. This means ensuring that rooms and areas transition smoothly, allowing for easy movement and a sense of continuity throughout your home.
An interior architect will analyze the existing layout and propose changes that improve the flow. They might suggest opening up walls to create a more open concept, reconfiguring room layouts, or adding strategic pathways to connect different areas. 
By doing so, they create a cohesive and harmonious flow that enhances the overall functionality of your home.
While functionality is crucial, aesthetics also play a significant role in interior architecture and interior design. Your home should be a reflection of your personal style and create a visually pleasing environment that you love coming back to.
Interior architects bring their expertise in color palettes, materials, textures, and finishes to create a cohesive and visually appealing design. They understand how different elements can complement each other and create the desired atmosphere in each space.
Whether you prefer a sleek and modern look, a cozy and rustic feel, or something in between, an interior architect will work with you to select the right materials, furnishings, and accessories that bring your vision to life.
They consider factors like lighting, proportions, and balance to create a visually stunning space that matches your aesthetic preferences.
How Homeowners Feel About KHB Construction
We had our bathtub remodeled into a walk in shower. From the first meeting with Ryan the salesman and Doug the manager of our project it was a great experience.
They worked up a quote and when it was a little over my budget they worked with me to get within my budget. They set us up with a decorator to help us with tile selection and design.
They gave us a detailed schedule of day to day work plans and stuck to it exactly. We are very happy with them and will definitely call them when we're ready to do our kitchen.
Ryan took our vision of enclosing our existing patio and making it a four seasons room and made it happen.
It looks exactly like our vision…the crew is on time, professional and at the end of the day the work area is clean.
We had a few bumps in the road but Ryan took care of everything…KHB cares about their customers and goes the extra mile to make your visions a reality!
Material Selection and Finishes
In the realm of interior design and architecture, material selection and finishes are essential aspects that contribute to the overall look and feel of a space. Let's explore how interior architects and designers leverage these elements to create stunning environments that align with your vision.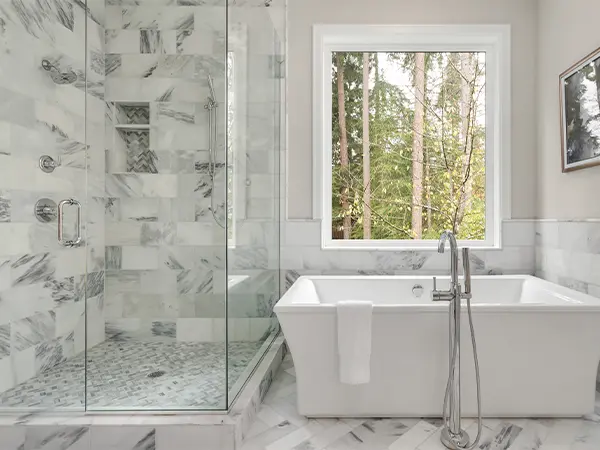 Balancing Functionality and Aesthetics
When it comes to material selection and finishes, interior architects focus on choosing the right combination of building materials that fulfill both functional and aesthetic requirements. They understand the importance of selecting materials that are not only visually appealing but also durable, sustainable, and suitable for the space's specific needs.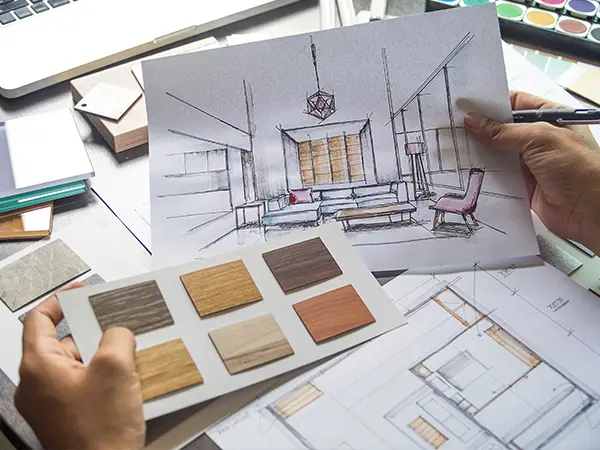 Interior Architects and Designers
In collaboration with interior designers, interior architects consider various factors such as the desired style, maintenance requirements, and the performance of materials in different interior spaces. By combining their expertise, they can guide you in selecting the perfect materials and finishes that will bring your vision to life.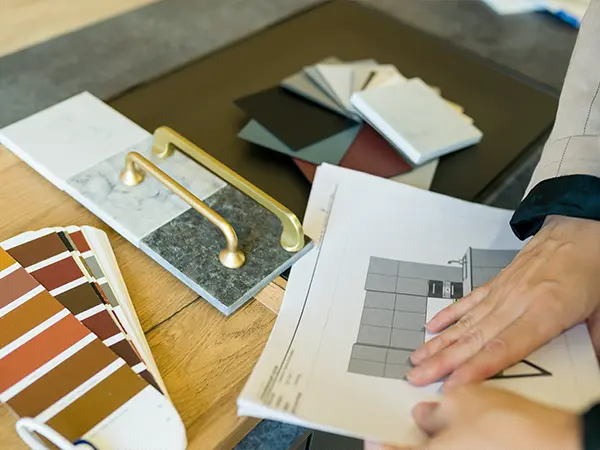 Tailoring Materials to Specific Elements
During the design process, interior architects work closely with you to determine the appropriate materials for different elements of your space. Whether it's flooring, countertops, cabinetry, or wall finishes, they help you choose materials that harmonize with the overall design concept while meeting practical considerations.
Creating Lasting and Functional Spaces
By leveraging their expertise in material selection, interior architects and designers can transform your existing structure or create new spaces with carefully chosen materials that withstand the test of time. Together, they navigate the complexities of the design process, bringing your vision to life while considering factors such as durability, style, and the desired atmosphere.
Interior Architecture FAQs
Interior architecture focuses on the design and optimization of interior spaces within the context of the overall building structure. It involves analyzing the existing building, considering building codes and permits, and making structural modifications if necessary. Interior architects consider factors such as space planning, building codes, and integrating systems like lighting and ventilation.
Interior design primarily focuses on the aesthetics and functionality of interior spaces. Interior designers are experts in selecting color schemes, furnishings, finishes, and accessories that enhance the visual appeal and atmosphere of a space. They work closely with clients to understand their preferences, needs, and desired style.
An example of interior architecture could be the renovation of a commercial building. Let's say you own a commercial space that requires a complete transformation to better suit your business needs. An interior architect would assess the existing building structure, analyze the space's functionality and flow, consider building codes and permits, and propose design solutions that optimize the interior space.
They would focus on creating a harmonious blend of aesthetics and functionality, ensuring the space meets your specific requirements while complying with relevant regulations.
If your remodeling project involves structural modifications, changes to load-bearing walls, or electrical and plumbing work, an architect can ensure compliance with building codes and regulations. They have expertise in navigating the permit process and ensuring that the changes meet safety standards.
If your project requires extensive modifications to the existing building structure, such as altering the layout, adding or removing walls, or changing the building's footprint, involving an architect is highly recommended. Their architectural focus allows them to envision and execute these changes while considering the overall structural integrity and design coherence.
For remodeling projects involving existing buildings, an architect can provide valuable insights into how to optimize the space while working within the constraints of the structure. They can propose innovative design solutions and ensure the project achieves the desired functionality and aesthetics.
It's important to consult with a reputable remodeling company or architectural firm to assess the specific requirements of your project. They can guide you on whether an architect's involvement is necessary to achieve your remodeling goals effectively.
Want a Competent Partner To Help You Remodel Your Space?
Our team at KHB Construction is here to guide you through the entire design-build process, from conceptualization to construction. We are passionate about creating spaces that exceed expectations and reflect your unique style and needs.
Don't wait any longer to make your dream space a reality. Contact us now at (209) 528-0255 to schedule a consultation and take the first step toward a beautifully designed and expertly crafted interior.