Countertop Installation In Modesto, Turlock, Tracy, and more of CA
Experience the stress-free countertop installation services in Modesto, Turlock, And More Of Central Valley & Tri-Valley, CA.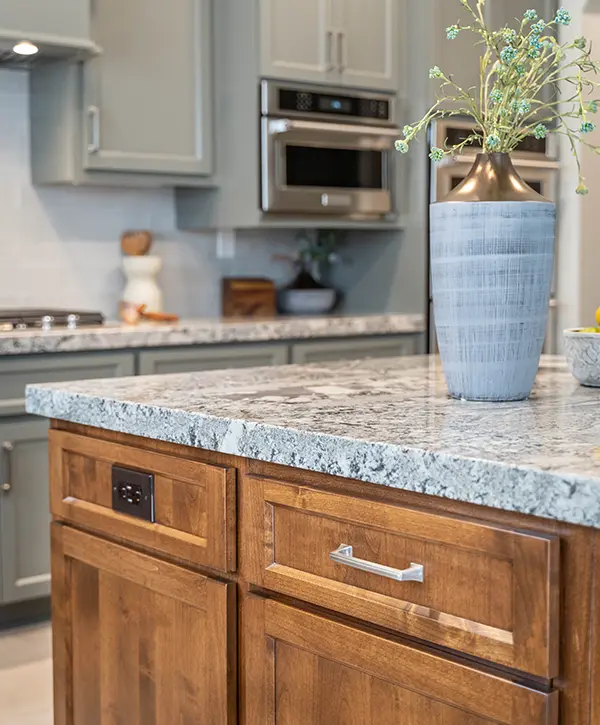 If you're remodeling, upgrading your kitchen countertops is crucial. This is especially important if you're also updating your cabinets, as the current countertops may not match the new design and style.
Hiring a dependable expert is best to ensure a flawless kitchen countertop installation process.
At KHB Construction, we offer top-notch countertop installation services in Modesto and other areas of California.
With us, you can expect a fast and efficient kitchen remodel that will leave your countertops looking absolutely stunning!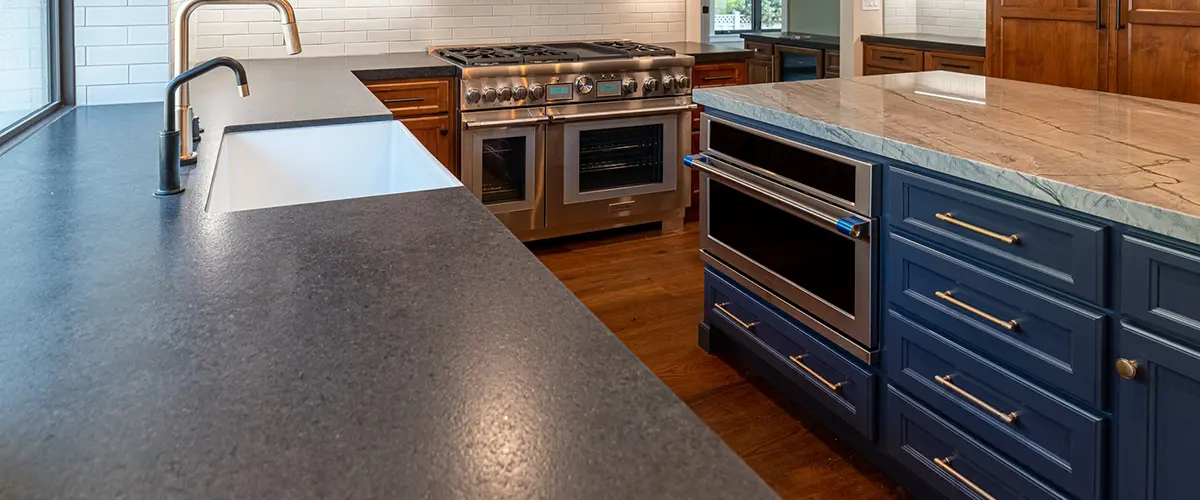 Benefits Of New Countertop Installation
When it comes to kitchen countertop installation, there are many advantages.
Installing new countertops allows you to select a material, color, and design that complements the decor of your kitchen or bathroom. This upgrade can completely change the appearance and vibe of the space, making it more visually attractive and welcoming.
By installing high-quality countertops on your property, you can increase its value significantly. Well-designed and durable countertops are often a priority for potential buyers and are considered an attractive feature. This can be especially advantageous if you plan to sell your home in the future.
High-quality countertops made of materials like granite, quartz, or solid surface are renowned for their durability and long-lasting nature. They can withstand daily usage, resist scratches, and retain their appearance. If you invest in these countertops, you can avoid the hassle of frequent repairs or replacements.
Installing new countertops can improve the functionality of your kitchen or bathroom. To meet your needs, you can choose from different materials that offer various benefits such as heat resistance, scratch resistance, or stain resistance. You can also consider adding larger or extra countertop space to provide more room for food preparation or storage.
Properly sealed and finished countertops are generally low maintenance. Mild soap and water are usually all that is needed to keep them clean. Certain materials are less porous, which makes them resistant to stains, mold, and bacteria. This is beneficial in promoting a healthier environment in kitchens and bathrooms.
Customizing your countertop installation is a great way to reflect your personal style. You can choose from several options, such as edge profiles, finishes, and backsplash designs. Additionally, you can customize the size and shape of your countertops to ensure they fit perfectly in your space.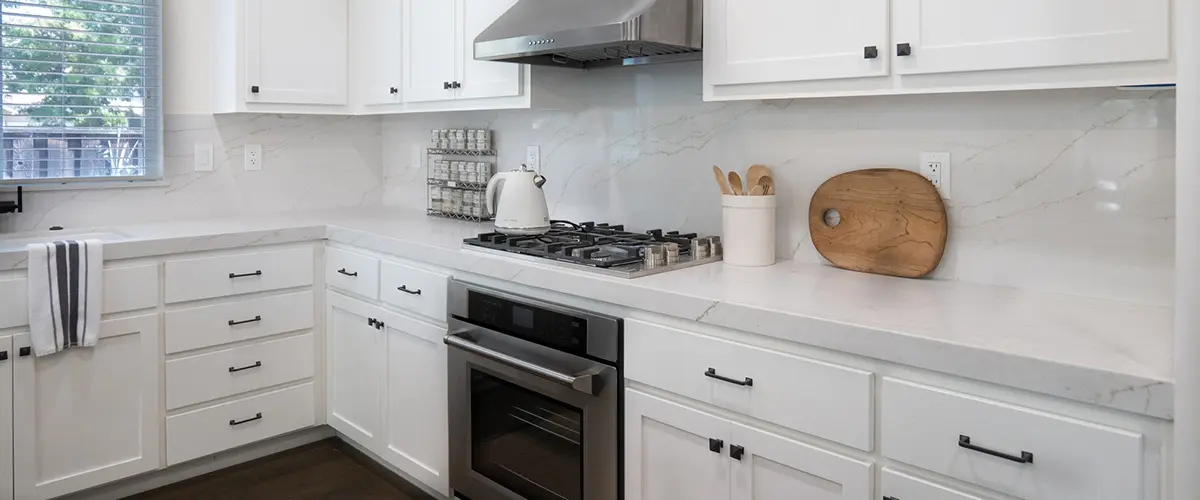 Popular Countertop Choices Across Modesto, CA
In Modesto, many countertop options are available to suit your preferences and taste. You can choose from various materials, including granite, marble, quartz, and laminate, which offer both durability and style. The countertop choices in Modesto reflect a blend of local and international influences.
Many people prefer to use granite because it is attractive and long-lasting. Its distinctive patterns and color shades are well-known, and it can resist heat, scratches, and stains if it is sealed correctly.
Engineered from quartz particles and resin, quartz countertops are non-porous surfaces available in various colors and patterns. They demand little upkeep and boast resistance against scratches, stains, and heat.
Laminate countertops are constructed by bonding multiple layers of artificial materials together. They are cost-effective, available in different colors and patterns, and are relatively easy to install. While laminate countertops require low maintenance, they may be less durable against heat and scratches.
Solid Surface Countertops
Acrylic or polyester resins mixed with minerals make up solid surface countertops. They have a smooth look, come in multiple colors, and can be fixed easily if damaged. Solid surface countertops are stain-resistant and may be a less costly substitute for natural stone.
Marble countertops are a beautiful addition to a kitchen due to their elegant design and distinctive veining. Remember that regular maintenance and sealing are necessary to prevent staining and etching. 
Butcher Block Countertops
Butcher block countertops consist of glued-together strips of wood, usually maple or oak, that offer a warm and natural appearance and are great for food prep. However, they need regular oiling and might be vulnerable to scratches and heat damage.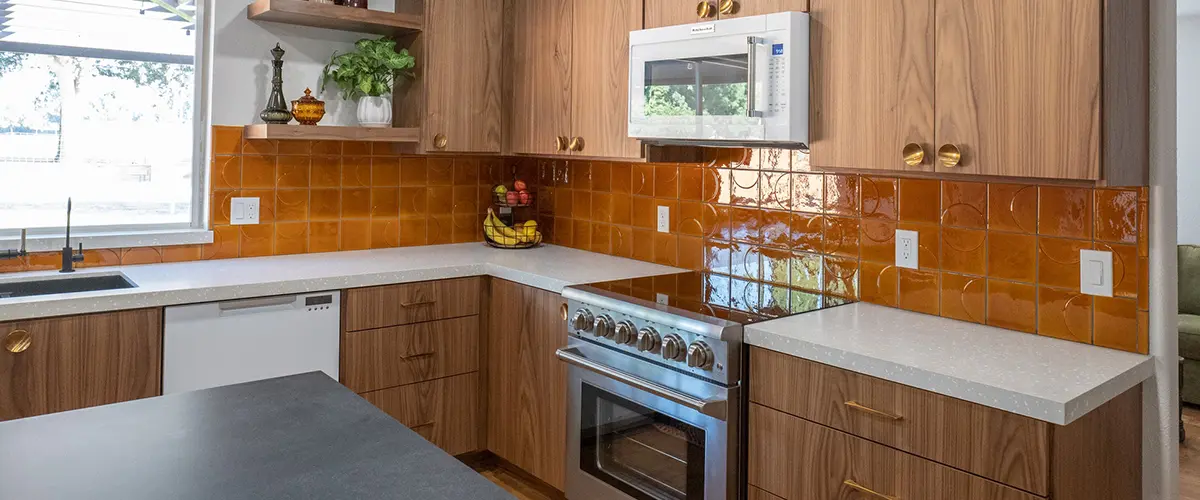 Contact us today to discuss your countertop installation needs, and let us transform your kitchen into a space for family gatherings!
How Homeowners Feel About KHB Construction
We had our bathtub remodeled into a walk in shower. From the first meeting with Ryan the salesman and Doug the manager of our project it was a great experience.
They worked up a quote and when it was a little over my budget they worked with me to get within my budget. They set us up with a decorator to help us with tile selection and design.
They gave us a detailed schedule of day to day work plans and stuck to it exactly. We are very happy with them and will definitely call them when we're ready to do our kitchen.
Ryan took our vision of enclosing our existing patio and making it a four seasons room and made it happen.
It looks exactly like our vision…the crew is on time, professional and at the end of the day the work area is clean.
We had a few bumps in the road but Ryan took care of everything…KHB cares about their customers and goes the extra mile to make your visions a reality!
Why Choose Professional Countertop Installation
Hiring professionals for your countertop installation guarantees that every aspect of the process is handled carefully from beginning to end.
With their extensive knowledge, experience, and access to high-quality tools and materials, professional installers provide exceptional craftsmanship and efficiency.
They can guide you in selecting the right materials and deliver a flawless installation, making the process seamless and stress-free.
Hiring professional countertop installers can ensure that your installation process is done efficiently and effectively. Their expertise in various types of countertop materials and installation techniques guarantee a precise and secure fit.
Hiring professional installers is recommended for countertop installations. They have the required tools and equipment, including specialized tools for precise measurements, cuts, and installation, thereby providing a seamless and professional finish.
Although installing your own countertop may seem budget-friendly, it can consume a lot of time and may result in mistakes. In contrast, professional installers work quickly and efficiently and promptly finish tasks. By hiring experts, you save yourself the trouble and potential pricey errors.
Reputable contractors often provide warranties or guarantees on their workmanship. If any issues arise after the installation, such as cracks, gaps, or loose seams, they will promptly address and rectify them, giving you peace of mind and added protection for your investment.
Professional countertop installers can provide you with a wide range of materials, styles, and designs. They can guide you throughout the selection process and advise you on the most suitable options based on your requirements, preferences, and budget.
It's important to install your countertops professionally to ensure they are secure and long-lasting. Professional installers abide by industry standards and best practices, minimizing the risk of damage or wear and tear. 
And if you'd like a new kitchen to go with your countertops, we also provide some of California's best kitchen remodeling services!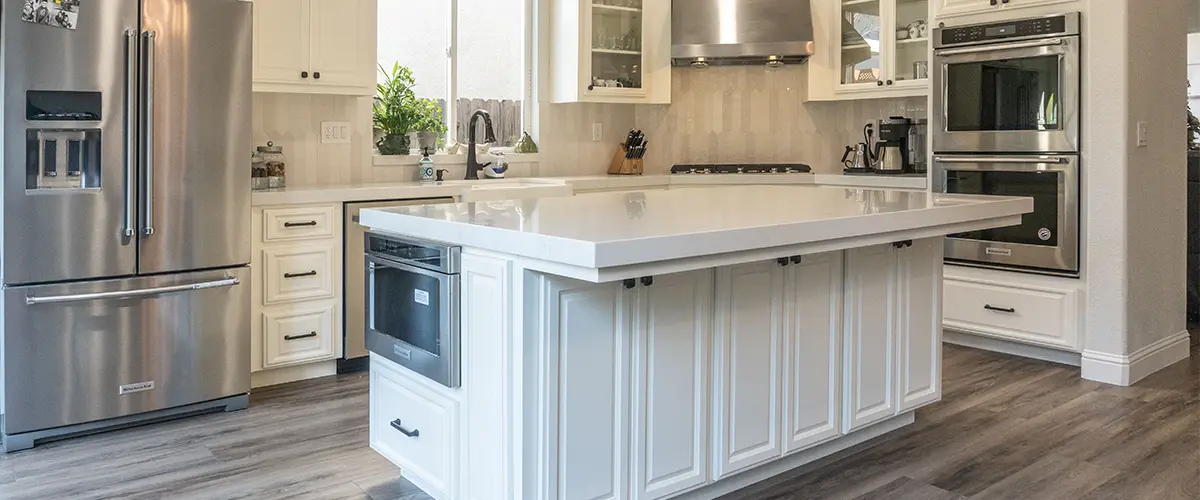 Countertop Installation FAQs
Make Kitchen-Time More Enjoyable
We'd love to help you turn your kitchen into a dream space and make cooking more fun. That's why we offer full kitchen remodeling services for residents throughout California. With KHB, you get experts that help create dream homes.
Contact us for a free quote and see how passionate we are about changing people's homes for the better!