Kitchen Lighting In Modesto, Turlock, Tracy, And More Of CA
Revamp your kitchen lighting to breathe new life into your home.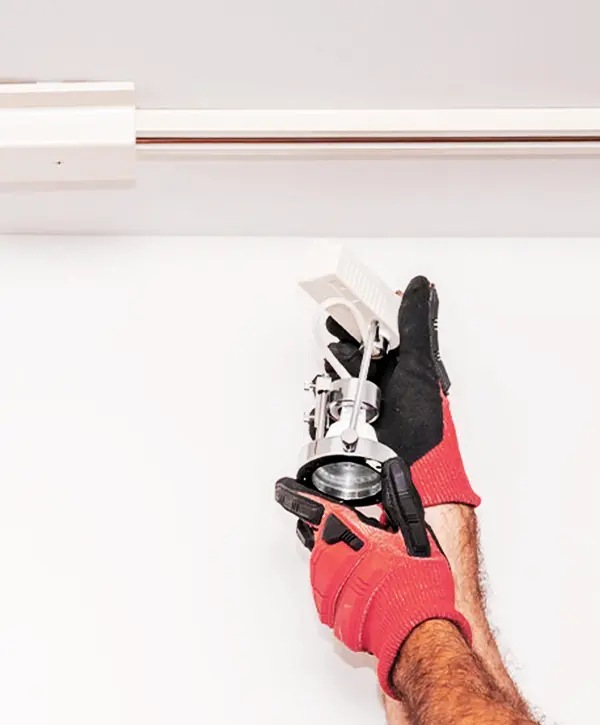 Imagine hosting your friends and family in a beautifully lit kitchen, where every detail, from your cutting board to your elegant dinnerware, is thoughtfully illuminated. The right lighting can not only transform your kitchen—it can elevate your entire home, making it a place where everyone loves to gather.
Don't wait to enjoy the kitchen of your dreams. Our experienced lighting specialists in Modesto, Turlock, Tracy, and throughout CA are ready to help you choose the perfect fixtures to complement your kitchen's design. Contact us today to schedule a consultation and take the first step towards a beautifully lit kitchen.
Common Types Of Kitchen Lighting
When it comes to kitchen lighting, understanding the different types can help you make the best decision for your space. The type of lighting you choose can dramatically alter the ambiance of your room—making it feel cozy, vibrant, or anywhere in between.
In this section, we delve into the common types of kitchen lighting available, each with its unique characteristics and benefits. Whether you are in Modesto, Turlock, Tracy, or elsewhere in CA, this guide will assist you in making an informed choice for your kitchen.
Pendant lights are like the jewelry of your kitchen, adding both style and illumination. These fixtures hang from the ceiling and come in various shapes, sizes, and materials, making them a versatile choice for any kitchen.
They are perfect for task lighting above kitchen islands or dining areas, where they provide focused light for meal prep or create an inviting ambiance during dinner parties. Whether you prefer sleek and modern or rustic and charming, pendant lights can complement your kitchen's aesthetic.
If you want to showcase specific features in your kitchen, accent lighting is your go-to choice. These lights are all about drawing attention to details like artwork, architectural elements, or even your prized kitchenware.
Think of accent lights as your kitchen's secret weapon for creating drama and depth. Install them above open shelves to highlight your favorite dishes or along the tops of cabinets to add a warm, inviting glow to your kitchen's design.
Sconces are the perfect blend of form and function. These wall-mounted fixtures not only brighten up your kitchen but also add a touch of elegance. Use them to create ambient lighting or to illuminate specific areas like a cozy reading nook or a coffee station.
With a variety of styles available, from sleek and modern to vintage-inspired, sconces can effortlessly enhance your kitchen's aesthetics.
Chandeliers aren't just for dining rooms anymore. They've found their way into kitchens, adding a touch of grandeur and sophistication. These overhead fixtures can become the focal point of your kitchen, combining form and function beautifully.
Whether you prefer a crystal chandelier for a touch of opulence or a rustic wagon wheel chandelier for a farmhouse feel, there's a chandelier style to match your kitchen's personality.
Drum lights are a contemporary choice for those who love clean lines and modern design. With their simple cylindrical shape, these fixtures provide even, diffused lighting. 
They work well in both large and small kitchens, and their versatility allows them to blend seamlessly with various decor styles. Whether you choose a sleek metal finish or a fabric shade, drum lights can bring a sense of minimalistic elegance to your kitchen.
When it comes to practicality, under-cabinet lighting takes the cake. These discreet fixtures are installed beneath your kitchen cabinets, providing essential task lighting for countertops and prep areas.
LED strips or puck lights are popular choices, offering energy efficiency and a clean look. Under-cabinet lighting not only makes chopping and cooking easier but also adds a modern touch to your kitchen.
At KHB Construction, we provide comprehensive kitchen remodeling services, including the provision of innovative kitchen lighting ideas and expert installation. Enhance the ambiance of your cooking space with our tailored lighting solutions. Feel free to contact us for more information.
Read Real Homeowner Reviews
Experience speaks volumes, and who better to hear from than our satisfied customers themselves? In this section, you'll find testimonials from homeowners who've chosen KHB Construction for their kitchen remodeling project.
Ryan and team just completed a 2 week project of completely renovating an old, ugly, and very hot, sunroom into a sparkling new and air-conditioned bonus room. They installed a whole new 30' wall, doors, windows, lights, fans, paint, and a split unit hvac.
Their communication, proposal process, professionalism, and quality was superb!! Although the project was probably small for them, it was a huge deal for us…and they treated it, and us, as a priority customer and completed every detail we discussed. There was a project manager every day and we had clear line of sight on the daily activities and completion times. To top it all off, they are super nice guys and we enjoyed getting to know them.
I highly recommend this company for jobs small and large.
We had our bathtub remodeled into a walk in shower. From the first meeting with Ryan the salesman and Doug the manager of our project it was a great experience. They worked up a quote and when it was a little over my budget they worked with me to get within my budget. They set us up with a decorator to help us with tile selection and design. They gave us a detailed schedule of day to day work plans and stuck to it exactly. We are very happy with them and will definitely call them when we're ready to do our kitchen.
How to Choose the Right Kitchen Lights
Choosing the perfect kitchen light fixtures isn't just about practicality; it's also about creating an eye-catching, inviting atmosphere that suits your space and lifestyle. Whether you're preparing family dinners, entertaining guests, or simply enjoying a cozy meal at the dining table, the right lighting can make all the difference.
1. Assess Your Lighting Needs
Before diving into the world of kitchen lighting, take a moment to evaluate your specific needs. Consider the following:
Identify areas like the sink, countertops, and stove that require bright, focused lighting for food prep and cooking.
Determine if you need a main source of brightness to evenly illuminate the entire kitchen.
Think about how you use your kitchen for entertaining or creating a cozy dining atmosphere.
2. Plan Your Lighting Zones
Divide your kitchen into zones based on your activities. For example:
Install under-cabinet lighting or track lighting for precise illumination around the sink and countertops.
Consider a central light fixture like a chandelier or a series of pendant lights for overall brightness.
Incorporate dimmable fixtures or decorative lighting over the dining table for creating the right mood when entertaining.
3. Choose the Right Fixture
4. Seek Professional Advice
If you're unsure about the best kitchen lighting setup for your space, don't hesitate to consult with a professional lighting designer or a remodeling expert like KHB Construction. They can offer expert guidance tailored to your kitchen's layout and your personal preferences.
5. Consider The Aesthetics
Besides functionality, remember that kitchen light fixtures can also be decorative elements. Choose fixtures that complement your kitchen's design and enhance its visual appeal. A well-thought-out lighting design can be as eye-catching as any other element in your kitchen.
6. Create The Perfect Balance
The key to successful kitchen lighting is achieving a balance between the various types of lighting. Blend task lighting, ambient lighting, and mood lighting to create an inviting and functional kitchen that adapts to your needs, whether you're washing dishes, preparing a meal, or entertaining guests.
Ready to illuminate your kitchen with the perfect lighting solution? Contact KHB Construction today! Our experts are waiting to offer you the finest kitchen lighting designs and installations.
Kitchen Lighting Installation FAQs
There's no one-size-fits-all answer to this, as the best type of lighting for your kitchen depends largely on its layout, design, and your specific needs.
Task lighting is crucial in areas where you prepare and cook food, such as the countertops and stove. Under-cabinet lighting is an excellent solution in this regard.
Ambient lighting, which provides the overall illumination of the space, is another essential consideration. Ceiling-mounted fixtures, like chandeliers or flush mounts, can provide this type of lighting.
For dining areas or kitchen islands, pendant lights or chandeliers can add a stylish touch while also offering practical illumination.
Lastly, accent lighting can highlight specific features in your kitchen such as architectural details or prized art pieces. Track lighting is a flexible option that can serve this purpose.
In terms of energy efficiency and durability, LED lights are increasingly popular. They come in a vast range of styles and temperature colors, making them a versatile choice for any kitchen.
Setting up kitchen lights entails a careful and strategic process. Before purchasing your lights, create a lighting plan. This should include a basic layout of your kitchen, highlighting areas where you need specific types of lighting.
Begin with task lighting. This should be focused on areas where you'll be cooking or preparing food, such as countertops and stoves. Under-cabinet lighting, for instance, is an effective solution for these areas.
Next, install ambient lighting to provide overall illumination. This could be a ceiling-mounted fixture like a chandelier or a series of recessed lights spread across the ceiling.
Add accent lighting to highlight specific features, like a kitchen island or architectural details. Pendant lights, track lighting or stylish sconces can serve this purpose.
Finally, assess your kitchen lighting setup and make adjustments. The key is balance – you want all areas to be adequately lit without creating overly bright or dim areas.
Installing LED lights in kitchen cabinets involves a few basic steps.
Firstly, determine where you want to place the LED strips. Ideal locations are under the cabinets to light up the countertops or inside glass cabinets to highlight your dishes and glassware.
Next, measure the length of the area where you plan to install the lights. This will tell you how many LED strips you need. Remember to leave space for the power supply and connections.
Purchase the required LED strips, connectors, and power supply. Make sure the power supply can handle the total wattage of all the LED strips you plan to use.
Now, begin the installation. Clean the surface, peel off the adhesive backing on the LED strips, and carefully stick them where you want the lights. Connect the strips to each other with the connectors and then to the power supply.
Finally, test the lights. If everything is working correctly, secure the power supply and hide any visible wiring. Your kitchen cabinets are now beautifully lit with LED lights.
Under-cabinet lighting should ideally be installed close to the front edge of the cabinet. This way, the light will spread over the maximum possible area, illuminating the entire countertop and backsplash.
Start by deciding the type of under-cabinet lighting you plan to use. Popular choices include LED strip lights, puck lights, or light bars. All these come with different installation methods and provide different lighting effects.
Measure the length under the cabinet where you plan to install the light. This will help you determine the number of light units or the length of the LED strip you need.
When installing, ensure that the lights are placed evenly for a uniform lighting effect. Avoid placing lights too close to the wall or too close to each other as this can create harsh shadows.
Connect your under-cabinet lights to a power source. You can either plug them into an outlet or, for a cleaner look, you can hardwire them into your home's electrical system.
Remember, under-cabinet lighting not only helps in task lighting, but it also adds a dramatic effect to your kitchen when used correctly.
Transform Your Kitchen With Perfect Lighting
Reach out to us at KHB Construction and let our experts illuminate your culinary space with the perfect lighting solutions. We offer comprehensive kitchen remodeling services to turn your ideas into reality. Call us now at (209) 528-0255, and let's start planning your kitchen makeover!