Flooring Installation In Modesto, Turlock, Tracy, And More Of CA​
Enjoy new floors with zero effort by employing the best flooring installation services in Modesto, Turlock, Tracy, Manteca, and more of CA.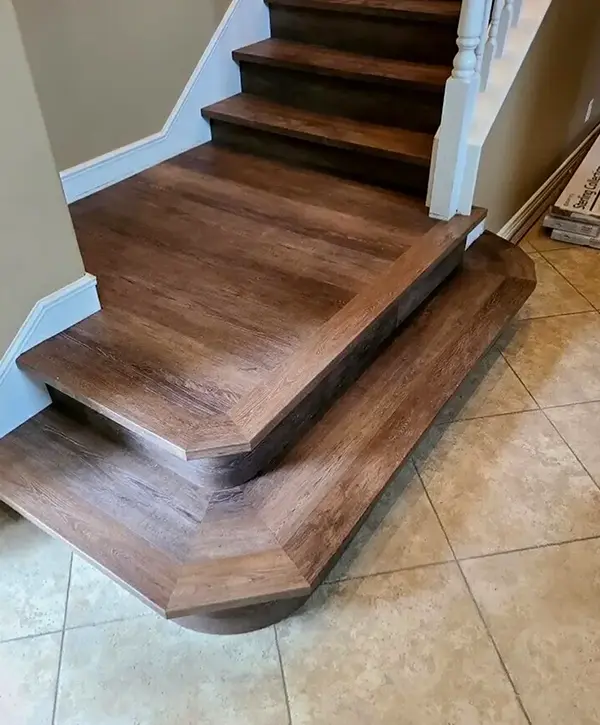 The right flooring installation services can deliver beautiful, long-lasting results that attract admiring looks from anyone crossing your threshold.
But choosing a reliable contractor to do the job is critical — and finding quality workmanship at an affordable price is challenging.
Or is it…?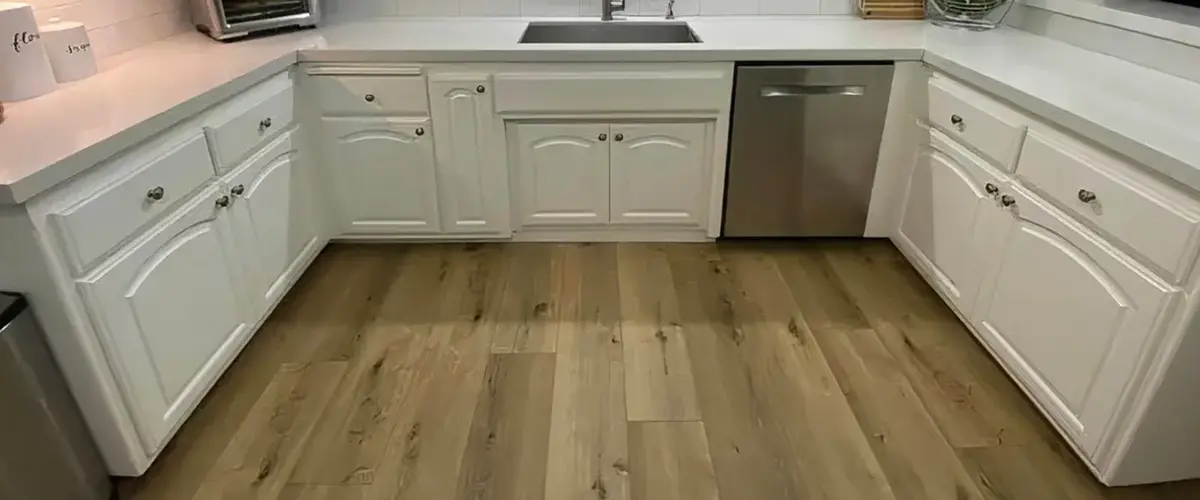 Types Of Floors And What To Expect From Each
Replacing the flooring in your home can give it a new and modern appearance. New floors can complement your decor and enhance the overall aesthetics of your home.
Switching from carpet to hard flooring, for instance, might facilitate cleaning and be beneficial for those with allergies.
Damaged or old flooring can increase the risk of accidents, such as falls. Replacing your existing flooring can eliminate these dangers and make the place much more secure for residents.
Investing in better flooring for your home has been shown to reduce energy costs. Insulated flooring, for instance, can aid in temperature regulation and help reduce energy costs.
However, not all flooring is the same and it's important to understand what each has to offer.
Hardwood floors have long been touted as a desirable option for homeowners shopping for new flooring. Wooden floors have always been popular because of their classic style, durability, and the inherent elegance and coziness they bring to any room.
Interested in hardwood flooring installation in Modesto, Turlock, Tracy, Manteca, and more of CA? Put your mind at ease and have the best people on the job with our dedicated division over at KHB Flooring.
Considering hardwood floor installation? If so, you will be able to enjoy a lot of perks.
With regular care and cleaning, hardwood floors can last for decades, making it one of the most long-lasting flooring options. It can withstand wear and tear from foot traffic and is stain- and scratch-proof.
Because of the wide range of hues and grain patterns available, hardwood flooring may be tailored to suit any interior design scheme. Hardwood floors are beautiful and can increase the value of your property.
If you apply a protective finish to your hardwood floors, they won't need as much attention as they would without it. You can keep your floors looking great with only a quick sweep, vacuum, or damp mop.
Over the past few years, LVP flooring has exploded in popularity as a magnificent option for residential flooring. It is a form of resilient flooring that looks like hardwood but doesn't require the same level of care.
Get rid of the stress of installing new floors by yourself with the best LVP flooring installation in Modesto, Turlock, Tracy, Manteca, and more of CA! We install flooring for anyone interested, regardless of how small or extensive the project is.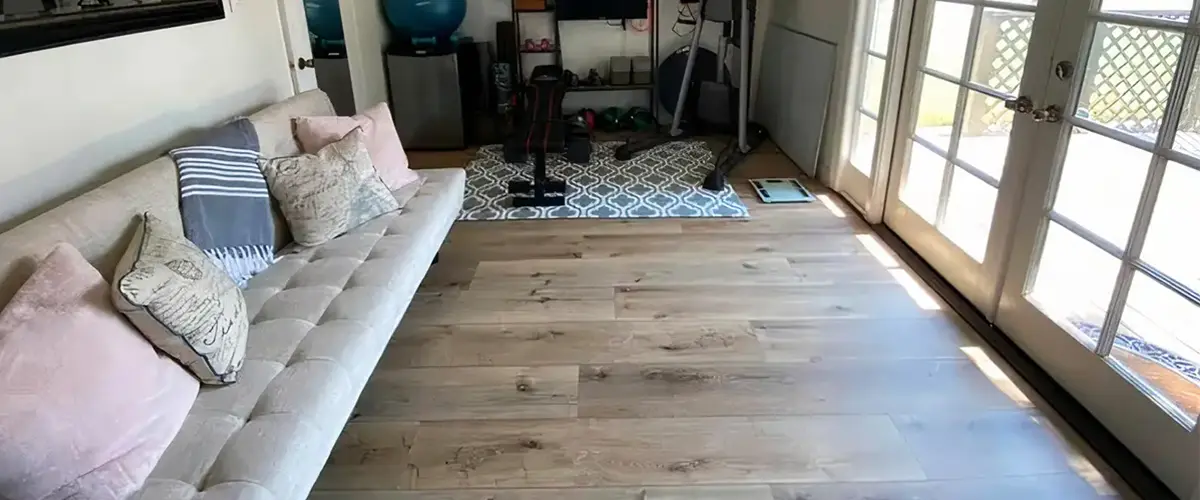 LVP floor installation is a great idea if you want to upgrade the looks of your home without completely remodeling it. It offers plenty of benefits for you, as a homeowner.
LVP flooring is resistant to water damage because it has a waterproof core. Because of this, it's an excellent choice for use in damp environments like kitchens, baths, and utility rooms. No more moisture damage to worry about, folks!
LVP requires next-to-nothing in terms of upkeep. It doesn't need to be sanded, stained, or refinished. In the event of a spill, simply wash the area off with a moist towel. Regular sweeping or vacuuming will keep the flooring looking as good as new.
If you compare it with hardwood floors, LVP flooring costs are more affordable. It gives hardwood flooring a run for its money because it's a budget-oriented solution if you are looking for good value on your new floors.
When looking for a low-maintenance and inexpensive flooring solution, many homeowners choose vinyl. It comes in a wide range of colors, patterns, and textures, and is manufactured from synthetic materials like PVC.
What would you do if you had more free time and didn't have to spend it installing a new floor? At KHB, we offer complete vinyl flooring installation services in Modesto, Turlock, Tracy, Manteca, and more of CA! You enjoy your free time while we handle the work.
Vinyl flooring is adaptable because it can be made to resemble a variety of other flooring types, including hardwood, tile, and even stone.
Sheet vinyl and luxury vinyl tile are the two primary vinyl flooring options. Sheet vinyl is a type of flooring that comes on a long roll and is best suited for rooms that don't have many corners or other barriers.
In contrast, luxury vinyl tile consists of separate tiles or planks that may be laid out in any design, giving it a flexible choice for any room size or layout.
But what does this all mean for you, as a homeowner?
Homeowners who spend a lot of time on their feet will appreciate the softness of vinyl flooring underfoot. It offers a mild cushioning effect, making it more comfortable to stand up when you have housework to do. No more sore feet when cooking for the fam!
Vinyl flooring's low upkeep needs are a key plus. Vinyl flooring can be kept looking great with just frequent sweeping and mopping. It may also be cleaned easily after a spill without any special treatment, saving homeowners time and effort.
In many cases, vinyl flooring is a more eco-friendly option than other flooring materials. If you care about your environmental impact, you will be pleased to know that vinyl floors are often made from recycled materials. Even if they're not, they can be recycled nevertheless.
Those looking for a low-cost and low-upkeep flooring solution often choose to install laminate flooring. It consists of a fiberboard core, an ornamental layer, and a protective top layer, all of which are fused together to form the final product.
Because of its wide range of designs, colors, and textures, laminate flooring may be used virtually anywhere.
If you want a stress-free flooring experience, we've got you covered! You've just found the best laminate flooring installation in Modesto, Turlock, Tracy, Manteca, and more of CA. We've installed flooring by the thousands and ready to start working for you too!
Direct pressure laminate (DPL) and high-pressure laminate (HPL) are the two most common varieties of laminate flooring.
The more affordable and often used variety of laminate flooring is known as DPL. The core of fiberboard is covered with a decorative layer and a protective layer all at once to create this material.
Conversely, high-pressure laminate is a superior material created by fusing many layers in a high-temperature and pressure environment.
Let's not get into too many technicalities and see exactly why laminate floors might be your top pick.
A laminate floor's thick outer layer and resin coating make it far superior to other flooring options in terms of durability, strength, and resistance to wear and tear. It's a great choice for households with kids, pets, or people that love to wear high heels indoors.
Many laminate floors successfully imitate the look of hardwood or stone, but there is no limit to the number of designs and colors you can choose. You could have flooring to complement any aesthetic, from elegant and opulent to cool and modern. 
Even when constantly exposed to sunlight, laminate floors won't fade, as they are normally coated with aluminum oxide. Good laminate flooring manufacturers will typically back their products with lengthy guarantees against fading, staining, and water damage.
Carpet flooring is favored by many families because it is comfortable underfoot, insulates well, and can absorb noise. It's made with fibers that are tufted or woven tightly together to form a dense, plush pile.
Thanks to the wide range of colors, textures, and patterns available, carpet flooring can be used in virtually any room of the house.
Say hello to warm floors that are soft to step on! Leave the unpleasant part to us, as we offer zero-hassle carpet flooring installation in Modesto, Turlock, Tracy, Manteca, and more of CA.
Carpet carpeting comes in a wide variety of styles and materials, giving homeowners plenty of options. You can choose from: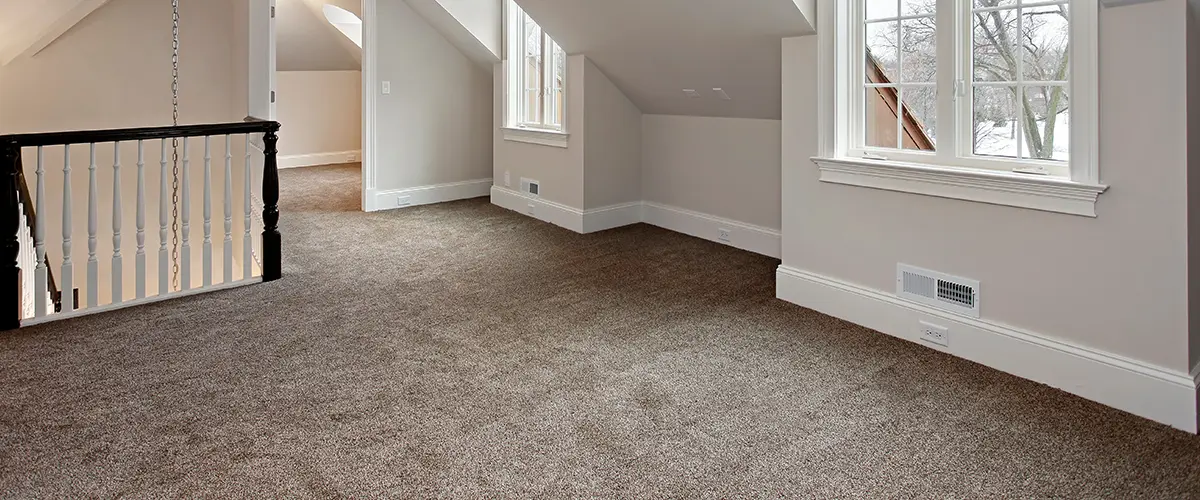 So far, so good, but how can you benefit from carpet flooring installation in your home?
Out of all flooring choices, carpet is likely the easiest one to match with your existing decor. You can easily choose something that will look great in any room of your home. There is a carpet flooring option to suit every design preference, from classic solid colors to modern patterns and prints.
Tired of slippery floors and potential home fall-related injuries at home? Carpet is safer and slip-resistant! It's designed to prevent slips, trips, and falls by creating a surface that doesn't slide around. Carpet floors can also cushion falls, making them safer for those who happen to fall.
Did you know that carpets can make your home more energy efficient? That's because the fibers and construction of a carpet make it a great insulator. No more chilly floors and cold feet for you and the kids! You can even afford to turn down the heat in chillier months!
Work With Reliable Contractors To Save Time Energy And Avoid Headaches
Having new flooring installed is a significant financial commitment for homeowners, so finding a reliable flooring contractor is essential for a positive experience. While it's tempting to go with the lowest bidder, remember that a successful installation hinges on hiring a reliable contractor.
Good contractors are known for their ability to communicate effectively. If you choose a professional, they will pay attention to your wants and concerns and keep you in the loop during the installation.
They will go over the several flooring choices and their benefits and drawbacks. They'll provide you an estimate that includes the project's timeline, budget, and scope.
The job of installing flooring requires specific skills, which a reputable contractor will have in abundance. They are knowledgeable about many flooring options and can recommend the finest one for your home. Installation problems? They've got the equipment and skills to fix them.
Avoid the pitfalls of poorly-installed floors with cheap materials that need replacing within the year. At KHB, we have decades of experience in flooring installation and work with some of the best brands on the market!
Choosing an inexperienced flooring installation contractor might result in a number of costly and annoying complications. There are plenty of things that can go wrong if you go with unreliable contractors:
From Outdated To Outstanding, Here Is What Your Floors Can Look Like
What Other Homeowners Like Yourself Think About Our Services
We've partnered up with the best in the business, Ben from Big Ben's Flooring, to bring people the best flooring installation services in Modesto and more of CA. Read below what some of our combined customers have to say about us.
Ryan and team just completed a 2 week project of completely renovating an old, ugly, and very hot, sunroom into a sparkling new and air-conditioned bonus room.
They installed a whole new 30' wall, doors, windows, lights, fans, paint, and a split unit hvac. Their communication, proposal process, professionalism, and quality was superb!!
Although the project was probably small for them, it was a huge deal for us…and they treated it, and us, as a priority customer and completed every detail we discussed. There was a project manager every day and we had clear line of sight on the daily activities and completion times.
To top it all off, they are super nice guys and we enjoyed getting to know them.
What a great experience I had with Big Ben's flooring. We replaced all our carpet with new hard floors and the results are fantastic.
Ben and Raechel are delight to work with. They didn't have a problem coming out to multiple locations on more than one occasion and worked with me to ensure I was getting exactly what I wanted.
The installers; CJ, David and Nate were are very professional and worked efficiently, hearing any concerns I had and addressing them accordingly. Cannot recommend this company enough.
Will definitely be working with them again on future projects!
Your Flooring Installation Questions, Answered
Get Durable Floors That Last For Decades
Get in touch with our flooring experts and talk to the owners themselves about your flooring installation in Modesto, Turlock, Tracy, Manteca, and more of CA! We're ready to talk you through the materials and process, offering consultation for all things flooring!
Our team of professional installers will work tirelessly to give you the floors you crave. We'll help you fully understand the square foot costs involved based on the materials you're interested in.
If you're ready to take home upgrades to the next level, feel free to check out our home remodeling services too!