Kitchen Island Installation In Modesto, Turlock, Tracy, And More Of CA
Transform your kitchen into a stylish and functional hub.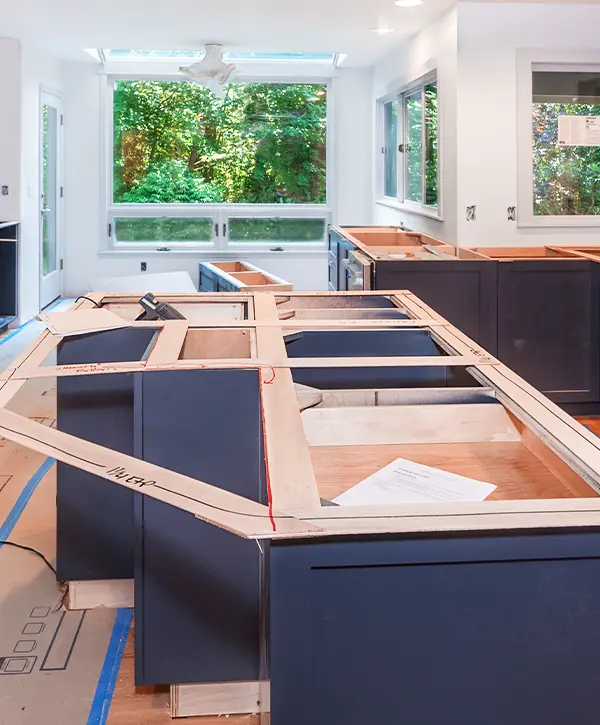 Imagine cooking in a kitchen where everything is within reach. Imagine a kitchen space that not only increases your home's aesthetic appeal but also its market value. That's what a kitchen island installation can offer.
At KHB Construction, we offer full kitchen remodeling services that include kitchen island installation in Modesto, CA, and surrounding areas. We are dedicated to providing exemplary service, ensuring that each kitchen island installation project is executed with precision and attention to detail.
With us, you can enjoy a kitchen remodeling experience that includes:
When it comes to kitchen islands, one size doesn't fit all. These kitchen workhorses come in various shapes and styles, each serving a unique purpose. Let's explore some popular types:
1. Custom Kitchen Islands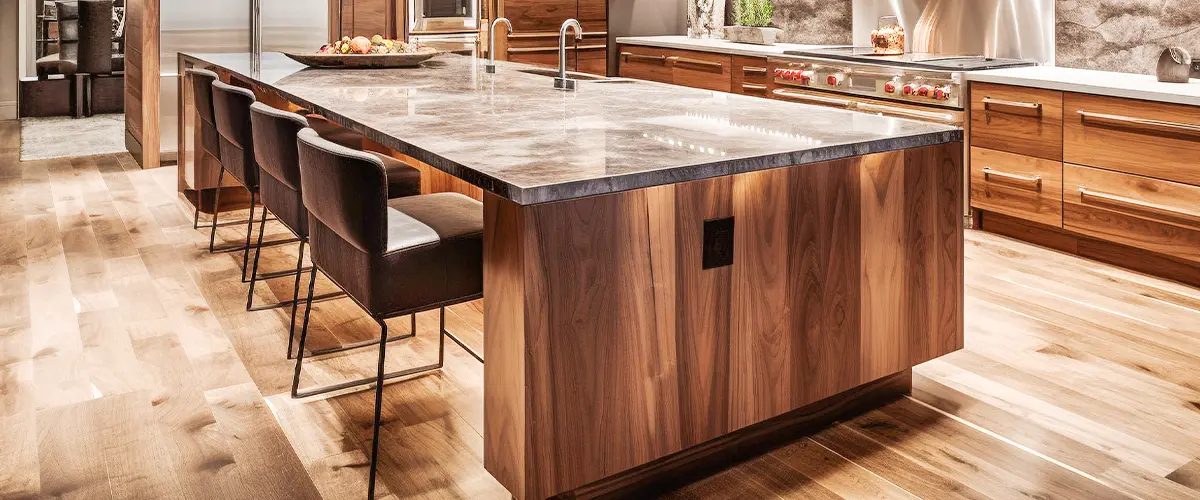 2. U-Shaped Kitchen Islands
3. Galley Kitchen Islands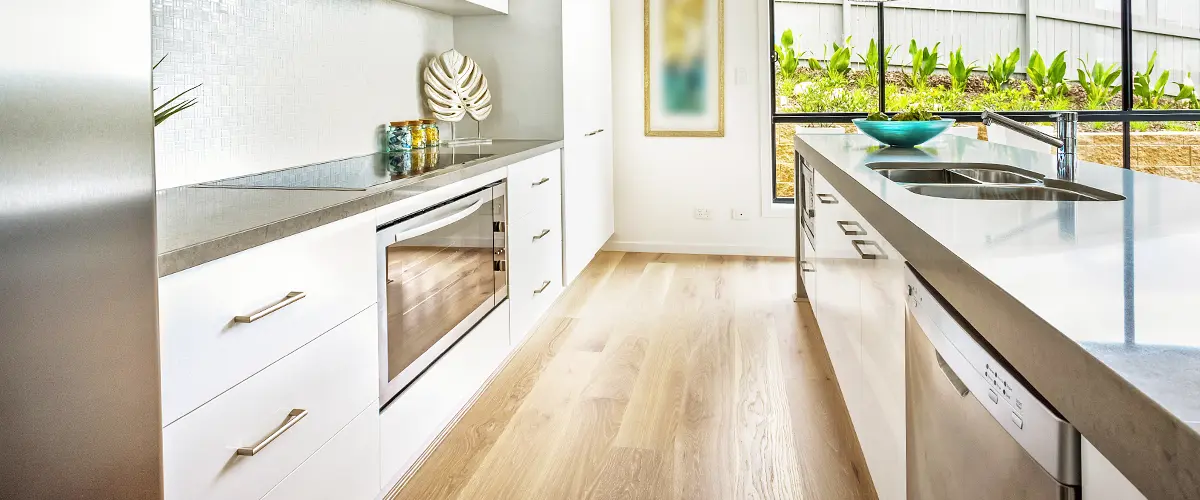 4. Prefab Kitchen Islands
Now, you might be wondering which type is right for you.
The choice is yours, and we're here to make it happen! Get in touch with us for the best kitchen remodeling services in Modesto, CA, and let's turn your kitchen into a place where every family member wants to gather.
Delivering excellence in all our kitchen remodeling projects, we've earned the trust of numerous clients in Modesto, CA, and surrounding areas. But don't just take our word for it; read what our valued customers have to say about their experiences.
Being no strangers to construction, we knew that 5-6 week kitchen Reno meant 3 months. We knew there'd be plenty of pain points and frustrations. From start to final sign off, it took 6 weeks and a day, was virtually pain free and we can't say enough about the craftsmanship. Every person on the job took personal responsibility and pride in their craft.
We waited MANY years to get our dream kitchen and can't thank Ryan, Bobby, Doug, George and the WHOLE team enough for a dream achieved! Proud to be part of the KHB family!
It was my first time remolding a kitchen and used KHB Construction to do so. They are very professional, had great communications throughout the process, and did a better job than I could have every imagined. They pay attention to all the little details and finished the project on time. I would strongly recommend using them for your home needs.
Benefits of Kitchen Islands
Kitchen islands aren't just trendy; they're incredibly practical, too. Here are some compelling reasons why having a kitchen island can transform your cooking space:
Ever found yourself desperately needing more room to chop, prep, or serve? A kitchen island provides that precious extra counter space, making meal prep a breeze.
Need to plug in your blender, food processor, or even charge your devices while you cook? Many kitchen islands come equipped with electrical outlets for your convenience.
Imagine enjoying your morning coffee or a quick meal right at your kitchen island's breakfast bar. It's like having a cozy café in your own home.
With a custom kitchen island, you get to design it according to your unique needs and style. It's not just functional; it's a statement piece tailored to you.
Many kitchen islands offer storage options, from drawers to cabinets, giving you a tidy place to stow away pots, pans, or your favorite cookbooks.
Whether it's for casual dining, homework with the kids, or entertaining guests, island seating brings everyone closer to the action in the kitchen.
Ever had too many cooks in the kitchen? A kitchen island provides enough space for multiple people to work together without bumping elbows.
Here's a surprising benefit – a kitchen island can help you save money in the long run. With extra counter space and storage, you might be less tempted to dine out and more inclined to cook at home.
Contact KHB Construction for a kitchen remodel that focuses on bringing your entire family together and making you feel proud to own that space.
Countertop Choices for Your Kitchen Island
When it comes to designing your dream kitchen island, selecting the right countertop material is crucial. The choice not only affects the island's appearance but also its functionality. Let's explore some popular options:
Granite countertops are a timeless choice known for their durability and natural beauty. They offer an elegant and sturdy surface that can withstand the demands of a busy kitchen. With a variety of colors and patterns available, you can find one that matches your kitchen's style.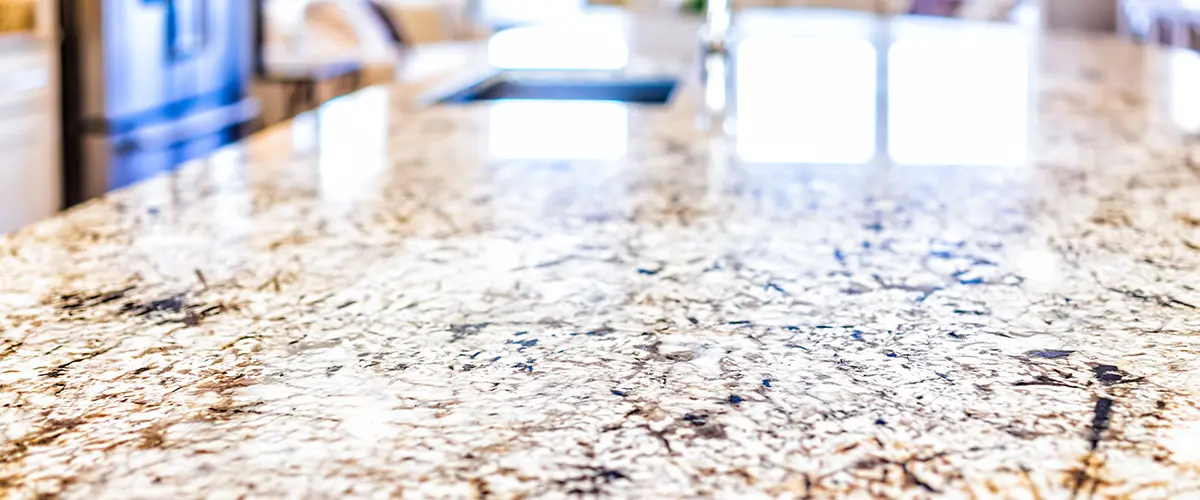 2. Butcher Block Countertops
For a warm and inviting look, consider butcher block countertops. They bring a touch of rustic charm to your kitchen island. These wooden surfaces are ideal for food prep and provide a comfortable feel for dining. Regular maintenance is essential to keep them looking their best.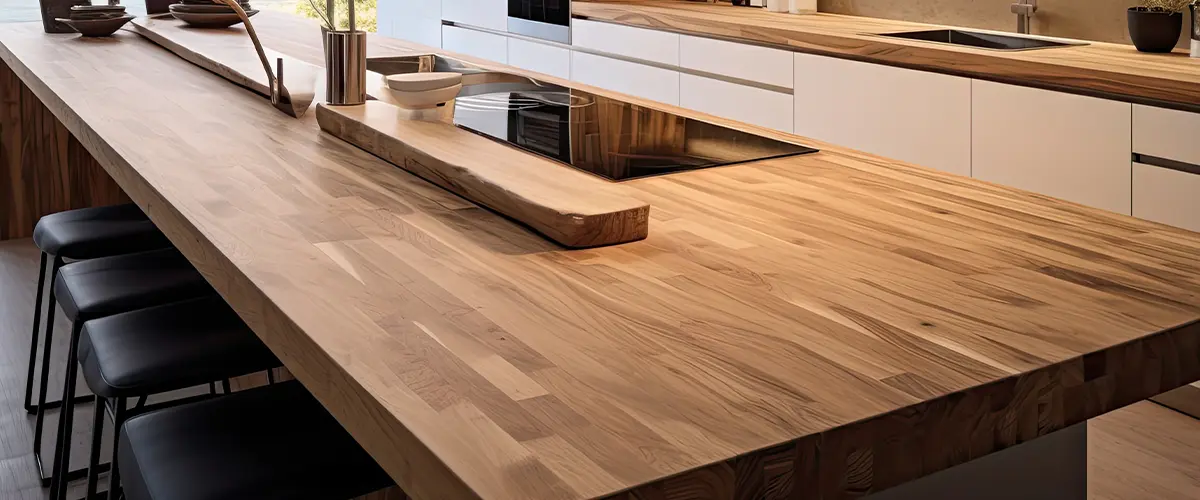 3. Solid Surface Countertops
Solid surface countertops, such as Corian or acrylic, offer a seamless and versatile option. They can be customized to your preferred shape and size, allowing for integrated sinks and a sleek, modern appearance. Plus, they're easy to clean and maintain.
Quartz countertops are engineered stone surfaces that combine beauty and durability. They are non-porous, resistant to stains, and come in a wide range of colors and patterns. This makes them a low-maintenance choice for your kitchen island.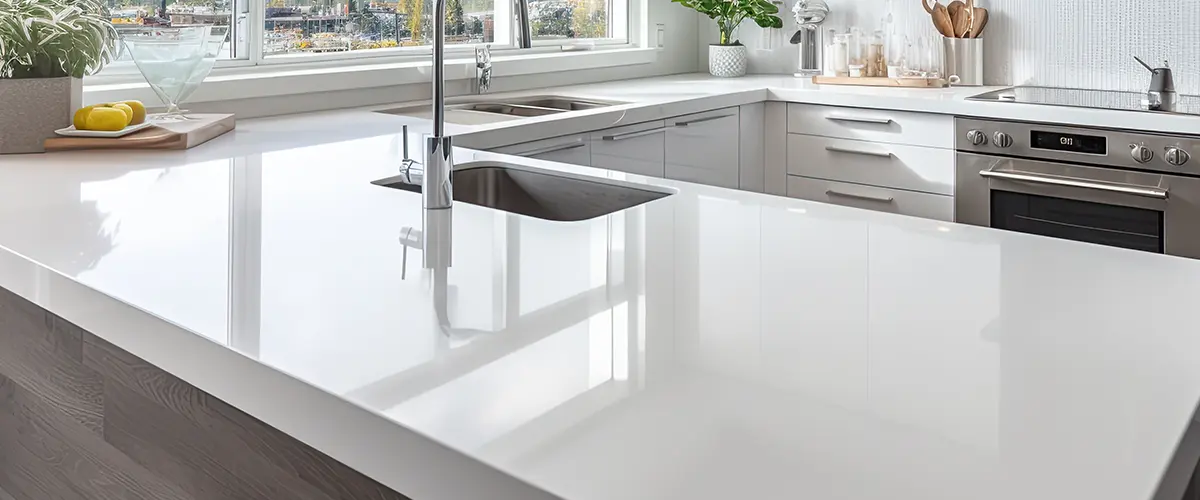 For a touch of luxury, marble countertops are a classic option. They feature distinctive veining and a timeless elegance that can elevate your kitchen's aesthetics. Keep in mind that marble requires more care to prevent staining and etching.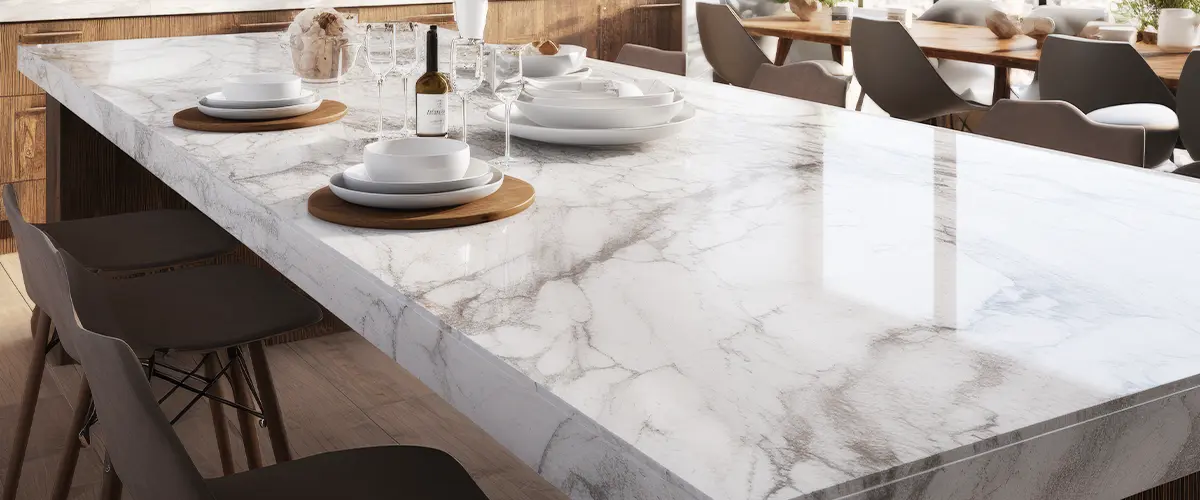 If you're on a budget, laminate countertops provide an affordable yet attractive solution. They come in various patterns and colors, allowing you to achieve the look you desire without breaking the bank. Laminate is also easy to clean and maintain.
Concrete countertops offer a unique and customizable option for your kitchen island. They can be stained, stamped, or polished to create a one-of-a-kind look. While they require sealing and occasional maintenance, they provide a distinctive industrial or modern style.
8. Recycled Glass Countertops
For an eco-friendly choice, consider recycled glass countertops. These countertops incorporate recycled glass pieces into a resin or concrete base, creating a stunning and sustainable surface. They come in various colors and add a vibrant touch to your kitchen island.
Kitchen Island Installation FAQs
The cost of a kitchen island varies based on factors like size, materials, and features. Partially custom kitchen islands can help you save money while allowing some customization. You can also opt for a freestanding island, which is cost-effective and doesn't require installation.
Installing a kitchen island can be straightforward, especially if your kitchen layout allows for it. However, it may involve plumbing and electrical work, which professionals should handle.
Stock cabinets are readily available and budget-friendly, making them a practical choice. For a more tailored look, you can opt for custom cabinetry. Consider your kitchen island's purpose and your design preferences to make the right choice.
Yes, it's advisable to hire a professional for plumbing and electrical work during kitchen island installation. They ensure that the necessary connections are made safely and up to code, making your island functional and safe.
When you partner with KHB Construction for your kitchen remodeling needs, we take care of this aspect for you.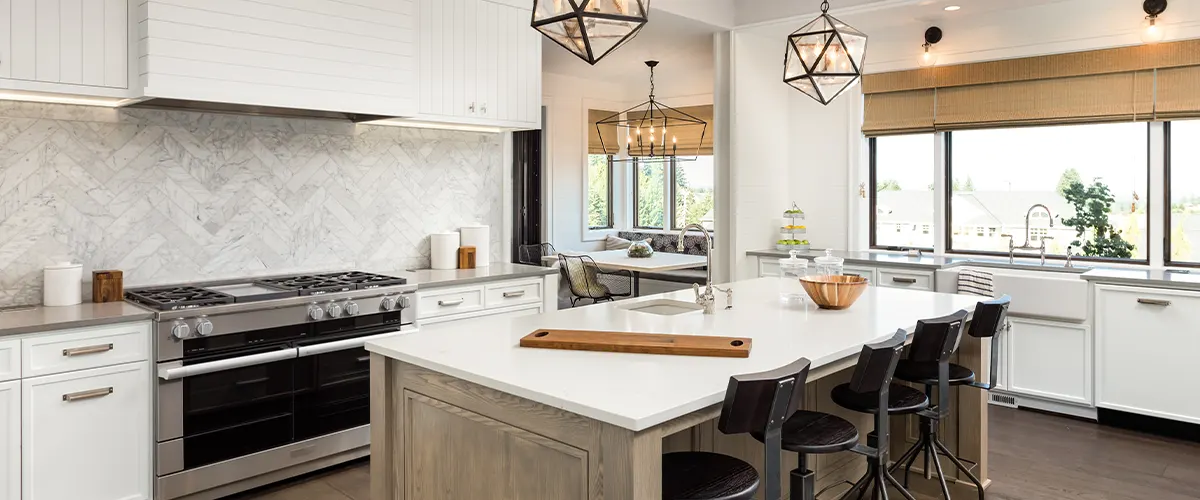 Partner With Modesto's Best Kitchen Remodeling Company
Experience the difference of working with Modesto's most trusted kitchen remodelers. At KHB Construction, we blend design-build expertise with full-service remodeling solutions, ensuring your kitchen transformation is nothing short of perfect.
Don't just take our word for it – get in touch and see how we can turn your dream kitchen into a reality. Contact us at (209) 528-0255 we're ready to make your kitchen the heart of your home.