Bathroom Tiling In Modesto, Turlock, Tracy, And More Of CA
Enjoy the stress-free bathroom tiling experience with a service that covers Modesto, Turlock, Tracy, and more of CA.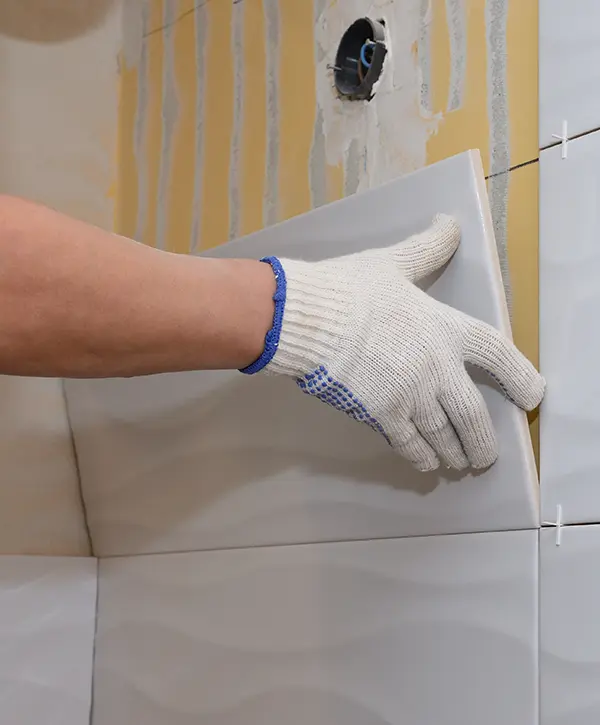 At KHB Construction, we're all about giving our clients the perfect bathroom. We know how vital it is to have a functional and well-designed space.
That's why we offer a comprehensive bathroom remodeling package that includes top-notch bathroom tiling services.
Our experienced tiling professionals are here to help you choose every detail to achieve your vision for your dream bathroom. Whether you love modern or classic tile designs, we have plenty of options to fit your style and budget.
We take pride in our attention to detail and in delivering high-quality work. So why not let KHB Construction help make your bathroom dreams a reality?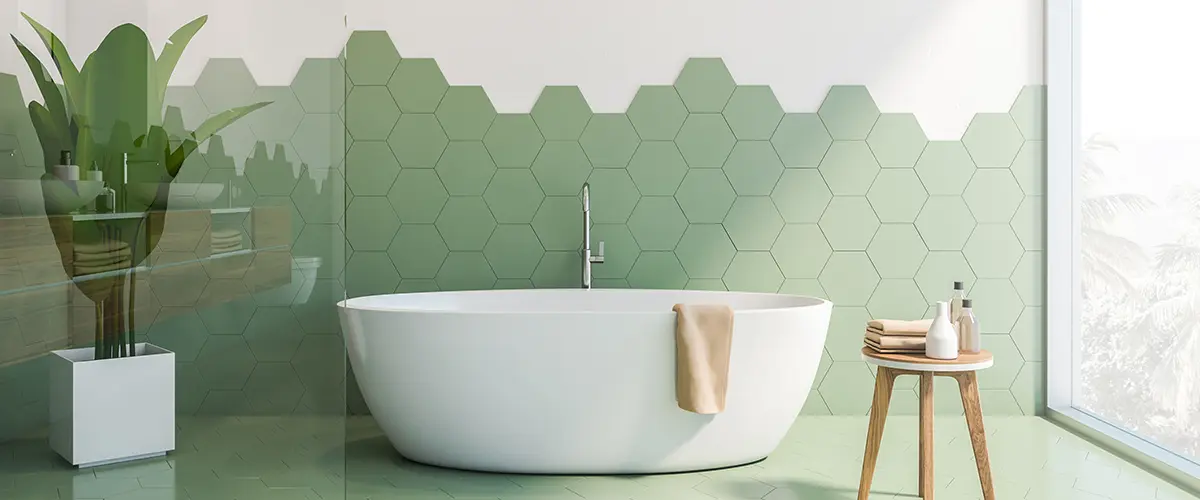 The Benefits of Bathroom Tiling
When it comes to bathroom design, tiling is a popular choice for many homeowners. But what makes tiles so special and why would you invest in new tiling?
One of the main benefits of bathroom tiling is its durability. Bathroom floors and shower areas are often subjected to moisture and high foot traffic, but with floor tile or shower tile, you can rest assured that they will withstand the wear and tear of everyday use.
You don't want to be replacing your floor or wall every day, and with tiles, you don't have to worry. They are also resistant to stains and chipping, ensuring they will keep their beautiful looks for years.
Bathroom tiling has way more benefits than you'd expect! Along with being durable, it also lets you be as creative as you want.
There are so many designs to explore, from the traditional classics to modern styles, that you'll surely find something to suit your taste.
With various shapes, sizes, colors, and patterns, it's an excellent way to express yourself and add a personal touch to your bathroom.
Bathrooms with tile floors are a breeze to keep clean. All you need to do is wipe up spills or messes with a damp cloth or mop and you're all set.
Plus, if one tile gets damaged, no need to redo everything. You can simply replace that one broken tile, which saves you money in the end.
Bathroom tile has a timeless quality that can give your home's resale value a boost. A stunningly tiled bathroom can make a huge difference in its overall appeal, whether you're selling it or not.
It not only adds value but also enhances the visual appeal of your bathroom, making it a more inviting space to spend time in.
Our experienced tiling professionals are here to help you choose every detail to achieve your vision for your dream bathroom.
5 Tips for Choosing the Right Bathroom Tiles
Picking out bathroom tiles can really impact how your space looks and feels. Whether you're choosing floor tiles or wall tiles, there's so much to think about before you make your final choice. Here are some tips to make sure you choose the perfect bathroom tiles for you.
1. Consider the size of your bathroom
If you have a small bathroom or powder room, you may want to choose smaller tiles to make the space look larger. Larger tiles can overwhelm a small space, so it's best to stick to smaller options.
2. Think about the function of the space
If you're installing tile on the floor, you'll want to choose a durable option that can withstand daily wear and tear.
Hardwood floors may look nice, but they can be damaged by water and moisture. Tile backer board is a good option for installing tile over a wood subfloor.
3. Decide on a classic tile design
Classic tile designs are always in style and can add value to your home. If you're not sure what style to choose, consider a classic subway tile or a neutral mosaic design.
4. Choose a finish that matches your style
Glossy tiles can give your bathroom a modern, sleek look, while matte tiles can provide a more natural, organic feel. Consider your personal style and the overall look you want to achieve in your bathroom.
5. Use leftover tile creatively
If you have leftover tile from another project, consider using it in your bathroom as an accent. You can create a border around your shower or use it to create a unique backsplash.
At KHB, we offer a complete bathroom remodeling package that includes top-notch bathroom tiling services.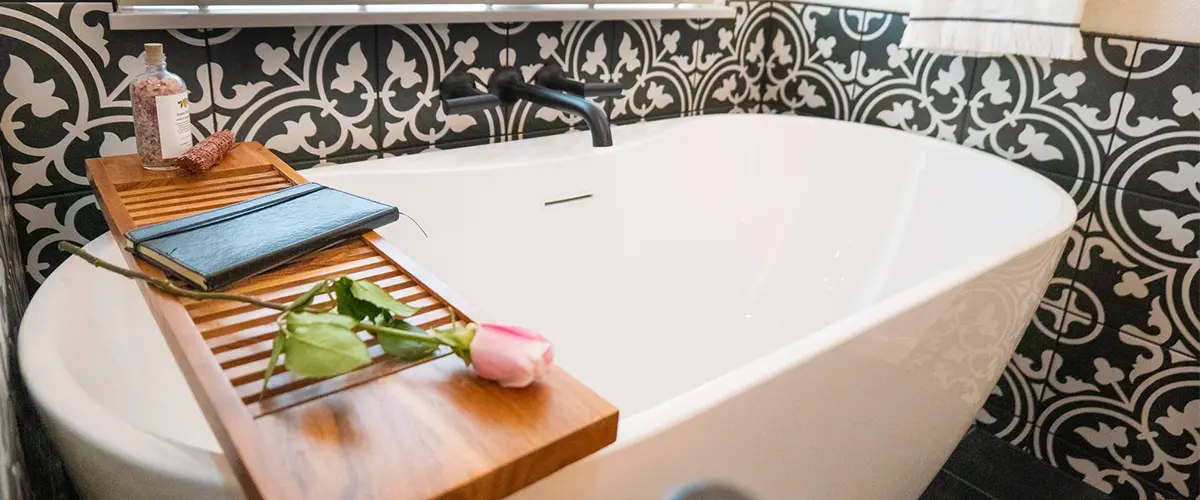 Caring for Your Bathroom Tiles
After installing new bathroom tile, it's important to take proper care of it to keep it looking its best. Here are some tips for caring for your bathroom tiles.
Regular cleaning is essential to keeping your bathroom tiles looking fresh and new. Use a mild cleaner and warm water to clean your bathroom floor tiles and wipe them dry with a soft cloth. Avoid using abrasive cleaners or scrubbers that can damage the tile's surface.
Spills can stain bathroom tiles, so it's important to clean them up right away. Use a clean, damp cloth to wipe up spills as soon as they happen to prevent staining.
Place a bath mat on your bathroom floor to prevent slips and falls. This will also help protect your bathroom tiles from scratches and scuffs.
Proper ventilation can prevent moisture buildup, which can damage bathroom tiles. Use a fan or open a window to keep the bathroom well-ventilated, especially during and after showers.
If your bathroom tiles are porous, it's important to seal them to protect against moisture damage. You can use a sealant specifically designed for bathroom tiles to protect them from water and stains.
Harsh chemicals can damage bathroom tiles, so it's best to avoid using them. Stick to mild cleaners and avoid using bleach or acidic cleaners that can eat away at the tile's surface.
Contact us today to get brand new bathroom tiles or for any other bathroom upgrades you're considering.
Read Reviews from real homeowners such as yourself
We had our bathtub remodeled into a walk in shower. From the first meeting with Ryan the salesman and Doug the manager of our project it was a great experience.
They worked up a quote and when it was a little over my budget they worked with me to get within my budget. They set us up with a decorator to help us with tile selection and design.
They gave us a detailed schedule of day to day work plans and stuck to it exactly. We are very happy with them and will definitely call them when we're ready to do our kitchen.
Ryan took our vision of enclosing our existing patio and making it a four seasons room and made it happen.
It looks exactly like our vision…the crew is on time, professional and at the end of the day the work area is clean.
We had a few bumps in the road but Ryan took care of everything…KHB cares about their customers and goes the extra mile to make your visions a reality!
Your Bathroom Tiling Questions, Answered
The Impeccable Bathroom Tiling & Remodeling Company in CA
We understand that a well-designed and functional bathroom is crucial to your daily routine and overall well-being. That's why we're committed to delivering the highest quality bathroom tiling services to homeowners in Modesto, Turlock, and beyond.
Every homeowner deserves a beautiful, functional bathroom that meets their unique needs and style. That's why we offer a free quote to help you get started on your bathroom tiling project.
Click the button below to schedule your free quote and let us help you bring your vision to life!