Enjoy A Functional Bathroom With Our Tile Installation Services
Have a practical and beautiful bathroom with 5-star tile installation services in Modesto, Turlock, Tracy, and more of CA.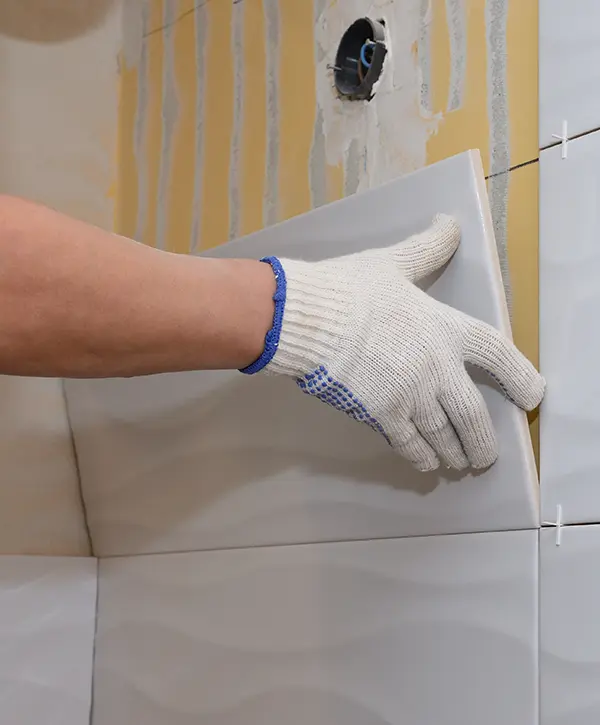 At KHB, we specialize in kitchen, bathroom, and home remodeling services. Our experienced professionals are here to help you transform your bathroom into a functional and stylish space.
From selecting the perfect tiles for your project to expertly installing them, we have all the tools and expertise needed for a successful tile installation job.
Read on to learn more about our tile installation process and why it's worth investing in professional services from KHB Construction.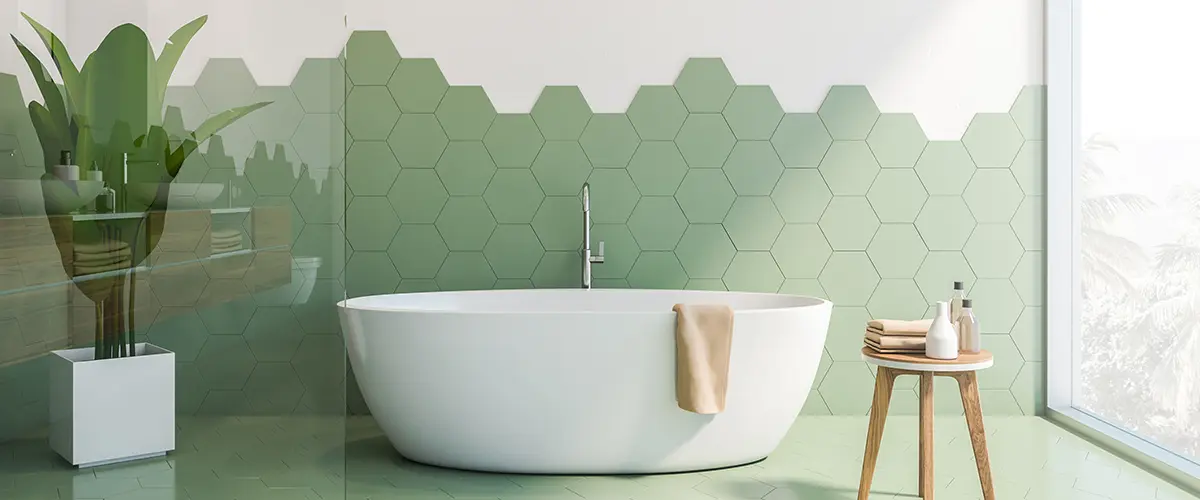 Types Of Tile To Choose From
When it comes to tile installation, there are a wide variety of materials and styles to choose from. Whether you're looking for ceramic tiles, porcelain tiles, natural stone tiles, or mosaics, KHB Construction has the perfect option for your bathroom remodel.
Porcelain tile is a popular choice for bathroom remodeling projects. It is made from a blend of clays and other minerals fired at a high temperature, resulting in an incredibly durable, low-maintenance material.
These tiles are denser and less porous than standard ceramic tiles, making them more resistant to staining and water absorption.
They also come in various colors, styles, and textures, allowing you to create the perfect look for your bathroom. For long-term performance and stylish design, porcelain is an excellent choice for tiling projects.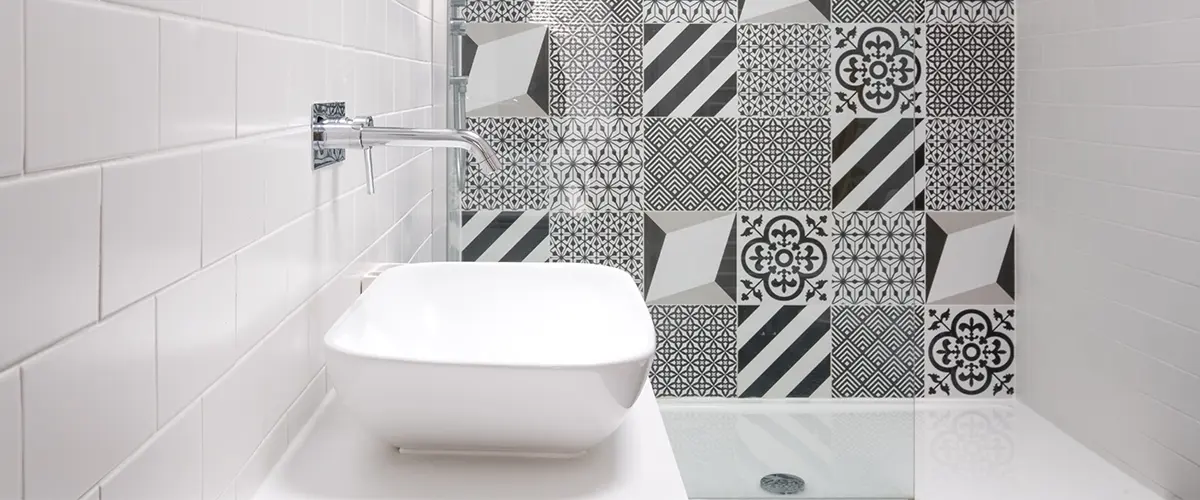 Ceramic tile is a popular material for bathroom renovations due to its affordability, durability, and wide range of styles.
It is made from clay fired in a kiln and then glazed. Ceramic tile is extremely durable and can withstand wear and tear better than other materials, making it an ideal choice for high-traffic areas like bathrooms.
It also comes in various colors, textures, shapes, sizes, and finishes so you can easily find the perfect look for your renovation project.
In addition, ceramic tile is easy to clean and maintain. Proper care and maintenance will last for years while keeping its good looks intact.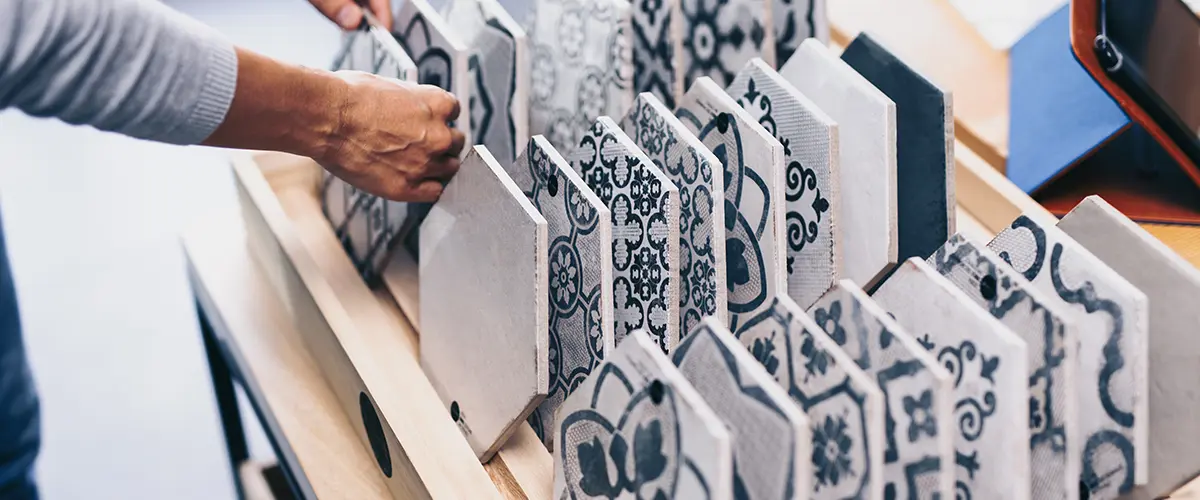 Marble tile is an elegant and timeless choice for bathroom renovations. It is a natural stone material quarried from mountains and composed of limestone, clay, and other minerals.
Marble tile has a unique look with subtle variations in color and texture, making it perfect for creating luxurious displays in bathrooms.
Unlike porcelain or ceramic tiles, marble tiles require special care to maintain their appearance. As a softer stone than its counterparts, marble can be susceptible to scratching or staining if not properly sealed or maintained.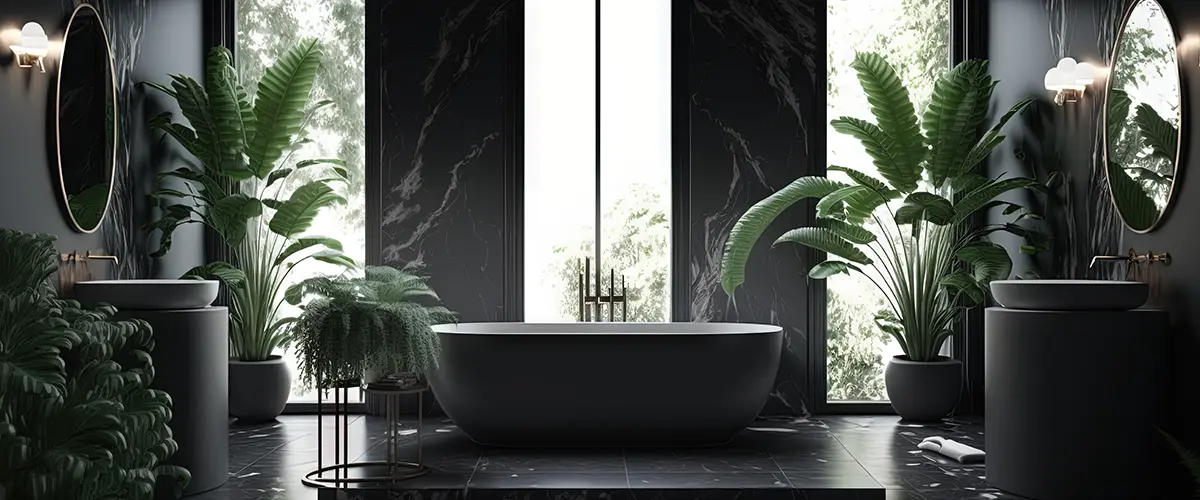 Glass tile is a unique material that adds beauty and style to any bathroom remodeling project. It is a type of tile made from glass as individual pieces or sheets.
The glass can be colored, etched, or frosted to create various exciting designs. Glass tiles are also available in different sizes, shapes, and textures, allowing you to create custom looks for your bathroom renovation project.
Slate tile is a natural stone material with a unique and stylish look. It is composed of shale and other sedimentary rocks that have been compressed over time.
These tiles are highly durable, making them ideal for bathroom remodeling projects in areas prone to high foot traffic.
They also come in various colors, ranging from light gray to deep black, and interesting textures add visual interest to any space.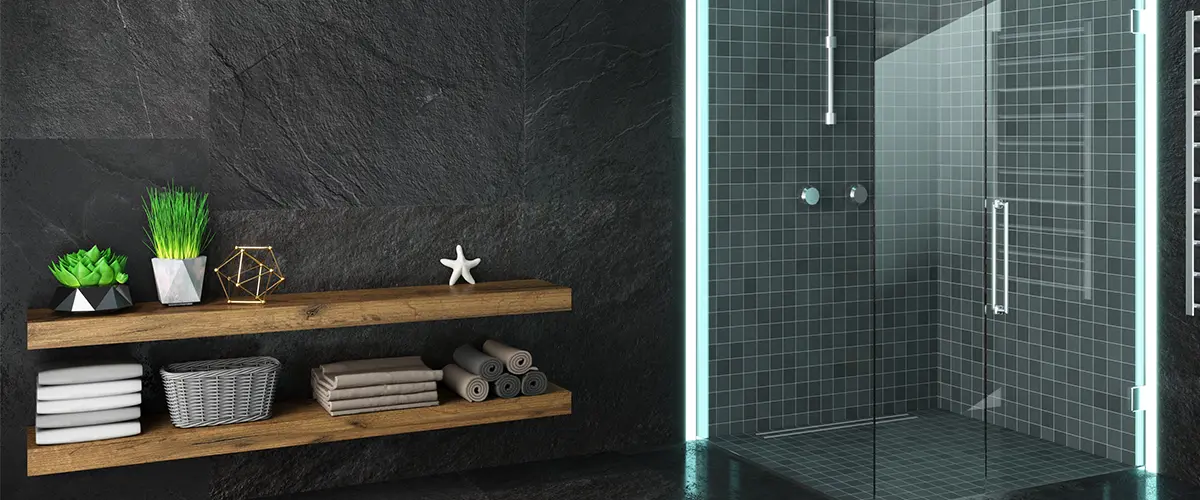 Granite tile is a beautiful, durable material perfect for bathroom remodeling projects. It comprises feldspar, quartz, and other minerals, giving it an attractive grainy pattern and speckled look.
Granite is known for its hardness and resistance to scratches, making it an ideal choice for high-traffic areas like bathrooms.
It also comes in various colors, from light whites and grays to darker hues, allowing you to create the perfect look for your remodeling project.
Limestone tile is a type of sedimentary rock composed primarily of calcium carbonate. It is a naturally formed material making it a popular choice for bathroom remodeling projects as it has an organic, timeless appeal.
These tiles come in a range of colors, from off-whites and beiges to darker grays and blues, with subtle variations in texture that interest any space.
They are also extremely durable and can withstand foot traffic and moisture better than other materials, making it perfect for bathroom renovations.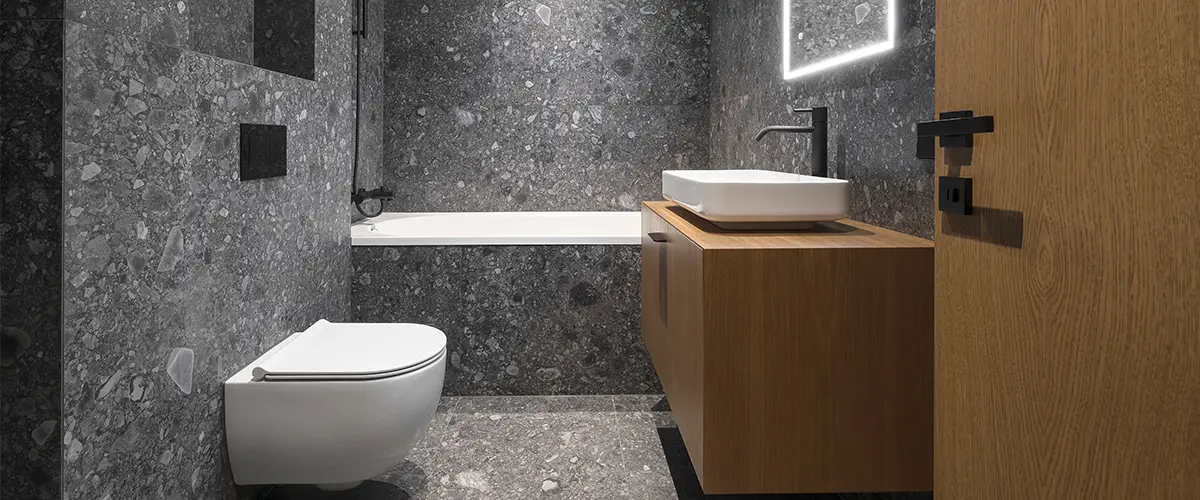 Vinyl tile is a popular and cost-effective material for bathroom remodeling projects. It is made from PVC, polyvinyl chloride, which is a synthetic material that is highly durable and resistant to water and moisture.
They come in various colors, designs, shapes, sizes, and textures, giving you the flexibility to create the perfect look for your bathroom. It is also easy to clean and maintain, making it an excellent choice for busy households.
Our experienced professionals can help you find the right type of tile to fit your design vision and budget. With our extensive selection of tile options, we guarantee you will find something that works best for your space.
Our Tile Installation Process
At KHB Construction, we take pride in our meticulous tile installation process. Our experienced professionals ensure every tile is flawlessly installed, resulting in a beautiful and durable finished product.
Below, we break down our tile installation process into simple steps to give you an insight into our expertise and attention to detail.
Before beginning the tile installation, our team assesses the area to determine the best approach for your project.
We carefully measure the space and calculate the number of tiles required. This planning phase ensures all the necessary materials and equipment are ready for a smooth installation process.
Proper surface preparation is essential to achieve a long-lasting and visually appealing tile installation.
Our skilled technicians will thoroughly clean the area, removing any dirt, debris, or previous flooring. They will also ensure the surface is level, smooth, and cracks-free, ensuring a solid foundation for the tiles.
Next, our experts create a layout plan, determining the ideal placement of the tiles.
This step involves strategically arranging the tiles, and considering room dimensions, focal points, and design preferences. Our goal is to achieve a visually balanced and aesthetically pleasing arrangement.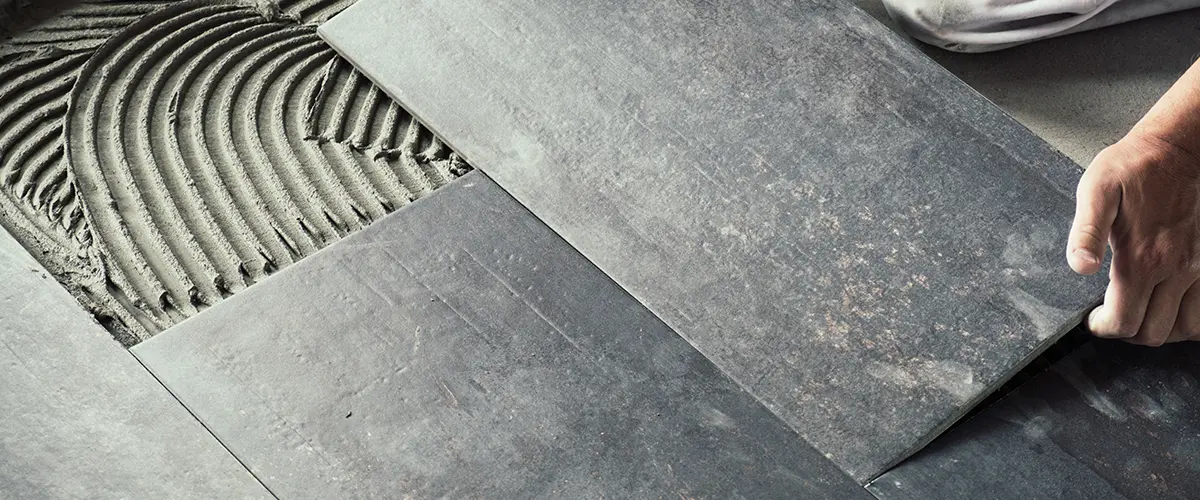 With the layout plan in place, we proceed to install the tiles. Our professional installers use the appropriate adhesive or mortar to attach each tile to the surface securely.
They skillfully lay the tiles, using tile spacers to maintain consistent grout lines and ensure precise alignment. This meticulous approach guarantees a uniform and polished appearance for your tile installation.
Once the tiles are in place, we carefully fill the grout joints to create a seamless and sturdy bond between the tiles.
Our team utilizes a grout float to evenly spread the grout across the surface, ensuring it reaches the joints and completely fills the gaps.
We pay close attention to detail, removing any excess grout to achieve clean and well-defined grout lines.
To complete the tile installation process, we meticulously clean the tile surface, removing any grout haze or residue. We perform a final inspection to ensure every tile is installed correctly and that the overall appearance meets our high standards of craftsmanship.
Our skilled technicians utilize specialized tools such as tile cutters, notched trowels, and other professional-grade equipment throughout the tile installation process. This allows us to deliver precise cuts, smooth transitions, and impeccable finishes.
We also choose the appropriate grout for your specific project, such as sanded grout, which is commonly used for wider grout joints. This selection ensures durability, stability, and resistance to cracking or shifting over time.
Contact us today to discuss your tile installation needs, and let us transform your space into a stunning showcase of craftsmanship.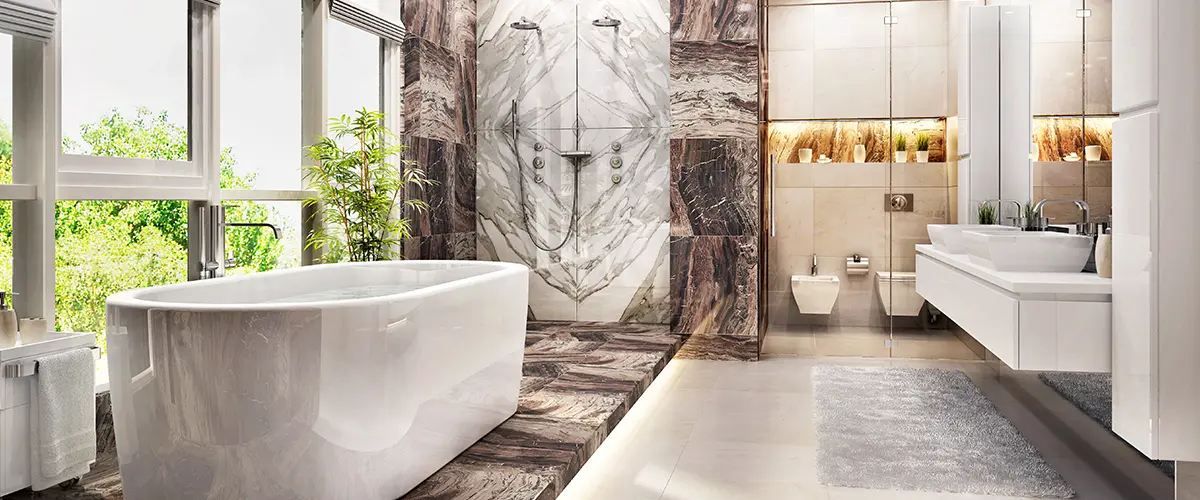 How Homeowners Feel About KHB Construction
We had our bathtub remodeled into a walk in shower. From the first meeting with Ryan the salesman and Doug the manager of our project it was a great experience.
They worked up a quote and when it was a little over my budget they worked with me to get within my budget. They set us up with a decorator to help us with tile selection and design.
They gave us a detailed schedule of day to day work plans and stuck to it exactly. We are very happy with them and will definitely call them when we're ready to do our kitchen.
Ryan took our vision of enclosing our existing patio and making it a four seasons room and made it happen.
It looks exactly like our vision…the crew is on time, professional and at the end of the day the work area is clean.
We had a few bumps in the road but Ryan took care of everything…KHB cares about their customers and goes the extra mile to make your visions a reality!
Make Your Mornings & Evenings Better
When you choose KHB Construction for your tile floor installation or any other bathroom remodeling, rest assured that our skilled team will take care of every detail with precision and professionalism.
With years of experience, we are committed to delivering exceptional results that showcase our craftsmanship.
Contact us today to discuss your unique tile installation needs, and let us bring your vision to life, transforming your space into a stunning masterpiece.