Kitchen Remodeling in Modesto, CA
Enjoy having a kitchen that's functional, beautiful, and leaves everyone in awe.
Book A FREE Phone Consultation
Your Kitchen Should Reflect Your Style And Your Vision About Life
If your current kitchen still says 1950s, maybe it's time you show it some love. Transform your kitchen into a place that makes cooking a family event, with room for everyone to sit and have a delightful time.
Whether you favor traditional wooden cabinets with a touch of rustic or would like a clean, all-white look, we can help you get a timeless kitchen that leaves everyone speechless and brings you comfort every day.
Improve Functionality By Getting Every Detail Right
What's the point in having a showroom-looking kitchen if you can't open a cabinet while the refrigerator door is also open? That's where quality kitchen design comes into play.
At the in-house consultation we'll talk about who uses your kitchen and how you spend time in it. That way we'll know how we can increase accessibility and functionality based on your actual needs.
Here are some of the most popular kitchen upgrades homeowners like you are getting:
A Beautiful And Practical Kitchen In 3 Easy Steps
As the premier kitchen remodelers in Modesto Ca, Turlock Ca, and beyond our main focus here at KHB is to offer an unmatched customer experience. Our years of experience have helped us to create a series of standard operating procedures that streamline the whole remodeling process for you. This helps you stay updated and on top of the changes we make to your house, and guarantee a final result you'll love.

The first step is to send us a few pictures of your current space, along with photos of your dream kitchen. We'll go over the details on a phone call and schedule the in-home consultation.

After all the details are set, we'll give you an estimate and set you up in our project management software. You'll be able to oversee every step of your kitchen remodel in real time.

Now that your kitchen is beautiful, updated, and spacious, you'll have the freedom and confidence to organize a gathering every weekend. Get your loved ones together more often and enjoy the finer things in life!
Pricing For Every Budget And Every Style
Kitchen Transformation Prices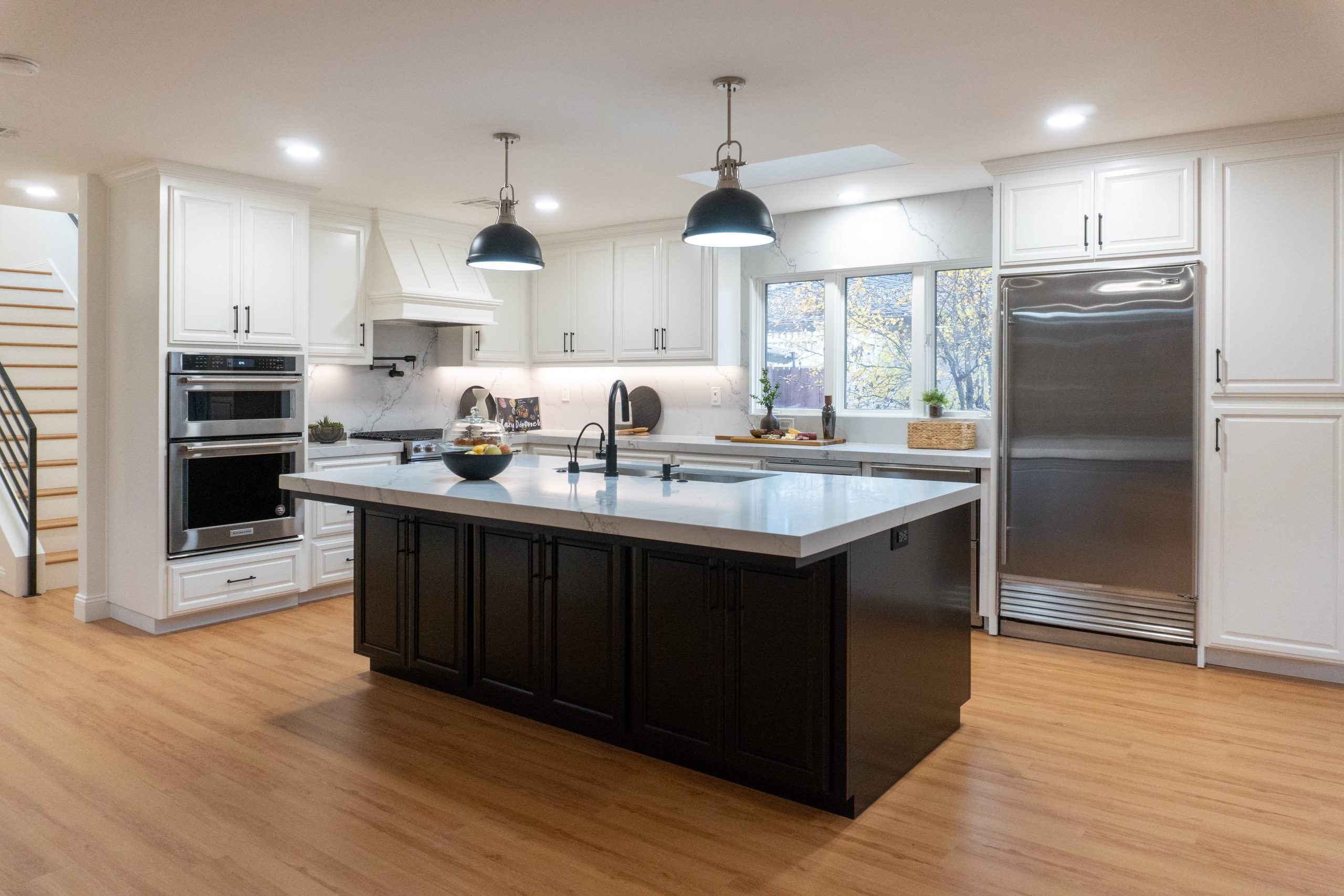 Kitchen Design Consultation
INCLUDES: 2 hour design consultation; Material sourcing; Personal shopping; Floor plan and detailed proposal.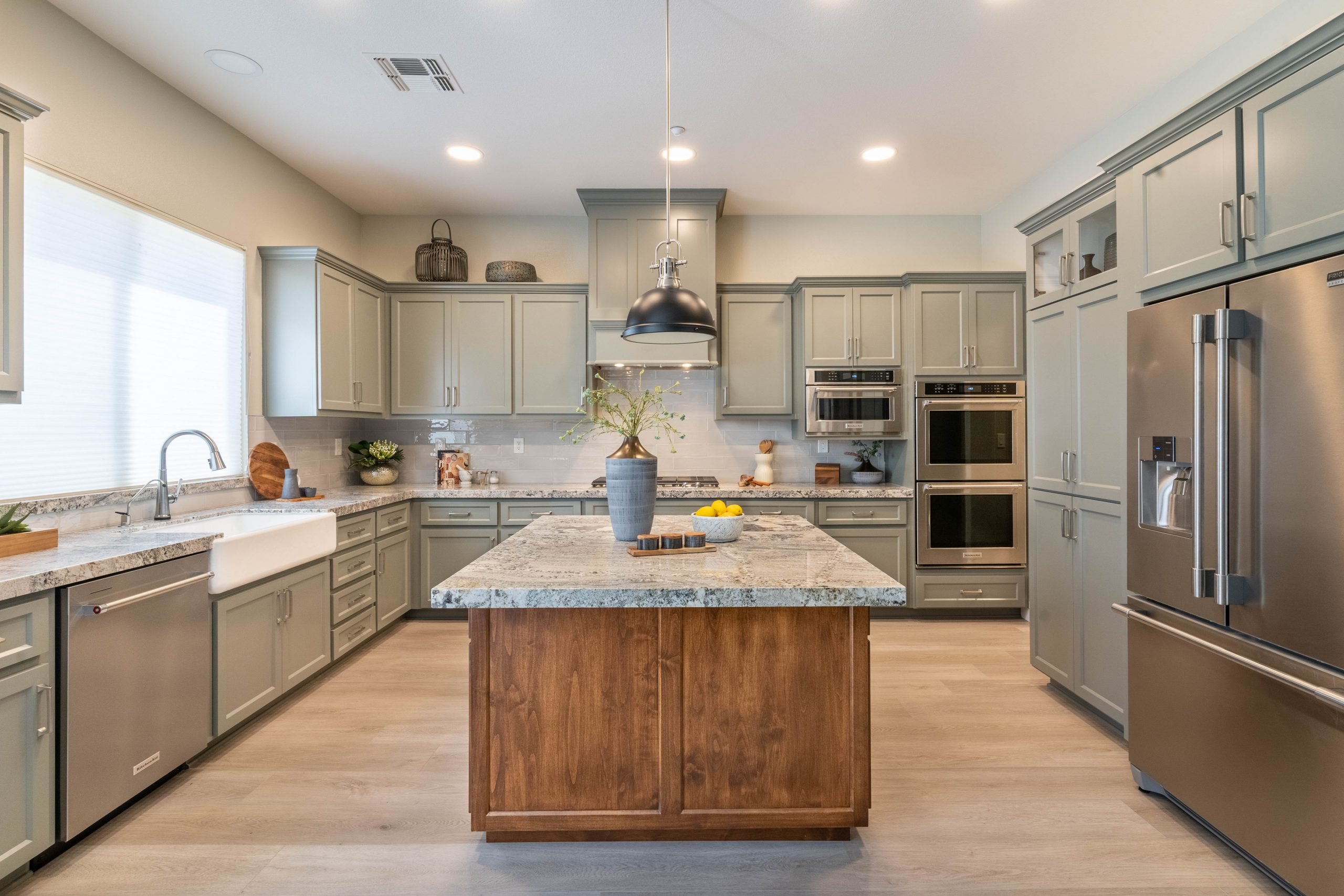 Kitchen Design with 3D Render
INCLUDES: 2 hour design consultation; Material sourcing; Personal shopping; Floor plan and detailed proposal; Complete 3D design render.
Base Kitchen Transformation*
This would include new doors and drawers, Paint, new solid surface, backsplash, and plumbing fixtures.
Average Kitchen Transformation*
This would include new custom cabinetry, Paint, Solid Surface, Backsplash, lighting, builder grade appliances, and flooring. This is a mean cost of our average kitchen transformation.
High-End Kitchen Transformation*
This includes all custom cabinetry, new solid surface, backsplash, luxury appliances, with high end finishes throughout.
*Prices are averages and may change depending on your square footage, choice of materials, appliances, and finishes. You'll receive an exact quote for your unique kitchen after the in-house consultation.
Kitchen Transformation Gallery
We've put together a variety of projects and ideas so you can be inspired by different designs and styles. If you find one design that speaks to you, make sure to mention it during our phone consultation. Together we'll fine-tune every detail until it perfectly fits your home and style. Browse the gallery below to find inspiration for your own dream kitchen.
Our Happy Customers Say...
At KHB Construction we put your priorities first in every aspect of our work.
KHB Construction and Ryan Kelly built us 4 custom free-standing stained redwood fence panels!
Ryan worked with us through the entire process to ensure the fence panels matched our vision. Thank you and we love them!!
We removed a window air conditioner from the wall, after patching up the hole we needed the wall textured. We were lucky enough to find Ryan. He did a very professional job. He was on time, took care in his work and the wall looks great! Our latest job was redoing the siding on an old addition to the house. A call to Ryan took care of everything. Again on time, brought it all up to code, we would recommend KHB Construction for any project you might have.
Very professional great work & great customer service!!! I highly recommend KHB construction!!
Great work and customer service! I recommend KHB Construction.
The Opportunity To Get Your Dream Kitchen Is Finally Here