When it comes to renovating or designing a kitchen, the backsplash is often an afterthought. But it doesn't have to be! A backsplash can really add some personality and style to your kitchen. And, if you're not sure where to start, don't worry. We've got you covered.
In this blog post, we'll discuss the different types of materials and patterns you can use for your backsplash, as well as some tips on how to choose the right one for your kitchen. So whether you're looking for a rustic backsplash or something more modern, keep reading for some kitchen backsplash ideas!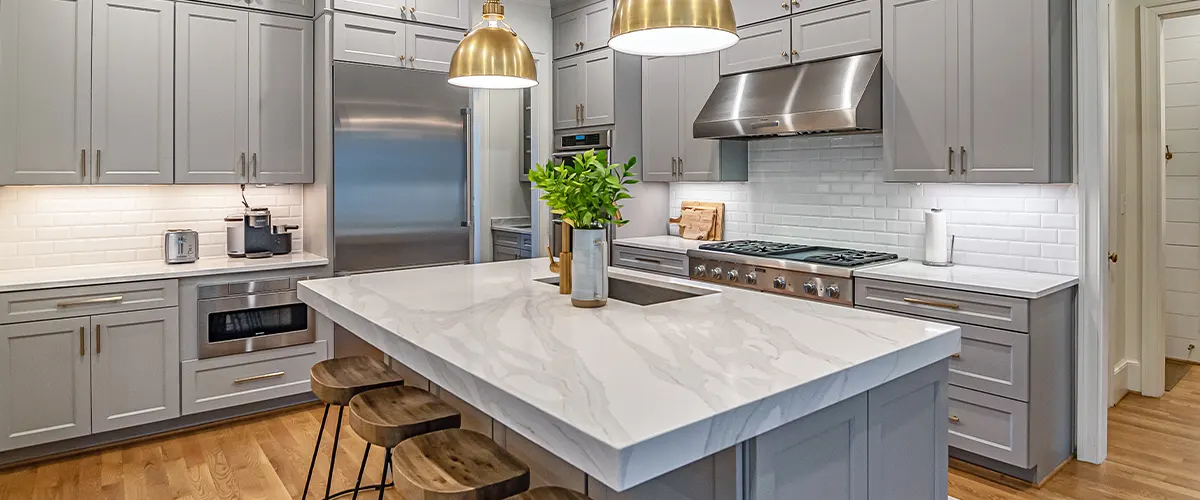 The Benefits Of A Kitchen Backsplash
A kitchen backsplash is more than just a pretty addition to your cooking space. It can also be a functional element that protects your walls from spills and splatters. And when it's done right, a backsplash can even help to make your kitchen look bigger and brighter. But with so many design possibilities to choose from, how do you know if a custom backsplash is right for you? Keep reading to learn about the many benefits of customizing your kitchen backsplash.
When you opt for a custom backsplash, the design possibilities are endless. You can choose from a variety of materials, colors, and patterns to create a look that's entirely your own. Plus, with customizations comes the opportunity to integrate unique details that reflect your personal style—think beveled edges, inlaid tiles, or even 3D-printed accents. The sky really is the limit when it comes to customizing your kitchen backsplash.
2. Enhanced functionality
In addition to being visually appealing, custom kitchen backsplashes can also enhance the functionality of your cooking space. If you frequently find yourself dealing with spills and splatters, opting for a backsplash made from splash-resistant materials like glass or metal can help to keep your walls clean. And if you're tight on storage space, incorporating built-in shelves or drawers into your backsplash design can give you a place to stash essentials like spices and utensils within arm's reach.
Investing in a custom kitchen backsplash is also a great way to boost the resale value of your home should you ever decide to sell down the road. Because they're such an important part of the overall look and feel of a kitchen, upgrading this area with a stylish and well-executed backsplash can make your home more appealing to buyers—and command a higher price tag as a result.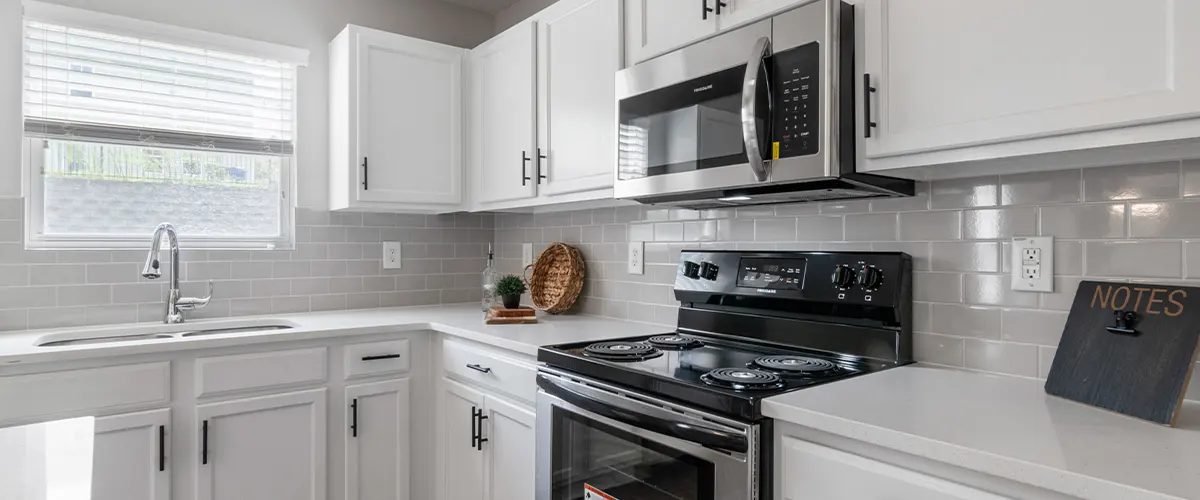 Kitchen Backsplash Ideas - Materials And Styles
Your backsplash is one of the easiest ways to make a style statement in your kitchen. And while tile is always a classic choice, there are a few other materials you may not have considered that can really elevate the look of your space. Here are some materials you may not have thought of for your kitchen backsplash.
Faux stone is a great option if you love the look of stone but don't want to deal with the maintenance or cost. It's also a good choice if you're looking for something unique, as no two pieces of faux stone are alike. There are a few things to keep in mind with faux stone, though. First, it's important to choose a light color if you're using it behind your stovetop, as darker colors can discolor heat exposure over time. Second, faux stone can be tricky to cut, so it's best to leave that job to a professional if possible.
Glass backsplashes are having a moment right now, and it's easy to see why. They're sleek, modern, and easy to clean—just what busy homeowners are looking for. One thing to keep in mind with a glass backsplash is that it will show fingerprints more easily than some other materials, so be prepared to clean it often. You'll also want to choose tempered glass for safety reasons.
Metal backsplashes are another popular choice right now, particularly stainless steel and copper. They're great for adding a bit of shine and warmth to your kitchen. Copper is a beautiful option, but it will require more maintenance than some other materials since it will tarnish over time unless you seal it properly and wipe up any spills quickly. Stainless steel is much more low-maintenance, but it doesn't have the same visual appeal as copper.
Laminate might not be the first material you think of for your backsplash, but it actually has a lot going for it. It's inexpensive, easy to install yourself, and available in a wide range of colors and designs. The main downside of laminate is that it's not heat-resistant, so you'll need to be careful not to place your stovetop too close to it.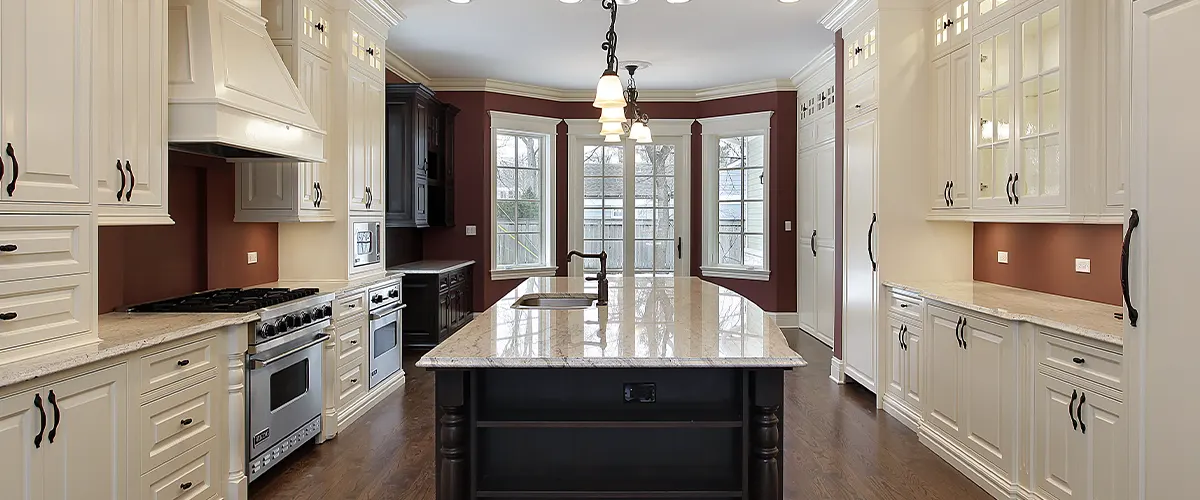 Stainless steel backsplashes are perfect for those who want a sleek and modern look in their kitchen. Stainless steel is also easy to clean and maintain. However, it should be noted that stainless steel can be susceptible to scratches. If you're looking for a durable backsplash option, stainless steel is a great choice.
Stone backsplashes are an elegant and luxurious choice for those who want to make a statement in their kitchen. Stone is available in many different colors and styles, so you're sure to find an option that suits your taste. Stone is also easy to clean and maintain. However, stone can be susceptible to stains if not properly sealed. If you're looking for a high-end backsplash option, stone is a great choice.
A tile backsplash is another popular choice among homeowners. Tile is available in a wide variety of colors, shapes, and sizes, so you're sure to find an option that suits your style. Backsplash tile is also a lot easier to clean and maintain than marble tiles. However, tile can be susceptible to chips and cracks if not properly cared for. If you're looking for a low-maintenance backsplash option, tile is a great choice.
Not to mention it looks great in a modern kitchen alongside stainless steel appliances and white upper cabinets. You can even opt for different shapes and styles such as rectangular tiles, penny tiles, or mosaic tiles. A mosaic backsplash can be a great addition if you want to give your kitchen a unique and authentic look.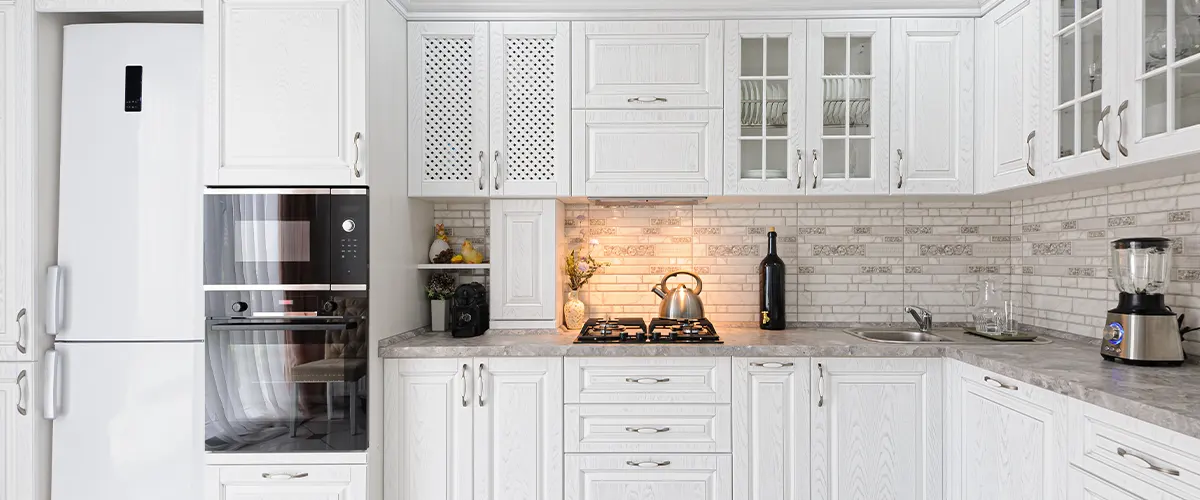 One of the most popular kitchen backsplash styles is subway tile. Subway tile is a classic choice that will never go out of style. It's also extremely versatile, as it can be used in a variety of design styles, from traditional to contemporary. Plus, classic white subway tiles are easy to install and maintain. If you're looking for a timeless backsplash option, subway tile is a great choice.
If you're in the market for a new kitchen backsplash, we hope you found this post helpful. We've shown you some of the most popular materials and patterns that can be used for backsplashes, as well as tips on how to choose the right one for your home. For more design inspiration, check out NKBA's website and if you need help installing your new backsplash, our team can help you in creating the kitchen of your dreams so don't hesitate to contact us today to get started!