Bathtub Installation In Modesto, Turlock, Tracy, And More Of CA
Upgrade your master bathroom with a hands-off bathtub installation.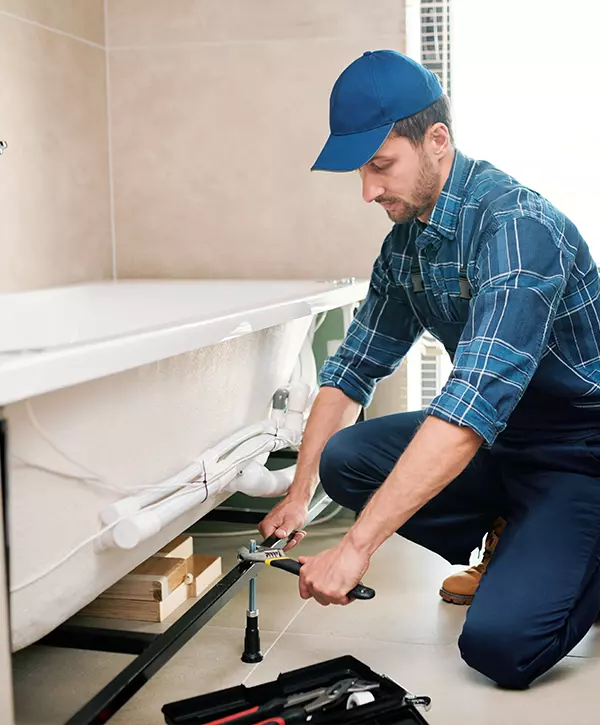 As a trusted design-build company focused on kitchen, bathroom, and entire home remodeling, we understand a bathtub's crucial role in transforming your bathroom into a sanctuary of comfort, style, and functionality.
From enhancing relaxation and practicality to reflecting your personal style and adding long-term value, we invite you to explore the world of bathtub installation and discover how KHB Construction can bring your vision to life.
Contact us to share your dream bathroom vision and see how we put effort and passion into all the details, giving you the bathroom you've always wanted.
The Importance of a Quality Bathtub
A bathroom is not just a functional space; it is a sanctuary where you begin and end your day. The bathtub is at the heart of this sanctuary, an essential element that can elevate your bathroom experience to new heights.
In this section, we will delve into the importance of a quality bathtub and how it can transform your bathroom into a haven of comfort, relaxation, safety, and style.
A well-designed and properly installed bathtub turns your bathroom into a haven of comfort and relaxation. Picture yourself coming home after a long day, sinking into a luxurious bathtub, and letting the warm water soothe your tired muscles. A high-quality bathtub ensures an exceptional bathing experience, whether you prefer a deep soaking tub or a spacious whirlpool.
A quality bathtub goes beyond relaxation; it enhances the functionality and practicality of your bathroom. Acting as a focal point, it combines style with purpose.
With the right design and features, a bathtub caters to your specific needs, providing convenience for a busy family or a tranquil space for personal retreats. Options like built-in shelving, ergonomic shapes, and accessibility features improve efficiency in your daily routines.
Your bathroom is an expression of your personal taste and style. A quality bathtub plays a pivotal role in setting the overall aesthetic tone of the space. It acts as a statement piece, elevating the visual appeal of your bathroom.
With a wide range of styles, materials, and finishes available, you can achieve a harmonious and visually pleasing bathroom that reflects your unique sense of style.
Investing in a quality bathtub pays off in the long run. High-quality materials and expert craftsmanship ensure durability and longevity.
A well-built bathtub resists chipping, fading, and wear, maintaining its beauty and functionality over time. Moreover, it adds value to your home, becoming a major selling point if you decide to sell your property.
From designing your space to remodeling your entire bathroom, the KHB Construction team can do it all. We take care of everything from start to finish so you can enjoy the best results in Modesto and beyond.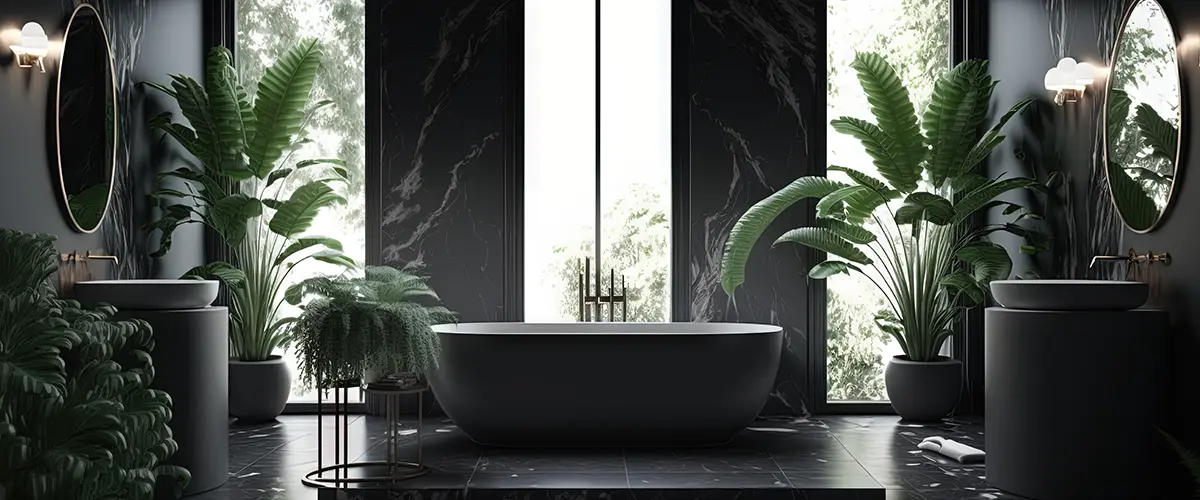 Hear from Our Satisfied Clients
Learn how our professional team, attention to detail, and commitment to excellence have transformed bathrooms into stunning spaces of comfort and style.
Being no strangers to construction, we knew that 5-6 week kitchen Reno meant 3 months. We knew there'd be plenty of pain points and frustrations. From start to final sign off, it took 6 weeks and a day, was virtually pain free and we can't say enough about the craftsmanship. Every person on the job took personal responsibility and pride in their craft. We waited MANY years to get our dream kitchen and can't thank Ryan, Bobby, Doug, George and the WHOLE team enough for a dream achieved! Proud to be part of the KHB family!
Ryan took our vision of enclosing our existing patio and making it a four seasons room and made it happen. It looks exactly like our vision…the crew is on time, professional and at the end of the day the work area is clean. We had a few bumps in the road but Ryan took care of everything…KHB cares about their customers and goes the extra mile to make your visions a reality!
Exploring Your Options: Finding the Perfect Bathtub
When it comes to choosing the right bathtub for your bathroom, it's important to consider your specific needs, space limitations, and style preferences. With a wide array of options available, you can find the perfect bathtub that suits your requirements. Let's explore some popular choices:
If you seek a serene bathing experience, a soaking tub is an excellent choice. These deep, spacious tubs allow you to fully immerse yourself and unwind in luxurious comfort. Soaking tubs come in various shapes and materials, including acrylic and cast iron, providing both style and durability.
A freestanding tub makes a stunning statement in any bathroom. These standalone tubs create a focal point, exuding elegance and charm. Whether you prefer a classic clawfoot tub or a contemporary design, freestanding tubs offer versatility in style and placement, providing a touch of luxury to your bathing oasis.
For those who desire a therapeutic and invigorating bathing experience, jetted tubs are a fantastic option. Equipped with built-in jets, these tubs deliver soothing massages and help alleviate muscle tension. Transform your bathroom into a personal spa with the therapeutic benefits of a jetted tub.
If you have limited space or prefer the convenience of a shower and tub combination, consider installing a walk-in shower with a tub surround. These setups provide both a spacious showering area and a practical bathtub within the same enclosure. With customizable options for tub surrounds, you can achieve a cohesive look while maximizing functionality.
An acrylic bathtub is popular due to its durability, affordability, and versatility. These lightweight yet sturdy tubs come in various sizes, shapes, and styles, allowing you to find the perfect fit for your bathroom. Acrylic tubs are also resistant to chipping and staining, making them easy to maintain.
Fiberglass tubs are an excellent choice if you're seeking a bathtub that combines affordability, durability, and versatility. These tubs are made from reinforced fiberglass material and offer a lightweight alternative to traditional options like cast iron or acrylic. The lightweight nature of fiberglass bathtubs makes them easier to handle during installation, making them an ideal choice for remodeling projects.
Looking to install a bathtub without the fuss? Contact us to discuss all the details of your bathroom remodel, including your beautiful and functional new tub.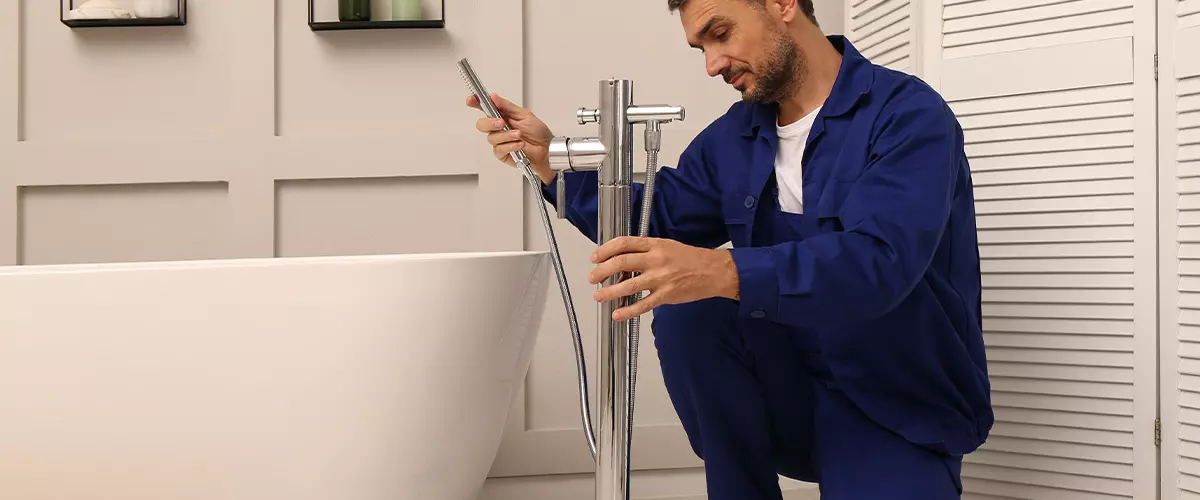 Our Professional Bathtub Installation Process
When you hire KHB Construction for your bathtub installation, you can expect a seamless and efficient process that brings your dream bathroom to life.
Our team will schedule an initial consultation to discuss your vision, preferences, and specific requirements for the bathtub installation. We will assess the existing space, including the condition of your existing tub if applicable, and discuss any desired modifications or additions such as a tub surround or updated fixtures. W will provide you with a comprehensive quote that outlines the bathtub installation cost and timeline.
Before beginning the installation, our team will ensure that the area is properly prepared. This includes removing the old tub, if necessary, and inspecting the surrounding plumbing and structure. We will address any necessary repairs or modifications to the bathroom floor or walls to accommodate the new tub and ensure a solid foundation.
Our experienced professionals will handle every aspect of the bathtub installation process. This includes accurately positioning the new tub, connecting the tub drain and overflow assembly, and ensuring a proper fit with the tub flange. We will also install any additional features you may have chosen, such as a tub surround or updated tub spout. Throughout the installation, we prioritize precision and attention to detail, ensuring a secure and flawless fit.
If your bathtub installation involves connecting to the existing plumbing system or integrating new plumbing fixtures, our team will expertly handle these tasks. This may include connecting the tub drain to the existing plumbing, installing a new shower head or tub spout, and ensuring proper functionality and water flow.
Once the installation is complete, our team will conduct a thorough inspection to ensure everything is in perfect working order. We will test the tub for any leaks, check the functionality of fixtures, and make any necessary adjustments. We take pride in leaving your bathroom clean and tidy, removing any debris or construction materials associated with the installation process.
Before concluding the project, we will conduct a final walkthrough with you to ensure your complete satisfaction with the bathtub installation. We will address any questions or concerns you may have and provide guidance on proper maintenance and care to ensure the longevity of your new bathtub.
By choosing KHB Construction for your bathtub installation needs, you can trust in our professional expertise and commitment to delivering a smooth and successful project. Contact us to see how we can transform your bathroom with our reliable and top-notch bathtub installation services.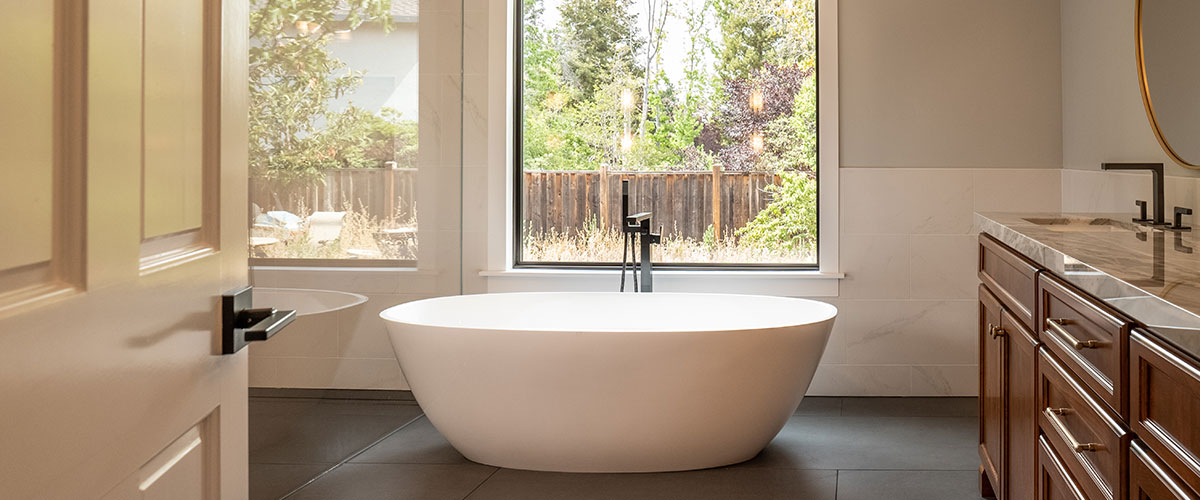 Bathtub Installation FAQs
Contact Us for Your Dream Bathroom Remodel
With KHB Construction, you can expect a seamless remodeling experience that transforms your bathroom into a sanctuary you'll love for years to come.
Contact us today to schedule a consultation and take the first step towards your dream bathroom. Let our team of professionals guide you through the process, provide expert advice, and deliver impeccable craftsmanship.