Replacing your kitchen cabinets is a big task that needs a lot of thinking. Cabinets set the vibe in your kitchen, increase your efficiency and storage space, and can even contribute to a higher home-resale value. 
But with so many different styles, materials, and manufacturers to choose from, how do you know which cabinets are right for you? 
Here are a few things to consider as you make your selection.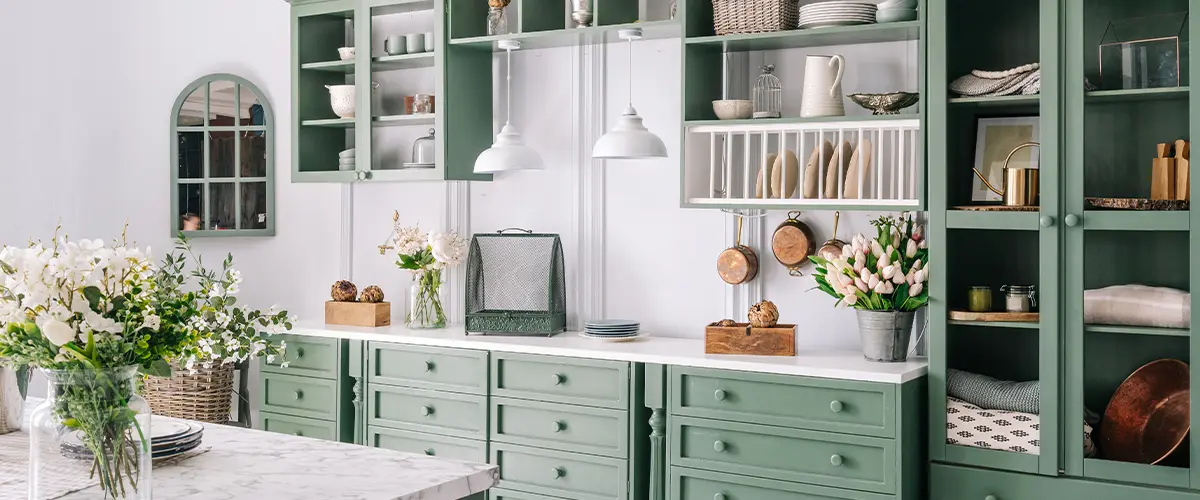 How To Find The Perfect Kitchen Cabinets For Your Needs
Stick around and see what you need to look for when choosing new kitchen cabinets.
Consider Your Storage Needs
One of the most important things to consider when choosing kitchen cabinets is storage space. Think about what items you need to store in your kitchen, such as pots and pans, food, and small appliances like blenders and coffee makers. 
Make sure that the cabinets you choose have enough room to hold all of your items without crowding them together or making them difficult to access.
Kitchen Cabinet Materials
The material you choose for your cabinets is an important factor in determining how they will look and function over time. Wood is a classic choice that lends a timeless look to your kitchen, while metal may be more suitable if you're going for a modern aesthetic. 
You should also think about how much wear and tear the cabinets will endure over the years—if you have kids or pets, you may want to opt for something more durable such as laminate or stainless steel. 
It's also worth considering whether your chosen material is easy to clean; this is particularly relevant if you plan on installing white cabinets in your kitchen as they can easily become stained.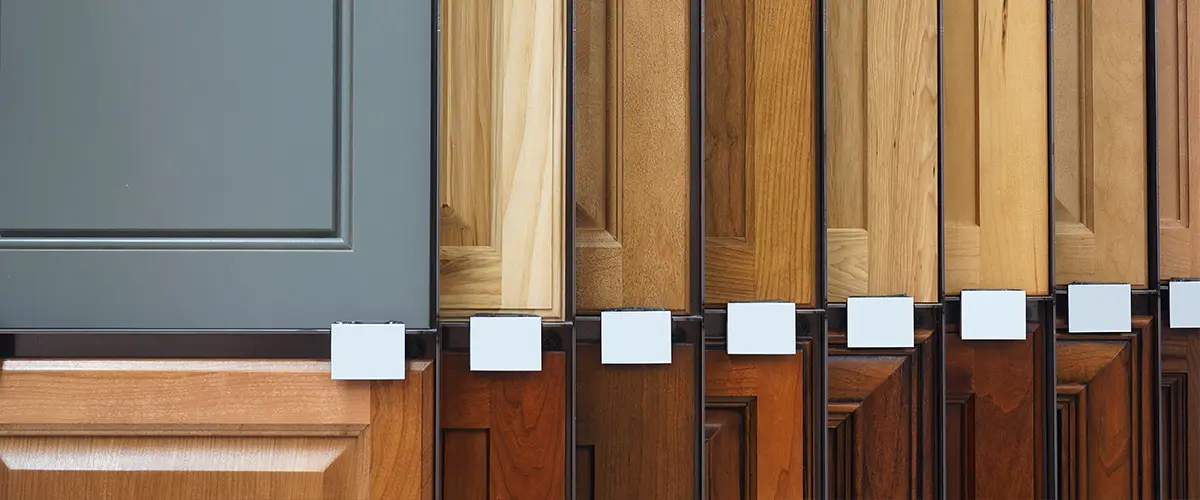 Cabinets Style & Color Scheme
When selecting new cabinets for your home, it's essential to take into account your existing color scheme and interior decor style. 
If you have a modern space with sleek lines and minimal furniture pieces, then opting for white gloss or black matte lacquered cabinetry could be a great way to add contrast and texture without clashing with other elements in the room. 
On the other hand, if your kitchen has an industrial feel then rustic wood-effect cabinetry might be more appropriate. 
Additionally, if you want something with a bit of personality then try adding colored statement pieces such as bright blue or green accent doors—these can really help bring life into an otherwise dull space.
For more about the style and color scheme of your new kitchen, check out the NKBA website for inspiration!
When it comes to kitchen cabinets, there are two main types to consider: stock and custom. 
Stock cabinets are pre-built, meaning they come in standard sizes and shapes with limited customization options. 
Custom cabinets offer more flexibility, as they can be designed to fit any shape or size and feature unique design elements like built-in storage or special hardware. 
However, custom cabinets can also be significantly more expensive than stock cabinets due to the labor and materials involved in building them.
Cost & Quality Of kitchen Cabinets
Finally, it's important not to forget about cost and quality when selecting new cabinets for your home renovation project. 
Depending on what materials and styles you choose, prices can vary greatly from one manufacturer to another so it pays off to shop around before making any commitments. 
Furthermore, higher quality cabinetry usually comes with better warranties so be sure read up on those before committing too—the last thing you want is having to replace them after just a few years due to poor construction or substandard materials!
KCMA recommends semi-custom cabinets for the best ROI. You can buy these in home improvement stores at a reasonable price, and you can change their dimensions and finishes based on your needs.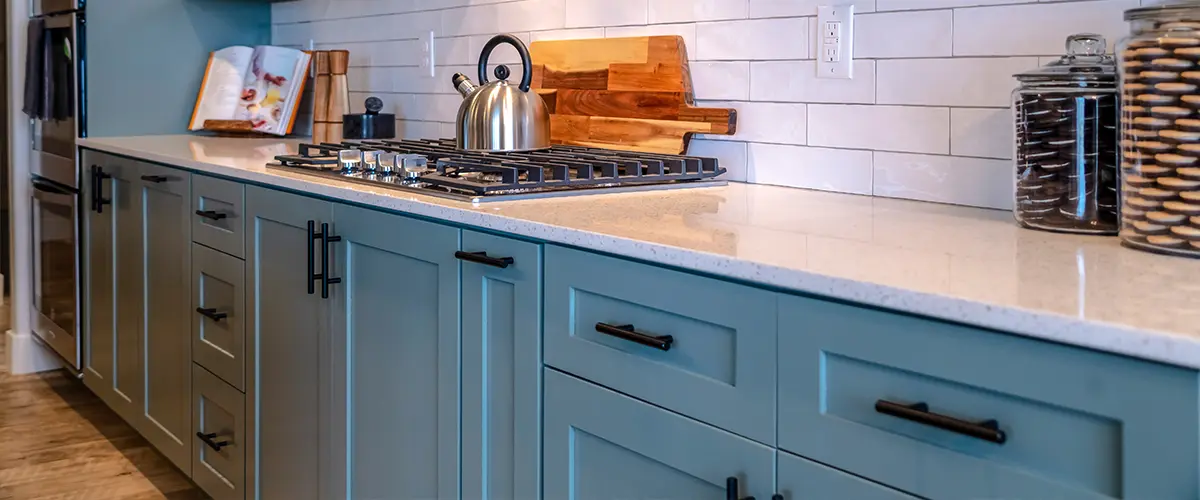 Kitchen Cabinets Durability
Custom-made cabinets are built to last longer than their pre-fabricated counterparts. When they are made specifically to fit your kitchen space, they require a lot less maintenance over time since all of the components will fit together perfectly. 
This also prevents wear and tear which is common with pre-made cabinets due to poor installation or incorrect measurements.
When you opt for custom-made cabinets, you have complete control over the design process. 
You can choose from a variety of materials such as wood, metal, glass, etc., and customize the finish according to your own taste and preference. 
You can also decide on the exact size and shape of each cabinet component so that everything fits exactly how you want it in your kitchen space. The result is a beautiful, functional kitchen that reflects your personal style and taste!
Another great benefit of choosing custom-made cabinets is that they provide optimal storage solutions for all kinds of items in your kitchen – from cookware to cutlery and more! 
With customized shelving units, drawers, cupboards, etc., you can organize all your items neatly so that everything is easily accessible when needed. 
This also helps maximize every inch of available space in your kitchen as well as improve its overall functionality significantly.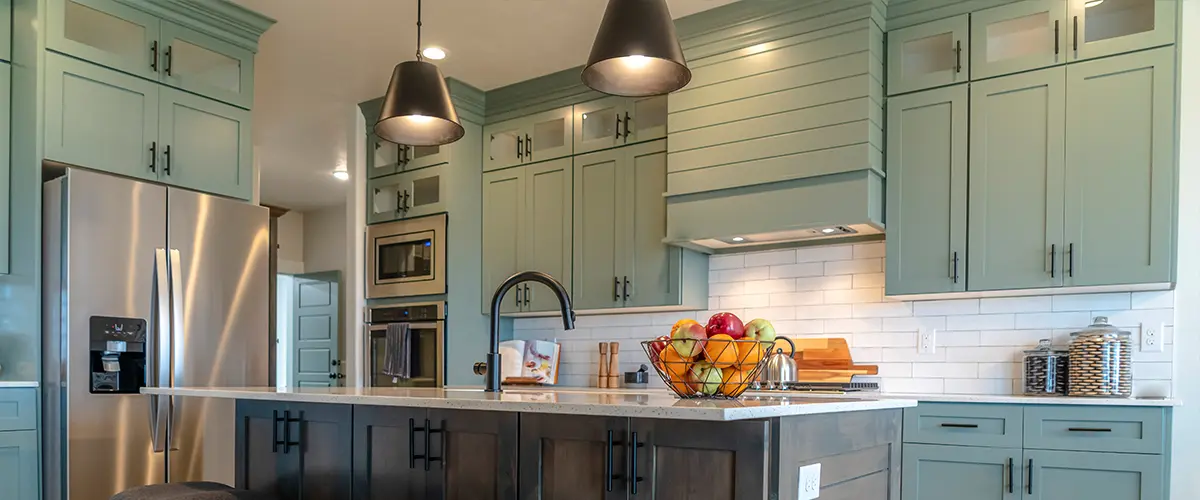 The kitchen is one of the most important rooms in your home so you want to make sure you have the best possible cabinets.
With so many factors to consider, it can be tough to choose the right ones for your home. Use this guide to help you pick out the perfect cabinets for your kitchen renovation.