When it comes to color schemes in kitchens, there are a few popular trends that seem to be sticking around for the long haul. Though they are currently trendy, these colors will continue to be popular well into 2023 and beyond. If you're looking to update your kitchen with a fresh color scheme, take a look at the top trends for the coming year!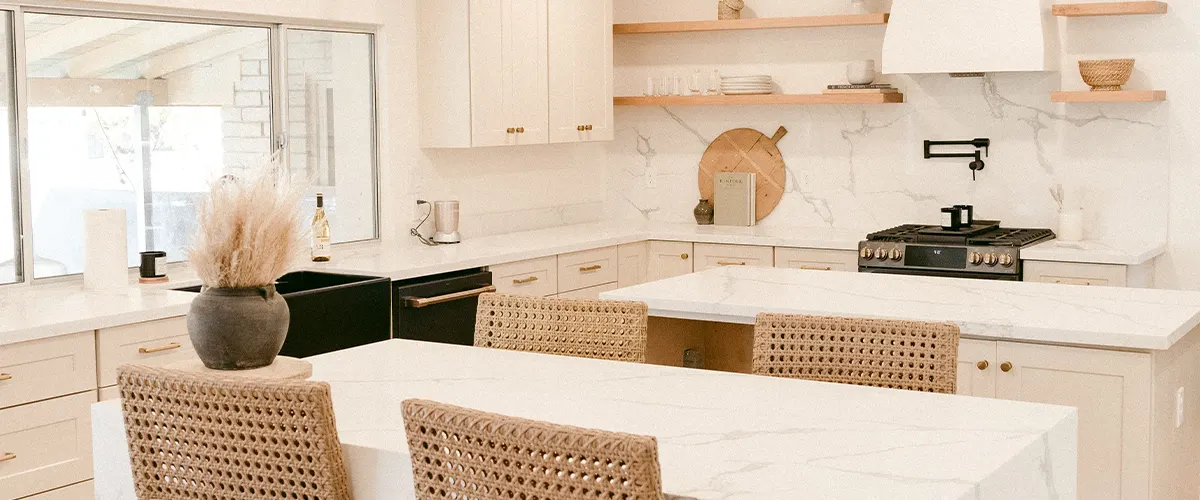 The Importance of Choosing the Right Color for Your Kitchen
The kitchen is often the heart of the home. It's where we gather to cook, eat, and socialize. Because it's such an important space, it's vital that you choose the right color scheme when designing or renovating your kitchen. The right colors can make your kitchen more inviting, stylish, and functional. Keep reading to learn more about why color is so important in the kitchen and how to choose the perfect palette for your space.
The Role of Color in Designing Your Kitchen
Color plays a major role in any design project. In addition to creating a certain look or feel, color can also affect our moods and emotions. For example, warm colors like red and orange are known to stimulate the appetite, while cool colors like blue and green can have a calming effect. When choosing colors for your kitchen, it's important to consider both the aesthetic and the psychological effects that different hues will have.
Functionality is another important consideration
Certain colors can make a space feel bigger or smaller, brighter or darker. If you want your kitchen to feel warm and inviting, you'll want to avoid using dark colors that will make the space feel small and cramped. Likewise, if you're trying to create a sleek and modern look, you'll want to steer clear of bright and bold hues that can be overwhelming.
Of course, another key factor in choosing the right color for your kitchen is your personal style. Do you prefer muted or neutral colors? Or do you prefer bolder shades? Consider what colors you usually use in other rooms of your house and try to find something that complements those colors. You should also think about whether you want something that will be timeless or if you're okay with painting again in a few years if trends change.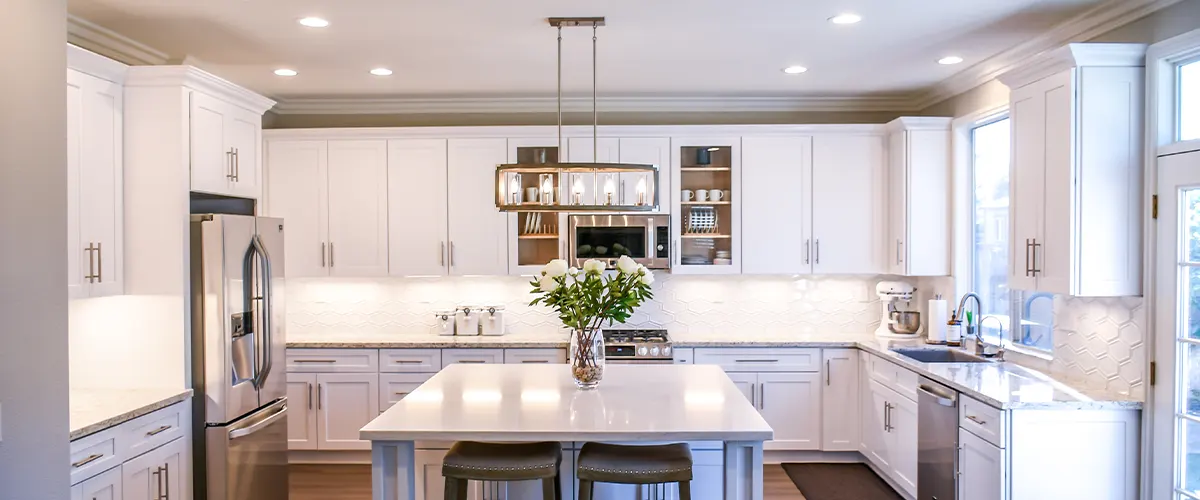 How to Choose the Right Color for Your Kitchen
The kitchen is often considered the heart of the home. It's a place where family and friends gather to cook, eat, and socialize. Because it's such an important space, it's essential to choose a paint color that reflects your personal style and makes you feel happy and comfortable. With so many options to choose from, though, it can be tough to decide on the perfect color for your kitchen. Here are a few tips to help you narrow down your options and choose the right color for your space.
1. Consider your cabinets
If you have white or light-colored cabinets, you'll have more freedom to experiment with bolder paint colors. Darker cabinets tend to limit your color choices, but that doesn't mean you can't still use color in your kitchen. Try painting one accent wall a bright color or using colorful accessories and decor to add some personality to the space.
2. Think about the mood you want to create
Do you want a calm and relaxed vibe in your kitchen? Or are you looking for something more energizing and inviting? Once you've decided on the mood you want to create, choose a paint color that will help you achieve that goal. If you're looking to make a statement, then bold colors are definitely the way to go. Red, orange, and purple can all add energy and personality to your space. Just be careful not to go too overboard—a little bit of color goes a long way!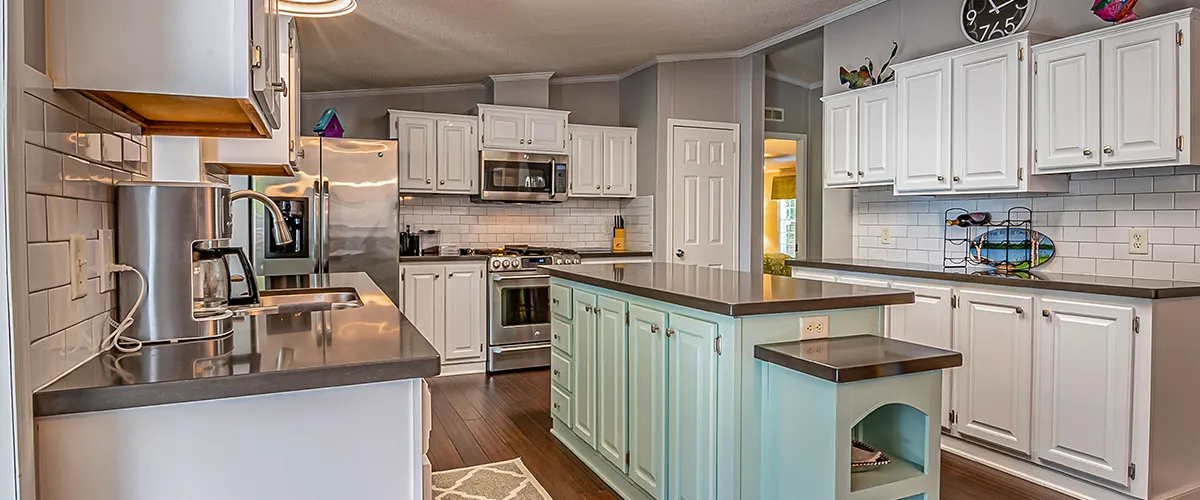 3. Consider the natural light in your kitchen
The amount of natural light in a room can make a big difference in how colors appear on the walls. If your kitchen is very bright, you may want to choose a lighter paint color to prevent the space from feeling too overwhelming. Conversely, if your kitchen doesn't get much natural light, choosing a darker color can help make it feel cozier and more inviting.
4. Sample a few colors before making your final decision
Once you've narrowed down your options, it's always best to test out the colors in person before committing to one shade. Paint sample swatches on different walls in your kitchen or buy small cans of paint so you can paint test patches on the walls. This will help you see how the colors look in your unique space and make sure they're exactly what you're looking for.
The Top 3 Colors For Your Kitchen, According To Experts
A coat of paint can do wonders for a room. It can make it feel bigger, brighter, and more inviting. But with so many colors to choose from, it can be hard to know where to start. If you're thinking about painting your kitchen, you'll want to choose a color that will make the space feel warm and welcoming. Luckily, we've consulted with a few experts to find out the top three color schemes for kitchens, according to experts.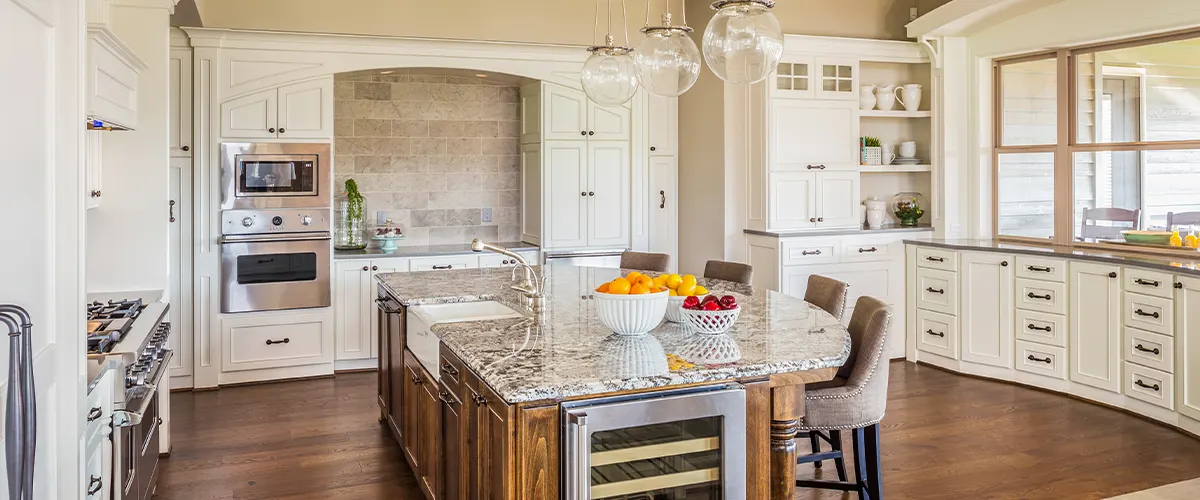 White & Wood Tone Kitchen
For a classic look that will never go out of style, consider a white and wood-tone color scheme for your kitchen. This look is clean, bright, and incredibly welcoming. To achieve this look in your own home, start by painting your walls white. Then, choose cabinetry in a light wood tone like maple or oak. For an added touch of interest, consider incorporating brass hardware and fixtures throughout the space. If you want full white walls and white cabinets look, make sure you incorporate an accent color as well.
Love the look of a traditional black and white kitchen but want to put your own spin on it? Consider adding a pop of color! This can be done in a number of ways but we recommend keeping it subtle for best results. Try painting one wall in a bold hue or choosing cabinets in a vivid shade (think: emerald green, dark blue, or even cobalt blue). Then, ground the space with classic black and white tile or patterned flooring for a completely fresh look.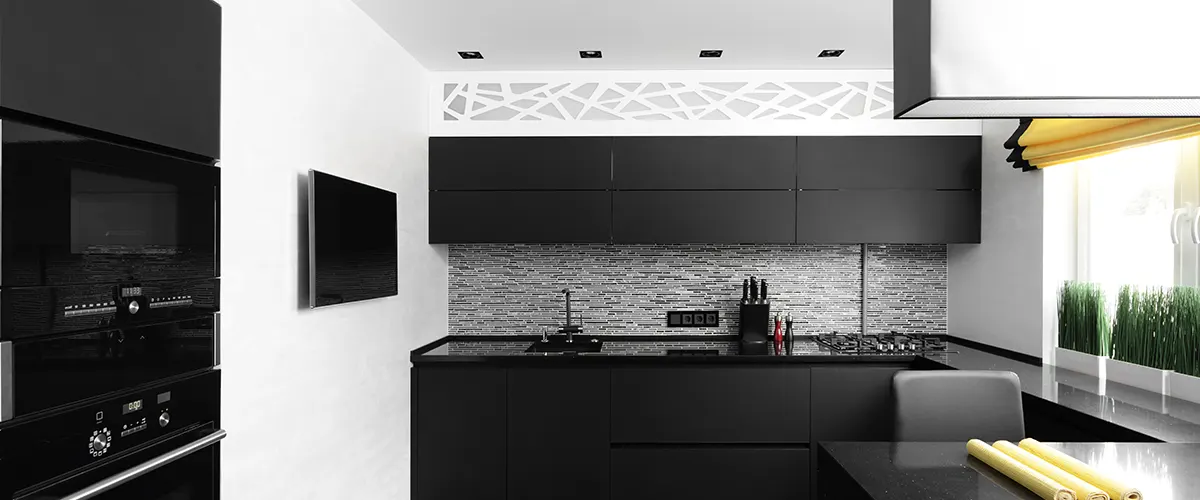 Neutral Kitchen with Accents
If you're not ready to commit to a bold color scheme just yet, consider using neutrals as your base and adding accent colors throughout the space. This can be done with paint, accessories, countertop materials—you name it! Use your imagination and don't be afraid to experiment until you find what works best for you and your home. A neutral color palette can work wonders when it comes to your wall color and when paired with natural wood. You can opt for cool shades and gray tones or create contrast with a bold statement.
Kitchen design is constantly evolving, and in 2023 the top colors for kitchens will be different than they are today. If you're looking to renovate your kitchen in the near future, it's important to stay up-to-date on the latest trends. In this blog post, we've outlined the three color schemes that will be popular in 2023, as well as some tips on how to choose the right colors for your kitchen and what you should avoid. If you need help upgrading your kitchen get in touch with us – our team of experts would be happy to assist you!