The Best Bathroom Remodeling Cost In Ceres, CA
Ready to remodel your bathroom in Ceres, CA? Why not consult with a professional?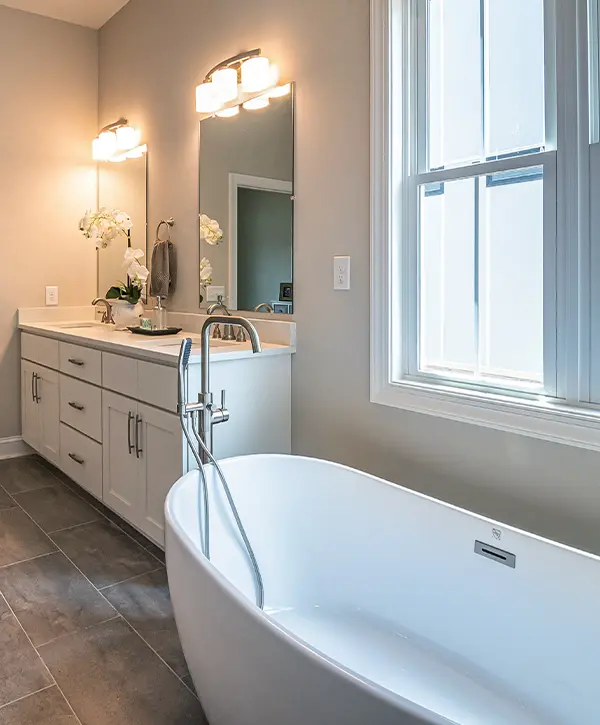 A bathroom remodeling in Ceres costs around $31,000 and is one of the top three home improvements with the greatest return on investment, according to the Cost vs. Value Report 2022.
Minor bathroom upgrades offer a higher return rate of 67.5% compared to major bathroom renovations that have a return rate of 59.5%. 
But if you're concerned about the bathroom remodeling cost in Ceres, CA, here at KHB we're making it easier for you remodel within your budget and still get a spectacular product!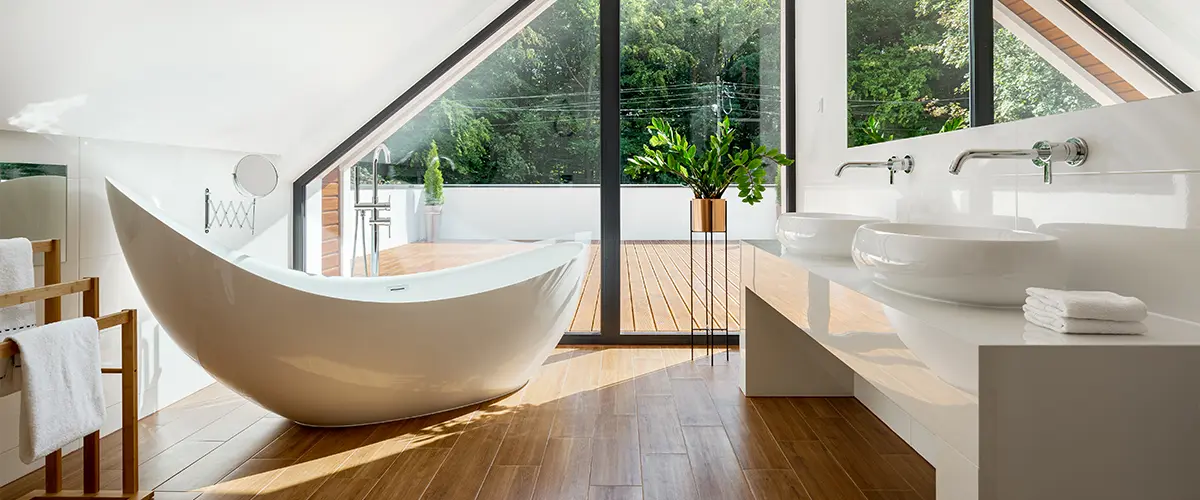 The Typical Bathroom Renovation Cost In Ceres
The cost of a bathroom renovation in Ceres is not fixed and can differ based on various factors like room size, chosen materials and fixtures, and the extent of customization required.
As no two bathroom remodels are precisely identical, providing an exact cost estimate is challenging. However, to give you an approximate idea about costs, here are the average price ranges based on the bathroom's size.
Size
Average Price
Small <70 sq ft
$20,500 - $35,000
Medium 100-150 sq
$35,500 - $60,000
Large 200+ sq ft
$70,000 - $100,000+
KHB Construction provides a precise price quotation that covers all project elements after your in-home consultation. We want to maintain your construction budget, without sacrificing the quality of our work. Contact us to see how!
Labor In A Bathroom Remodeling Cost In Ceres
If you hire professionals who specialize in bathroom remodeling, they can handle tasks like building and carpentry, making the overall process smoother and easier for you.
When adding walls to your building project, working with an architect is important. They will ensure that the new rooms meet safety regulations and are stable. You'll need to get plans from the architect to obtain a construction permit.
The architect's fee can be $65 – $400 per hour or 10-20% of your project's total expenses. Professional plans will save you time, money, and effort.
Hiring an experienced designer is recommended to make your bathroom functional and visually appealing.
Depending on their expertise, a one-time consultation with a designer can cost between $300 to $1,500. Moreover, designers typically charge 10-20% of the overall remodeling cost.
Water-related issues in your bathroom need to be fixed before anything else. Plumbers possess the expertise required to provide long-lasting solutions promptly and prevent potential issues from worsening.
They charge an hourly rate ranging from $70 to $150. Additional material expenses may apply. 
Consider upgrading to more secure wiring when moving electrical appliances to ensure your family's safety.
Usually, an electrician will charge between $80 and $150 per hour in addition to the cost of any extra materials needed.
Our bathroom remodeling services in Ceres, California are worry-free. Our team of experts, which includes electricians and plumbers, is a one-stop shop for bathroom renovations. We take care of everything from beginning to end, making the process stress-free for you.
Bathroom Remodeling Cost In Ceres By Upgrades
The average cost of bathroom makeover projects in Ceres varies considerably. Here are some rough estimates for popular renovations:
Consider adding a bathroom vanity to improve the comfort and atmosphere of your bathroom. Opt for a twin vanity if your standard bathroom has limited storage space.
For powder rooms or guest bathrooms, choose a decorative vanity to make it the space's focal point. Choosing semi-custom items with decorative features can provide great value.
The cost can be anywhere from $75 to $400 per linear foot for the cabinets themselves or $150 to $600 per linear foot for the cabinets and the installation, and a full bathroom custom cabinet design could cost as much as $10,000.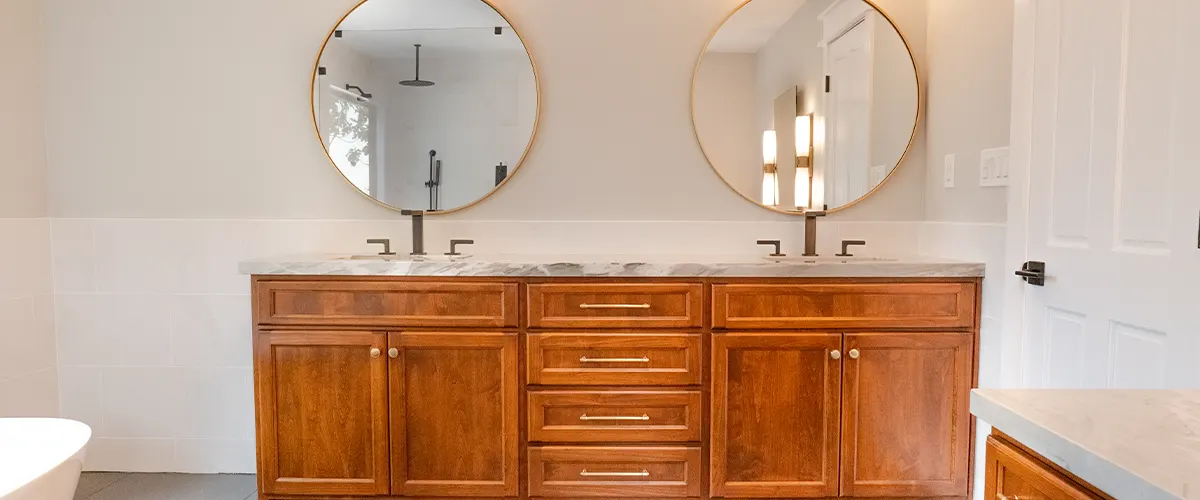 Consider quartz countertops if you want a lasting and appealing option for your home, especially for high-traffic areas like bathrooms. It has a consistent appearance, scratch resistance and is affordable, ranging from around $75 to $100 per square foot. Its durability ensures that you can continue enjoying its beauty for years.
Marble and tiles are also commonly used in bathrooms since they are durable and scratch-resistant, just like quartz. However, their installation can be costly, unlike quartz.
| Material | Typical Cost (per square foot installed) |
| --- | --- |
| Laminate | $27 - $34 |
| Quartz | $50 - $200 |
| Hardwood | $30 - $40 |
| Marble | $40 - $200 |
| Granite | $50 - $400 |
| Stainless Steel | $80 - $225 |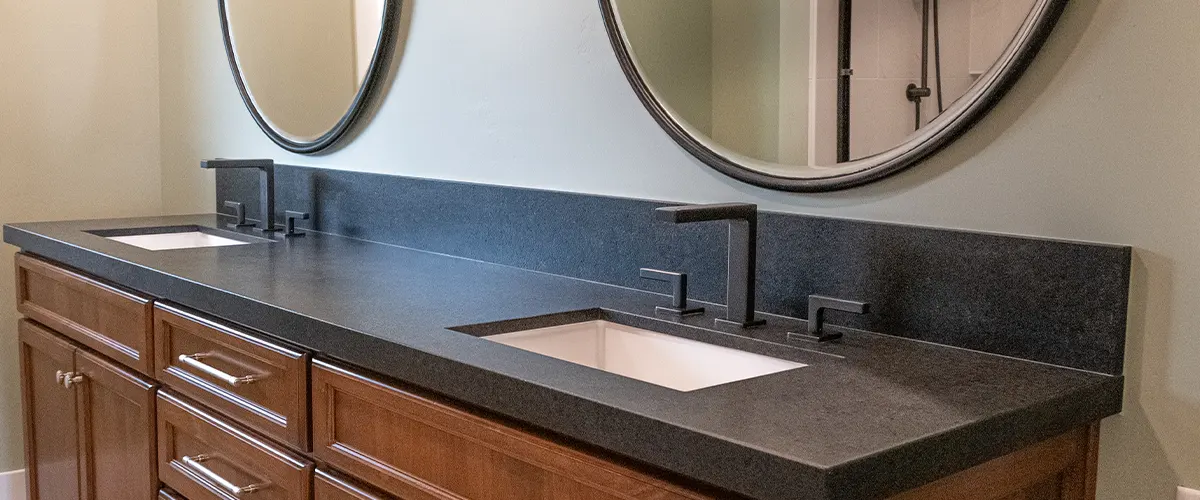 Replacing your entire floor is not necessary for minor damage. Instead, consider using budget-friendly laminate porcelain tiles that usually cost between $10-$30 per square foot and are generally cheaper than other types of laminate flooring.
Vinyl flooring is a cost-effective way to elevate your home's aesthetic. LVT is available in wood and stone designs that can provide a luxurious appearance without breaking the bank. 
National averages indicate that homeowners usually spend approximately $1,600 to cover 200 sqft of LVT with a textured stone finish.
| Material Type | Typical Cost Per Square Foot |
| --- | --- |
| Standard Vinyl Plank | $2 - $5 |
| Luxury Vinyl Plank | $4 - $10 |
| Rigid Core Vinyl Plank | $10 - $12 |
| Waterproof Vinyl Plank | $10 - $14 |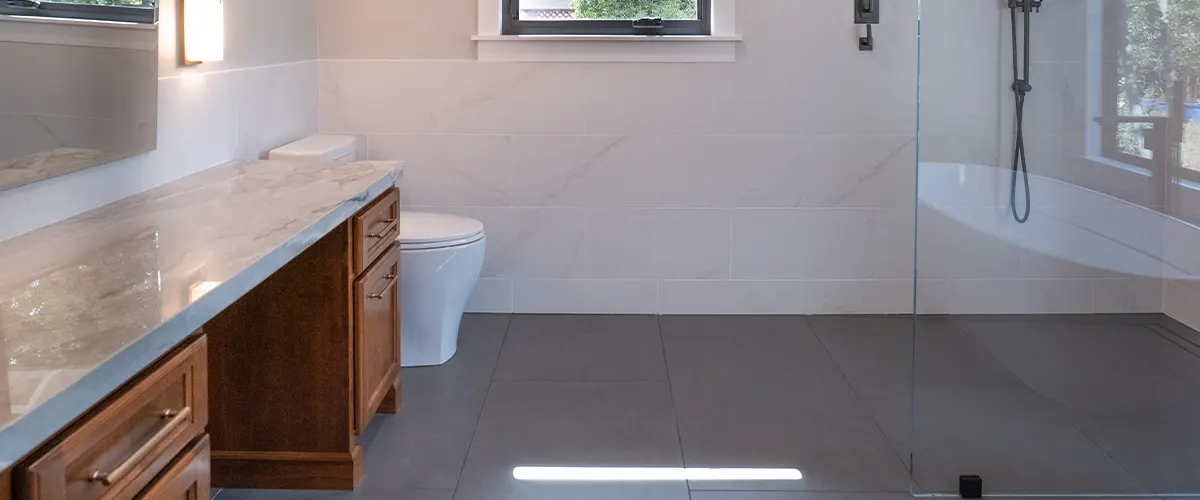 If you want a tub to shower conversion, these typically cost between $6k to $10k.
Using tiles to update your walk-in shower is a great option that typically costs between $1,000 to $5,000. The total cost will depend on the size of your bathroom and the materials you choose.
It's worth noting that choosing a preformed shower pan could be a cheaper option compared to tiling both walls and floors. Porcelain tiles are typically higher quality than ceramic tiles, but their price range varies significantly between $2,000 and over $10,000, based on your particular choices.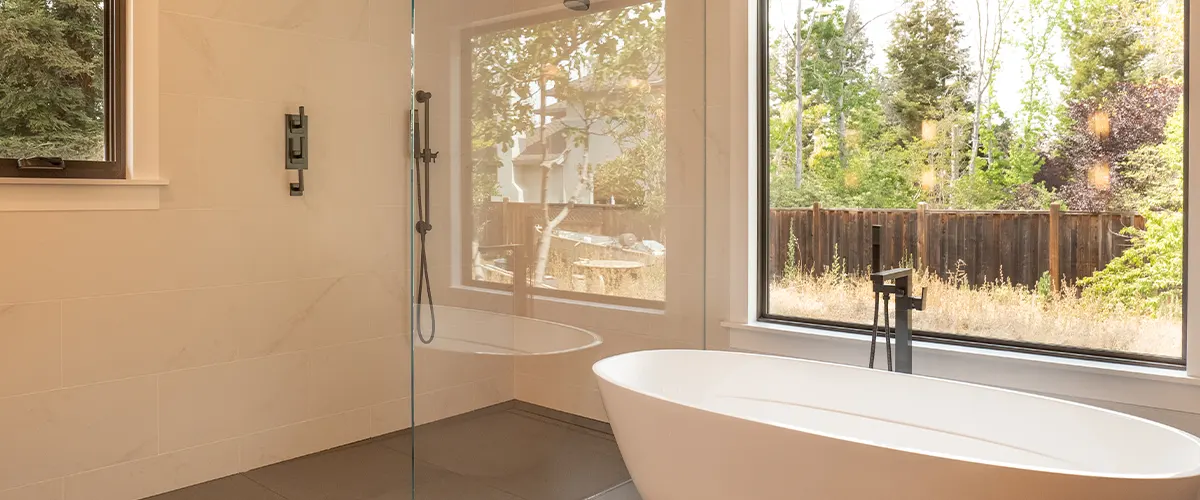 Budgeting For Your Bathroom Renovation Cost In Ceres
It's important to keep in mind that remodeling shows like HGTV may not portray the entire process accurately. Homeowners start their remodeling journey thinking they're remodeling their baths in a few days and with $20k tops, but the reality is completely different.
Here are a few tips to budget properly.
If long baths are not your thing, getting an expensive soaking tub might not be the best investment. If, on the other hand, you like a quick shower every morning, a spacious walk-in shower will make your morning routine so much easier. 
If you want more storage space in your bath, a large double vanity will work great, but if you're remodeling a small bathroom, large vanities are a no-go. In a nutshell, focus on upgrades that you know you'll take full advantage of.
When you're renovating a bathroom, it's crucial to take into account potential unexpected events such as plumbing troubles, mold, and mildew that might occur during construction. 
Since these problems can be costly, you should plan financially by allocating an additional 20% beyond your initial budget. Doing so will provide you with peace of mind and prevent overspending in case anything goes wrong.
Know What You're Paying For
You need to know that more than labor fees account for more than half of your bathroom remodeling cost. Considering this, wouldn't you rather spend an extra buck on a complete and high-quality service that delivers what's promised?
At KHB Construction, we're even taking it a step further and over deliver on each project we undertake. For us, your needs and preferences are the core of our work, and we'll give you a space that completely matches your lifestyle!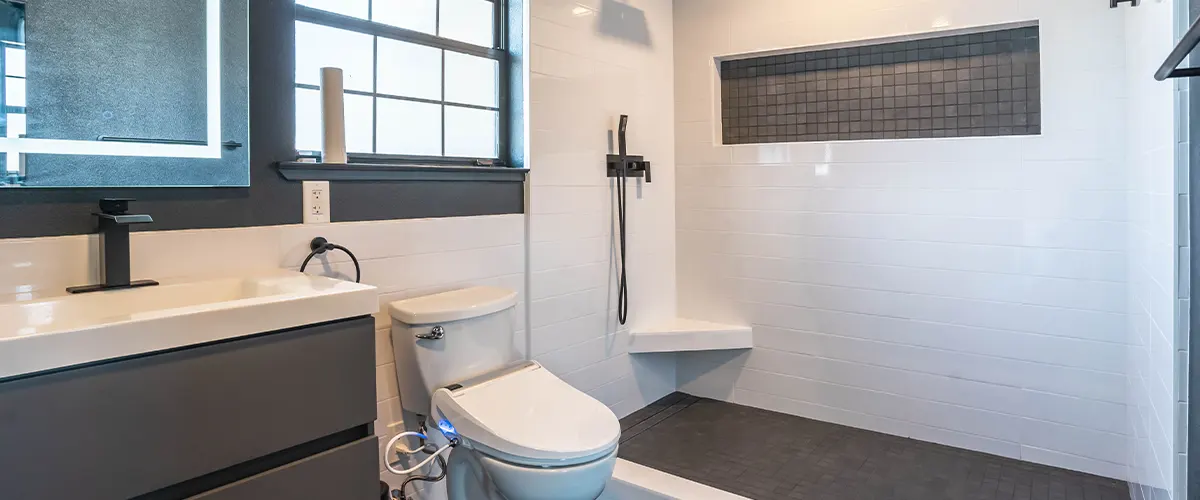 Enjoy The Best Bathroom Remodeling Cost In Ceres!
We've worked on bathrooms for as low as $20k and as much as $100k+. For us, there's no limit to what we could do, regardless of your budget.
If you're ready to try out a premium bathroom remodeling service for your home in Ceres, CA, request a quote from us and schedule a consultation to get some in-depth advice and insights from our designers and architects.
Enjoy the perks of working with a top-tier contractor, and expect:
Begin Your Bathroom Remodeling Project Today!