The Best Bathroom Remodeling Cost In Livermore, CA
Are you looking to start your bathroom remodeling in Livermore? This guide will walk you through every cost of it!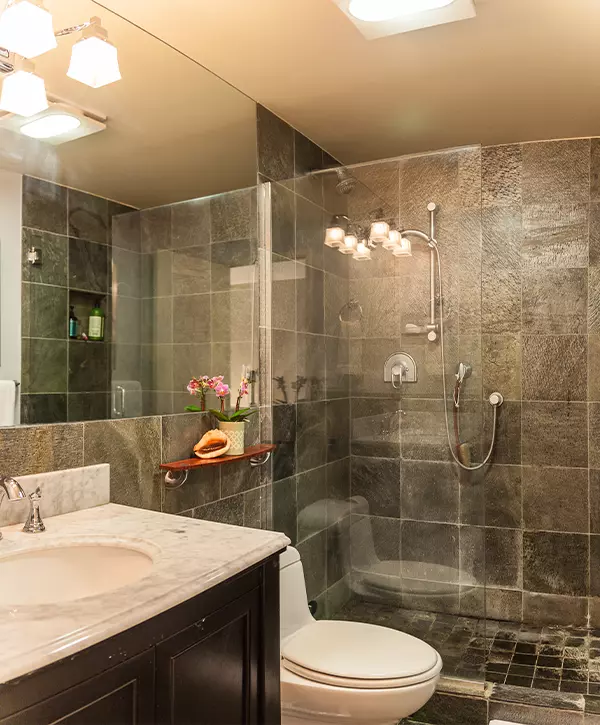 As per the 2023 Cost vs. Value Report, the average cost of an upscale bathroom remodel in Livermore, CA, and nearby areas is roughly $80,000. In comparison, midrange bathroom remodels typically cost around $26,000.
No matter the scope of work, you can expect over 54% ROI on both of these projects, an investment that'll reflect in your home appraisal value but also in the quality of your life.
But there's a lot more to understand about the bathroom remodeling cost and what influences it.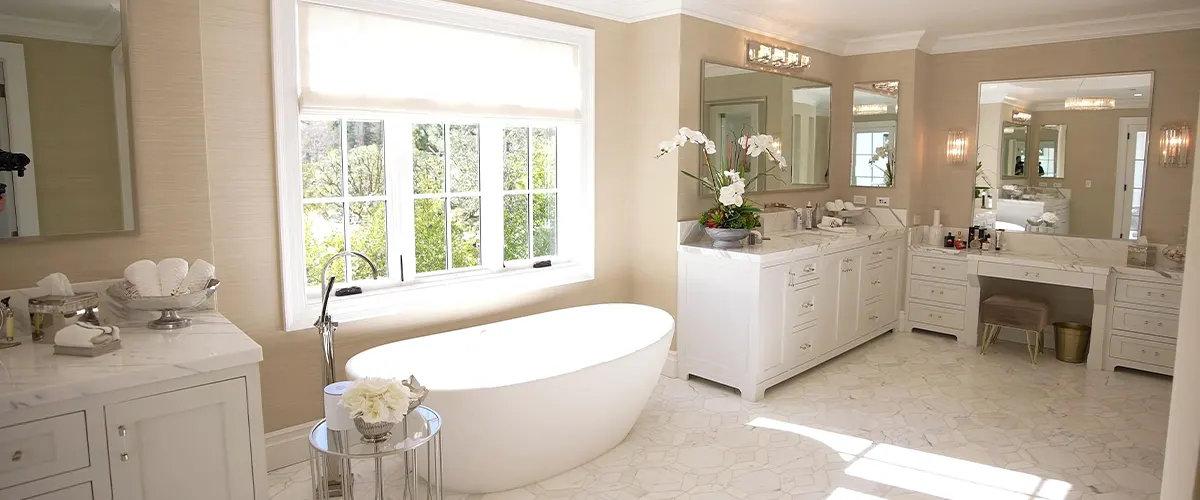 The Typical Bathroom Remodeling Cost In Livermore, CA
When calculating the cost of a bathroom remodeling project, consider the bathroom's dimensions, the expense of materials, and the contractor's labor charges. The following are some estimated prices for bathroom renovations based on various bathroom sizes.
Size(square feet)
Average Cost
Small <70 sq ft
$20,500 - $35,000
Medium 100-150 sq ft
$35,500 - $60,000
Large 200+ sq ft
$70,000 - $100,000+
After the in-home consultation, you'll get a comprehensive estimate of the cost and time required for your project. Our goal is to ensure that you receive high-quality work while staying within your budget. To learn more about our approach, please request a quote.
Before
After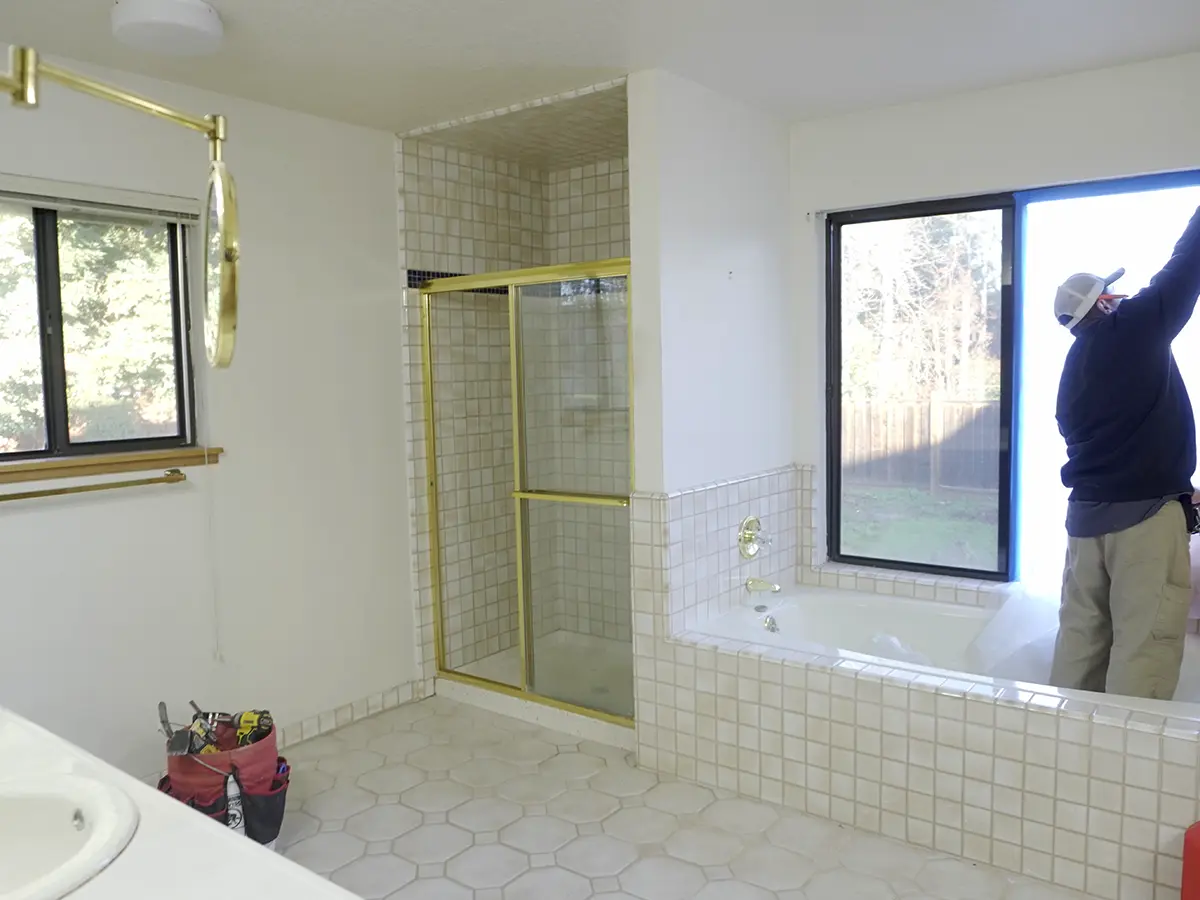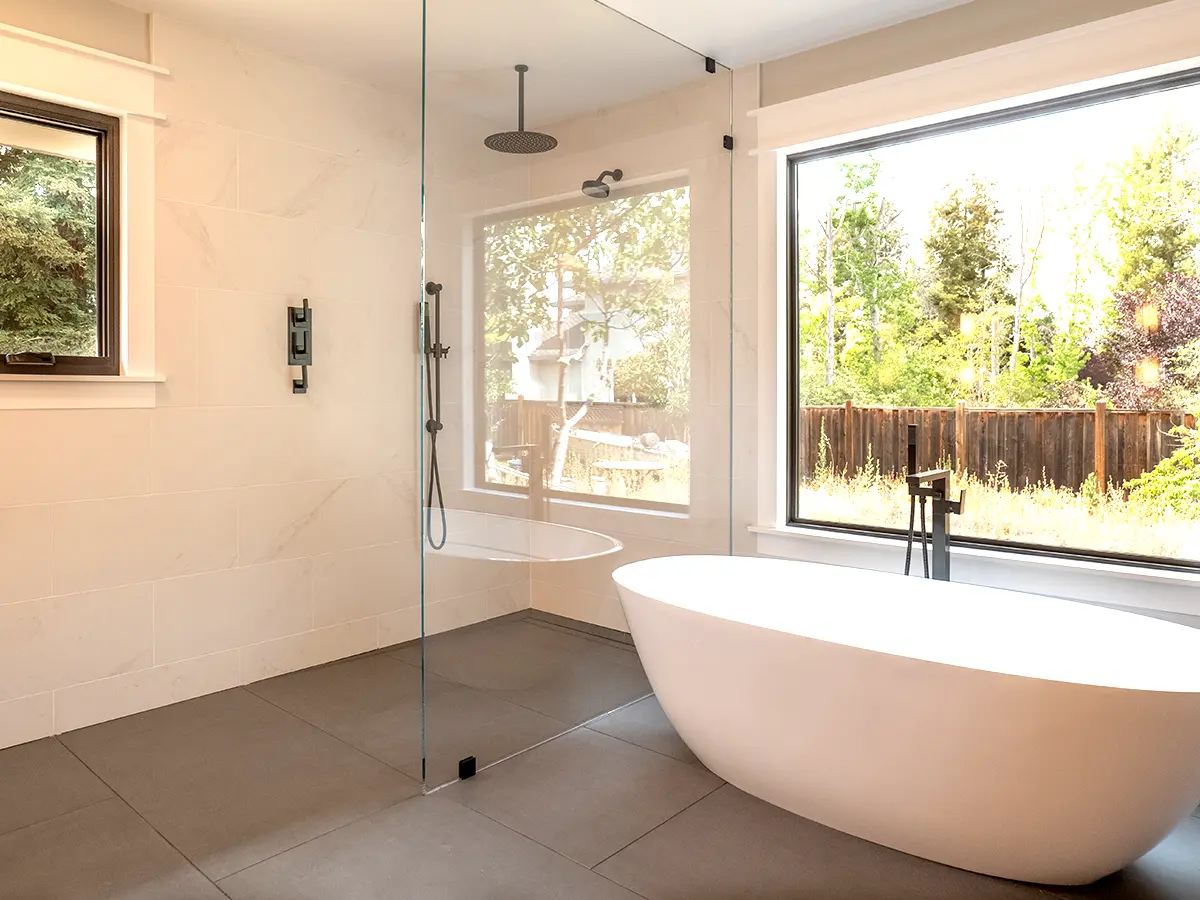 Livermore Master Bathroom Remodel
This 156 ft² bathroom remodel included:
The project was quoted at $98k, where the plumbing fixtures alone were over $25k.
Labor In A Bathroom Renovation Cost In Livermore
Having multiple professionals is crucial for ensuring the highest level of safety during your bathroom remodel. Let's determine which experts are essential for your new bathroom.
Architects are required whenever you're making structural changes to your home. They'll also help you get the building permits to start the job.
Architects generally charge between $65 and $400 per hour or a one-time fee of 10% to 20% of the total cost of your project.
It is essential to hire a bathroom designer to maximize the available space and utilize every inch efficiently. Additionally, they can ensure a cohesive flow with the rest of the house.
Designers charge 10-20% of the overall renovation cost; one-time consultation costs range from $300 to $1,500, depending on their skill level.
When starting a bathroom renovation, it's important to address any pre-existing plumbing problems. It's recommended to hire a professional plumber for that.
Plumbers charge between $70 and $150 per hour for their services and any necessary materials expenses.
It's important to check if the electrical wiring in your older home meets current standards to keep your family safe. Electrical building code changes frequently, and it's vital to have it done right.
Usually, an electrician costs between $80 and $150 per hour in addition to supplies.
Enjoy A Complete Service That Takes Care Of Everything For You!
With us, you're getting everything you need in one place. This is the difference between working with a top-tier contractor and a sketchy builder – we're giving you all it takes to get the job done with none of the remodeling hassles!
KHB Construction offers top-quality bathroom remodeling services offers and cost-effective solutions that'll fit everyone's needs. We'll take care of everything for you, so sit back, relax, and enjoy watching your vision come to fruition!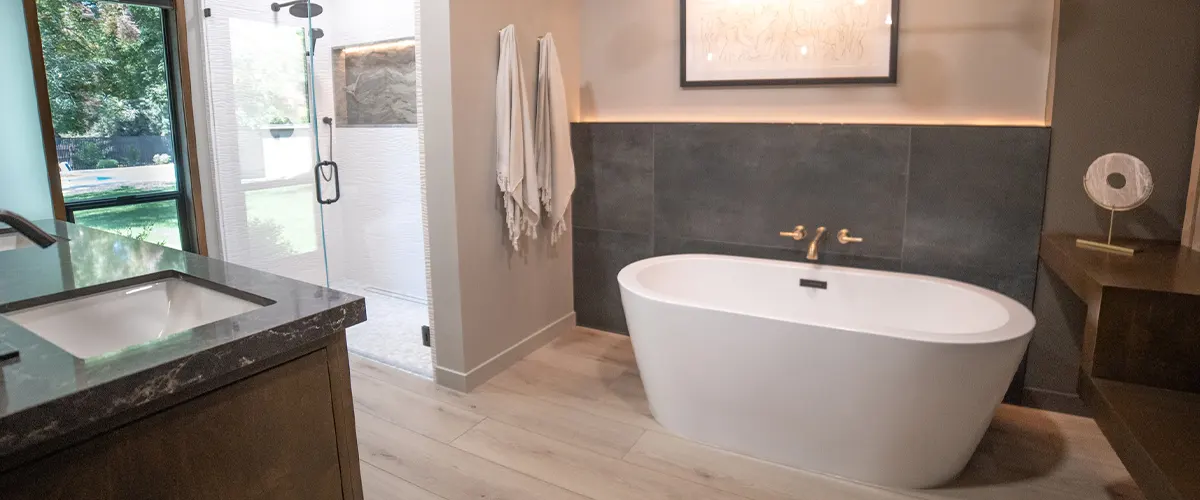 Bath Remodel Cost In Livermore By Upgrades
Here's a quick breakdown of the most important expenses in a bathroom remodeling cost in Livermore, CA, and surrounding areas.
A double vanity can help you increase storage space and improve the efficiency of your morning routine by providing two sinks, removing the need to wait for your partner to finish using the sink.
The cabinets alone can cost between $75 to $400 per linear foot, while both the cabinets and installation can cost $150 to $600 per linear foot. A complete custom cabinet design for a bathroom can reach up to $10,000.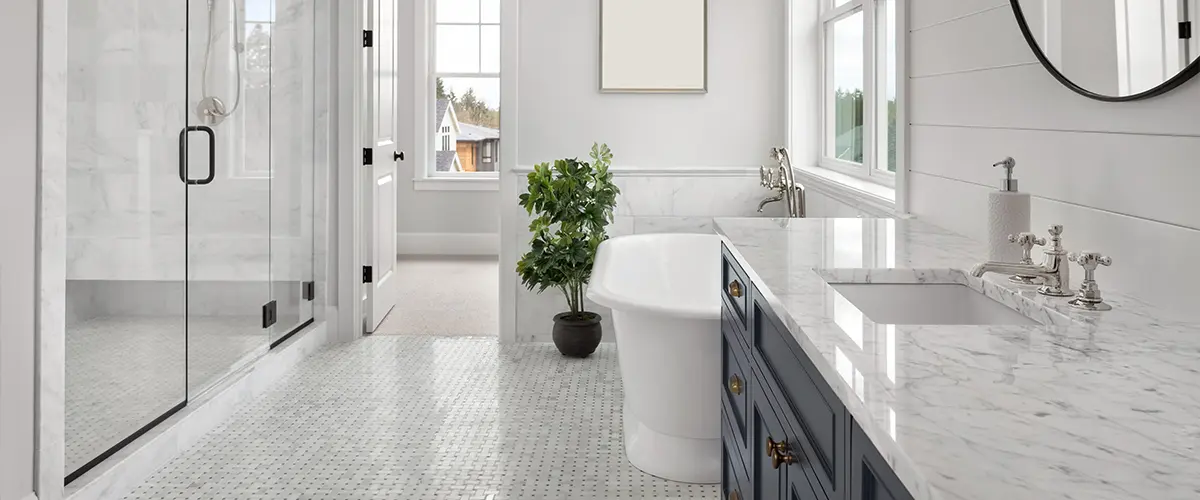 To ensure consistency in your new bathroom, it's necessary to purchase a new countertop if you're replacing the vanity.
Quartz countertops are the ideal choice for your new bathroom as they offer a balanced look. While natural stone options like marble or granite can create a stunning and sophisticated ambiance, they come with a higher price tag.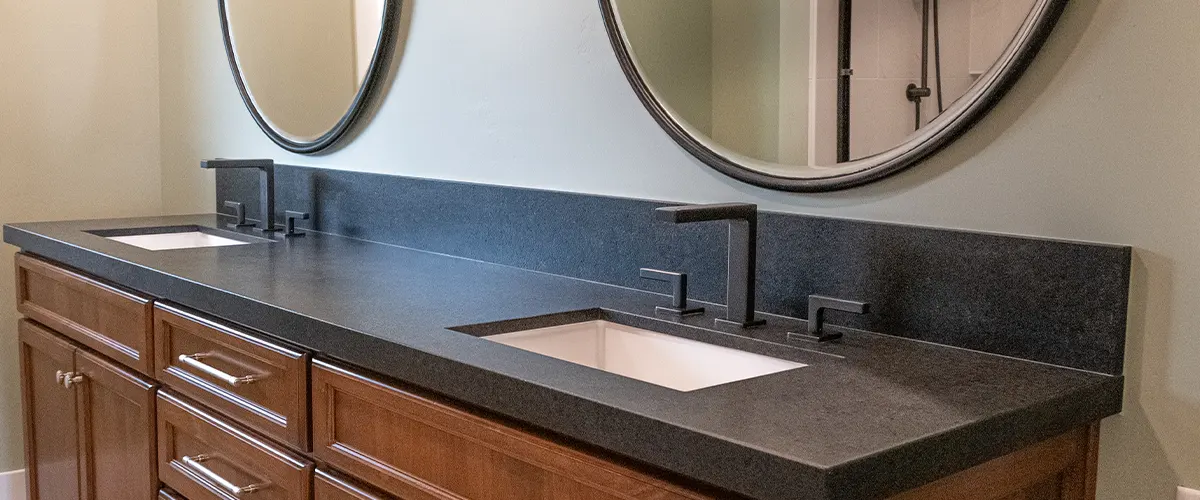 Material Typical Cost (per square foot installed)
Material
Typical Cost (per square foot installed)
Laminate
$27 - $34
Quartz
$50 - $200
hardwood
$30 - $40
Marble
$40 - $200
Granite
$40 - $100
Stainless Steel
$80 - $225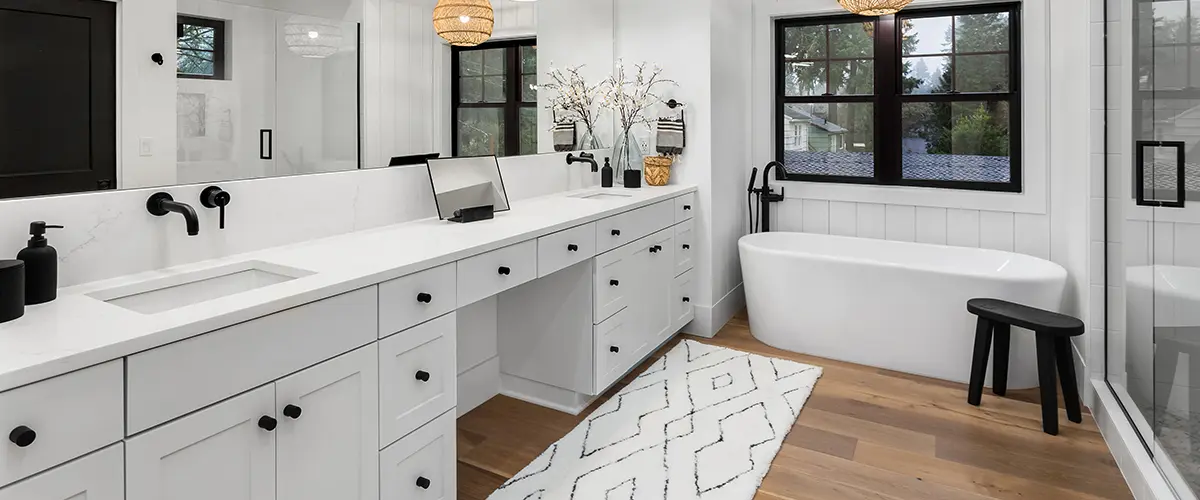 Many homeowners in Livermore prefer Italian porcelain tiles for their flooring. The cost of the tiles ranges from $5 to $30 per square foot. If you opt to hire a professional for purchase and installation, the price can go up from $25 to $50 per square foot.
Luxury vinyl plank and tile flooring are an affordable and practical flooring option. They imitate the appearance of hardwood or stone without the disadvantages of those materials.
To install LVP flooring in a space that is 1000 sq/ft, you can expect to pay anywhere from $5,500 to $8,000 on average. The cost of luxury vinyl planks typically ranges from $5 to $15 per square foot.
Material
Typical Cost (per square foot installed)
Standard Vinyl Plank (SVP)
$2 - $5
Luxury Vinyl Plank
$4 - $10
Rigid Core Vinyl Plank
$10 - $12
Waterproof Vinyl Plank
$10 - $14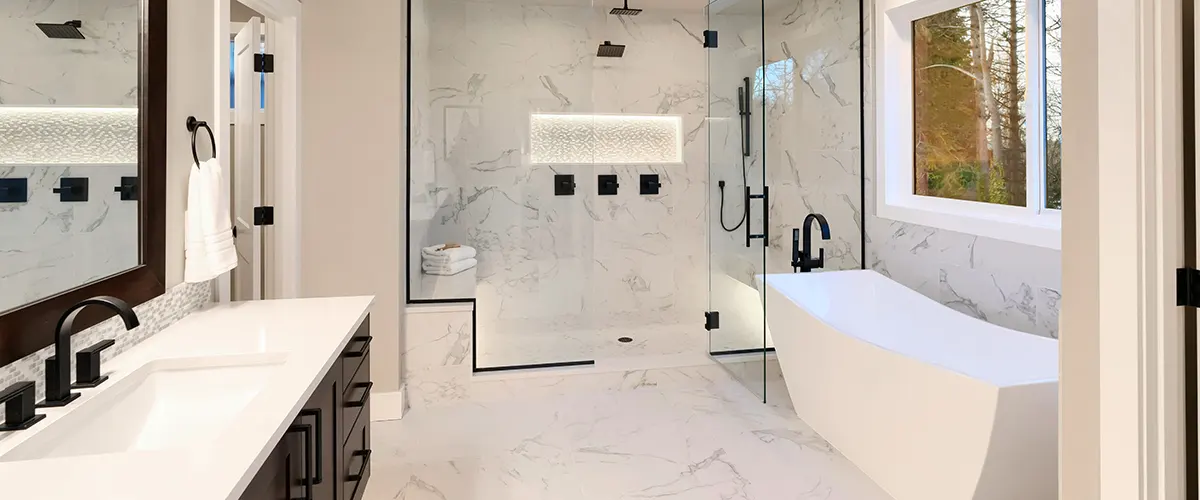 The cost of tiling a shower, including tiles, installation, and other required materials, is approximately $25 per square foot. Generally, the total cost ranges from $1,000 to $5,000.
Renovating a walk-in shower typically costs at least $1,000.
Upscale bathtubs cost anywhere from $2,000 all the way up to $15,000.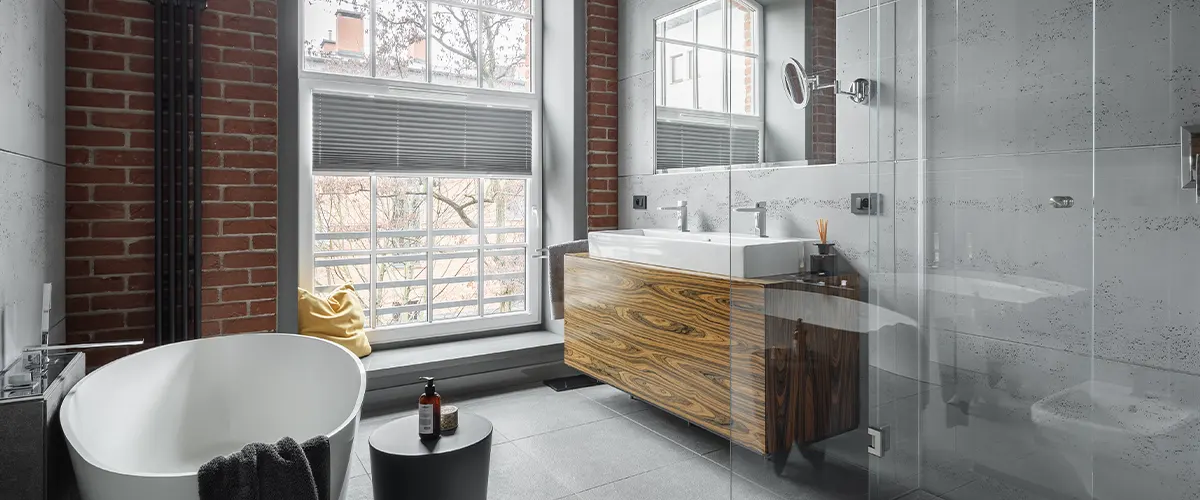 Budgeting For Your Bathroom Remodeling Cost In Livermore, CA
Bathroom remodeling in Livermore, CA, and nearby regions often exceeds people's expectations regarding cost. Despite HGTV showcasing upscale remodeling for as little as $20k, the actual cost of such renovations can exceed $70k. Let's look at some tips so you can accurately estimate your bathroom remodeling cost.
If your bathroom is short on storage, try getting a double vanity or switching to tile or LVP flooring for less upkeep. However, if you're not into taking long baths, a freestanding tub might not be the best choice. A walk-in shower would be more practical. Think of your needs first, and you'll have a much easier time budgeting for your bathroom upgrades.
When renovating your bathroom, it's smart to plan ahead for unexpected issues like mold, mildew, and plumbing problems. To ensure you're prepared, experts suggest setting aside an extra 20% of your total project budget to cover any unforeseen costs. If everything goes smoothly, the extra funds will remain in your account.
Make Sure You're Working With A Reliable Pro
In bathroom remodeling jobs, almost 50% of the expenses will go toward labor. This emphasizes the importance of hiring a reliable professional. To make sure you choose the right one, gather quotes from multiple contractors and review their previous work before making a final decision. You can locate trustworthy local professionals by visiting the BBB website in Livermore or searching the internet.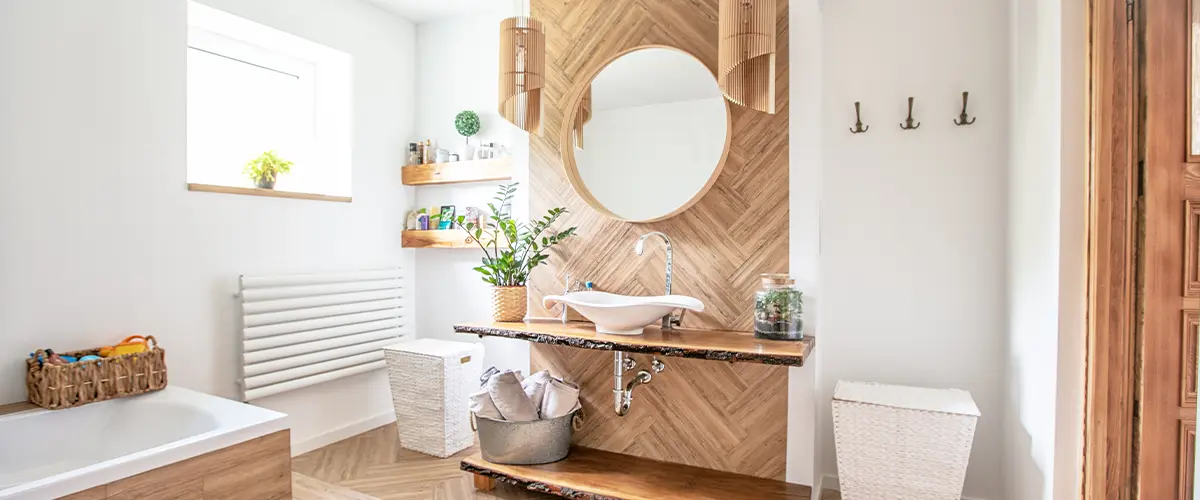 Get The Best Deal On Your Kitchen Remodeling Cost In Livermore, CA!
Our bathroom remodeling services here at KHB typically cost approximately $55,000 on average. However, the total cost may differ depending on the materials you choose and the unique traits of your home.
You'll get a high-quality bathroom that will impress all of your guests, all while staying within your budget and on time. Our work is guaranteed to provide long-lasting satisfaction for you and your loved ones.
Unlike most bathroom remodeling companies, we tend to over-deliver, so expect the following:
Begin Your Bathroom Remodeling Project Today!
Call us at (209) 528-0255 and discuss your bathroom remodeling in Livermore directly to the owners or KHB, Bobby and Ryan! Or click the button below for a free quote, and we'll personally call you as soon as possible!