Bathroom Remodeling Cost Guide In Manteca CA
Interested in starting your bathroom remodeling in Manteca CA? This guide will walk you through everything.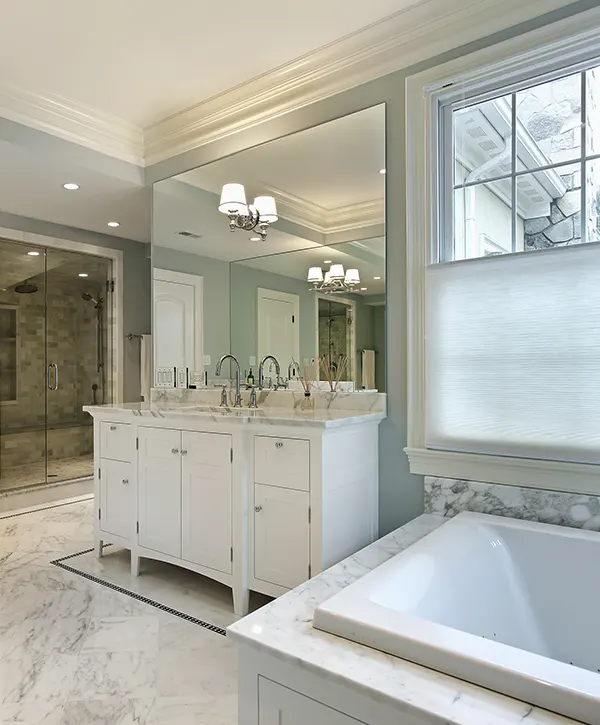 A bathroom remodeling in Manteca, California, costs around $31,000 and is one of the top three home improvements with the greatest return on investment, according to the Cost vs. Value Report 2022. Minor bathroom repairs provide a 67.5 percent rate of return, while major bathroom renovation returns 59.5 percent.
At KHB, we believe that excellent renovations are a top priority. However, we also want to ensure that our clients are fully satisfied with the process from start to finish! If you're wondering about the cost of renovating your bathroom, KHB is here to give you peace of mind. We'll provide a comprehensive breakdown of all costs so that you know exactly what to expect.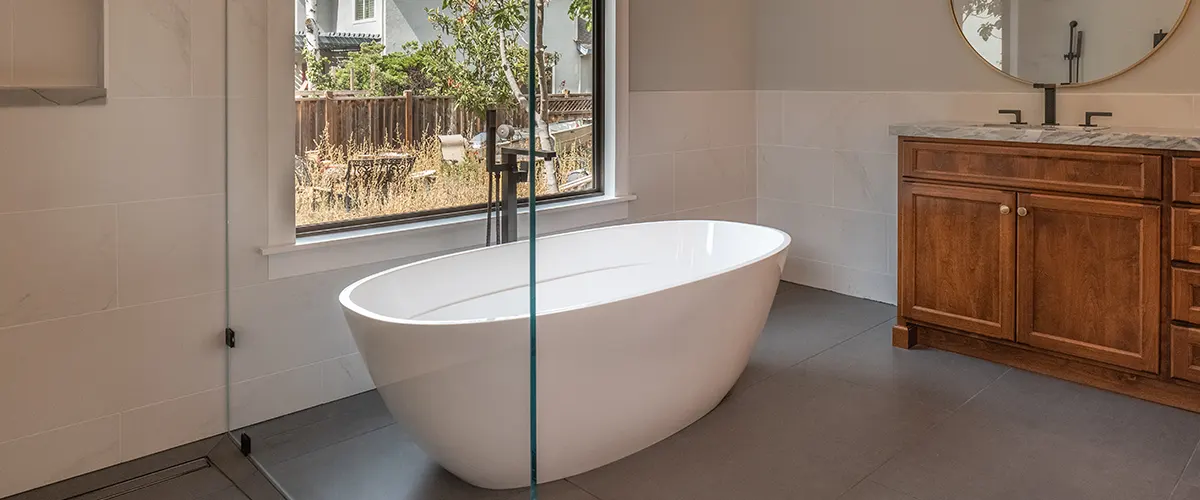 The Typical Bathroom Renovation Cost In Manteca, CA
Several things determine how much you'll spend revamping your bathroom, such as the size of the space, what fixtures and materials you select, and other personalization details. To provide context for typical costs in Manteca CA based on different-sized bathrooms here is further information.
Size
Average Price
Small <70 sq ft
$20,500 - $35,000
Medium 100-150 sq
$35,500 - $60,000
Large 200+ sq ft
$70,000 - $100,000+
After our in-home consultation, KHB Construction will provide you with an accurate pricing quote that covers all project aspects. We want to be sure your construction budget stays intact, so we'll also offer money-saving solutions. Learn more about bathroom remodeling options now!
Labor In A Bathroom Renovation Cost In Manteca
Bathroom remodeling may be a huge job, but it does not have to be difficult. There are several professionals involved in bathroom remodeling, including planning and installation. Building and carpentry are just a few of the tasks that fall into this category.
If you want to construct additional walls as part of your project, you will need an architect. An architect is a professional who makes sure that any new rooms meet safety standards and are structurally sound. To get a construction permit, you will need the drawings and plans from the architect. Architects typically charge an hourly rate between $65 and $400 or a one-time fee that equals 10% to 20% of your total project cost.
You'll need to enlist the help of a professional bathroom designer if you want to create an attractive and efficient space. A good designer will be able to construct your new bathroom beautifully, taking into account both style and function. Most designers charge 10-20% of the overall renovation cost; one-time consultation fees can range from $300-$1,500 depending on their skill level.
In order to fix water issues in the bathroom, a plumber is needed as handymen don't have the skills required. Not only will a plumber be able provide a temporary repair, but they will also address the problem at its source so that it won't occur again. For their services, plumbers charge $70-$150 per hour and any necessary materials expenses incurred.
The safety of you and your family is always a top priority, so when you're moving your appliances, be sure to also upgrade the electrical wiring.
This will ensure that the electric installation is secure. Usually, an electrician costs between $80 and $150 per hour plus supplies.
Get All In One With KHB Construction Services
We can assist you with making your bathroom remodeling project stress-free. We collaborate with other professionals, such as electricians and plumbers, so you don't have to. We're a one-stop shop for bathroom renovations in Manteca or anywhere else in California.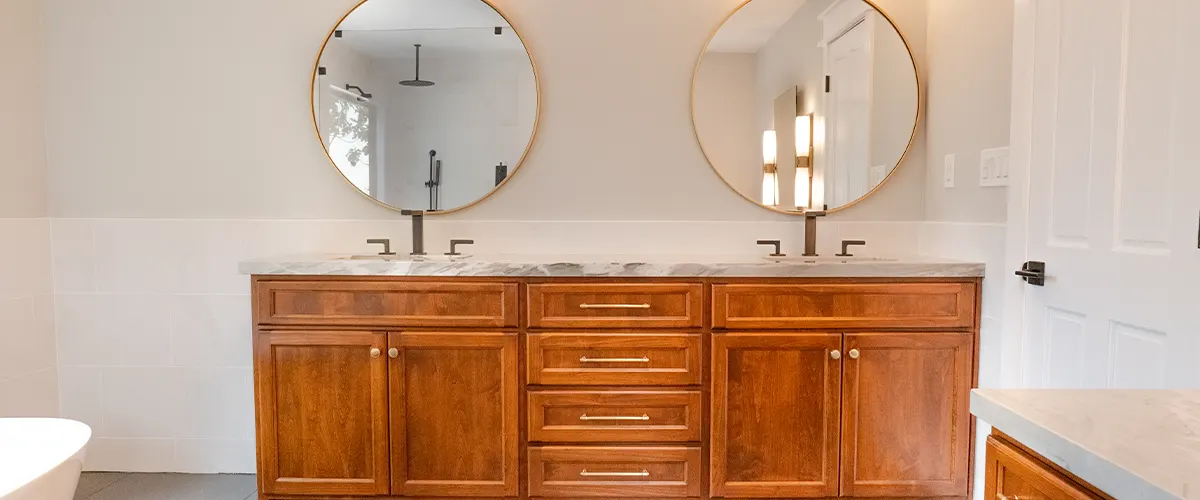 Bath Renovation Cost In Manteca By Upgrades
The average cost of bathroom makeover projects in Manteca, California can vary quite a bit. Here are some rough estimates for popular renovations:
Adding a toilet vanity to your small bathroom can make it seem more inviting and attractive. If you don't have enough storage in your standard bathroom, a twin vanity might be useful. Choosing one with ornamental elements as a focal point in a powder room or guest bath would be ideal. You'll get tremendous value out of choosing semi-custom.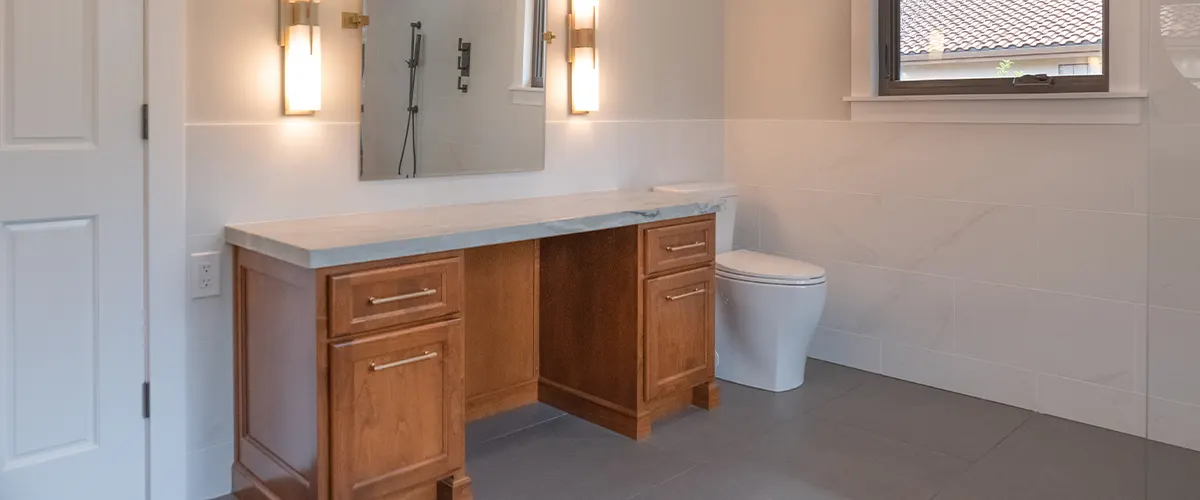 Any room that contains a work area needs multiple countertops. They provide beauty and utility and are crucial in maintaining an efficient workflow. To avoid more work than necessary, it is important to choose low-maintenance materials.
Quartz is an excellent material for areas that require durable countertops. High-quality quartz usually has no visible veins and provides a consistent look that can elevate the appearance of your bathroom space. It's also scratch-resistant, making it ideal for areas in your house that see A LOT of use. Quartz comes in at around $75-$100 per square foot, putting it in the middle to high range when compared with other choices such as laminate or solid surface materials.
Other than quartz, bathroom materials also commonly used are marble and tiles. They offer benefits such as being strong, durable, and scratch-resistant. One significant disadvantage of using them, however, is the high installation cost.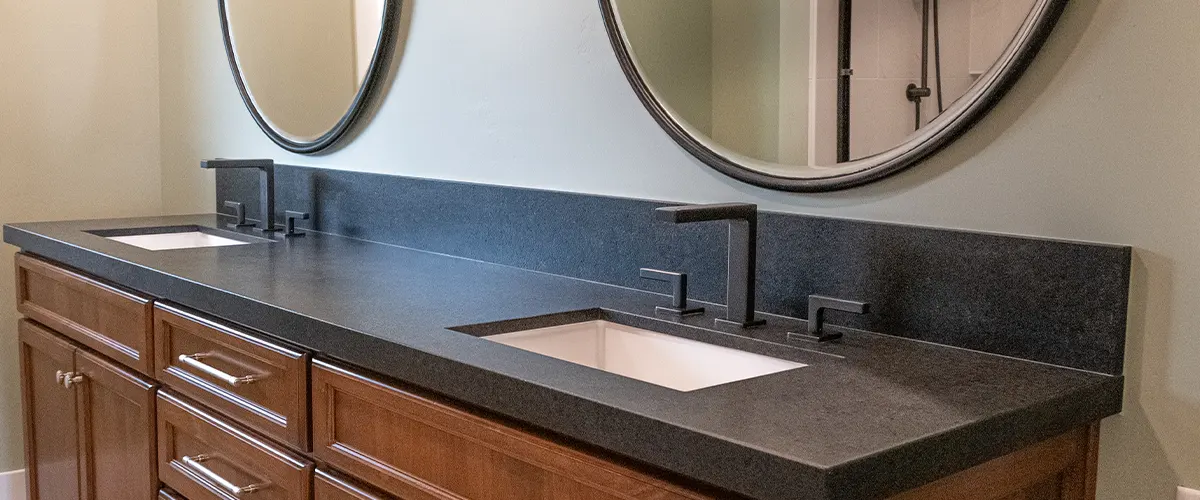 You don't need to replace your floors if only small parts are damaged. If you're worried about cost, laminate porcelain tiles usually run from $10-30 per square foot and they're often less expensive than other types of laminate flooring.
If you want to make your home feel luxurious without spending a lot of money, vinyl flooring might be the right choice for you. LVT is available in wood and stone plank varieties and can give your home a luxe feel without breaking the bank. According to national averages, most homeowners spend $1,600 to install 200sqft of 12″x24″ 20 Mil LVT with a textured stone finish.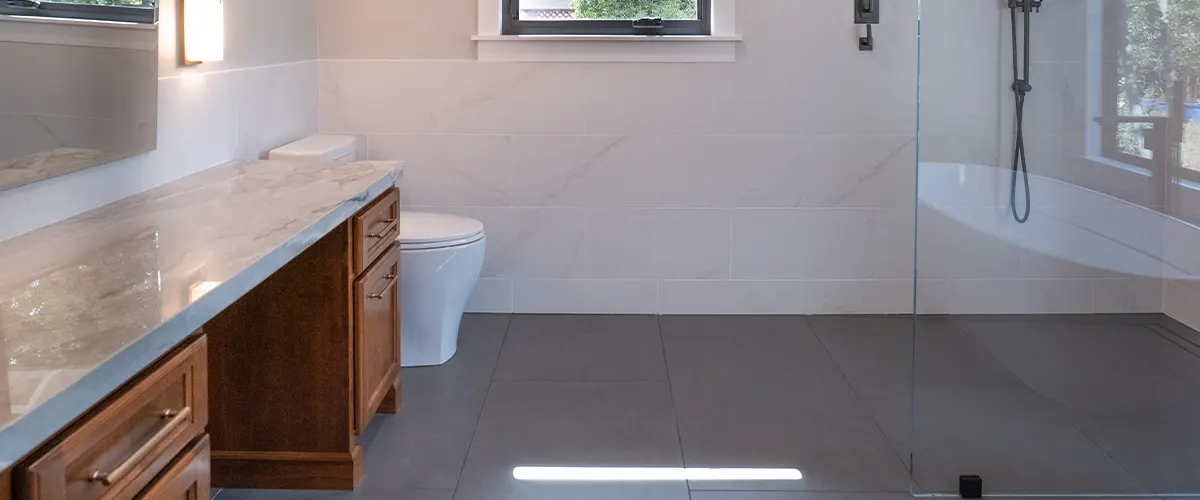 During your bathroom makeover, consider replacing an old tub with a walk-in shower and glass shower doors, or installing a freestanding tub if that isn't feasible. Although it will increase the cost of your Manteca CA bathroom renovation, it will be well worth it in the long run.
The cost of renovating a walk-in shower with bathroom tile typically falls between $1,000 and $5,000. The price tag is largely influenced by the size of the shower and which materials used. Sometimes it costs more to encase both the flooring and walls in tile rather than opting for a preformed shower pan. For example, though porcelain tiles are considered better quality than ceramic ones by most local homeowners and bathroom remodelers, they can range anywhere from $2k to upwards of $10k in some cases.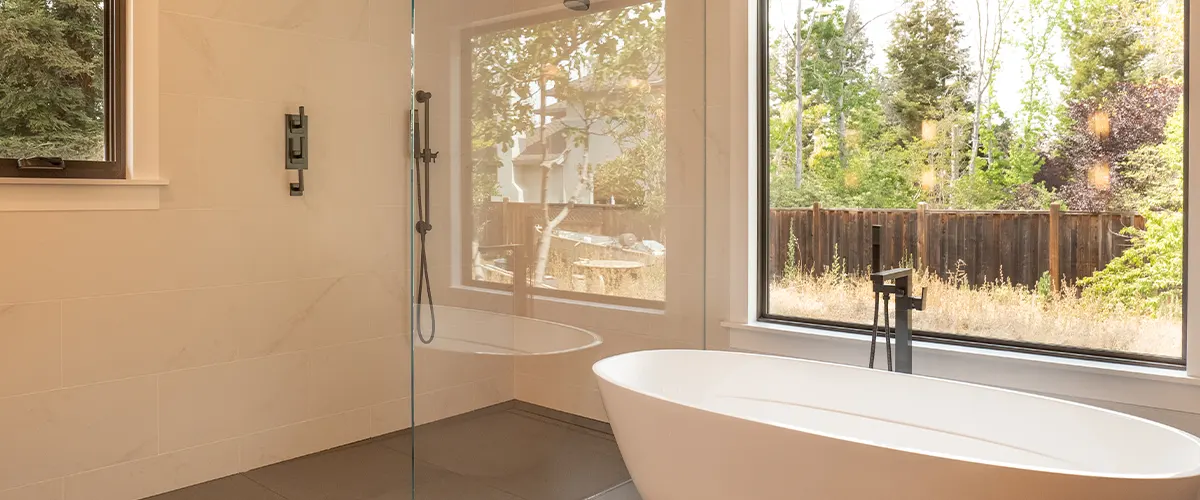 Get Inspiration For Your Bathroom Remodeling In Manteca CA
This is what your bathroom remodeling in Manteca CA can look like! Get inspiration for your upcoming project and see our finished projects right here!
An In-Depth Look Into Your Bathroom Remodeling Project In Manteca
Budgeting For Your Bathroom Renovation Cost In Manteca
It takes a lot to make your home truly feel new again, and as anyone who has watched remodeling shows knows, they frequently don't show the whole story. A two-hour show might compress days or weeks of work into what looks like an impossible timespan–and often includes luxurious materials that are out of most people's budgets.
Worse yet, these programs usually gloss over how much each component costs. This can give viewers unrealistic expectations for their own projects, putting them at risk of overpaying when they start contacting contractors. Here are some tips on saving money while renovating!
If you're not the type of person to spend hours pampering yourself in the bathroom, then it may not be worth your while to invest a lot of money into small improvements. However, if you do enjoy spending time in your bathroom retreat, focus on making that space more inviting. Design and style are usually two areas where collaborating with a designer would be beneficial.
You may not think so at a first glance, but preparing for the worst is one of the most crucial parts of renovating your bathroom. It'sNot uncommon for mold, mildew, and plumbing issues to crop up during construction projects like this. To cover yourself in case of any hiccups, set aside 20% more than what you're expecting to spend originally From there, you can either increase your budget if need be or have some wiggle room financially if everything goes as planned!
Know What You're Paying For
Most people are unaware that, in general, renovating a bathroom is less expensive than changing a bedroom or kitchen. Part of having a breezy experience is being knowledgeable about all the costs prior to beginning the project. That way, there are no unwelcome surprises down the road.
Conducting research to find a reputable business by yourself can be time-consuming and costly. Be sure to ask about any fees or additional charges that may come with the job before signing anything. To avoid overspending, it's crucial you have a full understanding of what you're paying for. The National Kitchen & Bath Association published a paper detailing the average cost of remodeling a bathroom – this could save you valuable time and money!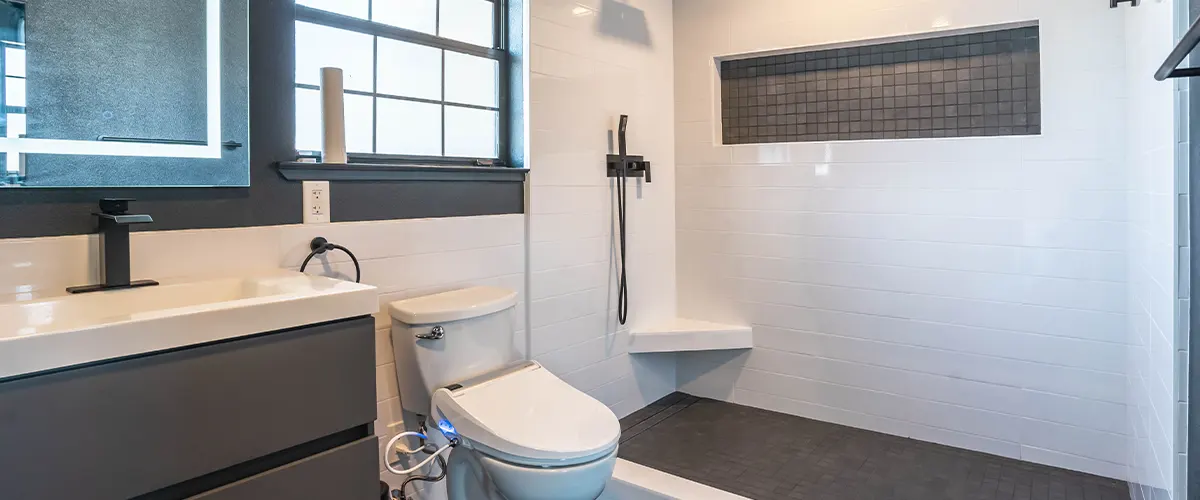 Get Pricing Transparency For Your Bathroom Remodeling Cost In Manteca CA!
Our professionals here at KHB will gladly design the perfect bathroom for your home, no matter its size. Usually, a remodel costs an average of $30,000; however, this ultimately depends on the materials used. We offer affordable bathroom remodeling services and guarantee that your project stays within both time and budget constraints.
Unlike other companies who claim to provide similar services, we actually deliver on our promises. So expect:
Begin Your Bathroom Remodeling Project Today!
Call us at (209) 528-0255 and discuss your bathroom remodeling in Manteca CA directly to the owners or KHB, Bobby and Ryan! Or click the button below for a free quote, and we'll personally call you as soon as possible!