Bathroom Remodeling Cost Guide In Riverbank, CA
Interested in starting your bathroom remodeling in Riverbank, CA? This guide will walk you through everything.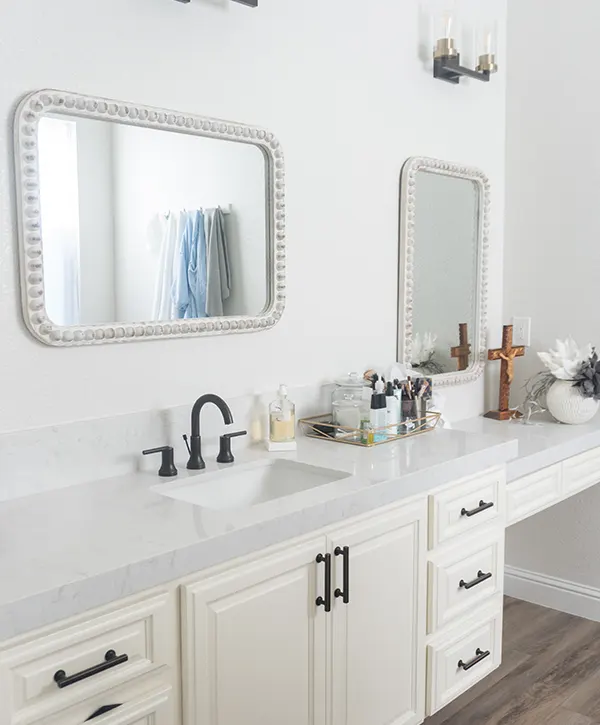 A bathroom remodeling in Riverbank costs around $31,000 and is one of the top three home improvements with the greatest return on investment, according to the Cost vs. Value Report 2022. Bathroom repairs have a higher rate of return at 67.5% compared to major bathroom renovations which have a return rate of 59.5%.
KHB is a company known for its impressive renovation work and excellent customer service. If you're worried about the cost of your bathroom renovation, we will provide you with a breakdown of all expenses related to the project so that you won't have to worry about any surprise charges.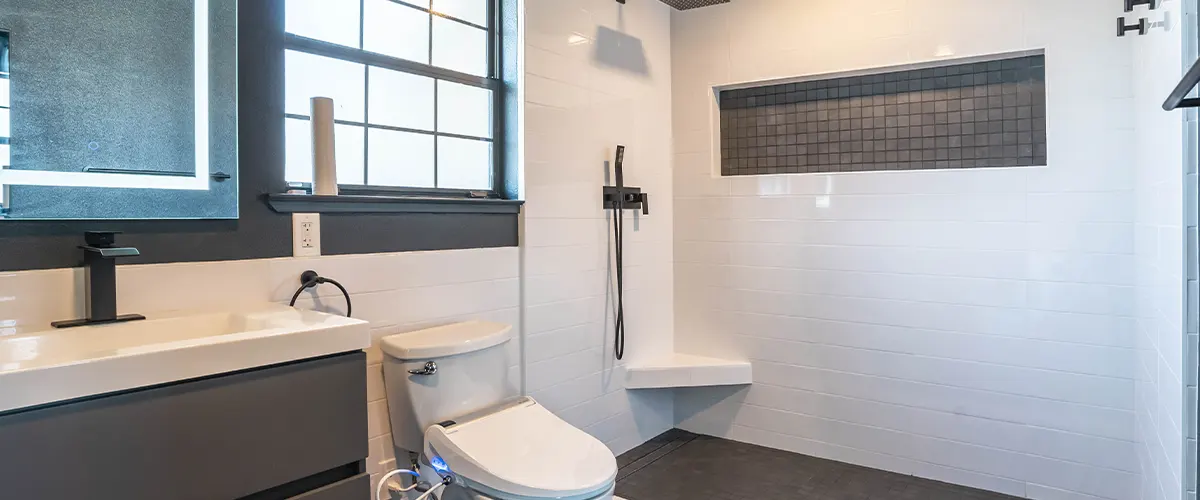 The Typical Bathroom Renovation Cost In Riverbank
The cost of a bathroom remodel in Riverbank can vary depending on several factors, such as room size, choice of fixtures and materials, and any additional customization. There are no two bathroom remodels that are the same. To give you an idea of the co
Size
Average Price
Small <70 sq ft
$20,500 - $35,000
Medium 100-150 sq
$35,500 - $60,000
Large 200+ sq ft
$70,000 - $100,000+
After our in-home consultation, KHB Construction will provide you with an accurate pricing quote that covers all project aspects. We want to be sure your construction budget stays intact, so we'll also offer money-saving solutions. Learn more about bathroom remodeling options now!
Labor In A Bathroom Renovation Cost In Riverbank
Remodeling your bathroom can be made easy by hiring professionals who specialize in bathroom remodels. They can take care of tasks such as building and carpentry, making the process smoother for you.
If you are planning to include walls in your building project, it is crucial to seek the assistance of an architect. They will ensure that newly constructed rooms meet all safety regulations and are stable. It is necessary to obtain plans from the architect to secure a construction permit. The cost can range from $65-$400/hour or 10-20% of the total expenses for your entire project. Creating professionally drawn-up plans will save you time, money, and effort.
To ensure your bathroom is both functional and aesthetically pleasing, hiring an experienced designer is recommended. The cost of a one-time consultation with a designer typically ranges from $300 to $1,500, depending on their level of expertise.
Additionally, designers usually request a fee equivalent to about 10-20% of the total renovation cost.
Although handymen can offer temporary fixes, they may not have the expertise to address plumbing problems. For any water-related issues in your bathroom, hiring a plumber is necessary. These professionals can provide quick repairs and prevent potential issues from becoming larger ones. The hourly rate for a plumber ranges from $70 to $150, and additional material costs may apply. However, it is a worthwhile investment for long-lasting solutions that won't require repeated attention.
To ensure the safety of your family, consider upgrading to more secure wiring when moving electrical appliances. This will provide a safer electrical installation.
Typically, an electrician will charge between $80 and $150 per hour, plus the cost of any additional materials needed. Though it is a small investment, the peace of mind it provides is priceless.
Get All In One With KHB Construction Services
We offer worry-free bathroom remodeling services. Our expert team, including electricians and plumbers, provides a one-stop shop for bathroom renovations in Riverbank or anywhere in California.
We handle everything from start to finish, making the process stress-free for you. So don't hesitate to know what it's like to work with a winning team in the industry.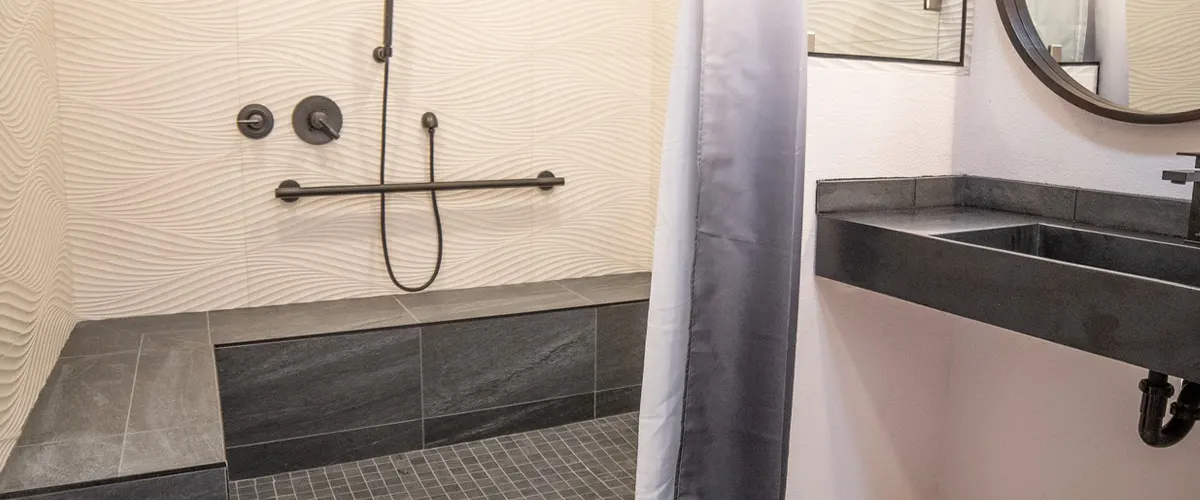 Upgrades And Materials For Your Entire Project
The average cost of bathroom makeover projects in Riverbank varies considerably. Here are some rough estimates for popular renovations:
Adding a bathroom vanity can really enhance the comfort and atmosphere of your bathroom. If you have limited storage space in your standard bathroom, consider a twin vanity. For smaller powder rooms or guest bathrooms, choose a vanity with decorative features to make it the focal point of the space. This will provide great value when selecting semi-custom items!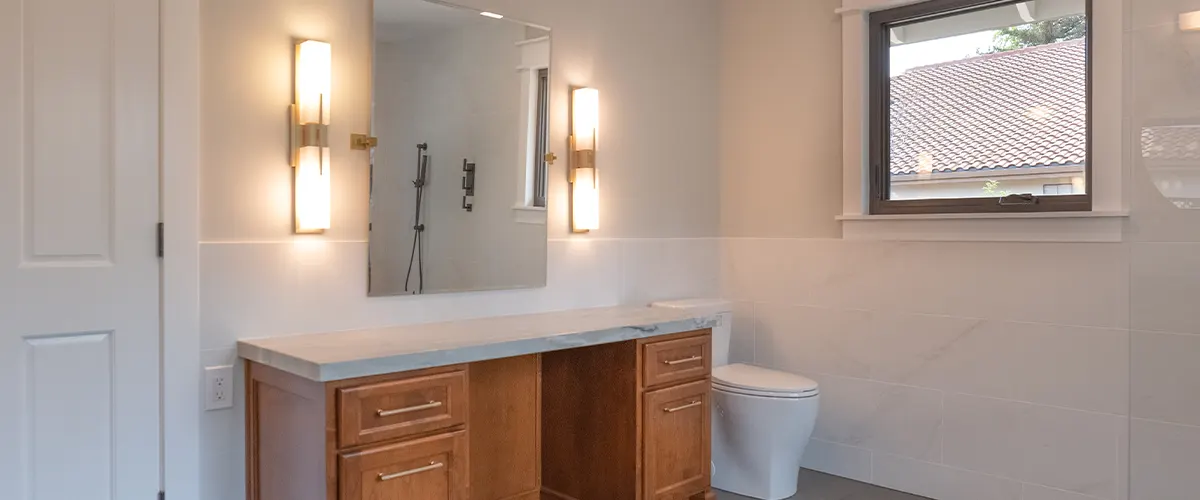 It is essential to have multiple countertops in any room with a work area to ensure efficient workflow and practicality. Opting for low-maintenance materials is necessary to avoid excess work. These countertops not only add beauty but also serve a crucial purpose.
If you're looking for a durable and attractive option for your home, consider quartz countertops. This material is a great choice for those who want to upgrade their bathroom or other high-traffic areas. With a price range of about $75-$100 per square foot, it's affordable and long-lasting. Plus, quartz has a consistent appearance and is resistant to scratches, so you can enjoy its beauty for years to come.
Although quartz is a popular material for bathrooms, marble and tiles are also commonly used because they are strong, long-lasting, and resistant to scratches. The main disadvantage is that their installation can be costly.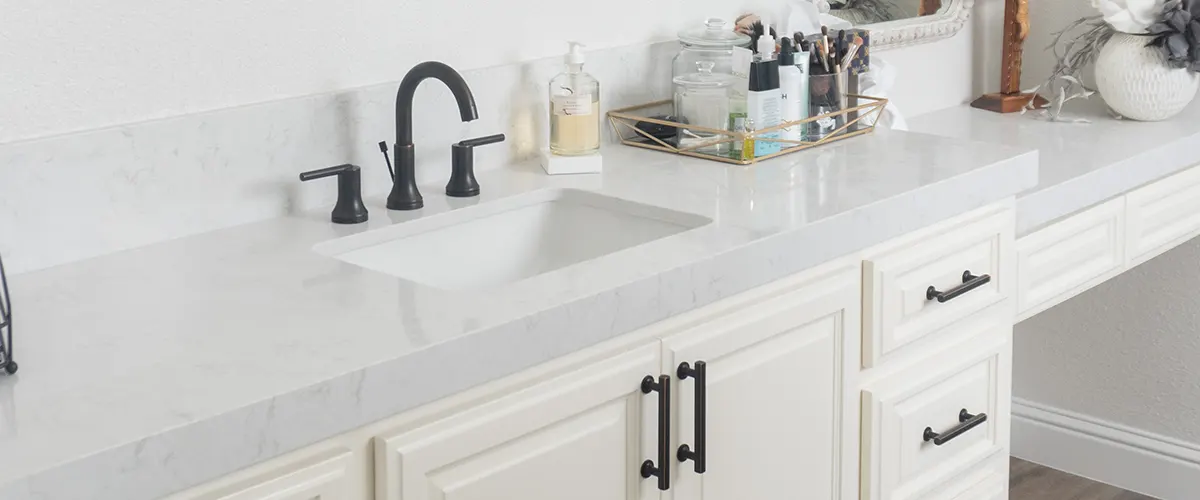 During your bathroom renovation, you may want to replace your old tub with a walk-in shower and glass doors. If that's impossible, you could opt for a freestanding tub instead. While this will increase the cost of your Lathrop bathroom renovation, it will be a valuable investment in the future.
If you want to update your walk-in shower, using tile is a great option that usually ranges from $1,000 to $5,000. The cost will mainly depend on your bathroom's size and the type of materials you choose.
Interestingly, a preformed shower pan may be less costly than tiling both walls and floors. Porcelain tiles are generally better quality than ceramic, but the price can vary greatly, from $2,000 to more than $10,000, depending on your specific preferences.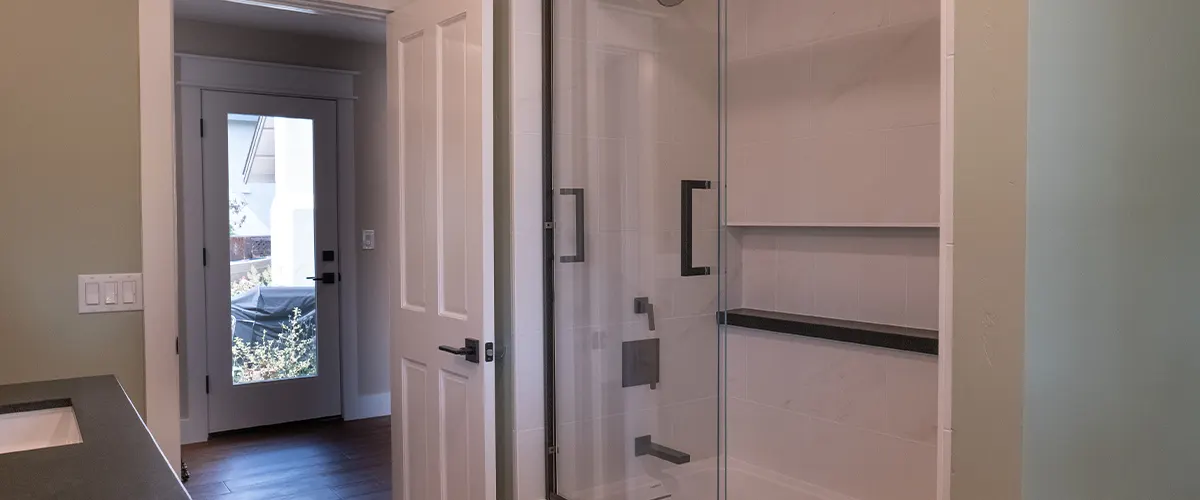 With bathroom remodeling projects, you'll have to replace your entire floor in case of minor damage. If you're looking for a budget-friendly solution, consider laminate porcelain tiles, which typically cost between $10-$30 per square foot and are generally less expensive than other forms of laminate flooring.
Vinyl flooring is an affordable way to add a touch of luxury to your home decor. LVT comes in wood and stone finishes that can give your space a high-end look without cost. On average, homeowners spend around $1,600 to install 200 sqft of LVT with a textured stone finish, according to national averages.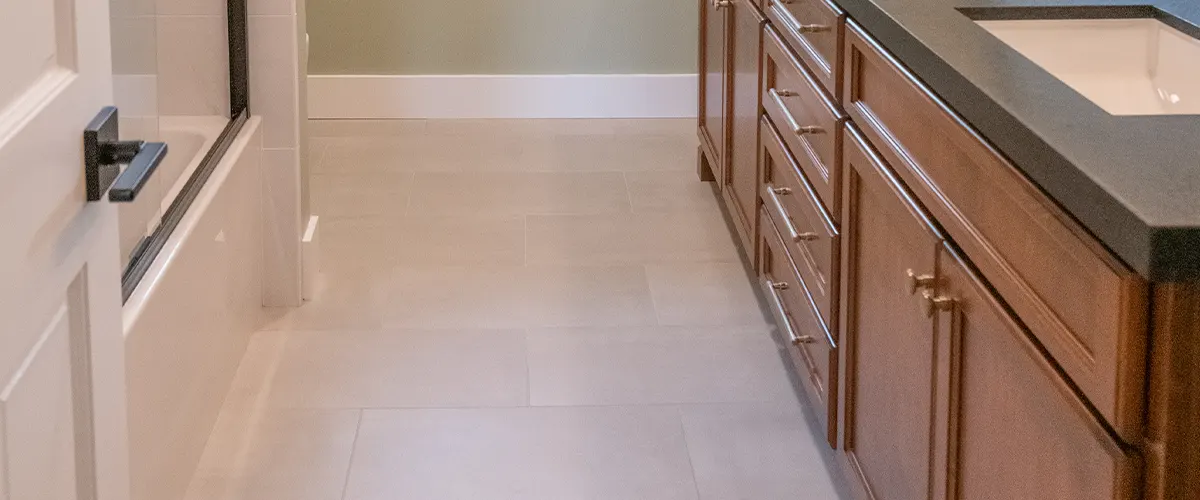 Budgeting For Your Bathroom Renovation Cost In Riverbank
Making your home feel new will require effort, but remember that remodeling shows often don't reveal the entire process. The seemingly impossible renovations completed in a two-hour episode can take days or weeks and may involve expensive materials that are out of reach for many people.
These programs often don't mention the costs of individual parts, which can give viewers an unrealistic idea of what their own project will cost. As a result, they may end up overpaying when they reach out to contractors. Check out these tips for cutting costs while renovating!
If you don't spend much time in the bathroom, upgrading it may not be necessary. However, if your bedroom is where you find peace and relaxation, you should think about making it even better.
Start by focusing on what's important – prioritize your needs before worrying about how things look. Look at the areas in your home that are used most often and try to improve them. You might find it helpful to work with an interior designer who can help you create a stylish and functional space.
When renovating a bathroom, it's important to consider the possibility of unexpected events like mold, mildew, or plumbing issues that could arise during construction. These issues can be costly, so it's a good idea to budget an extra 20% beyond your initial plan to be financially prepared. This will give you peace of mind and prevent you from overspending if anything goes wrong.
Know What You're Paying For
Not everyone knows that remodeling a bathroom is typically more affordable than renovating a kitchen or bedroom. To avoid any surprises down the line, it's essential to be aware of all the costs associated with your project before you start. Having this information means you can approach the remodeling process calmly and confidently.
Conducting research to find a reputable business by yourself can be time-consuming and costly. Be sure to ask about any fees or additional charges that may come with the job before signing anything. To avoid overspending, it's crucial you have a full understanding of what you're paying for. The National Kitchen & Bath Association published a paper detailing the average cost of remodeling a bathroom – this could save you valuable time and money!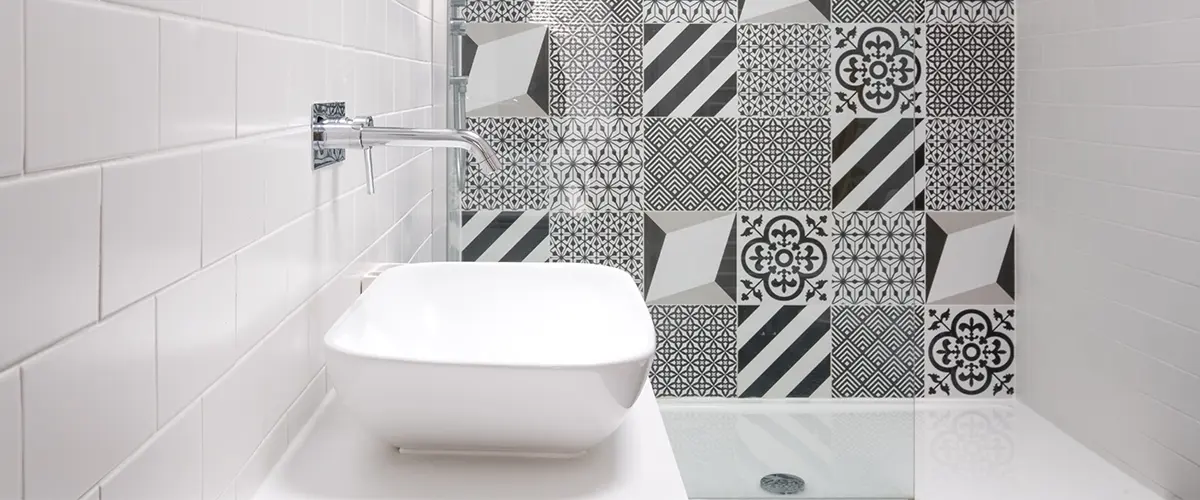 Get Pricing Transparency For Your Bathroom Remodeling Cost In Riverbank
KHB's design experts can create your ideal bathroom, no matter the size. A complete renovation costs around $30K, but this may vary based on your material choices. The great news is that we promise to complete the project within your time and budget limits! Unlike other companies claiming similar services, we deliver on our promises.
KHB gets you:
Get Started On The Upgrade You Deserve The Most