Bathroom Remodeling Cost In Stockton
Interested in starting your bathroom remodeling in Stockton? This guide will walk you through everything.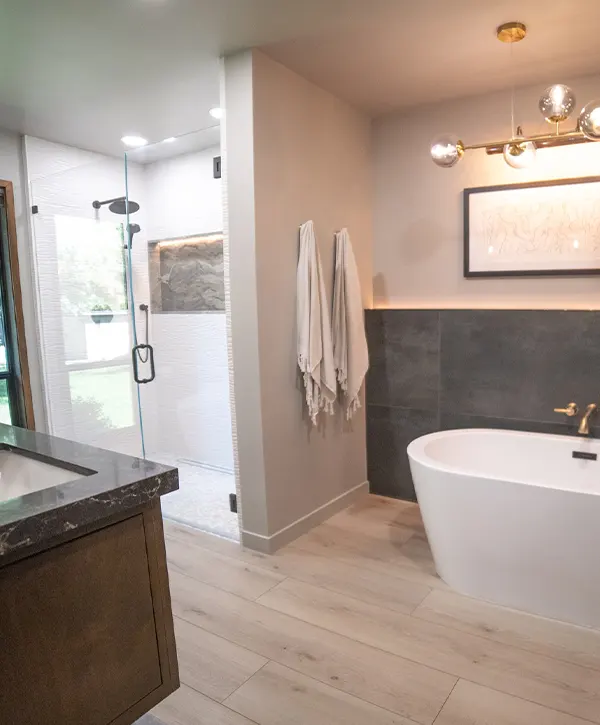 A bathroom remodeling in Stockton, California, costs around $31,000 and is one of the top three home improvements with the greatest return on investment, according to the Cost vs. Value Report 2022. Minor bathroom repairs provide a 67.5 percent rate of return, while major bathroom renovation returns 59.5 percent.
KHB is not only celebrated for its impressive renovation projects but also in delivering exceptional customer satisfaction from beginning to end. If you've been anxious about the cost of your bathroom revamp, fear no more! KHB will provide you with a complete breakdown of all expenses connected to the project so that there are never any unexpected charges.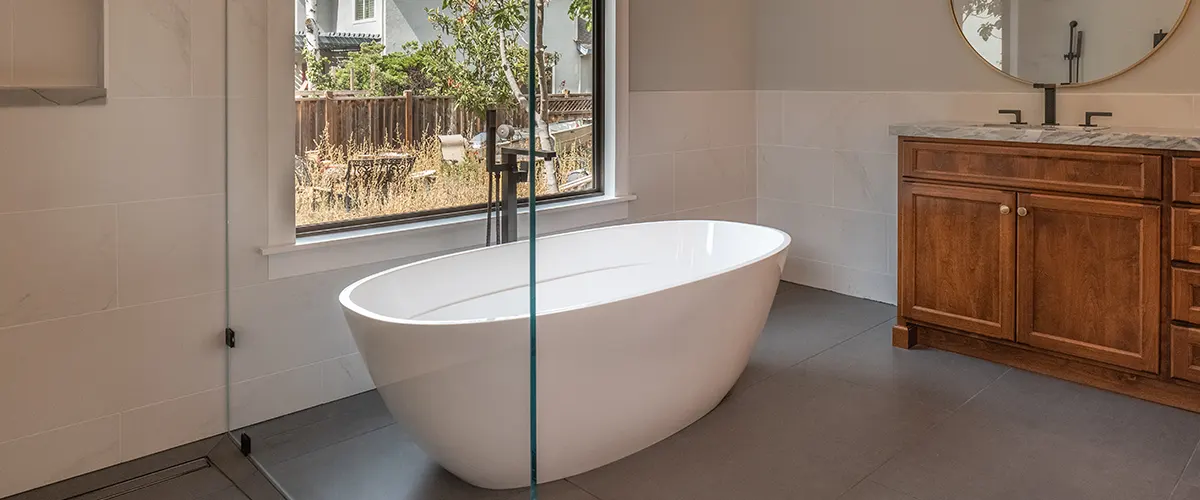 The Typical Bathroom Renovation Cost In Stockton
No two bathroom remodels in Stockton are alike; the final cost of your project depends on numerous details, including room size, type of fixtures and materials chosen, and any personalization you wish to add. To help give you an idea of what a typical renovation would cost depending on its scope, here is more information about average prices for different sizes.
Size
Average Price
Small <70 sq ft
$20,500 - $35,000
Medium 100-150 sq
$35,500 - $60,000
Large 200+ sq ft
$70,000 - $100,000+
After our in-home consultation, KHB Construction will provide you with an accurate pricing quote that covers all project aspects. We want to be sure your construction budget stays intact, so we'll also offer money-saving solutions. Learn more about bathroom remodeling options now!
Labor In A Bathroom Renovation Cost In Stockton
Although it may seem like a daunting task, remodeling your bathroom doesn't have to be difficult. The process can run smoothly with the help of professionals who specialize in bathroom remodels. Building and carpentry tasks are just a few examples of what is involved in this type of work.
If any walls are a part of your building project, enlisting the help of an architect is essential. They guarantee that new rooms comply with safety regulations and won't collapse. To obtain a construction permit, you must acquire plans from the architect; this can range from $65-$400/hour or 10-20% of overall expenses for your entire endeavor. Having drawings drawn up by an experienced professional will save you time, money, and effort in the long run!
To create a visually appealing and practical bathroom, you'll need the expertise of an experienced designer. An excellent professional will ensure that your new space is both attractive and practical. Most designers usually charge between $300 to $1,500 for one-time consultations based on their skill set while they also request 10 – 20% of the total renovation cost.
Handymen may be able to provide some temporary fixes, but their skill set does not extend far enough for plumbing issues. Plumbers are the professionals you need for any water troubles in your bathroom; they can quickly make repairs and identify potential problems before they become bigger! It'll cost anywhere from $70-$150 per hour plus material costs, however, this is worth it if you want long-term solutions that won't keep resurfacing again and again.
Protecting your family should always be the utmost priority, so upgrade to more secure wiring when transferring electrical appliances. This will guarantee a safer electric installation. Generally speaking, an electrician charges between $80 and $150 hourly, along with supplies for any additional materials required; however, this small investment is well worth it for the peace of mind that comes from knowing you are safe in your home environment.
Get All In One With KHB Construction Services
Make your bathroom remodeling project worry-free with us! We handle all the hard work so you don't have to. Our team of experts, including electricians and plumbers, offer a comprehensive one-stop shop for bathroom renovations in Stockton or anywhere else in California. Let us take care of everything – from start to finish – while letting you enjoy stress-free results!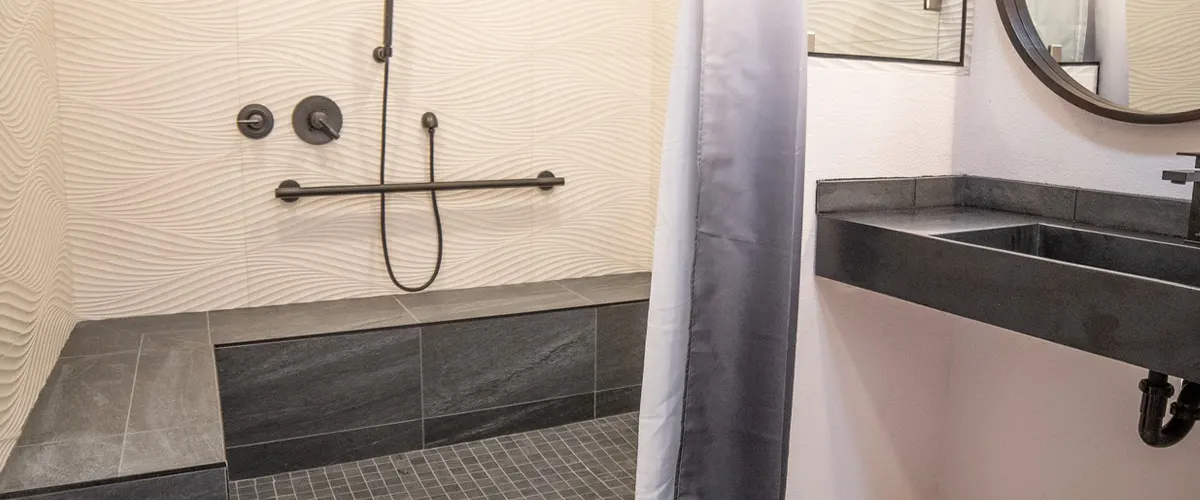 Bath Renovation Cost In Stockton By Upgrades
The average cost of bathroom makeover projects in Stockton can vary quite a bit. Here are some rough estimates for popular renovations:
To make your bathroom more appealing and cozy, adding a toilet vanity would be brilliant. A twin vanity is an excellent idea if you struggle with storage in your standard restroom. And for powder rooms or guest baths, select one with ornamental features as the highlight of the room – this will give you incredible value when choosing semi-custom items!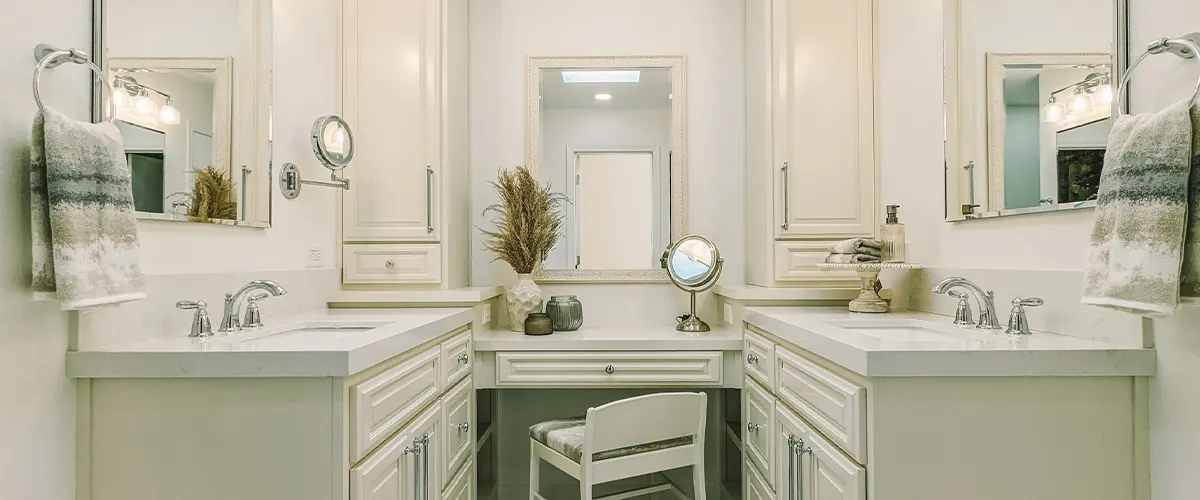 Any room that contains a work area needs multiple countertops. They provide beauty and utility and are crucial in maintaining an efficient workflow. To avoid more work than necessary, it is important to choose low-maintenance materials.
Quartz countertops are an ideal addition to any home, combining durability and beauty without breaking the bank. For around $75-$100 per square foot, it's perfect for those wanting a middle-to-high-range material that will last! With its consistent look, quartz can instantly upgrade your bathroom aesthetic and is also scratch resistant – making it great for high-activity areas in your house.
Apart from quartz, marble and tiles are common bathroom materials due to their strength, durability, and scratch-resistance. However, one major downside is the cost of installation which can be expensive.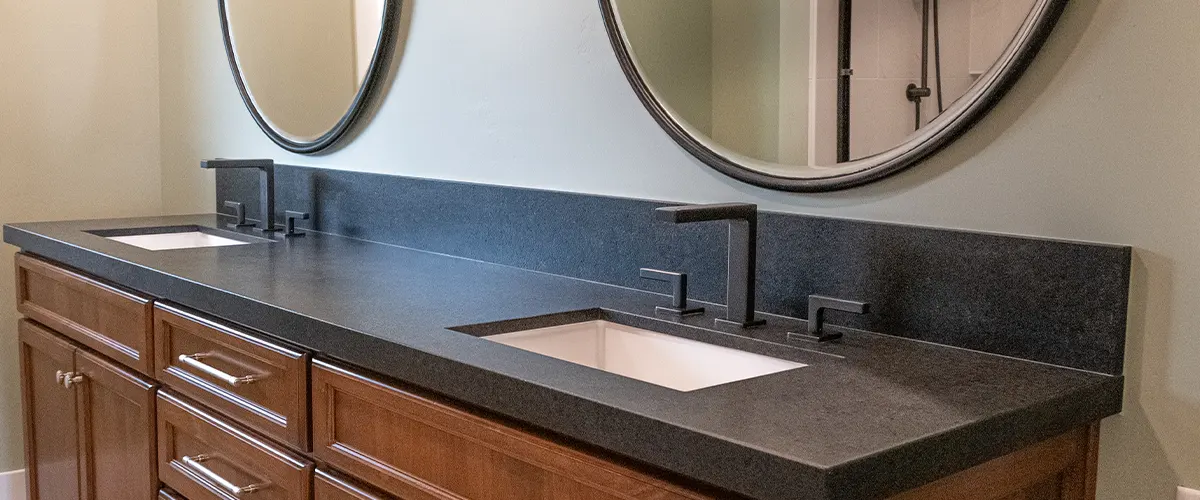 There's no need to replace your floors if only minor sections are affected. If you're seeking a cost-efficient option, laminate porcelain tiles generally range from $10-$30 per square foot and are often the most affordable choice when compared with other versions of laminate flooring.
If you want to make your home feel luxurious without spending much money, vinyl flooring might be the right choice. LVT is available in wood and stone plank varieties and can give your home a luxe feel without breaking the bank. According to national averages, most homeowners spend $1,600 to install 200 sqft of LVT with a textured stone finish.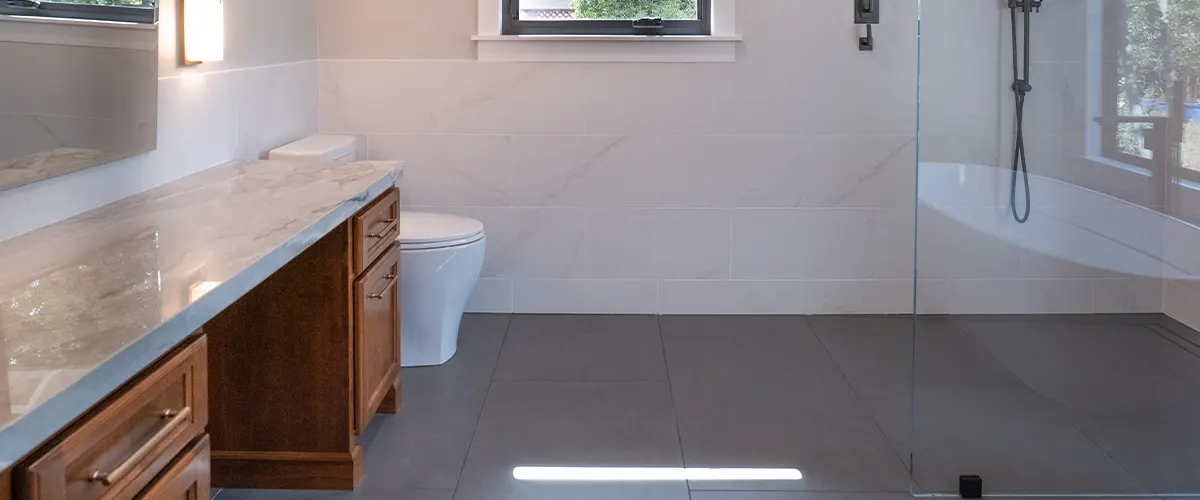 Consider replacing an old tub with a walk-in shower and glass shower doors during your bathroom makeover or installing a freestanding tub if that isn't feasible. Although it will increase the cost of your Stockton bathroom renovation, it will be well worth it in the long run.
For those interested in giving their walk-in shower a much-needed facelift, tile is an excellent choice that typically costs between $1,000 and $5,000. The cost mostly depends on the size of your bathroom and the type of materials used. Believe it or not, covering both walls and floors with tiles can be more expensive than investing in a preformed shower pan! Porcelain tiles are generally considered higher quality than ceramic, but prices range from$2k to over 10K depending on precisely what you're looking for.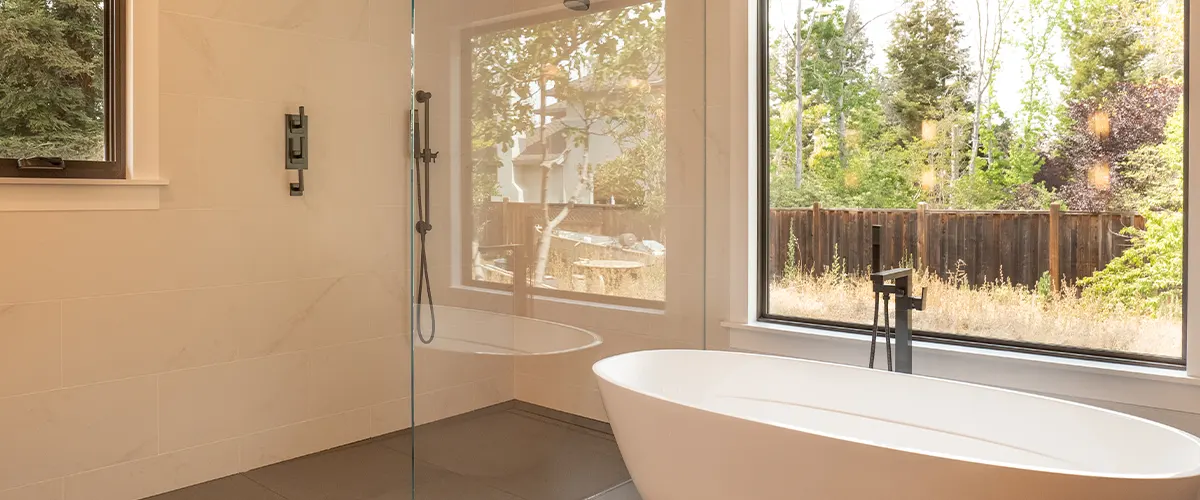 An In-Depth Look Into Your Bathroom Remodeling Project In Stockton
Budgeting For Your Bathroom Renovation Cost In Stockton
If you want to make your home feel new again, it will take some work. For anyone who has watched a remodeling show knows they frequently don't include the whole story. What might look like an impossible timespan in two hours is days or weeks of editing–and often includes luxurious materials that most people can't afford.
Worse yet, these programs usually gloss over how much each component costs. This can give viewers unrealistic expectations for their own projects, putting them at risk of overpaying when they start contacting contractors. Here are some tips on saving money while renovating!
If you're not one for long stays in the bathroom, upgrades don't need to be a priority. However, if your bedroom is your place of solace and rejuvenation, consider how you can make it even more appealing. Prioritize what matters most – needs over wants- before delving into aesthetics and design elements; examine which areas of your home are used frequently and strive to improve them accordingly. Working with an interior designer is often advantageous when striving for style that elevates both form and function!
Preparing for potential disasters often goes unnoticed when renovating a bathroom, but it should be one of the foremost considerations. Without warning, mold and mildew growth or plumbing issues might arise during construction—which can cost an arm and a leg if you're not financially prepared! Spare yourself from this nightmare by allocating up to 20% more than your initial budget plan. This way, you have extra cash aside in case anything doesn't go as planned without worrying about breaking the bank!
Know What You're Paying For
Many people are not aware that remodeling a bathroom is usually cheaper than renovating the kitchen or bedroom. A key factor in making your experience stress-free is understanding all associated fees before you even begin, and with this knowledge comes peace of mind as there will be no unexpected costs later on.
Conducting research to find a reputable business by yourself can be time-consuming and costly. Be sure to ask about any fees or additional charges that may come with the job before signing anything. To avoid overspending, it's crucial you have a full understanding of what you're paying for. The National Kitchen & Bath Association published a paper detailing the average cost of remodeling a bathroom – this could save you valuable time and money!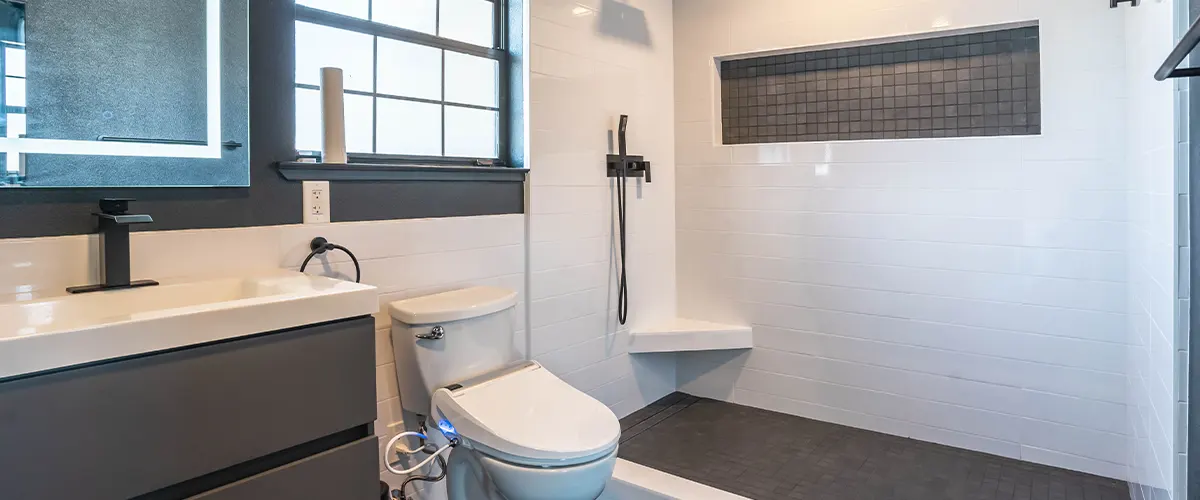 Get Pricing Transparency For Your Bathroom Remodeling Cost In Stockton
Let the design experts at KHB craft your dream bathroom, regardless of its size. On average, a full renovation costs $30K; however, that may vary depending on the materials picked. The best part? We guarantee to finish everything within time and budget constraints!
Unlike other companies that claim to provide similar services, we deliver on our promises. So expect:
Begin Your Bathroom Remodeling Project Today!