Bathroom Remodeling Cost In Turlock CA
Interested in starting your bathroom remodeling in Turlock CA? This guide will walk you through everything.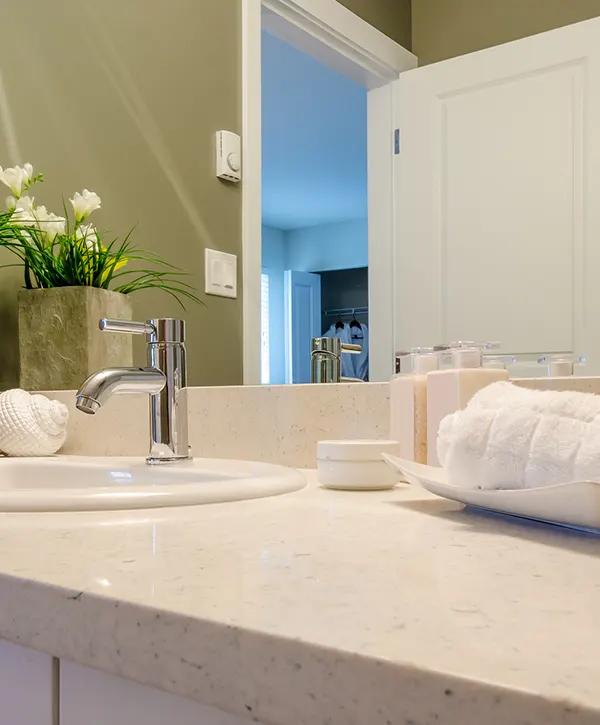 According to the Cost vs Value Report 2023, the bathroom remodeling cost in Turlock CA starts at around $31,000 and can go up to $140,000 for a large, upscale bathroom remodel. However, the return on investment looks promising, ranging from 38% to over 60%.
We not only provide excellent remodels at KHB, but we also want to erase any worries you may have about the cost of your project. 
Check out the video below for a quick estimate and more!
The Typical Bathroom Remodel Cost In Turlock, CA
The cost of a bathroom remodel is contingent on various aspects such as the size of your space, materials utilized, and other personal details. To give you an idea regarding what typical expenses are in Turlock CA for different-sized bathrooms, here is further information.
| Type | Average Job Cost | Cost Recouped |
| --- | --- | --- |
| Midrange Bath Remodel | $30,000 | 61% |
| Universal Design Bath Remodel | $45,000 | 41.5% |
| Upscale Bath Remodel | $80,000+ | 38.1% |
| Midrange Bathroom Addition | $60,000+ | 25.5% |
| Upscale Bathroom Addition | $120,000+ | 24% |
After our in-home consultation, you'll get an accurate pricing quote that covers all project aspects. You'll stay on time and on budget with a complete service that values your investment! Get your pricing quote for free, now!
Before
After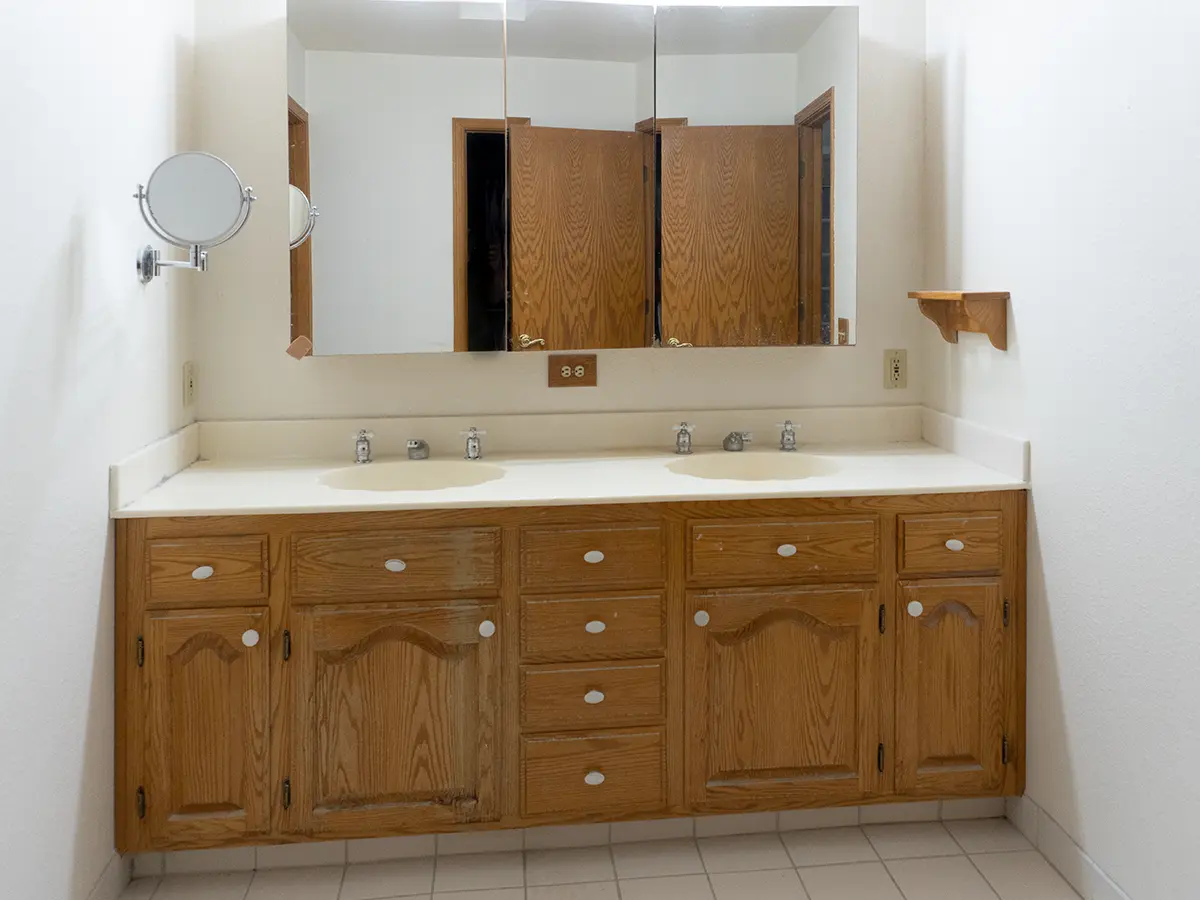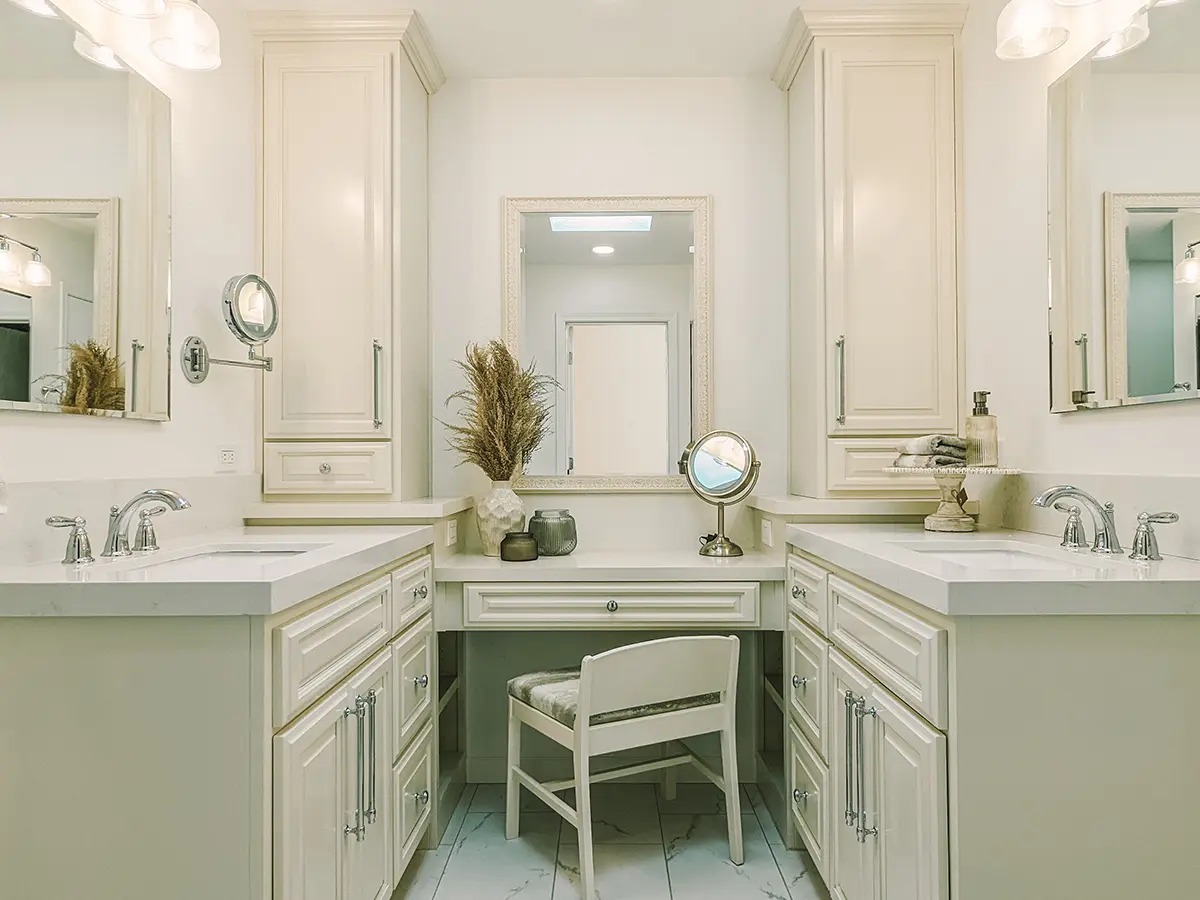 Master Bathroom Remodel in Turlock
This 86 ft² bathroom remodel included:
The project was quoted at $85k, where the walk-in tub and tile was over $25k.
Labor In A Bathroom Renovation Cost In Turlock
There are a lot of professionals that take part in bathroom remodeling, including planning and installation. Plumbing, electrical work, carpentry, and building are just a few of the tasks that come under this category.
An architect is a professional who makes sure that new spaces are safe and structurally sound. You'll also need an architect to get the building permit.
Architects typically charge between $500 and $1,000 per hour or a one-time fee of 10% to 20 percent of the total cost of your project.
A professional bathroom designer is necessary to have a beautiful, functioning restroom. 
Designers charge 10-20% of the overall renovation cost; one-time consultation rates range from $500 to $1,000 depending on their skill level.
Not only will a plumber be able to render a temporary repair, but he will also get down to the root of the problem and take care of it for good. 
On average, plumbers charge between $70 and $150 per hour for their labor in addition to any necessary materials fees.
If you're relocating your appliances, you will also need to update the electrical wiring. The safety of yourself and your family is paramount, and it is essential that the electrical installation is secure. 
On average, an electrician charges between $80 and $150 per hour plus supplies.
Get All In One With KHB Construction Services
Our team of experienced contractors can help make your bathroom renovation project hassle-free. We work with other professionals, like electricians and plumbers, so you don't have to lift a finger.
We're committed to helping your vision come to life, and we take pride in offering our clients the best possible results. If you're looking for bathroom renovations in Turlock or anywhere else in California, we're your one-stop shop!
Bath Renovation Cost In Turlock By Upgrades
Here are the prices of some popular upgrades and enhancements in Turlock, California to give you an idea of what kind of budget you'll need for your bathroom makeover:
A bathroom with a toilet vanity that suits your design may make the space feel more inviting and appealing. If you lack storage in your primary bathroom, opting for a double vanity could be beneficial. 
If you want to create a focal point in a powder room or guest bath, choosing one with decorative elements would be ideal. By picking semi-custom, you'll get excellent bang for your buck. Semi custom vanities are anywhere from $500 to $2.5k, while custom ones can get as expensive as $10k+.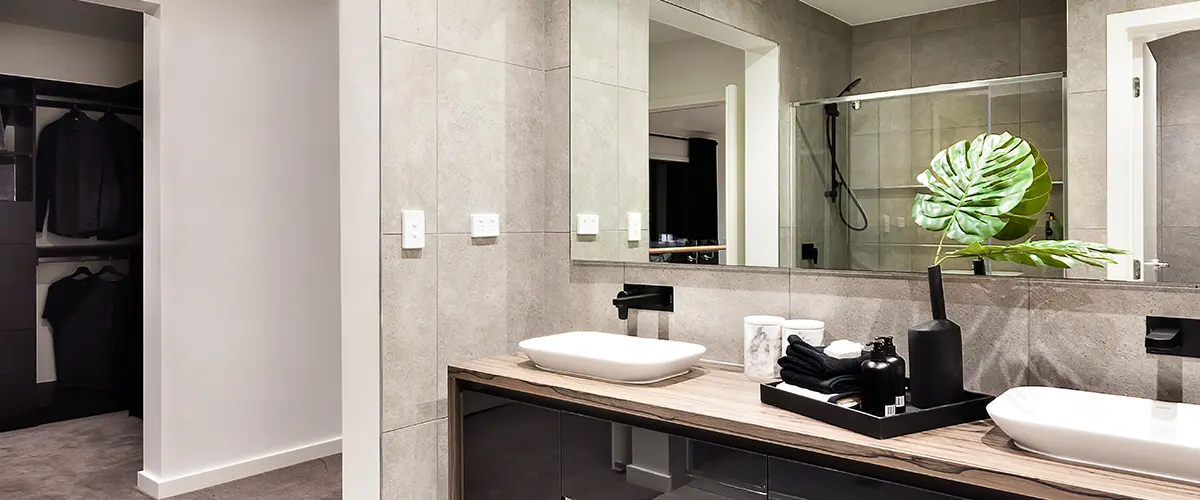 Countertops are extremely important in any room because they add both beauty and function. They need to be low-maintenance so that you don't have more trouble than help with them.
If you're wanting a countertop that will last for many years, quartz is an ideal material to consider. Created from natural stones, high-quality quartz worktops are void of veins and have a consistent appearance that will upgrade the look of your cooking area. They're also scratch-resistant which makes them great for areas in your home that get a lot of use.
Quartz usually costs between $75-$200 per square foot, placing it in the mid to upper category when compared with other options like laminate or solid surface materials..
The advantages of using granite in the bathroom include its strength, durability, and scratch resistance. The high cost of installation is one of the most significant drawbacks of utilizing granite in the bathroom.
Use marble to add a touch of luxury to your bathroom. Though not as strong as quartz or granite, this softer natural stone is beautiful and unique – but it comes at a price tag of $100 per square foot.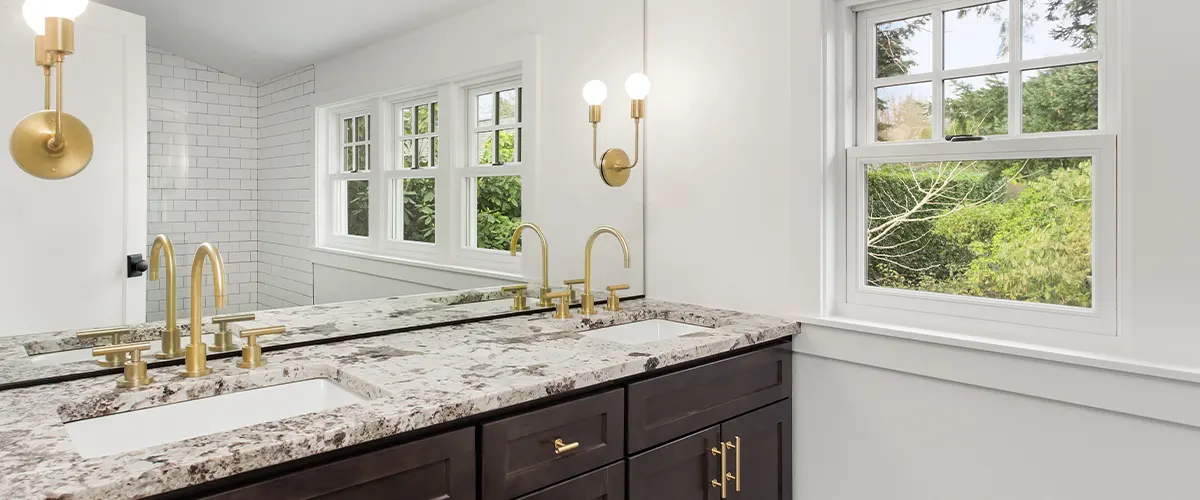 Another frequent home remodeling is flooring, but it isn't always necessary. You don't have to replace your whole hardwood floor if just a small portion of it is damaged. 
Porcelain tiles are less expensive on average ($10-30 per square foot) than other types of laminate flooring.
If you're looking for a luxury feel without the high price, vinyl flooring might be right up your alley. LVT specifically comes in wood and stone plank varieties and can give your home that luxurious feeling without breaking the bank. According to national averages, most homeowners spend $1,600 to install 200sqft of 12″x24″ LVT with a textured stone finish.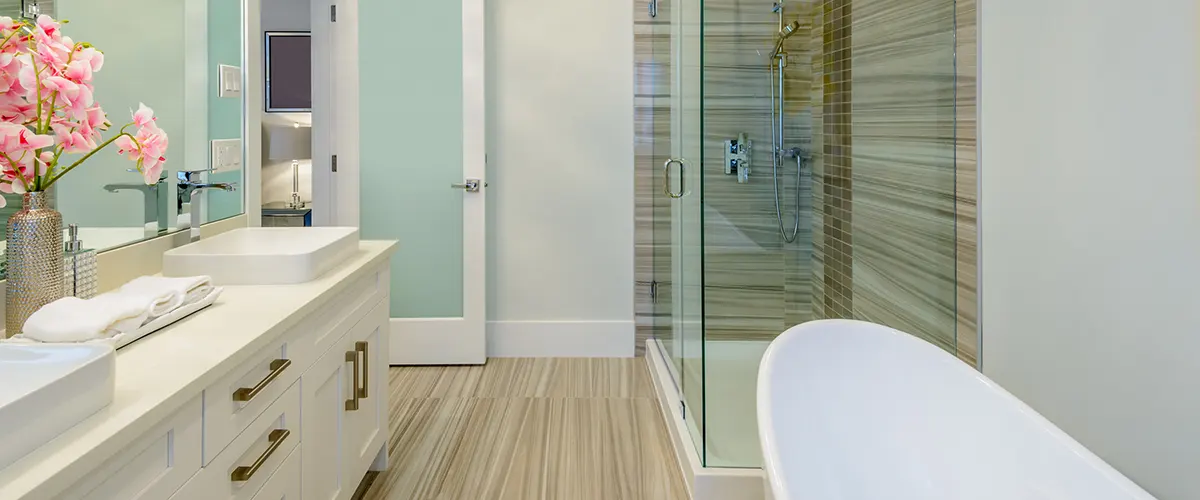 To vastly improve your life quality, consider replacing an old tub with a walk-in shower and glass shower doors during your bathroom renovation.
Most glass walk-in shower renovations fall between $1,000 and $5,000. The cost is mainly dependent on the size of the shower and what materials are used. 
Also, when selecting a tub, porcelain is seen as superior quality; however, these can range up to $2k or higher in some cases.
Get Inspiration For Your Bathroom Remodeling In Turlock CA
This is what your bathroom remodeling in Turlock CA can look like! Get inspiration for your upcoming project and see our finished projects right here!
Budgeting For Your Bathroom Remodeling Cost In Turlock CA
Although home renovation shows make it look easy, they often fail to show what's really involved. Oftentimes, they'll feature a bathroom remodel that is way out of the average person's budget.
Here are some helpful tips on staying within your budget while renovating!
Bathrooms are personal. If you're not a pamper-yourself type of person, shouldn't it make sense to spend less money on smaller improvements? However, if you enjoy spending some alone time in your own retreat, concentrate on making that area inviting. 
Design and style are frequently two locations where additional collaboration with your designer would be beneficial. The basic idea is that you need to invest in making your bathroom work for you not anybody else!
Although it may not appear to be the case at first, one of the most essential aspects of updating your bathroom is preparing for unforeseen events. Mold, mildew, and plumbing difficulties are all prevalent issues that crop up while renovations are being undertaken.
Setting aside an extra 20% from your entire project cost gives you a safety net in the event of any unforeseen circumstances. It's always better to be safe than sorry!
Know What You're Paying For
A lot of people don't realize that generally speaking, redoing a bathroom is cheaper than other home projects like changing a bedroom or kitchen. Part of having an easy and enjoyable experience is being informed about all the costs beforehand so there are no surprises.
Ask your contractor about any charges or hidden fees associated with the project before signing anything.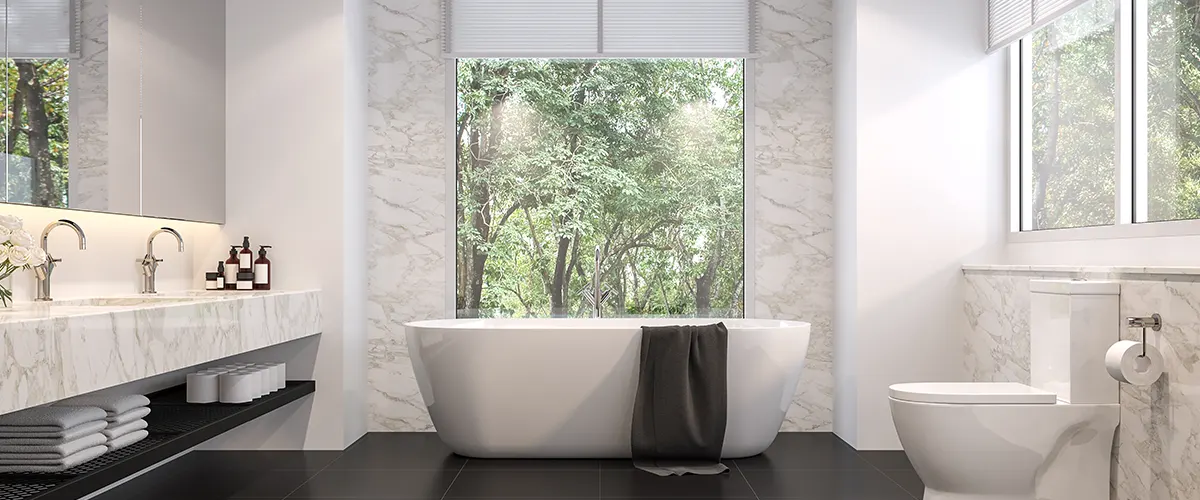 Get Pricing Transparency For Your Bathroom Remodeling Cost In Turlock CA!
Our local professionals at KHB will work with you to create the perfect bathroom for your home, whether large or small. The average cost of a remodel is $30,000; however, this total can change depending on the materials you select. We guarantee that your project will stay within its budget and timeline with our bathroom remodeling services.
Unlike most bathroom remodeling companies, we tend to over-deliver, so expect:
Begin Your Bathroom Remodeling Project Today!
Call us at (209) 528-0255 and discuss your bathroom remodeling in Turlock CA directly to the owners or KHB, Bobby and Ryan! Or click the button below for a free quote, and we'll personally call you as soon as possible!