Kitchen Remodeling Cost Guide In Manteca CA
Interested in starting your kitchen remodeling in Manteca CA? This guide will walk you through everything!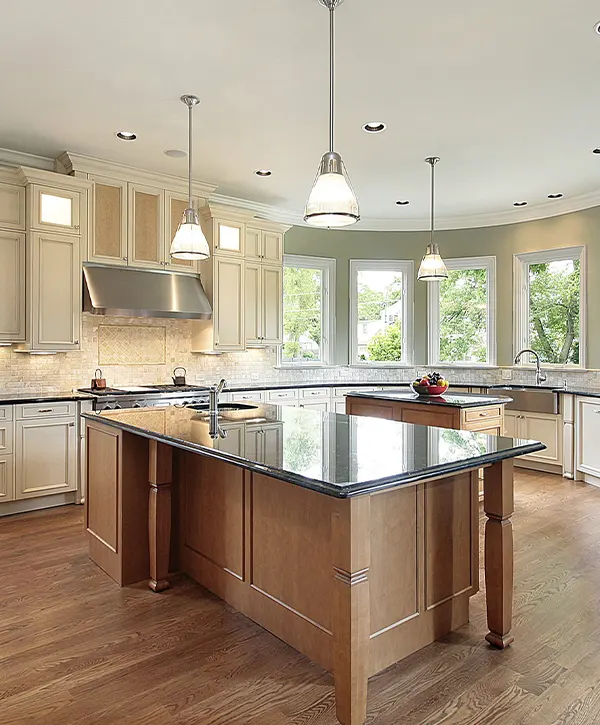 According to Cost vs Value Report 2022, the average kitchen remodels cost in Manteca CA is around $26k and is in the top 3 home improvements that bring the highest ROI. Specifically, minor kitchen remodels have a 68.6% return on investment, while a major kitchen renovation has an ROI of 53.7%.
KHB Contracting not only offers excellent renovation services, but we also provide peace of mind when budgeting for your project. We'll review all of the upgrades and features you want with you beforehand so that there are no nasty surprises when it comes to the final estimate!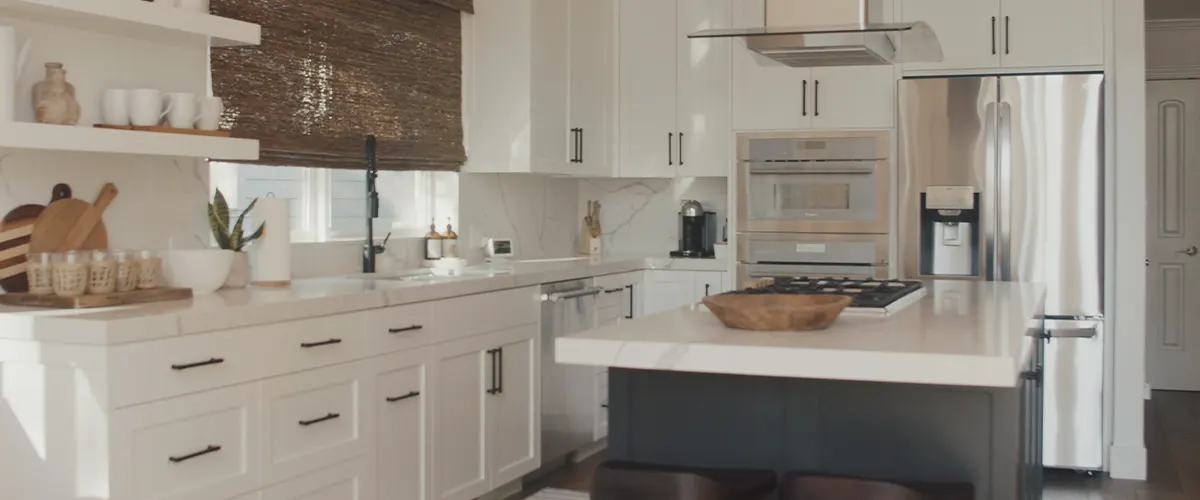 The Typical Kitchen Renovation Cost In Manteca
The cost of your kitchen remodel in Manteca will largely depend on the size of your room, the materials you select, and the changes made. The price naturally expands as the space does. To give you a better understanding of what to expect regarding cost, here's a breakdown of different-sized kitchen renovations in Manteca according to square footage:
Size
Average Price
Small <70 sq ft
$20,500 - $45,000
Medium 100-150 sq
$45,500 - $77,000
Large 200+ sq ft
$80,000 - $110,000+
After our in-home consultation, KHB will give you a detailed pricing quote that covers every factor associated with your project. And, we'll offer ways to save money so your renovation doesn't put a strain on your finances. So learn more about our kitchen remodeling services!
Labor In A Kitchen Renovation Cost In Manteca CA
Any kitchen needs fundamental features like plumbing and electricity, which skilled workers handle respectively. Because each person has their own level of experience, the fee for each task will be different.
It's generally a good idea to consult with an architect before making any drastic changes to your home, such as knocking down or adding walls. They'll be able to assess the new layout and let you know if it's structurally sound, in addition to helping you apply for any necessary building permits. Just keep in mind that architects usually charge by the hour (anywhere from $65-$250) or a flat fee that equals 10-20% of your total project cost.
Not only can a kitchen designer make your cooking space more efficient and enjoyable, but they can also make it look amazing. 
Most designers charge 10-20% of the entire renovation cost; however, the average one-time consultation fee is usually between $300-$1,500 depending on their skill level.
Water damage is a common issue in many kitchens, and carpenters lack the experience to fix these types of leaks. A handyman can temporarily patch up visible damage, but a professional plumber will identify and repair the root of the problem. To hire a plumber, you're typically looking at $70-$150 per hour on top of material expenses.
In order to ensure the safety of your family, it is crucial that you hire a professional electrician to correctly install new electrical wiring if you are planning on moving your appliances. 
On average, without including any necessary materials, an electrician charges $80-$150 per hour.
Get All In One With KHB Construction Services
If you're looking to have your kitchen remodeled, it's worth working with a contractor who can help you navigate the complex world of home renovations. Right now, together we will look at what option is best for your remodel.
KHB Contracting is notable for our strong partnerships with other professionals, including electricians, plumbers, carpenters, and designers. This way, you can trust us to complete your kitchen remodel flawlessly from start to finish. Homeowners throughout Manteca CA know they can count on us to turn their vision into a reality.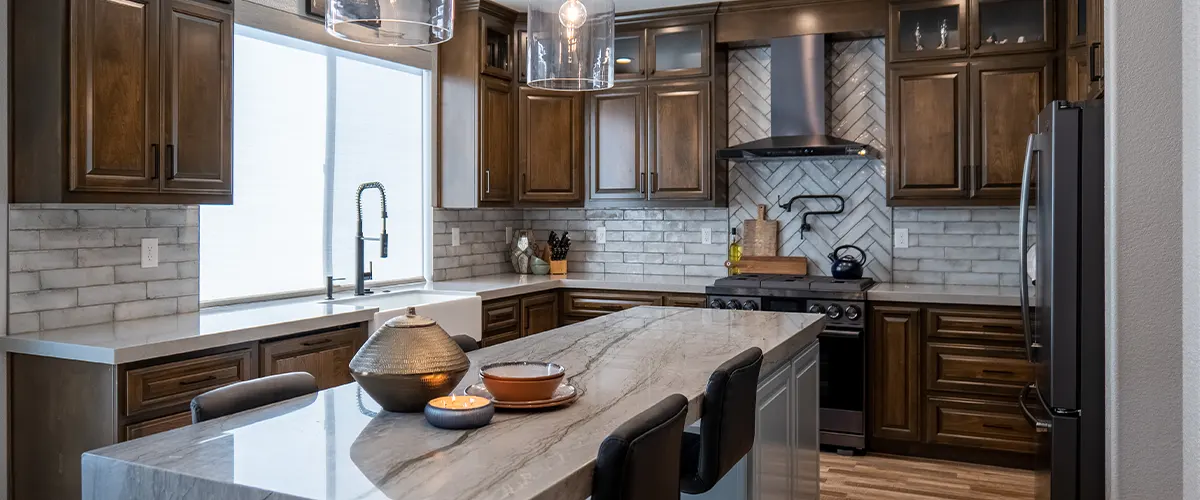 The Upgrades And Features In A Kitchen Remodeling Project
There are a lot of factors to consider when remodeling your kitchen, and we'll go over all of them during our consultation. In the meantime, let's discuss some of the most popular options and their impact on your kitchen renovation cost in Manteca.
Tile backsplashes in the kitchen are not only easy to wipe down, but they also protect your walls from any food or liquid splatter.
If you want to make your home look luxurious without spending too much money, consider installing a stone tile backsplash. Stone tiles like granite, quartz, or marble can create an upscale look for any room in your house. They come with a hefty price tag though, costing between $15 and $30 per square foot. Installation costs are just as expensive at around $30 per square foot.
Installing stainless steel in your kitchen can give it an industrial look, but it comes at a cost of about $20 per square foot. In addition to the material costs, you can expect to pay around $36 for installation.
The average labor cost to install a backsplash in your kitchen is between $20 to $50 per square foot, but that depends on your contractor and the scope of work.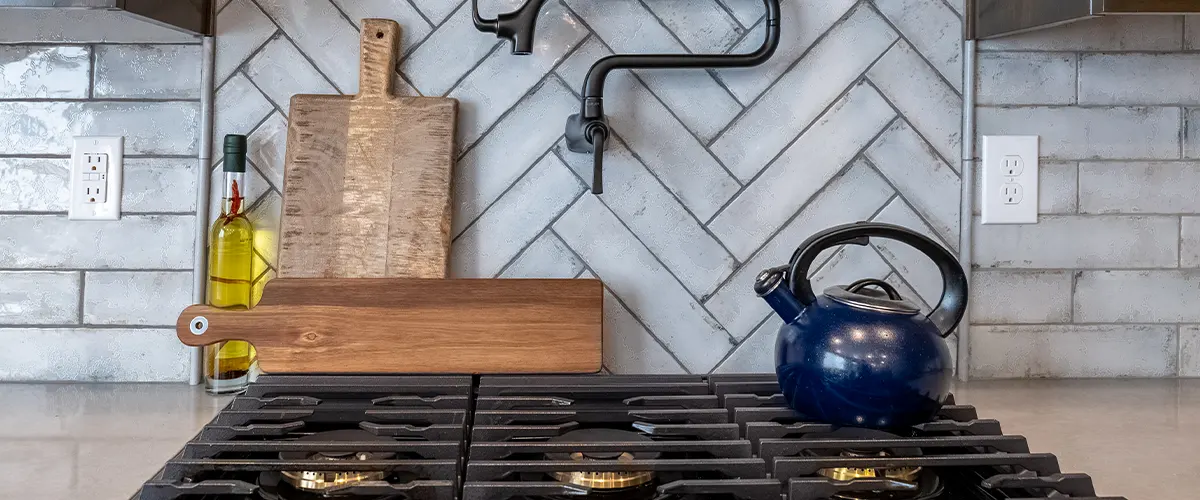 When you renovate your kitchen, one area to think about is whether to keep or get new appliances. If your existing ones are still in good working order, then it might not be worth spending the money on replacements. On the other hand, going for all-new high-end models will increase your costs significantly.
Appliances are constantly getting more and more innovative, with new features being added all the time. For example, a touchscreen kitchen range can cost anywhere from $500 for a budget model to upwards of $3,000 for a high-end option. If you want one that is gas-infused, be prepared to dish out an additional $200 per hour for installation on top of the price of materials.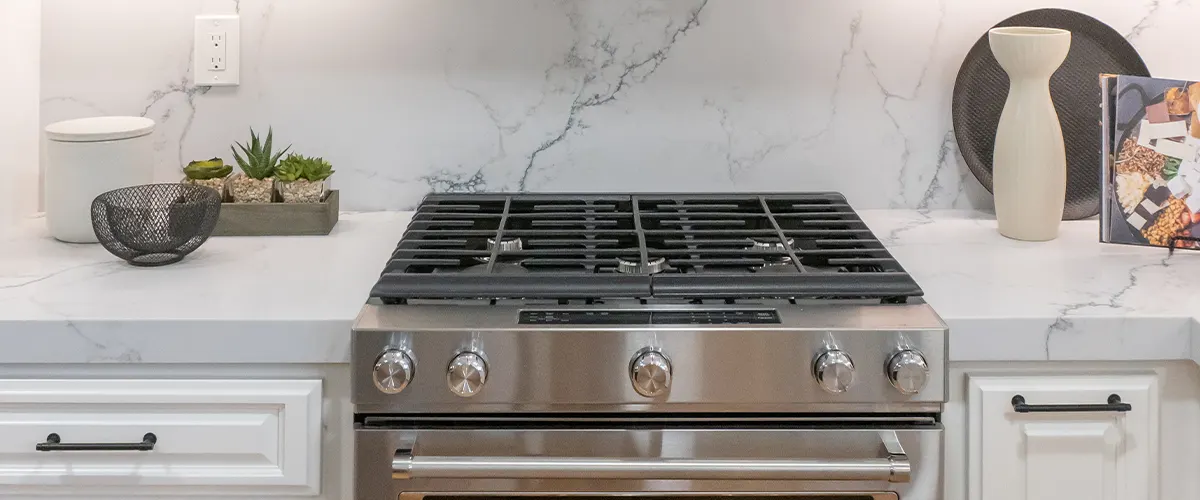 One of the most crucial aspects to think about when renovating your kitchen is your countertop. Omitting this part will make it tough to get the perfect kitchen that you want. I would advise going with quartz countertops instead – even though they're slightly more expensive, costing between $75 and $100 per square foot. They are definitely worth the investment because they're so durable in comparison to granite or marble countertops. Plus, quartz has many functionalities that granite and marble don't have.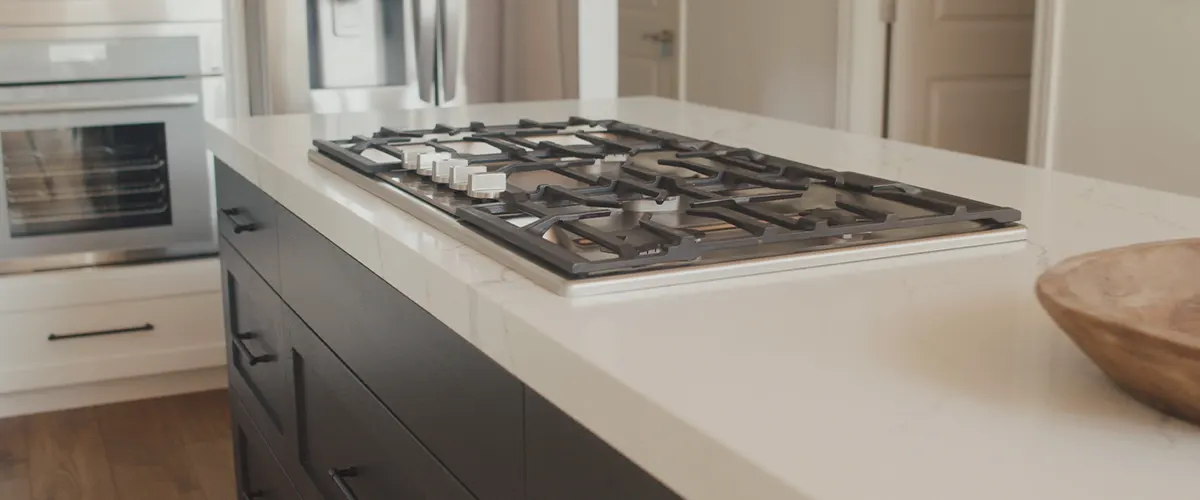 If you can't decide whether to renovate your kitchen flooring, here are some things to consider. If you have hardwood floors, refinishing it could end up saving money while still making the room look newer. Although, if you opt to replace the entire hardwood floor, keep in mind that installation costs around $8k on average.
Another popular kitchen flooring material is luxury vinyl plank (LVP). It's more waterproof than hardwood and doesn't require as much upkeep as sealing or staining. LVP is also resistant to mold and rotting – making it a durable choice for families with kids or pets.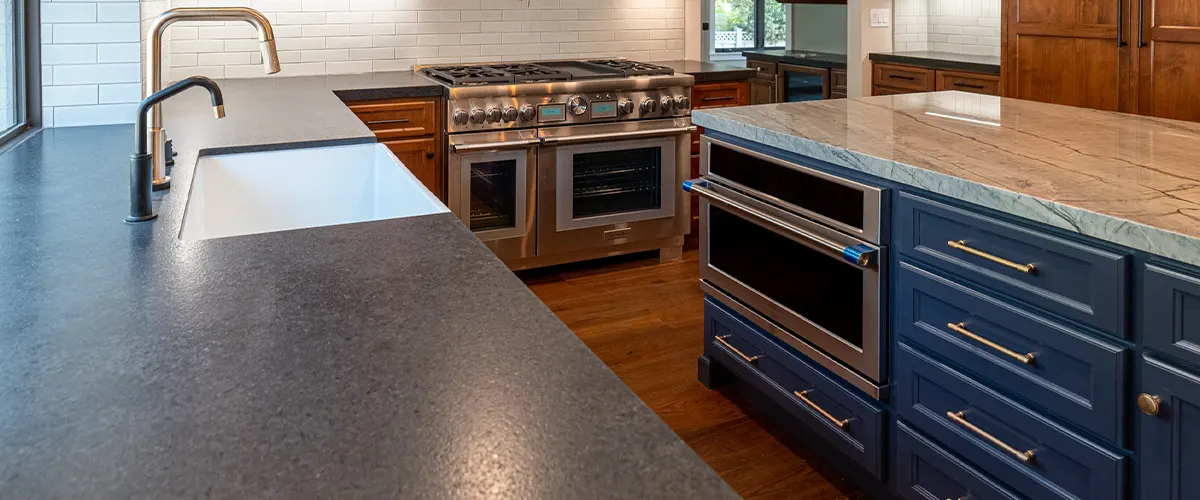 A kitchen island can be a fantastic addition to your cooking space, providing both extra room and additional functionality. But before you purchase one, there are a few things you should keep in mind, like the cost of cabinetry, countertops, plumbing and electrical work. Selecting higher quality materials will obviously increase the price – an island made with more affordable options could cost as little as $3k while one with luxury features could set you back $15k or more.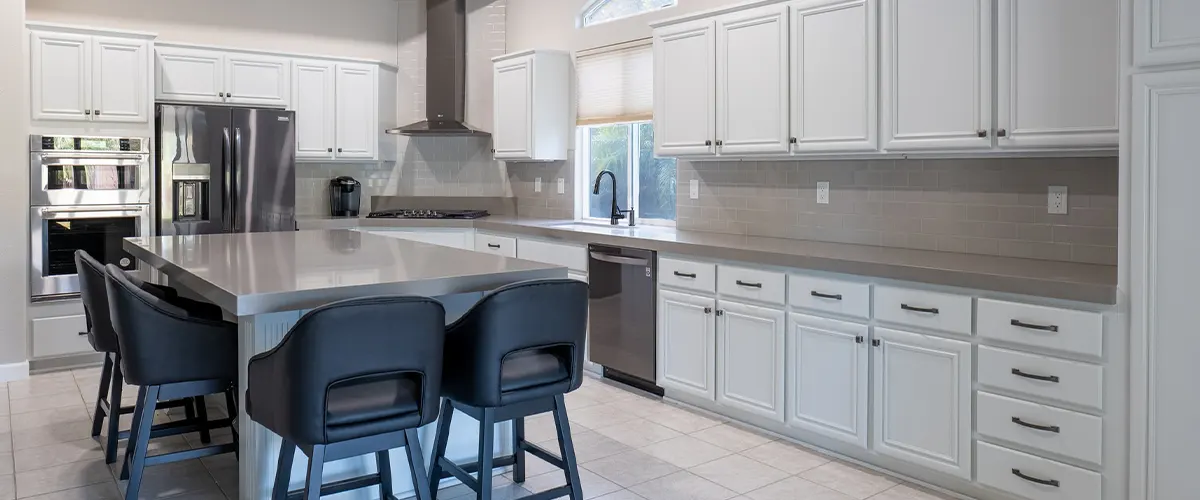 Your kitchen remodeling costs wouldn't be complete without new cabinets.
Custom cabinets usually fall between $500-$1,200 per linear foot. If you're looking for a more affordable option, semi-custom cabinets cost around $100-$650 per linear foot. Stock cabinets are typically the most budget-friendly choice. However, don't forget that under-cabinet lighting can make your kitchen seem warm and inviting– perfect for family dinners or get-togethers with friends so you can invest more money for a better kitchen ambiance.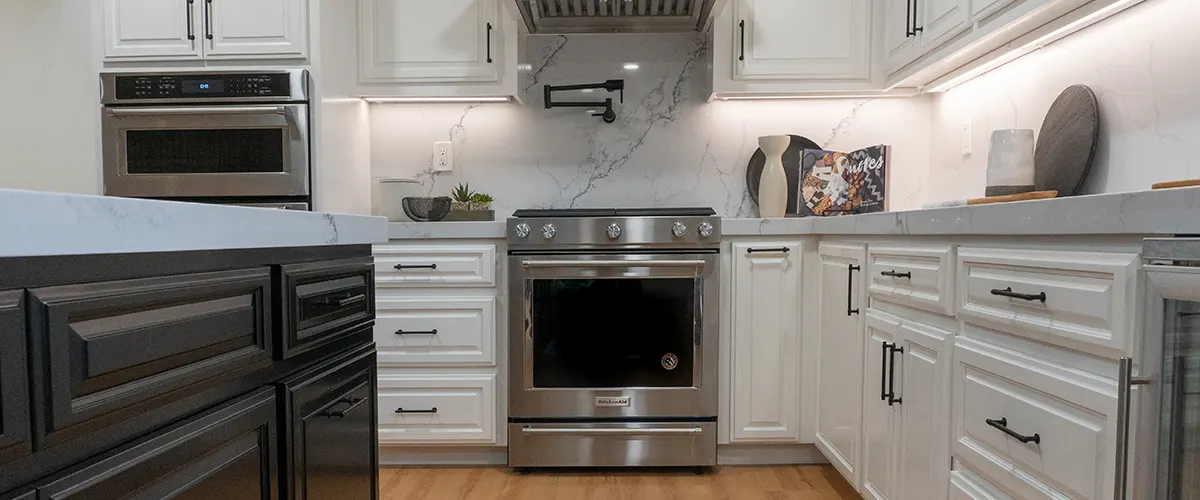 Budgeting For Your Kitchen Renovation Cost In Manteca
Although home renovation TV networks try to make things look easy, it's crucial to understand that they often oversell budget costs. For example, a kitchen renovation project shown on television costing $20k may actually cost considerably more than double that amount.
This can cause significant problems for homeowners who trust these shows and get an unrealistic idea of complete kitchen renovation costs and what is included in those expenses. To help you avoid any unwanted surprises, here are some tips on how to correctly budget for your next big home improvement project!
Home design should be a reflection of your passions—or lack thereof. So if cooking isn't your thing, don't blow your budget on a high-end stove. Instead focus on making your dining room more welcoming and comfortable. That way, when people come over for game nights or dinner parties, they can relax in your home. Plus, having a designerhelp you make this vision come to life will totally pay off!
Homeowners forget to take additional cost into account when planning for a kitchen renovation. For example, if mold, mildew or plumbing issues come up unexpectedly, it could set you back financially if you're not prepared.
To be safe, experts recommend setting aside 20% of your total project cost to cover any surprises along the way. This contingency fund will stay in your pocket if everything goes according to plan – but don't worry, you'll be covered if something does go wrong!
Know What You're Paying For
Before starting your kitchen remodel, it's important to understand what costs you're looking at. The project fee will most likely be higher than other rooms in your house; however, not being aware of what services are included can turn your favorable experience into a nightmare.
To avoid any unwanted surprises, always ask your potential contractor about the services included in their fee. The National Kitchen & Bath Association ran a few studies and developed a well-detailed report showing the expenses of a kitchen remodel—be sure to check it out before beginning any work.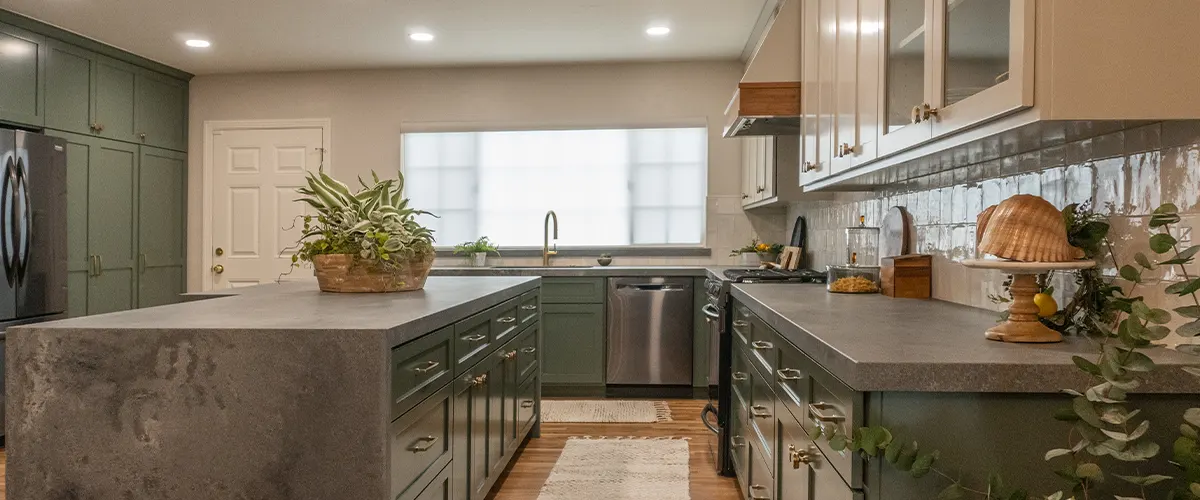 An In-Depth Look Into Your Kitchen Remodeling Project In Manteca
Get Pricing Transparency For Your Kitchen Remodel Cost In Manteca
On average, homeowners spend $30,000 on a kitchen renovation. However, as with anything in life, the final cost will come down to the personal choices you make. At KHB Contracting, we are composed of local experts who want to ensure you get the kitchen you always wanted – and we'll stay within your budget to help make it happen!
We offer custom solutions for your particular renovation tailored specifically for California that will give you the most bang for your buck!
We tend to over-deliver, so expect:
Stop Delaying And Invest In Kitchen Remodeling Contractors Today