Kitchen Remodeling Cost In Modesto CA
Interested in starting your kitchen remodeling in Modesto CA? This guide will walk you through everything.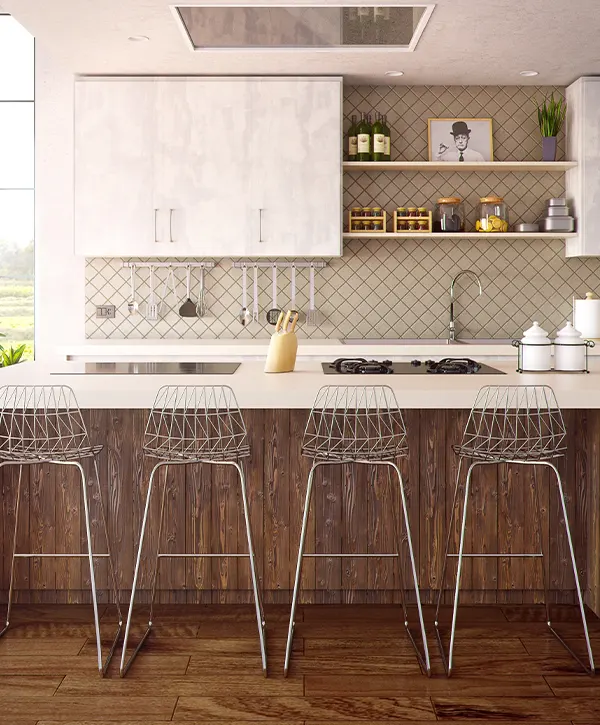 According to Cost vs Value Report 2022, the average kitchen remodeling cost in Modesto is $31,000, putting it among the top three home improvements with the highest return on investment.
Minor kitchen renovations have a 77.9 percent ROI, whereas a major kitchen makeover has an ROI of 59.3 percent. To comprehend what this implies for your future project, you must first understand how much kitchen remodeling costs in Modesto and what these expenditures include.
At KHB, we not only deliver wonderful remodels, but we also want to alleviate any concerns you may have about the cost of your new project. We'll be completely upfront with you so you know exactly what improvements and features are available and how much they will set you back!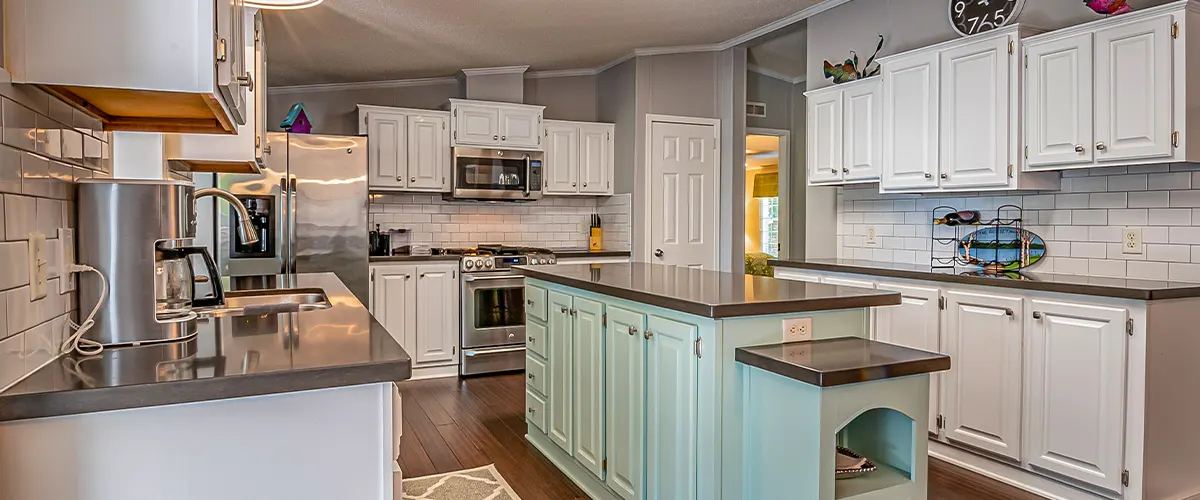 The Typical Kitchen Renovation Cost In Modesto
The expense of a kitchen makeover is mostly determined by the size of the space, the materials used, and any modifications made to it. Naturally, the larger the area, the more costly it is to renovate. According to various sizes of kitchens, here's what the typical kitchen renovation cost in Modesto is.
Size
Average Price
Small <70 sq ft
$20,500 - $45,000
Medium 100-150 sq
$45,500 - $77,000
Large 200+ sq ft
$80,000 - $110,000+
After our in-home consultation, KHB will give you a detailed pricing quote that covers every factor associated with your project. And, we'll offer ways to save money so your renovation doesn't put a strain on your finances. So learn more about our kitchen remodeling services!
Labor In A Kitchen Renovation Cost In Modesto
Kitchens can be a big project, involving everything from design and installation to plumbing, electrical work, carpentry, and building. There are a lot of different professionals involved in these jobs, and they all charge differently.
Architects are the professionals who make sure that new spaces are structurally sound. They're required if you want to add or remove walls. To obtain a building permit, you'll need the architect's plans and drawings as well as an hourly charge of $65 to $400, or a one-time payment of 10% to 20% of the total project cost.
A kitchen designer is a specialist who plans the layout and look of your kitchen, ensuring both style and function.
Rates for their services can vary widely depending on the project scope and designer skill level, but generally fall 10-20% of total renovation costs. Consultation fees alone can range from $300 to $1,500.
Carpenters are often unable to repair kitchen water issues due to their lack of knowledge. While a handyman might be able to simply mend what is damaged, a real plumber will go further and fix the problem at its source. Plumbers charge between $70 and $150 per hour for their services, in addition to any material costs.
It is critical for your and your family's safety that the electrical installation be safe and sound. The cost of an electrician's services varies depending on their experience level and the complexity of the project.
An electrician will charge between $80 and $150 per hour, not including supplies, according to his experience.
Get All In One With KHB Construction Services
If you're planning a kitchen makeover and thinking about hiring a contractor, it's worth considering someone who can help simplify the complex process of home renovations. We have an excellent network of electricians, plumbers, carpenters, and designers–so you won't need to go through the hassle of finding additional professionals for your project.
We are the one-stop shop for kitchen renovations in Modesto, and we're committed to seeing your vision through. We take pleasure in providing homeowners throughout California with the finest end-product possible.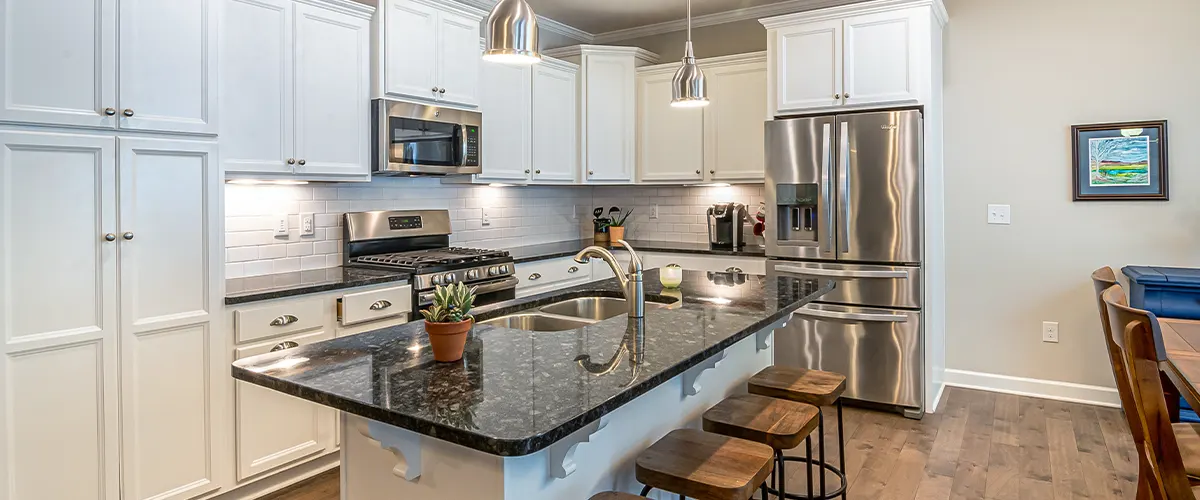 The Upgrades And Features In A Kitchen Remodeling Project
Submitting a request for an on-site consultation is the first step to learning more about all of the available upgrades and features for your kitchen remodeling project. To help you get started, here are some of our most popular options and their impact on cost in Modesto.
A backsplash on your kitchen walls prevents food and liquid splatter from damaging them while cooking. Not to mention, a tile backsplash is far easier to clean than paint.
Let's look at some backsplash materials:
Not all kitchen makeovers require new appliances. Unless your old ones don't work well or they are an eyesore, you may be able to skip this step and save some money.
Appliances became more advanced: they gained touch screens, schedule options, and the ability to cook without human interaction! Staying updated with the latest technology might be worth the investment in the long run.
For example, a kitchen range can cost anywhere from $500 for a budget model to $3,000+ for a high-end model. If you want one that uses gas instead of electricity, installing gas lines costs around $200 per hour plus materials.
The efficiency of your appliances also contributes to their overall cost. Even an optimally double oven might use less energy than a high-end range would consume.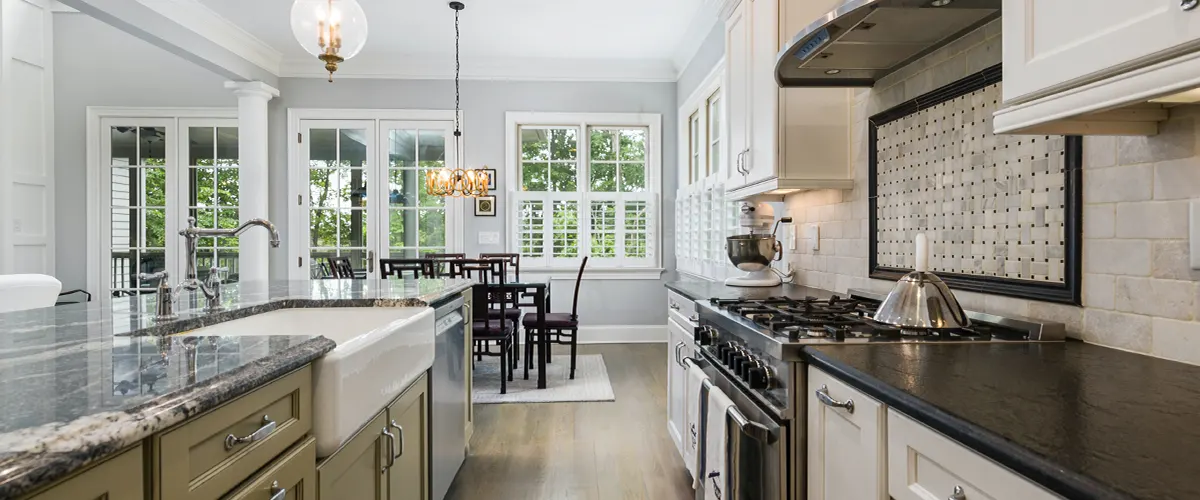 The kitchen countertops, if utilized correctly, might become the room's most prominent focus in an open floor plan. They're a common upgrade in most kitchen renovations and neglecting to do so may lead to difficulties in locating the perfect kitchen. 
Quartz countertops are the greatest choice for your home, starting at $75 per square foot. Granite and marble countertops are less functional but more expensive than quartz, ranging from $40-$60 per sq ft.
The installation of these materials also comes with different price points to your overall project costs.
There's no need to replace your flooring if it's still in good condition. You can refinish hardwood floors to make them look new again, which is a more cost-effective solution than buying all new materials. On average, it costs around $8k to install brand-new hardwood floors in a kitchen. If you're looking for an alternative to hardwood, vinyl planks are a great option. They're more waterproof and easier to clean than hardwood and don't require as much maintenance.
If a kitchen island is something you desire, remember to factor in the additional space it'll provide as well as any required extra cabinetry, plumbing and electrical work. They range in price from $3k up to $15k.
Your kitchen remodeling costs wouldn't be complete without new cabinets.
The cost of cabinets ranges from $500 to $1,200 per linear foot. Semi-custom cabinets cost between $100 and $650 per linear foot, while stock cabinets range from $60 to less than$200 per linear foot. Under-cabinet lights provide an appealing atmosphere in your kitchen—perfect for making dinner time more enjoyable.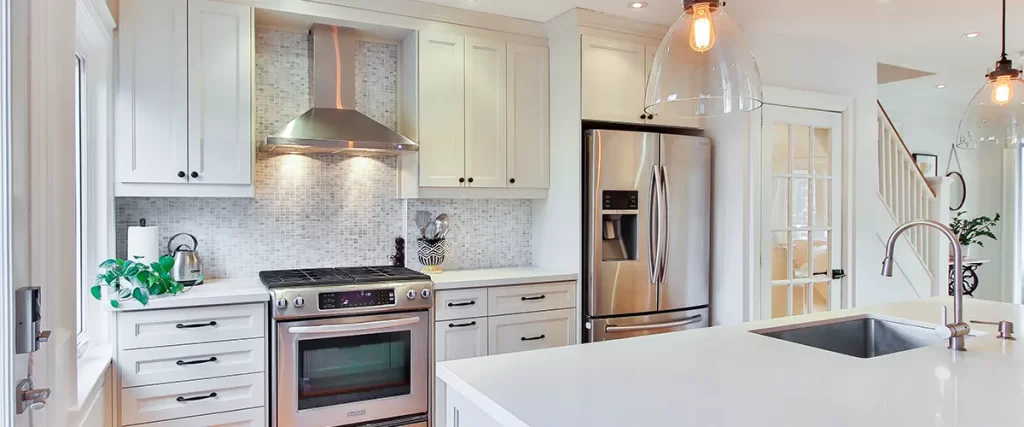 An In-Depth Look Into Your Kitchen Remodeling Project In Modesto
Budgeting For Your Kitchen Renovation Cost In Modesto CA
Home renovation TV shows often make the projects look easier than they actually are, which can set false expectations for homeowners who are planning their own renovations. These programs also don't adequately explain how much a complete kitchen renovation costs, so people don't know what to budget for their own projects.
Here are some tips on how to budget for your renovation!
A kitchen should represent the sort of person you are. Doesn't it make sense to spend less money on equipment if you're not a big chef? If your family enjoys board game nights or weekend dinners in the kitchen, though, pay attention to how cozy it makes the space seem. Design and style are two areas where you need to know at which length it serves your lifestyle or not.
Although it may not appear to be the case at first, one of the most crucial elements of updating your kitchen is preparing for unforeseen circumstances. Mold, mildew, and plumbing difficulties are all common problems that arise during renovations.
Setting aside an additional 20% of your overall project cost will provide you with a safety net, allowing you to tackle any unexpected issues if they occur. It's always preferable to be cautious than sorry! Plus, if everything goes as planned, this extra money stays in your pocket regardless.
Know What You're Paying For
Before starting a kitchen remodel in Modesto, know that it will most likely cost more than renovating other areas of your home. Also, learn what you're paying for beforehand to avoid extra stress during the process.
The National Kitchen & Bath Association completed some studies and created an extensive report on how much each part of a kitchen remodel costs. So before making any final decisions, be sure to refer back to it!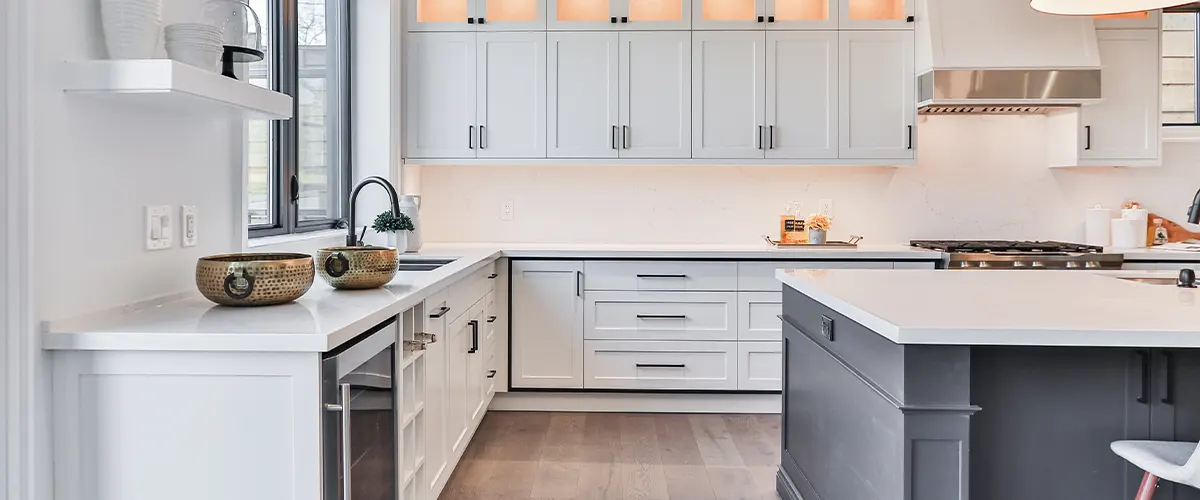 Get Pricing Transparency For Your Kitchen Remodeling Cost In Modesto With KHB!
The cost of a kitchen remodel depends on several factors, but the average is about $30,000. KHB Construction will work with you regardless of your budget to ensure that you get the ideal kitchen within a reasonable time frame.
We tend to over-deliver, so expect:
Stop Delaying And Invest In Kitchen Remodeling Contractors Today
Call us at (209) 528-0255 and discuss your bathroom remodeling in Modesto directly to the owners or KHB, Bobby and Ryan! Or click the button below for a free quote, and we'll personally call you as soon as possible!