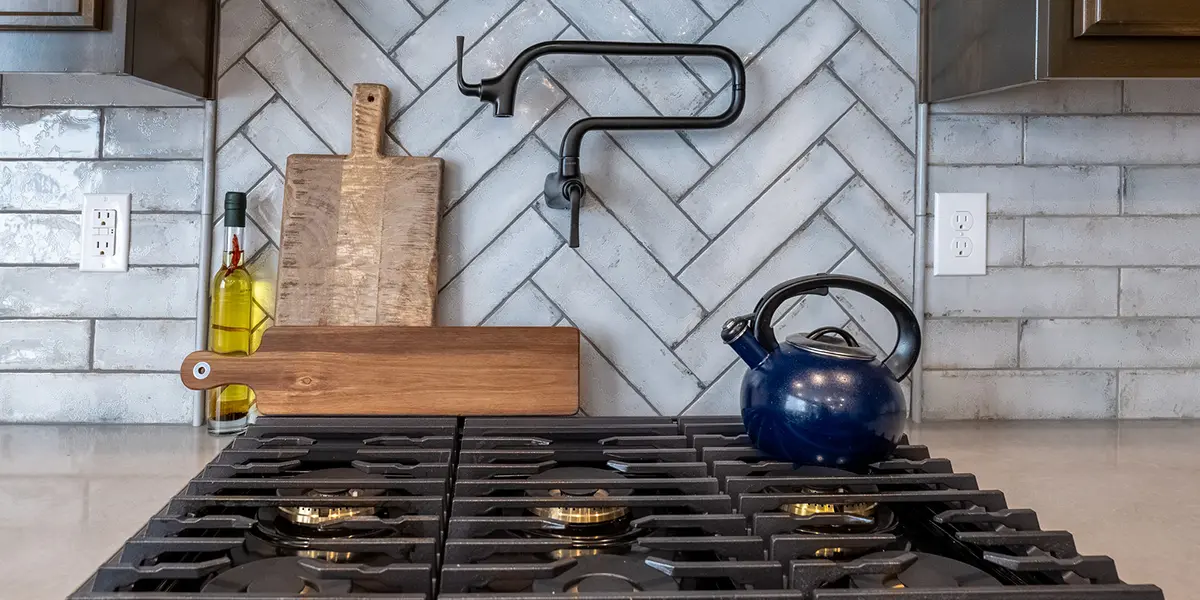 The functionality of your kitchen is what makes it a comfortable space where nothing major annoys you. Cabinets doors not slamming shut, outlets that work perfectly fine without having to force them, or plumbing that doesn't leak are just some of the little things that make your kitchen become fully functional.
The kitchen space has an important role in your home, and as more features are introduced, your dream kitchen gets a little bit closer. If you've been thinking about boosting your kitchen functionality, you should know that there are some little steps that make a great impact.
In this article, we'll explore 5 functional kitchen upgrades that will create a more functional design in your kitchen space.
1. Change Out Your Outlets
In recent years, outlets inside our homes have changed in some fairly significant ways. Older outlets offered two simple and standard plugs, but modern outlets can offer so much more. These new outlets can be fully customized to support the kinds of plugs that you need, bringing easy access and charging directly into your home.
It isn't a secret that most of us run appliance farms in the kitchen, and older outlet types simply do not support it. Most of us would rather avoid having to unplug one item to plug into another and adding more dedicated outlets can help with this–especially if you upgrade them.
Today's outlets can offer USB charging and USB-C charging, and they can combine all of this with traditional outlets too. Fit them in your drawers, on your counter space, on your kitchen island, breakfast bar, on your ceramic tile backsplash, or anywhere that suits you!
2. Think About Cabinet Features
Though cabinets were once considered to be nothing more than empty spaces with doors, the cabinet world has changed substantially in recent years, and they're now the focal point of most kitchens.
You can now have upper cabinets and base cabinets that offer a variety of easy and quick upgrades, like custom-designed silverware organizers, sliding platforms, Lazy Susans, or lighting options. These additions can be fitted to existing cabinets or added in when you choose your new ones.
These functional kitchen upgrades add so much function to your home, especially for older homeowners who don't want to go digging through the cabinets and drawers every time they need something.
Head over to Rev-A-Shelf to learn just how much your cabinets can offer.
3. Add Under-Cabinet Lighting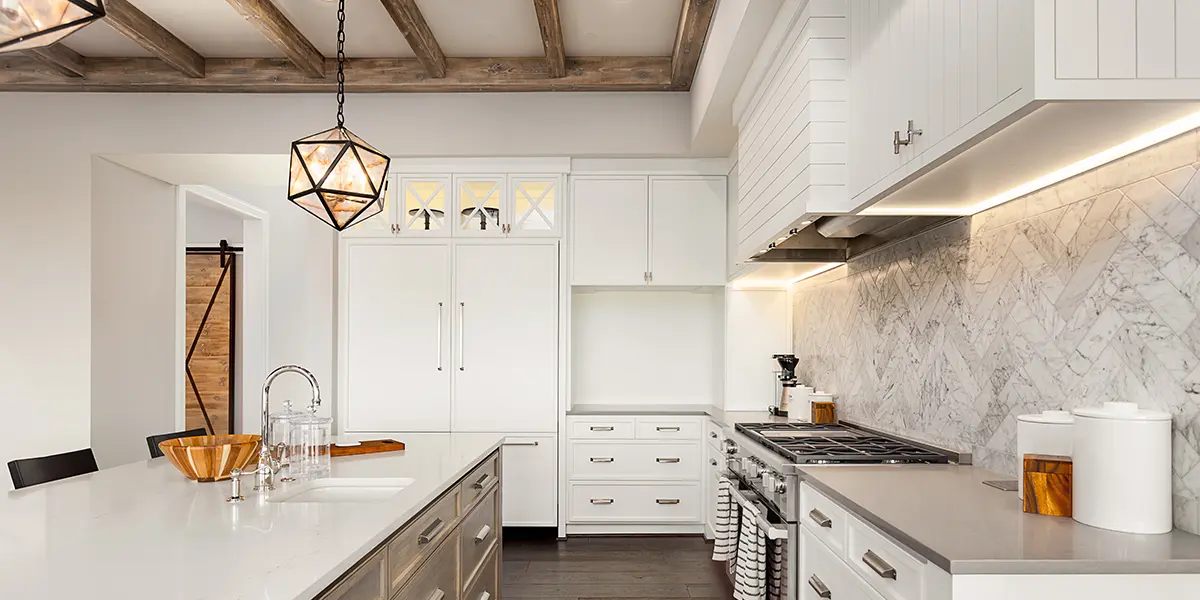 The most obvious reason to make this upgrade is all about the aesthetic. Under-cabinet lighting is something that we consider a moodsetter, and few things do it quite this well. You can add fun, directional lighting to your space–and it can even be added inside your cabinets.
One of the more exciting offerings of this kind of lighting is the ability to direct the lights. While older versions were rigid –and some still are– more modern light designers are making designs that are built to move. This means that you can easily light up any space while you work.
A change like this can be beneficial for everything from cooking and cleaning to working on craft projects with your kids. It helps to be able to light up the space where you work, and when you pair this with how great it looks, it is impossible not to love this upgrade.
4. New Plumbing Fixtures And Features
Plumbing is another aspect of your kitchen that has received some incredible upgrades in recent years. Today's plumbing options are something that the homeowners of the past could only dream about, and they can provide a huge boost to your kitchen, making it more comfortable to use.
One of the most traditional offerings is a reverse osmosis water purification system, granting you purified water when you need it—but these upgrades don't stop there.
There are countless plumbing upgrades available, but few shine above the rest, like on-demand hot water. With this upgrade, you can receive immediate hot water the second that you turn on the faucet. No more waiting for the water to heat up–or hoping it does–with this upgrade, you always have hot water on hand.
Another exciting upgrade for the kitchen is a pot filler. These incredible additions allow you to fill your pot while it is on the stove, eliminating the need to hoist up a heavy pot full of water just to start cooking.
5. Upgrade Your Appliances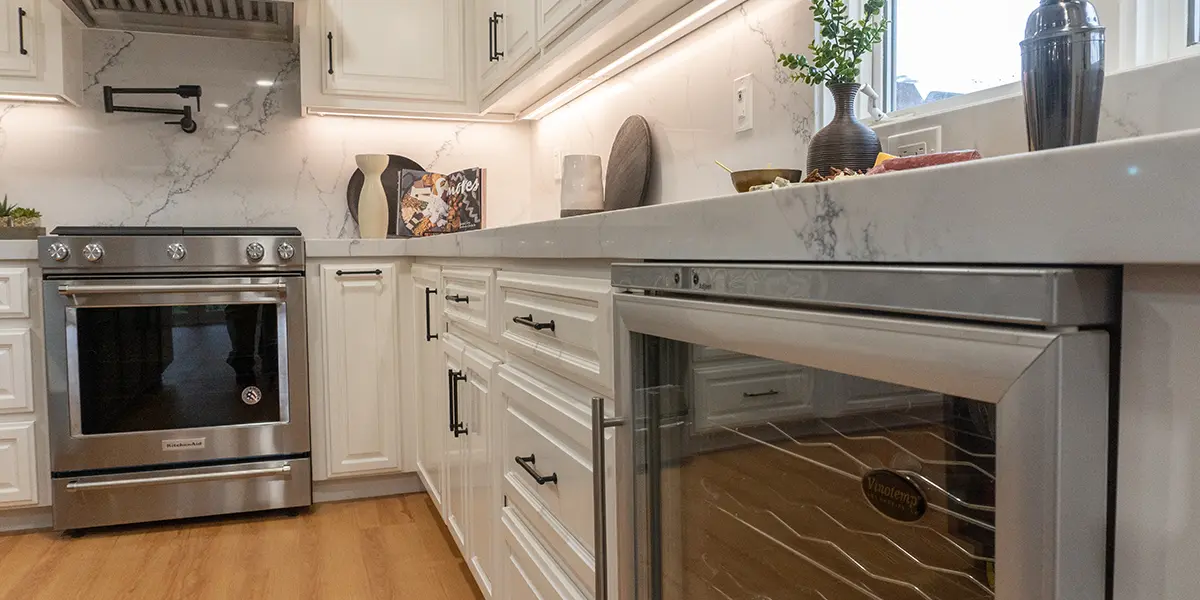 If you're looking for an immediate kitchen upgrade that can help you to bring new life into your kitchen, new stainless steel appliances are definitely the way to go. Kitchen appliances are so powerful today that they'll almost cook for themselves.
Modern appliances vary depending on your needs. For those who are always busy and on the move, a smart refrigerator can be a wonderful upgrade. These powerful tools make it easy for you to know what is in your kitchen, and they can even send you grocery lists to align with certain recipes. You'll never run out of milk again with these new appliances.
Same with all countertop appliances. You can schedule them to start at an exact hour, cook or make your coffee, and when it's ready just pick it up and be on your way.
The growing popularity of steamers in modern kitchens is notable. A steam oven might feel like a huge investment for an appliance, but it makes eating healthy much easier. To save counter space, there is upper cabinetry dedicated to microwaves – a great idea, especially if you have a small space.
There is always something new to explore with home upgrades, and homeowners are using these functional kitchen upgrades to make their kitchens work better for them. Open shelving, new cabinetry hardware, energy efficient appliances, and extra decorative items all make a big difference regarding how your kitchen works and feels.
With a remodel, you aim to transform the entire atmosphere of your kitchen in something more unique, something that fits your needs. But these functional kitchen upgrades will improve your kitchen experience way faster.
If you want to learn more about the best kitchen upgrades that increase its functionality, get in touch with our experts from KHB today! We offer premium kitchen remodeling services in Modesto, Turlock, Tracy, and more of Central-Valley & Tri-Valley, California.