Some people believe that the kitchen is the heart of the home. It is that special space where you fix afternoon snacks or where you work to perfect your signature dinner recipe. Every society celebrates kitchens, and a lot of them are made with truly incredible designs—but maybe you want a new one.

I wish I had one of these amazing kitchens from Pinterest!

Construction teams know better than anyone just how much potential a room like this really has. Any kitchen can be remodeled to bring a completely different look and feel. In almost every case, the transformation is jaw-dropping, but how do you get there?
In this article, we going to explore how you can go from:

I can't stop looking at kitchens online!

to

I can't stop posting pictures of my kitchen online!
Any time that you begin to plan for a kitchen remodel, you will want to define the scope of the change. Remodels come in all shapes and sizes. Some people want to redo the entire kitchen and leave nothing from the original, but other people would prefer to keep certain parts—especially if it's vintage. Your job is to figure out what it is that you want to change specifically.
There are a lot of components in your kitchen, so it can be best to define the scope while you are standing in the kitchen. Consider all of the different parts and begin by deciding whether or not you want to keep them. Focus on the floor, the countertops, the cabinets, the paint, and the appliances—and don't limit yourself.

I'm thinking about tearing everything out. I want an entirely new kitchen. New appliances, new floors, and I want this old paint from the sixties covered up!
When you invest in a remodel, the sky really is the limit. If you have been dreaming of a kitchen with a giant window overlooking your garden, that is something that can be arranged. It helps to begin by simply writing out what you want to change, as well as any wish list items that you might want to consider.

My kitchen is so cute, but the cabinets are old and it is really starting to show!

There is no size limitation on what changes you might want to make. Sometimes a simple change in cabinets or adding in new countertops can be all the change that you need. Since each change will have its own benefits, it can be good to take your time while you define the scope. Rushing it might lead you to miss something big!
Reach Out to a Contractor
After you have defined the scope for yourself, it is time to see what the professionals can offer you. To get the conversation started, you will need to find a local contractor to discuss the project with you, like one of the members of KHB Construction. 
"I have all of these ideas for a new kitchen, but I'm not quite sure where to start."
"No problem. Tell us more about your vision for the new space and we can work through it together!"
A contractor will have more of a concrete understanding of your scope. While it might be easy for you to explain what changes you want, chances are that you don't know all that much about what it costs or what kind of work it will take. Talking through it all with a professional can help you to learn more about the project and what you are signing up for.
Talk Budget
A great part of talking with a contractor is being able to get an idea for the cost of the remodel. Contractors will have a better grasp on how labor intensive a change is, and they can also highlight price points for certain additions. By bringing budget into the discussion, you can get a better idea of what changes are right for you.
Before you can receive that dream kitchen, you need someone to help make a design. Unless you're secretly harboring interior design and architecture skills, chances are that you will benefit from working with a professional. Partnering with a design team or architect to make a clear map of your remodel is the next big step, and it can be really exciting.

"I've noticed that a lot of your saved Pins on Pinterest have this style of the island. Is this what you are looking for?"

"Yes, I love to cook—and I really need the extra space!"

Interior designers are able to take those Instagram photos you love so much and make a custom map for contractors to follow. They will sketch out and design your new kitchen so you can see exactly where everything will fall. Then, your construction team can take these materials and bring them all to life for you.
When you first begin the design process, you might be surprised by it. It is a special feeling to sit down and realize that the person you are working with has the ability to make your dream kitchen from scratch. Realistically, nothing is off the table.
For the best possible outcome, it is important to exercise your freedom here. You have the opportunity to have the kitchen of your dreams, so make sure you really run with that, especially if you are doing a full remodel.

"Can I have a second pantry? What about another counter on this wall? Oooh—can we make the sink bigger?"

"Yes, yes, and yes!"

We are here to make your dreams come true, so don't hold back and tell the people what you want. You deserve a kitchen that makes you fall in love every time you walk in, even if your culinary skills max out at macaroni and cheese!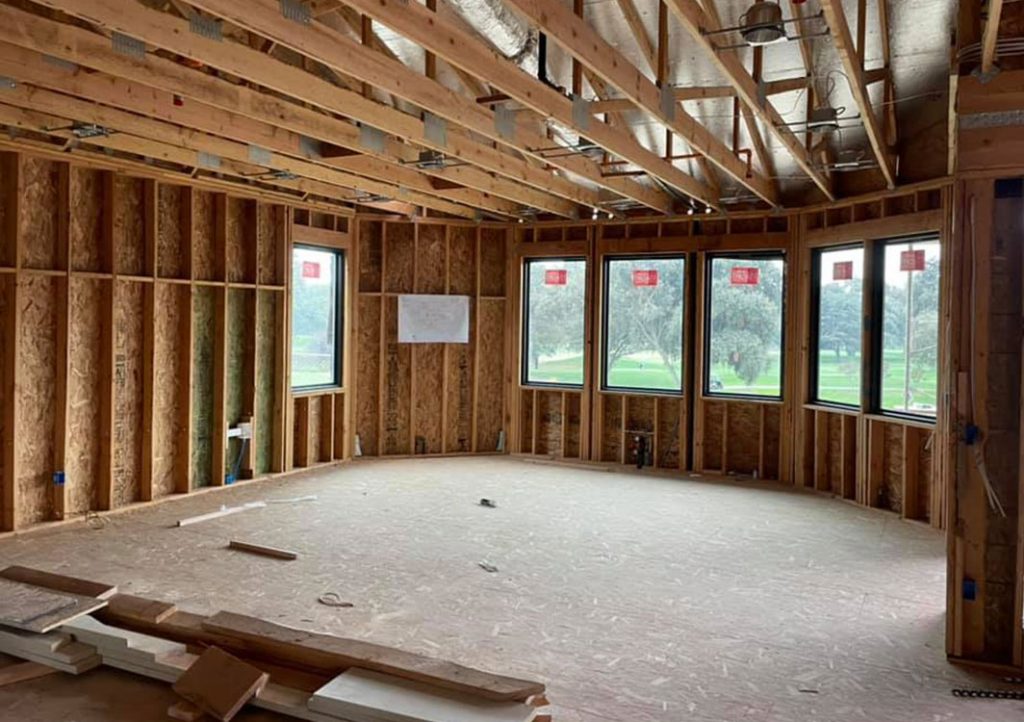 Once the design is complete, it is time to move on to the construction process. At this point, you will sit down with your construction team to discuss the finalized design and to learn what it will take to make it all possible.

Meetings
The construction process begins with one meeting, but sometimes it might take a few. During these initial meetings, your construction team will work on outlining the entire process for you.
Think of this as an opportunity to get on the same page with your construction team. During these meetings, transparency is key. You will want to focus on sharing as much as you can with your team. Everything from work schedules to the existing state of the kitchen will need to be covered. The more transparent you are, the better these meetings will go. It is an opportunity to ensure that everything is fairly outlined in the contract so everyone knows what is and is not expected.

"We will need to skip construction on Wednesdays because we care for our granddaughter on that day and will need the home to be quiet."

"That's just fine. Thank you for letting us know. We can easily work that into the schedule!"
If you don't remember to inform your team of certain issues or concerns, there is a chance that you will need to revisit the contract. Remember, your construction team only knows what you tell them before they arrive at the site, so if something was missed, it can cause big problems. Failing to explain kitchen limitations, or even limitations in the surrounding area can lead to longer project times and potential unexpected price increases. Fortunately, clear communication can help you to avoid this!
For this process, you are partnering with your construction team. As long as you can keep an open line of communication, you can work through any unexpected challenges together!

Contract
After your meeting with the team, there should be a clear understanding of what is expected. At this point, you and your team will meet up to review the final contract. By sitting down together to review the contract, you can ensure that everyone is on the same page—and that everything is covered.


Though your contractors might be lovely and entertaining people (at least if you're working with KHB Construction!), no one is perfect. Make sure you take the time to look through the contract so you notice if somebody wrote down the wrong paint color or forgot about your new microwave!
After the contract has been reviewed, both parties can sign and construction will begin!

Getting Started
With all of the parts falling into place, construction can finally begin—and this is where it gets even more exciting! Now that your construction team is off to work, you will be able to prepare for the arrival of your new kitchen. They will start building, which means that you can begin to watch it all come together.

They're bringing in the cabinets! I am getting so excited about our new kitchen!
When your team arrives, they will likely want a tour of the space and any key considerations. If the backyard is off limits because that is where you keep your dog, your team will want to know that. Together, you and your team can kickoff the remodel!

Updates
Every construction team handles the build process a little differently, but at KHB Construction, we are huge on updates. You see, we are just as excited to bring your vision to life as you are to see it happen. It's thrilling to get to work on a site and to see everything coming together.

This looks even better than we envisioned. The homeowner is going to love how all these colors come together!

Since we are proud of the work that we do and we like to keep our clients informed, we do daily updates. Using a project system, we keep a log of updates that we add to every single day. We will include pictures and general details about what we did and how it went. This allows the homeowner to understand how the process is going and confirms that we are working in line with the agreed-upon schedule.

Wow, today they finished the floor and installed the new cabinets. How did they do this all in one day?

These updates can be particularly beneficial if the area is closed for your family's safety—or if you are staying somewhere else during the remodel. This way you always know exactly what is going on in your home.


Of course, there is more to it.
Including updates is an opportunity for us to keep your excitement building. Clients love to see a vacant kitchen in a clear state of construction turn into their dream kitchen—and we love providing the photo evidence that shows the transformation.
We believe that this is equally fun and helpful for the homeowner.
When the remodel is complete, we will walk through the area together. During this part of the process, we will collectively take the time to review the work and make a plan for any necessary adjustments. Like we mentioned earlier, we aren't always perfect. If you see a rogue spot of paint that managed to drip when we weren't looking, we want to know.
Chips, cracks, and scratches are also very important here. As we walk through, we will all take the time to look for even the smallest issue. If you find any—or our team does—we will make a plan to make any adjustments and corrections. These final changes will take a short amount of time.
Oh no! This paint looked great on the color swatch, but now it looks bland and horrible!
Of course, this is also an opportunity for you to address any other points of concern. If you realize now that the paint you chose is not the paint that you want, we can work with you to make a plan to replace it. Above all else, we want you to love your new kitchen.
Your new kitchen is only a few steps away, and while waiting for your new kitchen can be hard, with the right people, it can be exciting too. At KHB Construction, we believe that everyone deserves the kitchen of their dreams, and we are happy to make it happen—no matter what it takes!