When it comes to outfitting your kitchen with cabinets, there are many different styles of kitchen cabinet features to choose from. How do you know what is the right choice for your home? Keep reading to learn about some of the most popular cabinet features on the market and how to choose the best option for your space.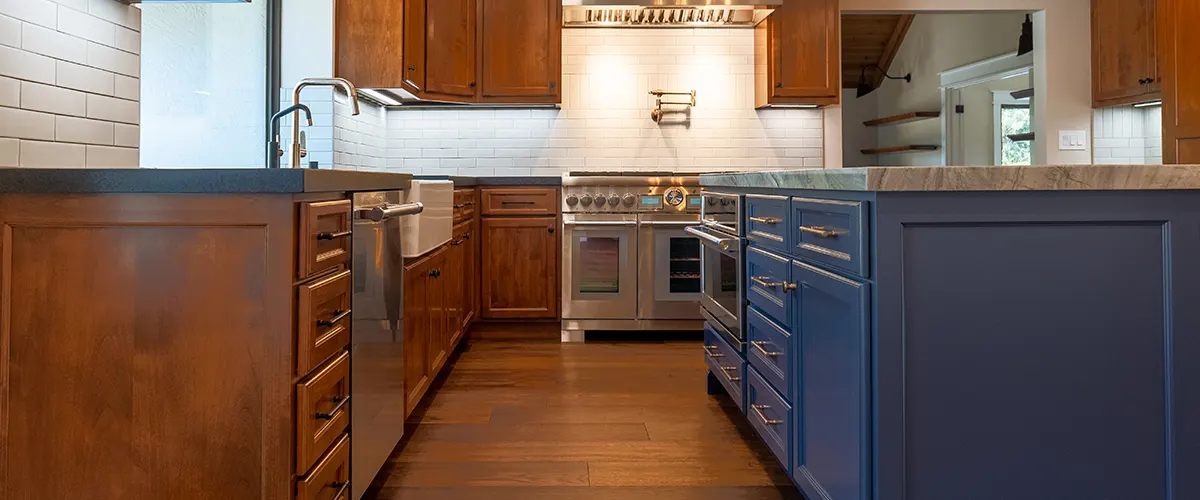 Kitchen Cabinet Features – What Is Right For Your Home?
Here are some common kitchen cabinet features you can get for your new space!
#1. Narrow Pull-Out Drawer
Narrow pull-out drawers are perfect to store spices, cans, or a lot of other things that you need to be handy and not in your pantry.
#2. Pet-Friendly Kitchen Cabinet Features
A pet-friendly cabinet would be a cabinet that has a small under cabinet storage for your pets' food and water bowl.
Wine needs to be served cold, but keeping it in your fridge would be a waste of space, especially if you love a glass of red wine with that nice steak. Keep more than one bottle in a space specifically designed for that.
#4. Built-In Refrigerator
A refrigerator built in your cabinet is perfect to create a seamless kitchen with an interrupted flow. Hide the fridge in a large cabinet and let everyone wonder where is it.
If you have a large enough island, installing a cooktop on it will be a great upgrade. It saves space from your countertop and let's you prep food without much more efficient.
If you're concerned about recycling and living the green life, a cabinet with a pull-out trash can with recycling compartments is the perfect option to keep even your trash organized!
Prepping the coffee in a corner specifically designed for that increases your efficiency and makes it easier for everyone to get their coffee's exactly how they want it.
Lazy Susans have forever been a great corner solution for cabinets. These increase the storage space possibilities and allow you to reach objects that you would't otherwise.
Deep drawers are ideal for large pots or trays that you can't store anywhere else without wasting an enourmous amount of space.
Glass cabinet doors are great if you want to showcase a beautiful set of bowls or a nice china. It also allows you to see what's inside the cabinet without opening the door.
#11. Tray Storage Cabinet
If you're the type of people that like to eat in their rooms from time to time, or you have kids that do that often, you'll need a bunch of trays, and there's no better way to store them than in a tray storage cabinet.
Instead of opening a drawer every time you need a knife or a spoon, put them on a utensil rack and they'll always be handy. There are some metal sheets that act as a rack, so all you have to do is "stick" them to the metal sheet, and they'll stay there!
#13. Dishwasher in a Drawer
Just like the fridge, hiding the dishwasher in a drawer helps create a seamless mood throughout your kitchen.
A pantry cabinet is perfect if you're an avid cook and you love using all sorts of spices. You can also keep jams, juices, vegetables, and pretty much anything you can think of in a pantry.
Instead of a Lazy Susan, you can straight-up get a corner drawer that opens differently from the other drawers in your kitchen. This corner drawer will facilitate all that unused space in the corner of the cabinet, and will allow you to access the extra storage you need.
#16. Paper Towel Drawer with extra storage
A paper towel drawer lets you wipe you hands real quick without letting the whole roll of paper on the countertop. It'll help you keep your space organized.
#17. Cutting Board To Trash Cabinet
Cutting vegetables is now easier than ever. Do it on a cutting board that leads directly to your trash can below. This upgrade is quick and efficient!
Drawer organizers work great for drawers where you keep your spoons, forks, knifes, and other small tools. It helps you delimitate these areas so whenever you need more forks or spoons, you know where to get them from!
Deep drawers are nice to have for large pots and trays that fit no where else. You can install these in the baseboard of your cabinet, and have them open with a push-to-open system, right at your feet.
Mixers are really heavy to move around, but if you have a space that's dedicated for this tool only, it should be a lift that helps you store it away any time you're not using it. A mixer lift is great for anyone baking a lot!
The Top 3 Benefits of Custom Kitchen Cabinets
When it comes to outfitting your kitchen with cabinets, you have two main choices: stock cabinets or custom cabinets. Stock cabinets are the kind you typically find at home improvement stores; they come in set sizes and styles and can usually be installed relatively quickly and easily. On the other hand, custom cabinets are made to order according to your specific specifications. Keep reading to learn about the top three benefits of custom kitchen cabinets.
1. Increased Storage Space
One of the biggest advantages of custom kitchen cabinets is that they can be designed to fit into any nook and cranny in your kitchen, no matter how oddly shaped it may be. This contrasts with stock cabinets, which are only available in set sizes and shapes and may not make the most efficient use of your available space. If you have a small kitchen or an unusual layout, custom cabinets can help you make the most of what you have.
Another benefit of custom kitchen cabinets is that they are more durable than stock cabinets. This is because custom cabinets are usually made from higher-quality materials and construction techniques. Plus, since they're built specifically for your kitchen, they're less likely to suffer from wear and tear over time. The custom is the way to go if you want cabinets that will stand the test of time.
Finally, custom kitchen cabinets look better than stock cabinets. This is because they can be designed to perfectly match the existing style of your kitchen, whether it's traditional, contemporary, or somewhere in between. Plus, with custom cabinetry, you have a much wider range of finish options available to you, so you can really make your vision come to life. If you want your kitchen to look its best, custom cabinets are definitely the way to go.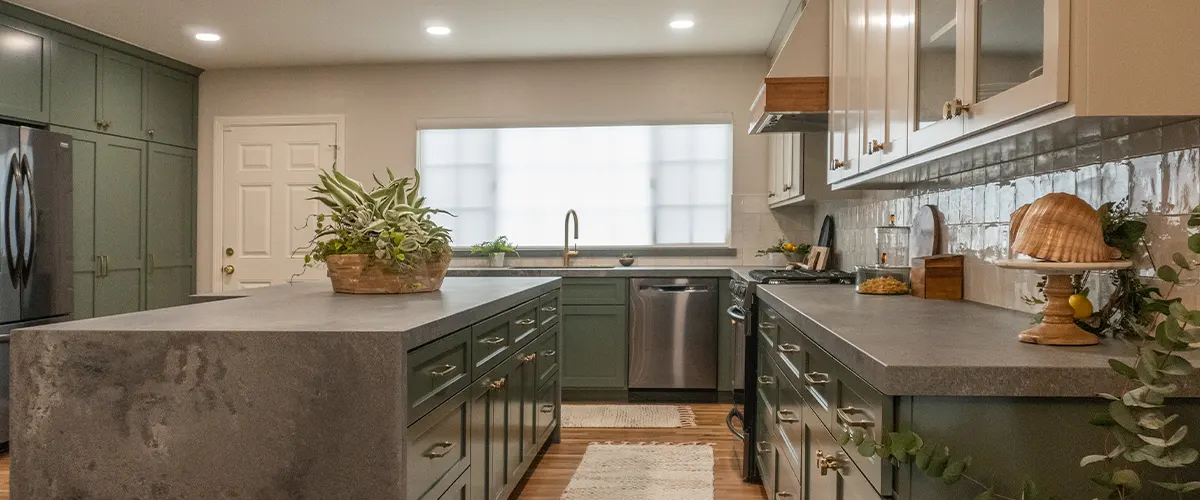 Whether you decide on wood, laminate, melamine, or RTF cabinets, each option can bring its unique style and update to your kitchen. Depending on your budget and desired look, there are endless possibilities for what type of cabinets you can choose for your home. After all, custom cabinets can help transform any kitchen space from average to extraordinary.
For those looking to take the plunge into a new kitchen renovation, consider the durability and style benefits of each type of cabinet before making your final decision. If you need help finding the best kitchen cabinet solution for your home, contact us today! Our team of professionals is standing by, ready to answer any questions you have about our products and services.