When it comes to outfitting your kitchen with cabinets, there are many different styles of kitchen cabinet features to choose from. How do you know what is the right choice for your home? Keep reading to learn about some of the most popular cabinet features on the market and how to choose the best option for your space.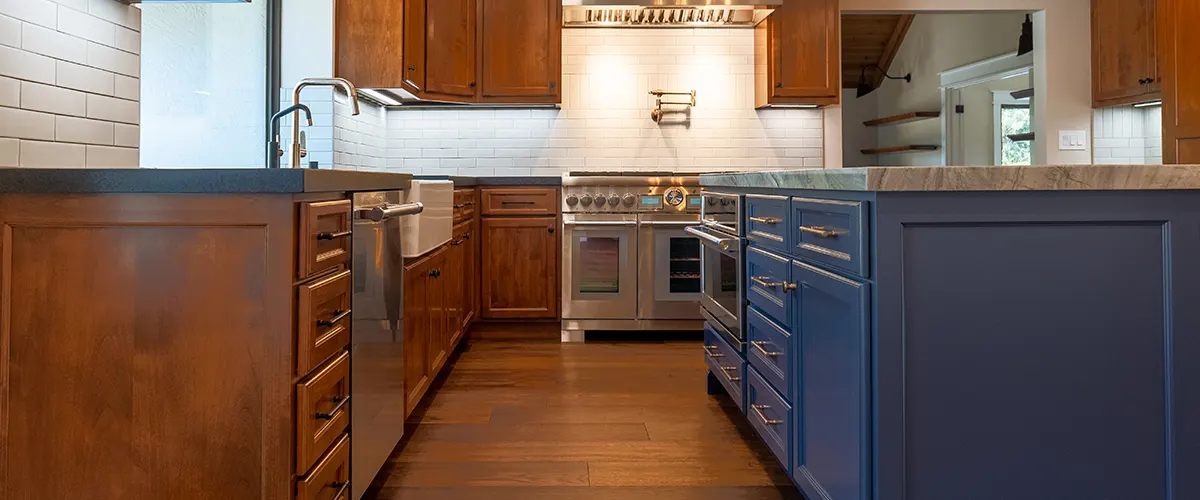 The Top 3 Benefits of Custom Kitchen Cabinets
When it comes to outfitting your kitchen with cabinets, you have two main choices: stock cabinets or custom cabinets. Stock cabinets are the kind you typically find at home improvement stores; they come in set sizes and styles and can usually be installed relatively quickly and easily. On the other hand, custom cabinets are made to order according to your specific specifications. Keep reading to learn about the top three benefits of custom kitchen cabinets.
1. Increased Storage Space
One of the biggest advantages of custom kitchen cabinets is that they can be designed to fit into any nook and cranny in your kitchen, no matter how oddly shaped it may be. This contrasts with stock cabinets, which are only available in set sizes and shapes and may not make the most efficient use of your available space. If you have a small kitchen or an unusual layout, custom cabinets can help you make the most of what you have.
Another benefit of custom kitchen cabinets is that they are more durable than stock cabinets. This is because custom cabinets are usually made from higher-quality materials and construction techniques. Plus, since they're built specifically for your kitchen, they're less likely to suffer from wear and tear over time. The custom is the way to go if you want cabinets that will stand the test of time.
Finally, custom kitchen cabinets look better than stock cabinets. This is because they can be designed to perfectly match the existing style of your kitchen, whether it's traditional, contemporary, or somewhere in between. Plus, with custom cabinetry, you have a much wider range of finish options available to you, so you can really make your vision come to life. If you want your kitchen to look its best, custom cabinets are definitely the way to go.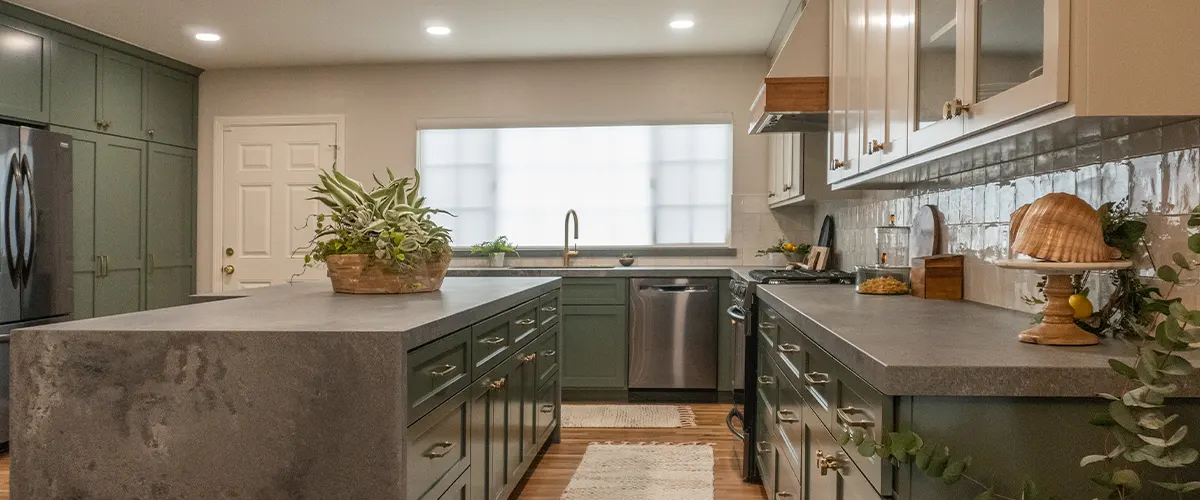 Kitchen Cabinet Features – What Is Right For Your Home?
Are you looking to renovate your kitchen and want to make sure you get the best cabinetry for your home? With so many different styles, materials, and features available, it can be tricky to decide which ones are right for you. But worry not – we'll provide an overview of the various kitchen cabinet features so that you can make the right decision when it comes time to pick out cabinets for your remodel.
When it comes to kitchen cabinets, there are a variety of style and material options. From traditional wood, laminate and metal cabinets to more modern glass-fronted or custom-painted designs, there is something out there for every taste. You can also mix and match various types of materials so that each cabinet has its own unique look. Additionally, some cabinets offer the option of installing additional storage space such as pull-out drawers or spice racks.
Another factor to consider when choosing kitchen cabinets is hardware. There is a wide range of door handles and knobs available in various metals, including stainless steel, brass, and bronze. Pulls are also popular for those looking for a more contemporary look. Also, hinges come in hidden varieties (which are great for modern kitchens) and visible models that give off a more traditional vibe. It's important to choose hardware that complements the overall aesthetic of your kitchen renovation project.
Finally, shelves and drawers come with a variety of features that can help maximize storage space in your kitchen cabinets. Adjustable shelving allows you to easily customize the height of each shelf depending on what items you need access to most frequently or what will fit better based on the height of other items stored in the same area.
Drawers may come with soft-close glides or self-closing mechanisms that help keep them from slamming shut after use – perfect for keeping little fingers safe! Regarding organization, inside drawer dividers are great for separating cutlery from utensils or baking supplies from spices – whatever works best for your lifestyle!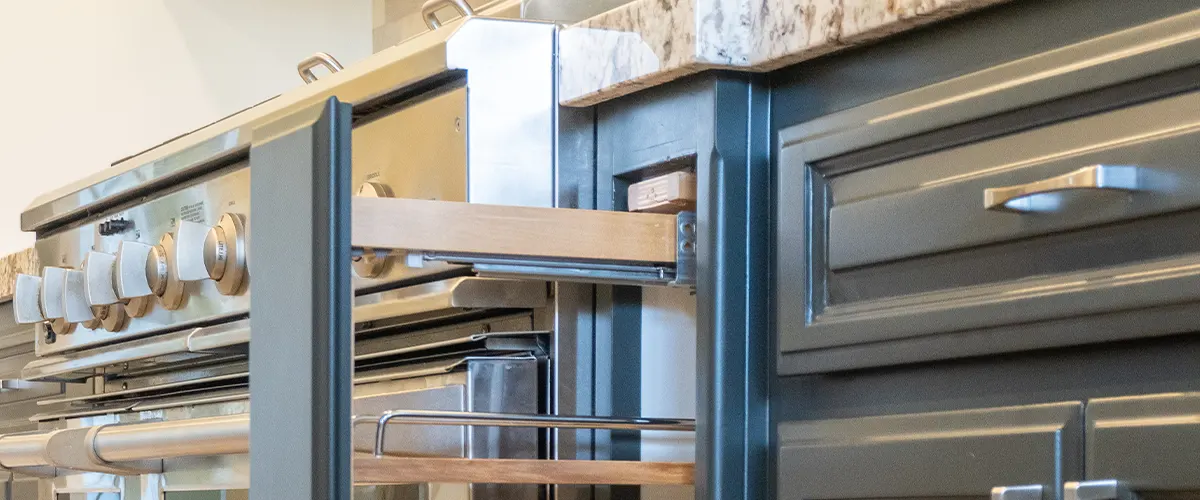 Another important factor to consider is the construction materials used in the cabinet. Different materials have different advantages and disadvantages, so it's important to do some research before making a decision. Wood is probably the most popular option, but there are also metal and laminate options available as well. Make sure you understand how each material will affect your budget and long-term maintenance needs before making a final decision.
Finally, it's important to think about storage capacity when choosing kitchen cabinets. Do you need more space for food items or dishes? Or perhaps you want extra drawers for utensils and other small items? Consider which types of items you need storage space for when selecting cabinets so that you get enough space without overcrowding your kitchen.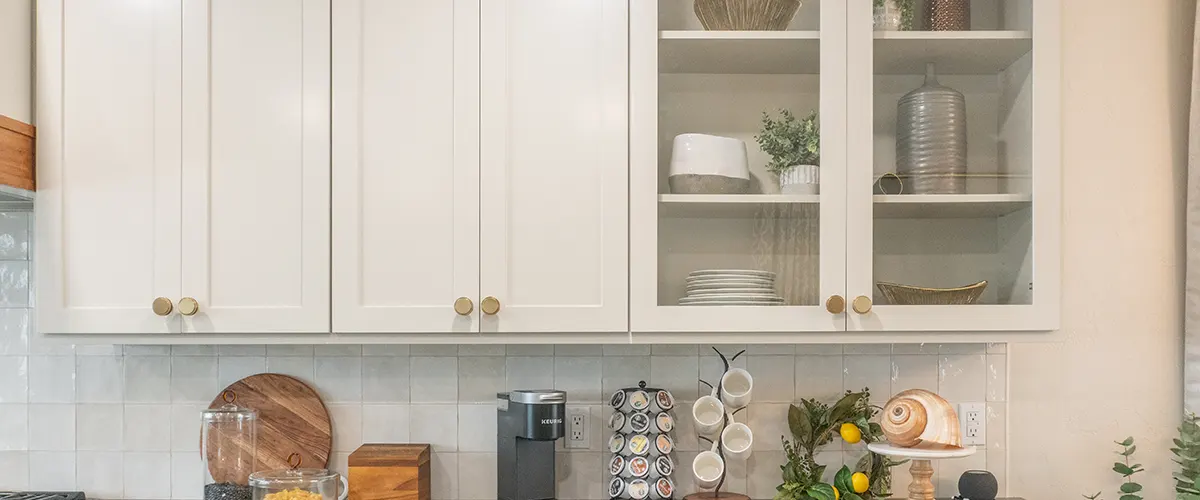 Whether you decide on wood, laminate, melamine, or RTF cabinets, each option can bring its unique style and update to your kitchen. Depending on your budget and desired look, there are endless possibilities for what type of cabinets you can choose for your home. After all, custom cabinets can help transform any kitchen space from average to extraordinary.
For those looking to take the plunge into a new kitchen renovation, consider the durability and style benefits of each type of cabinet before making your final decision. If you need help finding the best kitchen cabinet solution for your home, contact us today! Our team of professionals is standing by, ready to answer any questions you have about our products and services.