Are you thinking of remodeling your kitchen in 2023? Whether you're looking to update an existing cooking space or create a new one, now is the perfect time to review the latest kitchen design trends for the coming year. As 2022 came to an end, design styles in the kitchen were ever-changing. We're looking at a complete revival of lost trends but also keeping some that were popular last year.
From sleek minimalist designs and modern touches to bold colors and creative storage solutions, there are plenty of options for transforming your kitchen into something that looks amazing and highly functional. Read on for our top 2023 kitchen design trends – you may find some inspiration along the way!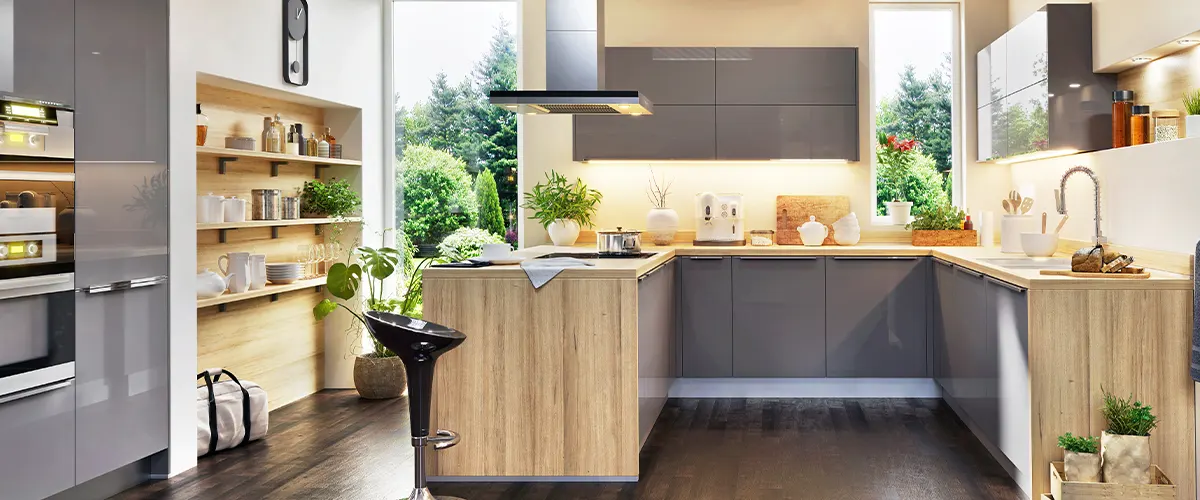 1. Open Shelving And Built-In Pantries
Open shelving is becoming increasingly popular among homeowners looking for additional storage space without sacrificing style. Instead of traditional cabinetry with closed doors, open shelves offer a chance to show off favorite dishes or decor items while keeping them within easy reach. Plus, they require less installation and maintenance than traditional cabinets, so they can be easily changed as trends evolve.
2023 is also bringing some exciting changes to kitchen design with the emergence of walk-in, built-in, and butler's pantries. These pantry styles are a stylish way to store food items and spices and make great multi-purpose workspaces. Homeowners can use their pantries to store small appliances like microwaves and blenders and conveniently stash pots, pans, and serving dishes.
From an abundance of storage space for large bulk buying to organized countertop work surfaces for food prep – these creative solutions offer a plethora of possibilities for modern kitchens. It's time to get creative in the kitchen and embrace these new trends!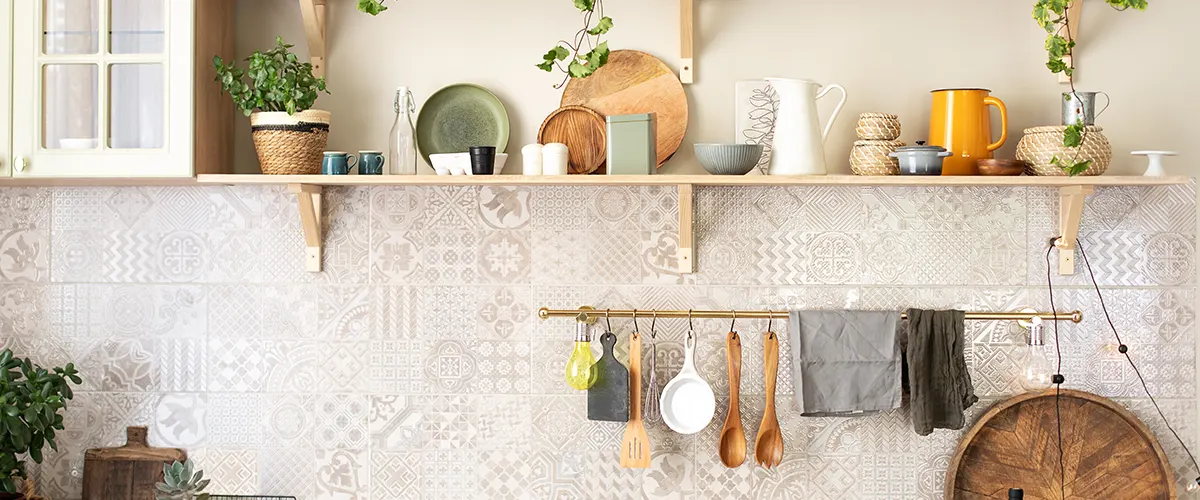 2. Smart Technology & Appliances
The future of kitchen design is here! Innovative technology allows seamless integration between appliances like refrigerators, dishwashers, ovens, and more — all controlled by voice-activated commands or a single app on your phone or tablet device.
Not only does this make meal prep more accessible than ever before, but it also helps conserve energy by ensuring all appliances turn off when not in use. Additionally, smart lighting fixtures can help create an inviting atmosphere while providing task-specific illumination throughout the room.
Homeowners are thrilled with innovative kitchen technologies, including mobile and voice control, touchless faucets, integrated lighting, and smart appliances. The most sought-after tech features incorporate steam cooking/air frying technology in ovens (73%), dedicated areas for charging devices or viewing media (73%), mobile apps to operate appliances remotely (51%), and motion sensor water faucets (50%).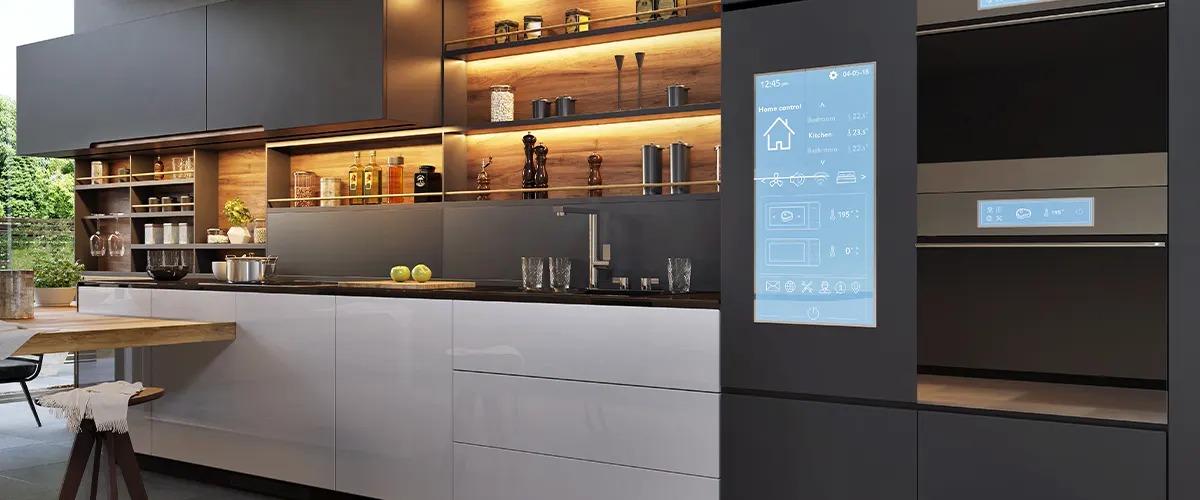 3. Sustainability And Natural Materials
According to reports, natural materials like wood and stone are also becoming increasingly popular in 2023 kitchens. Reclaimed wood is a great way to add warmth and character to your space while preserving the environment. Granite countertops are also returning due to their durability and sophisticated aesthetic. Natural fibers like cotton and linen are also used more frequently for curtains and wall hangings, providing an organic feel that makes the room inviting and cozy.
In terms of sustainability, homeowners are eager to upgrade their kitchens with the top three green features: 100% LED lighting, separate storage for recycling, and increased natural light via low-E windows and doors. These features allow for a kitchen to be enjoyed while remaining practical and eco-friendly at the same time.
In addition to creating a beautiful and modern space, choosing sustainable materials also helps build an environmentally friendly home that will last for years. As more individuals seek homes with sustainable features, the market is uniquely poised to accommodate this need in 2023 with new and exciting kitchen design trends.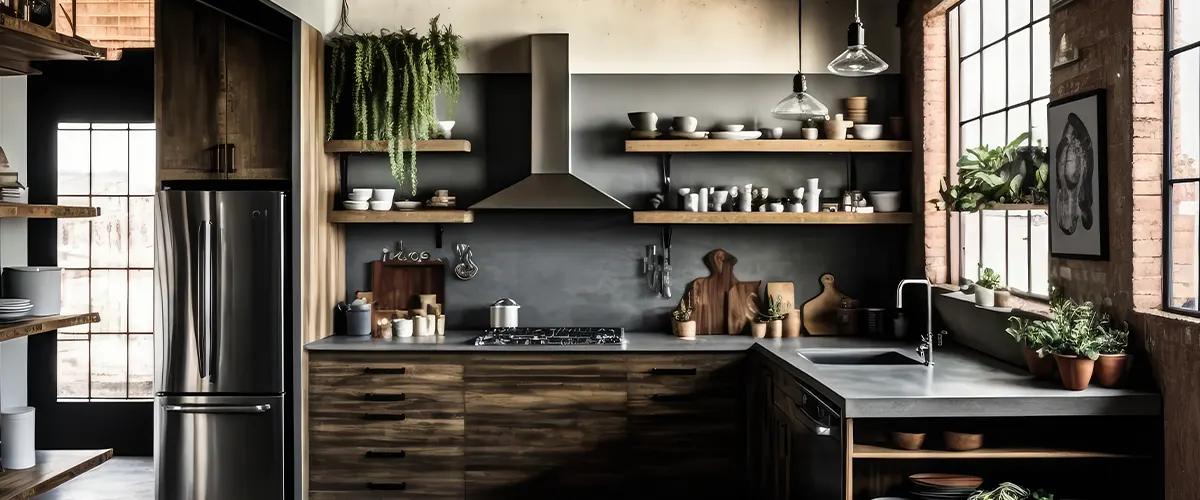 4. Color Palettes With Personality
Gone are the days when white was the only acceptable color for a kitchen. Today's kitchens are full of personality, with bold colors like navy blue and forest green taking center stage. Accent walls featuring vibrant shades of yellow or orange can add a pop of color without overwhelming the space. If you prefer a more subtle palette, consider soft pastels or muted earth tones for an elegant look that won't go out of style anytime soon.
Accents add drama and texture to the room – think of copper or ceramic wall hangings and even elaborate backsplashes. Lastly, pairing different materials/themes together can really make a statement. Combining light wood, stainless steel, and stone all in one kitchen gives off a unique look that will capture attention whether you're entertaining guests or simply making meals for the family. With these smart design trends, you can turn your kitchen into an attractive centerpiece no matter the size of your space!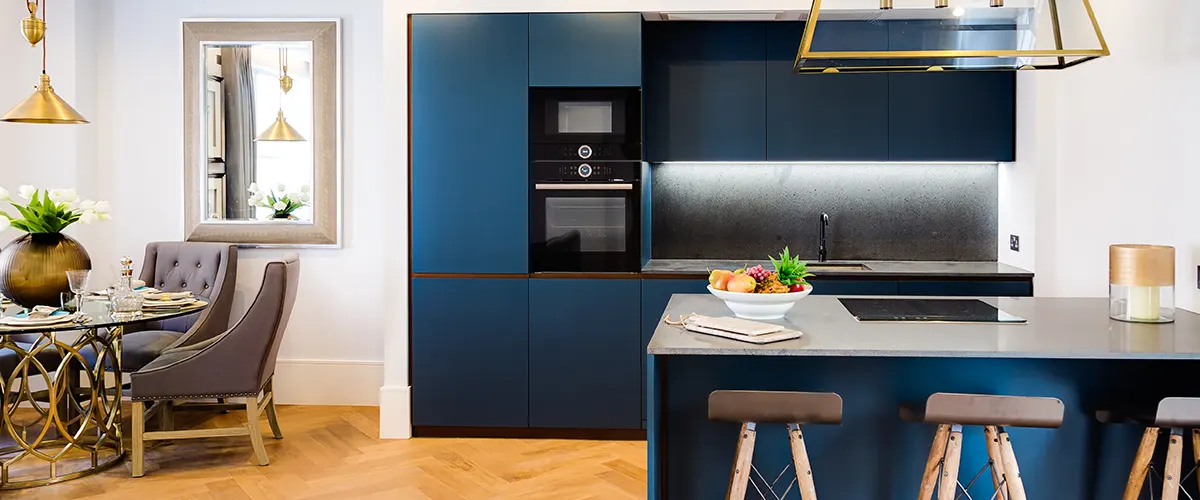 There you have it, the top five kitchen design trends for 2023. These statements will define the typical kitchen renovation next year, from sustainable materials to two-toned cabinetry. Whether you go back to nature with natural wood or choose sleek stainless steel appliances for a contemporary look, your kitchen can perfectly reflect your personality and be comfortable for family and friends.
No matter what kind of kitchen design you opt for in 2023, consider ease of use and safety while selecting materials and functionality, ensuring that your environment has the best possible balance between aesthetic and practical elements.
Additionally, if you need a creative way to renovate your space, consult an experienced kitchen designer who will offer many options tailored to your specific project needs. So put away the stress, and let us help turn that dream kitchen into a reality! If you need a kitchen renovation, contact us today so we can start creating something beautiful together.