The Best Bathroom Remodeling In Livermore
Interested in starting your bathroom remodeling in Livermore, CA? This guide will walk you through everything.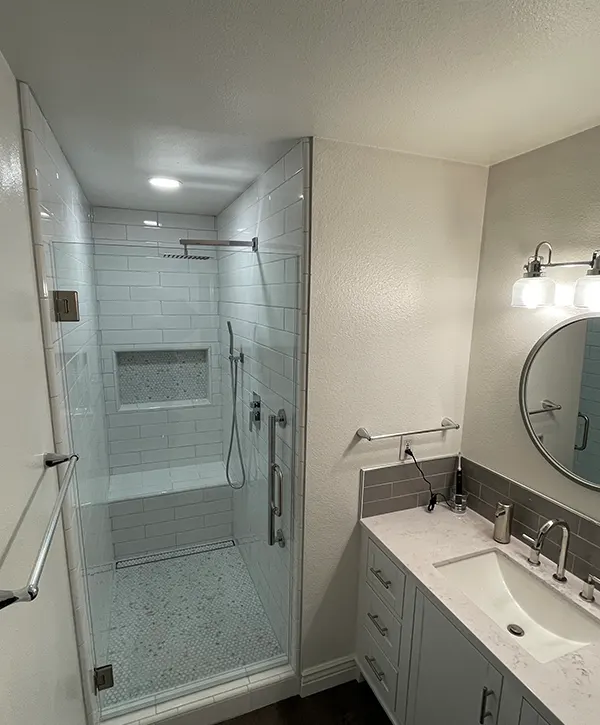 Are you ready to transform the look and feel of your Livermore, CA, bathroom? KHB Construction specializes in creating stunning bathrooms that will bring life back into your home. With our meticulous attention to detail, each project is guaranteed a perfect completion from start to finish! Let us make all of your bathroom dreams come true now!
To ensure our customers have total trust in us, KHB Construction employs only the highest quality products and processes. Our aim is to exceed expectations with every endeavor; it's always our commitment to instill happiness in everyone involved in the project!
Take Full Advantage Of Your Remodel
We take immense pride in knowing that our customers are delighted with their freshly installed baths. Since we understand how critical these areas are, when you hire us to do the job, you will get more than what other contractors provide!
Get Your Premium Bathroom Remodeling In Livermore With KHB
If you're looking to revamp your bathroom, KHB is the perfect pick. Our customers are our top priority, and we go above and beyond in providing remodeling services that exceed expectations! Let us be a part of this vital home improvement project; guaranteed satisfaction is included with expertly crafted results.
Our craftspeople attend to your home with the utmost respect and precision, ensuring superior results. Furthermore, we create an opportunity for you to be actively involved in each renovation step – no need for outsourcing! The team also guarantees that all of your needs will be met during this transformative experience – total satisfaction is guaranteed every single time!
Check out our bathroom remodel offer and make sure you're getting the best bathroom remodeling in Modesto, Turlock, Tracy, or the rest of Central-Valley & Tri-Valley, California!
Homeowners In Livermore Love Their New Bathroom
Trustworthy contractors are hard to come by but Ryan and his team at KHB followed through from start to finish they kept us informed through the whole process and kept the work on schedule.
We were really impressed with the service they offered us and are in love with our new master bathroom. We can't thank the team enough!! I'd 100% recommend KHB to anyone looking to transform their home into their dream home!
I'm glad I found KHB to perform some work on my bathroom in a new house. They were very hands-on from the original assessment through scheduling and completing the work.
They completed the work in a little less than the two days planned, and so far, I'm happy to be able to use my bathroom with a new toilet and floor.
Upgrades For Your Bathroom Remodeling In Livermore
Don't let indecision overwhelm you in the face of such a wide selection of materials, features, and upgrades available for your bathroom remodel project. Tap into KHB's expertise to get the best results possible!
Our top-notch washroom designers are here to help you determine what is most practical and aesthetically pleasing for your dream bathroom. All that's left afterwards? Watching as it takes shape right before your eyes! Why don't we begin by going over some of our more popular upgrade options?
For anyone planning to upgrade their master bathroom, a double vanity should be top of mind. It provides extra space and practicality, and its trendy design will transform the entire room! Or, for those preferring single vanities, installing one in your powder rooms or half baths can make an immediate statement with little effort.
If you're after a modern, contemporary look for your bathroom, frameless cabinets are the ideal choice. However, if elegance and refinement is what you seek – hardwood cabinetry will be more up your alley! The perfect companion to other wooden accents already present in the space, its timeless beauty can't be matched. On the contrary – if cost-friendliness is at the forefront of your criteria – then blending plywood and MDF cabinetry would provide an economical solution without compromising on style or quality.
If you want to increase your property's value more than anything else, go for semi-custom cabinets. As per KCMA, these give back the highest ROI. However, a custom vanity will be better if you want a unique vanity made exclusively for your space.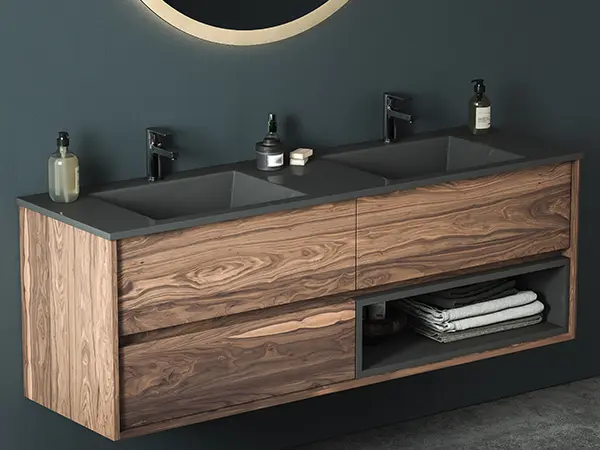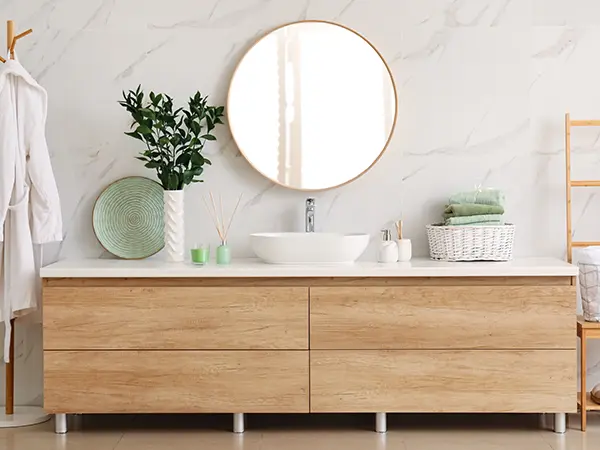 Renovating your home can be costly, but it may be worth keeping if the countertops fit the new bathroom's style and layout. Quartz is a wise choice as it has been proven to offer superior durability compared to many other materials used for counters – making it truly money well spent!
Quartz is the ideal manufactured stone for a resilient, scratch and chip-resistant countertop that's easy to maintain! Plus, with quartz you can be sure of having consistent pattern designs that will give your finished surface an extra special touch. No worries if quartz isn't quite what you're looking for – granite, marble, soapstone or laminate are other worthwhile choices to get an attractive kitchen top.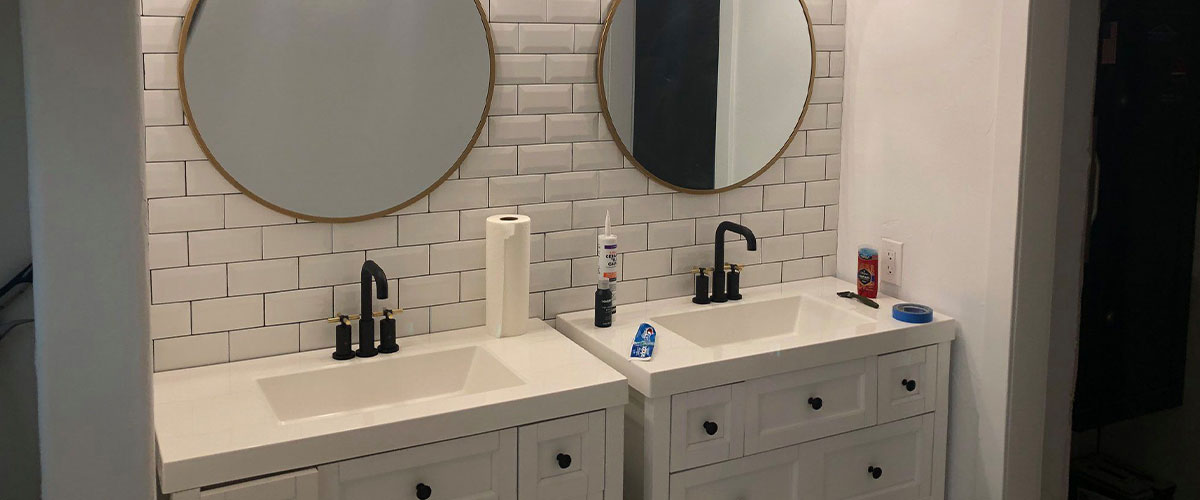 Homeowners are increasingly drawn to walk-in showers for their sleek, modern look and feel. However, many of them still want a standalone tub if space allows it. Even in the most limited bathrooms, we can craft an ideal setup that satisfies your needs – no matter how minuscule or expansive the area is!
Transform your bathroom into a timeless beauty! Installing a chic, curbless glass walk-in shower with luxurious tile flooring and concealed drains is the perfect upgrade that will outlast time itself. Not only does it provide easy access for seniors or individuals with disabilities, but modern aesthetic will surely be an absolute delight to your guests. Once they experience this contemporary transformation, they won't want to leave!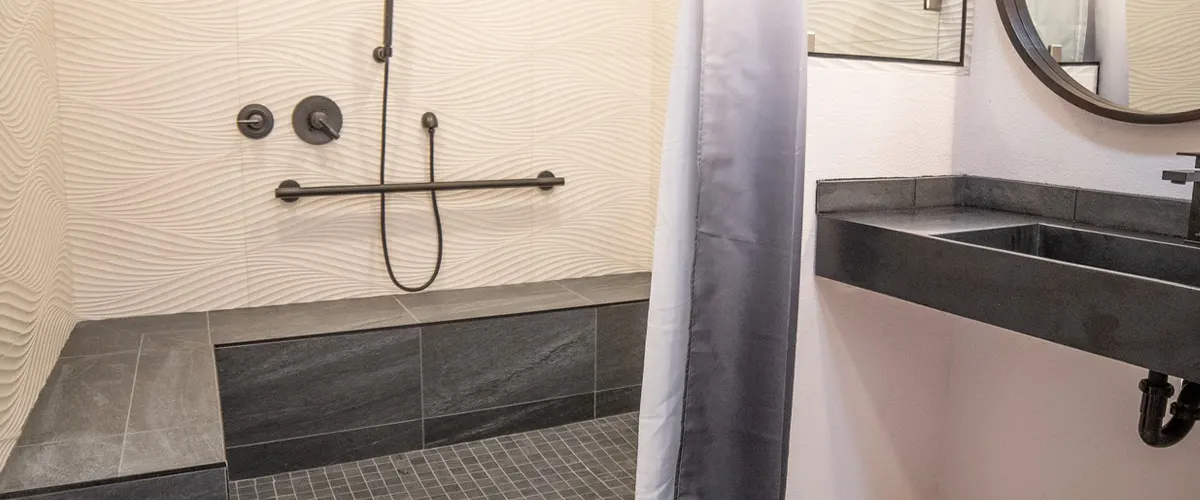 Don't just settle for flooring in your restroom that is purely functional. A unique installation of the right surface type can transform a small space aesthetically and functionally. A luxury vinyl tile (LVT) and luxury vinyl planks (LVP) have recently become favorites among homeowners due to their excellent durability, stylish designs, and expansive selection – making them perfect for giving any bathroom an elevated look!
Installing LVT/LVP flooring is a simple yet beautiful task. Its versatile design can replicate that of both wood and stone with remarkable accuracy – making it the perfect fit for any home! Although porcelain or ceramic tiles remain popular choices among many individuals, more are now turning to the convenience and beauty of LVT/LVP options instead.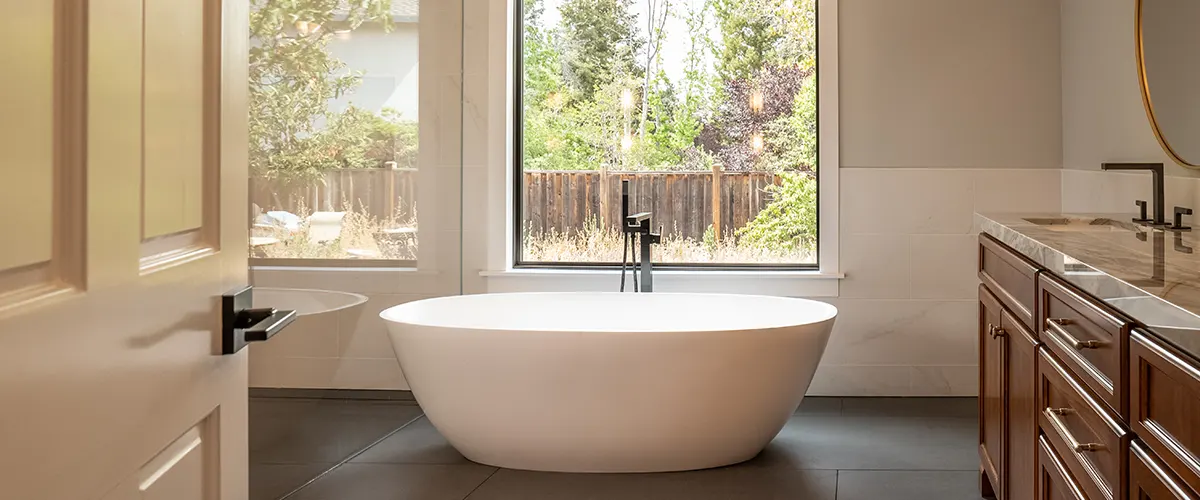 See Amber's Bathroom Transformation
Get Inspiration For Your Bathroom Remodeling In Livermore
This is what your bathroom remodeling in Livermore can look like! Get inspiration for your upcoming project and see our finished projects right here!
The Best Remodeling Process In Livermore
Get started with a quick and intuitive process that keeps you on top of your project from start to finish.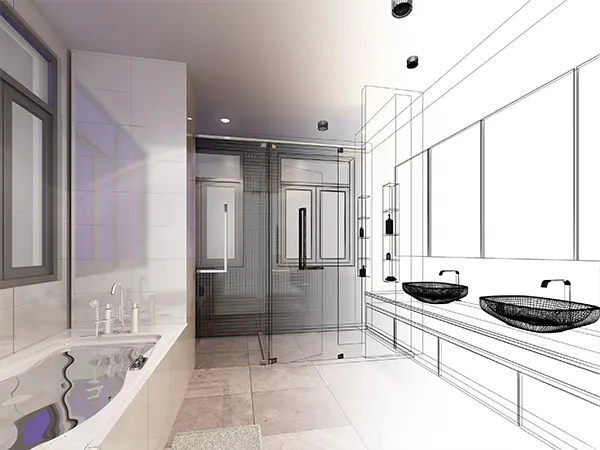 Request your free quote right now and let's start talking!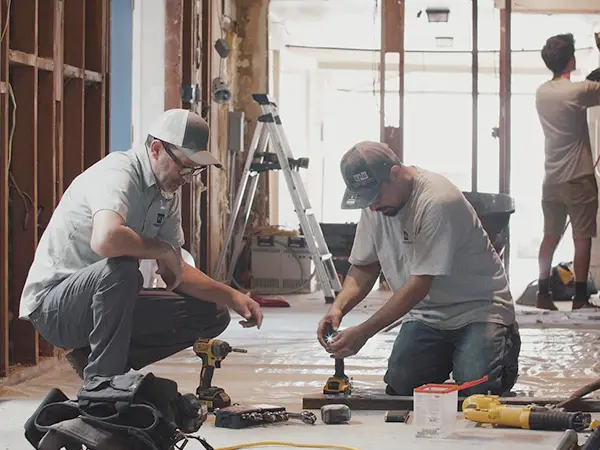 We'll discuss the details and start building your dream bathroom.
Show off your space to your friends! Your new bath is ready!
Frequently Asked Questions
Get KHB Pros On Your Bathroom Remodeling In Livermore!
At KHB, we are dedicated to making your dream bathroom a reality through our top-notch remodeling services. Our professional team is devoted to providing the highest quality of customer service and an effortless experience that will ensure your satisfaction.
We offer you an uncomplicated process throughout the entire renovation project, which puts our valued clients first – promising high returns on investment! With us as your partner for success, prepare yourself for one of the best decisions yet regarding upgrading home aesthetics and value!
Get ready to receive:
Get Started On The Upgrade You Deserve The Most