The Best Bathroom Remodeling In Manteca CA
Interested in a bathroom remodeling Manteca guide? We'll walk you through everything right now!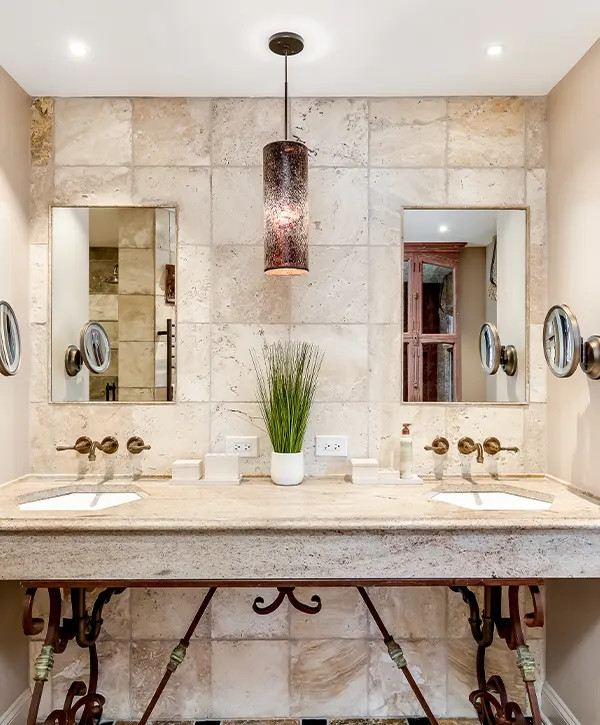 If you're considering a bathroom remodel in Manteca CA, now is your chance to create a space that will both simplify your life and impress all of your guests. With KHB Remodeling, we guarantee that your new bathroom will reach its true potential.
We offer an easy and predictable process so that you can enjoy the journey without any stress. And besides getting the bath of your dreams, you'll also receive excellent customer service throughout the entire process. So don't wait – call us today for a free consultation!
Take Full Advantage Of Your Home Remodel
Our goal at KHB is to go above and beyond in order to surpass customer expectations for a bathroom remodeling project and raise the bar for quality in Manteca, CA.
Get A New Bathroom Renovation Tailored To Your Needs
With time, our demands change, and it's probable that the amenities in our bathrooms no longer meet our needs. Perhaps taking a bath is too dangerous, or the vanity has become outdated, or you simply want to update your bathroom and feel proud of it once more.
We concentrate on bringing your ideas to life and providing you with the bathroom of your dreams at KHB. You'll receive the most cost-effective solutions for your area so that you may maintain your renovation within budget without sacrificing quality.
We created a method to eliminate the dread and worry associated with remodels. It's quick and easy, and we'll take care of everything for you.
Check out our bathroom remodel offer and make sure you're getting the best remodelers on your project in Manteca, Tracy, Modesto, Turlock, or the rest of Central-Valley & Tri-Valley, California!
Homeowners In Manteca Love Their New Bathroom
Become one of the happy homeowners in Manteca and share your remodeling story with your neighbors! Terry and Pam loved their remodels. You can too!
We had our bathtub remodeled into a walk in shower. 
From the first meeting with Ryan the salesman and Doug the manager of our project it was a great experience. They worked up a quote and when it was a little over my budget they worked with me to get within my budget. 
They set us up with a decorator to help us with tile selection and design. They gave us a detailed schedule of day to day work plans and stuck to it exactly. 
We are very happy with them and will definitely call them when we're ready to do our kitchen.
Being no strangers to construction, we knew that 5-6 week kitchen Reno meant 3 months. We knew there'd be plenty of pain points and frustrations.
With KHB, from start to final sign off, it took 6 weeks and a day, was virtually pain free and we can't say enough about the craftsmanship. 
Every person on the job took personal responsibility and pride in their craft.
We waited MANY years to get our dream kitchen and can't thank Ryan, Bobby, Doug, George and the WHOLE team enough for a dream achieved! 
Proud to be part of the KHB family!
Upgrades And Materials For Your Entire Project
There are myriads of upgrades and materials you can choose from for your bathroom remodel. Not to worry though, because at your in-home consultation we will go over all of the options with you so that there is no confusion about what it is exactly that you're getting.
Now, let's explore some of the most common upgrades people tend to get for their bathroom remodels here in Manteca and see how much we can raise your home's value!
New vanities are a standard upgrade that most of our customers choose to get for their new baths. At the moment, frameless cabinets are still a popular choice, and we expect this trend to continue in the upcoming years. If you're going for a more traditional look, a hardwood vanity will work great in a home with many other wood features. However, if you're aiming for a modern aesthetic, plywood and MDF are better material choices.
Stock cabinets may be the way to go if you want to save money on your remodel. Semi-custom and custom cabinets are much better alternatives for a more individual look and increased efficiency. Furthermore, the KCMA claims that semi-custom cabinets have the best ROI when it comes to bathroom renovations, so they're clearly a fantastic option.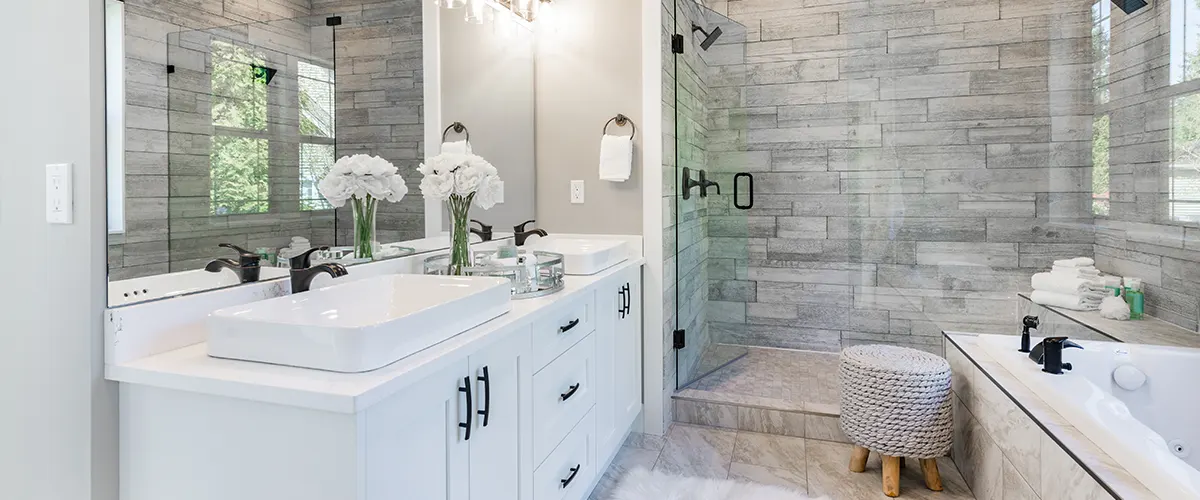 When you remodel your bathroom, you'll probably want new countertops too. Your old ones likely won't match or look good with the new vanity.
KHB mainly uses quartz for countertops because it's durable and resists stains, scratches, and chips well. Plus, it's easy to take care of since it's manufactured (unlike natural stone like granite or marble). Quartz also has a more consistent pattern than either granite or marble.
Quartz is a little more pricey than the competition, but it offers a beautiful aesthetic as well as significant usefulness. Granite, marble, or soapstone are other countertop materials that might be considered, although none compare to quartz.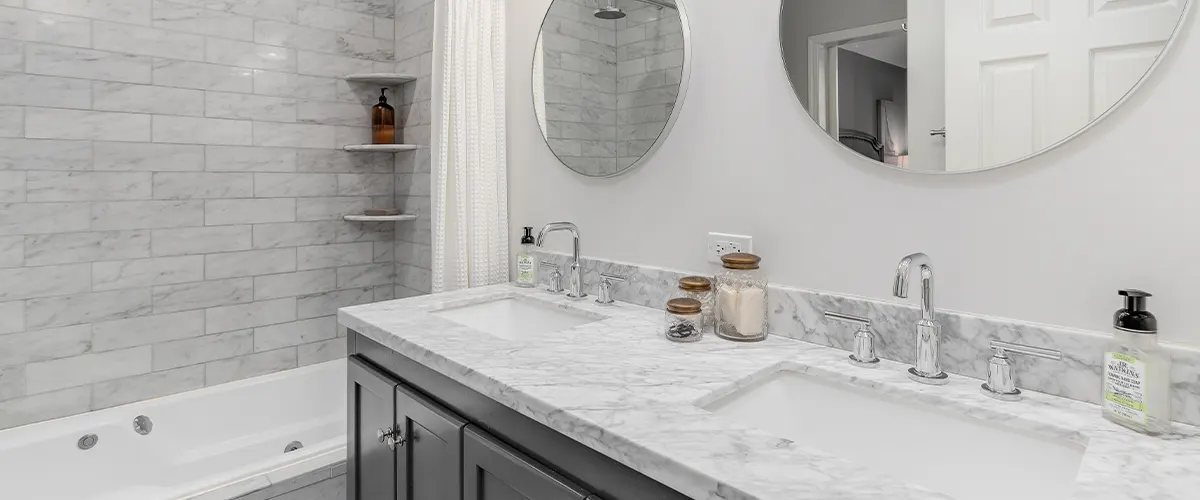 Many of our customers in Manteca are converting their fiberglass pan showers to walk-in showers or adding shower rooms and upgrading to freestanding tubs. Having both of these features necessitates a larger bathroom, but the efficiency and possibilities in your bathroom will explode. A curbless entry shower with matching tile floor and hidden drains not only gives a more attractive look but also improved function.
As we age, tubs and showers with an easy-entry shower door have become more popular, especially for a small bathroom. Porcelain tubs and glass showers are the most popular—and best—options on the market.
Flooring is pivotal for your bathroom as it connects all areas and provides a smooth transition from one area to another.
More so, the floor is where many bathroom issues start. Poor plumbing systems, drainage, or leaks will corrupt a wood floor causing it to rot or produce mold which then emits bad smells.
While tile is still a great choice for flooring, luxury vinyl tile (LVT) is becoming increasingly popular. Both of these options are functional and can really set the mood of your new space. Historical homes often look amazing with wood floors because they already have many wood features.
However, it's important to note that bathrooms typically have a lot of water spills and moisture, which can cause wood materials to rot or develop harmful bacteria over time.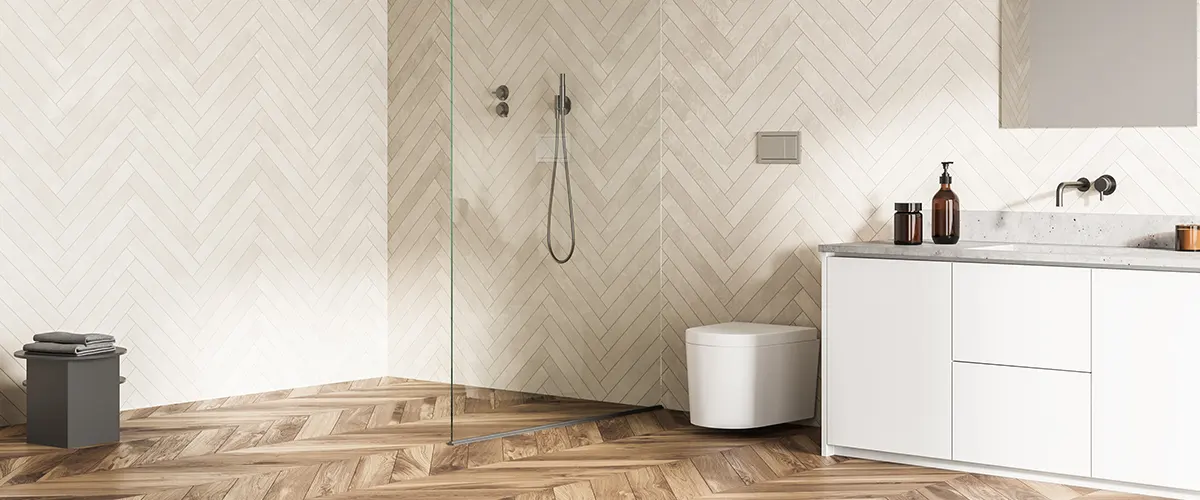 Sinks and toilets are necessary bathroom elements, and upgrading them will improve both their functionality and appearance. If you want your sink to stand out as the center of your bath, go for a copper bowl sink, marble basin, or pure granite washbasin. Undermount sinks made of porcelain (or the same substance as your counter) will make your counter look seamless, creating a smooth movement in your bath.
Pedestal sinks, wall-mounted sinks, and drop-in sinks are among the most popular choices. The most frequent material for toilets is porcelain, ceramic, or acrylic.
Here's What Your New Bath In Manteca Can Look Like
This is what your bathroom remodeling in Manteca CA can look like! Get inspiration for your upcoming project and see our finished projects right here!
Bathroom Remodeling In Manteca Has Never Been Easier!
You may get started with KHB by filling out a few forms or simply providing us a call. You'll go through a quick and predictable procedure to help you relax about doing a remodeling project. We'll stick to listening and offering you the finest options for your area, and you can leave the building to the best bathroom remodelers out there.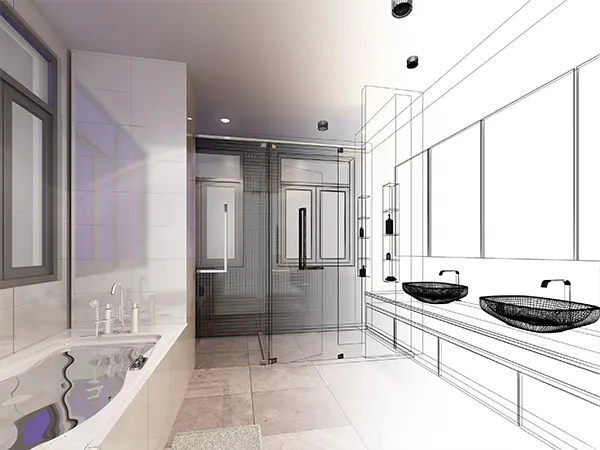 Request your free quote right now and let's start talking!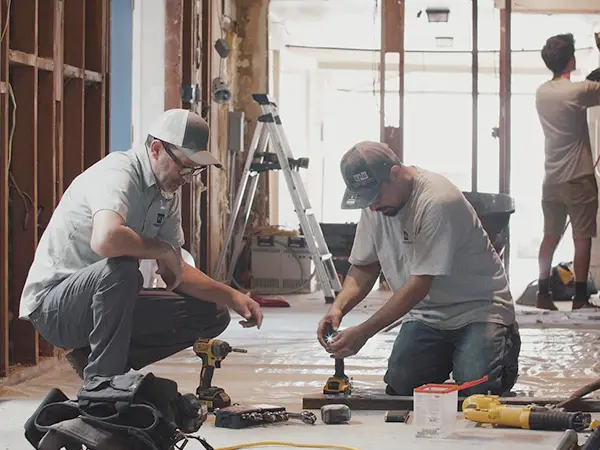 We'll discuss the details and start building your dream bathroom.
Show off your space to your friends! Your new bath is ready!
Frequently Asked Questions
Transform Your Bath With Your Local Bathroom Remodeler In Manteca!
We are skilled home renovators who are enthusiastic about assisting our customers in achieving their goals and providing them with a bathroom that meets their needs and fits into their lifestyle.
We streamline the remodeling process so that it requires little-to-no effort on your part. You'll be updated regularly about the progress of your project and have full control over all aspects of the work being done in your whole house.
Get Started On The Upgrade You Deserve The Most
Call us at (209) 620-0068 and discuss your bathroom remodeling in Manteca directly with the owners or KHB, Bobby and Ryan! Or click the button below for a free quote, and we'll personally call you as soon as possible!