The Best Kitchen Remodeling In Manteca CA
If you're looking to get a superior kitchen remodeling in Manteca CA, you just got lucky!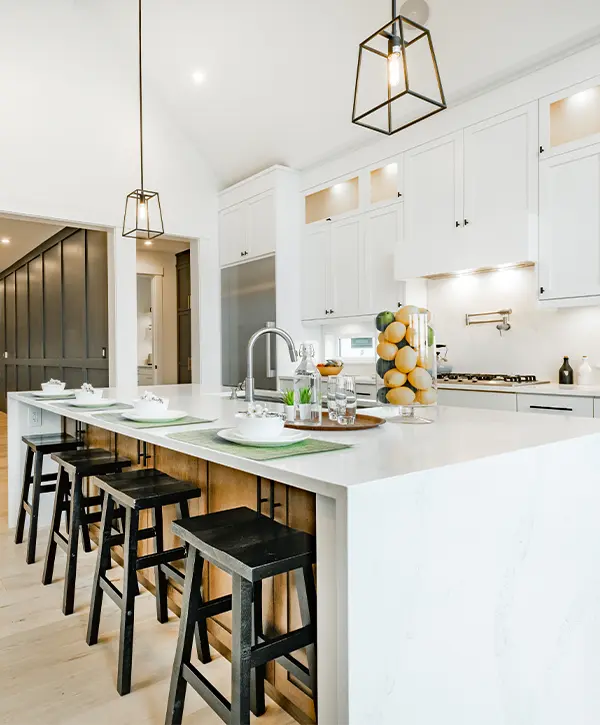 If you're planning a kitchen remodeling in Manteca CA, you just found the best company to take on your project and deliver you a superior kitchen that fulfills you in every possible way!
KHB Construction has been serving homeowners in Manteca since our very beginning. We love the mood in your hometown and how you appreciate good, high-quality remodels over the lowest bidder possible that offers little to nothing when it comes to your well-being.
Our goal for Manteca is to prove to every homeowner that the value we bring to the table is immeasurable. From a clear process to get started to a superior end-product that leaves you breathless, your project will be taken care of with utmost attention and care.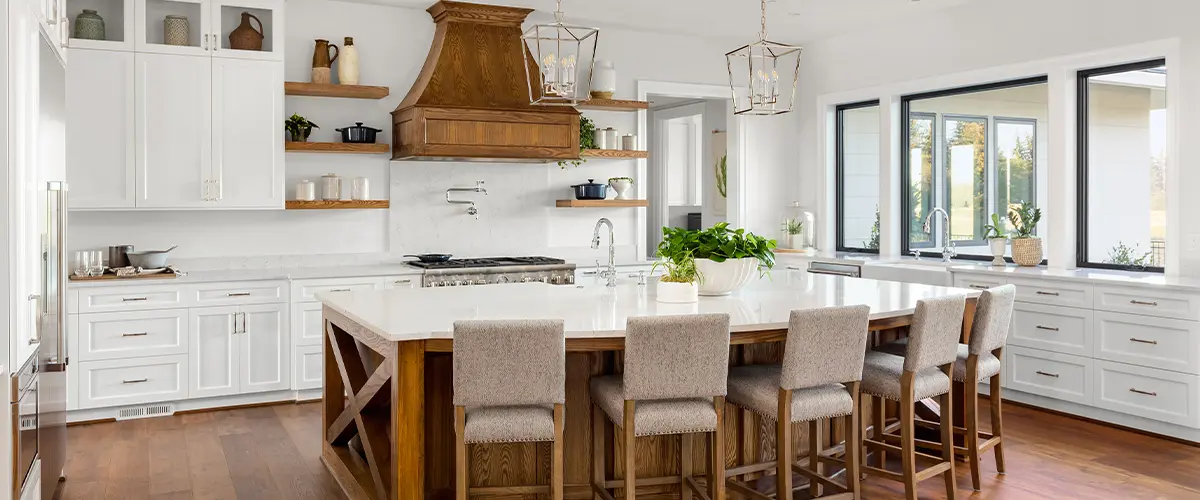 Get The Full KHB Experience And Enjoy Your Extra Perks!
We're a full service interior design firm as well as a construction company that's planning to change the way homeowners view contractors. For that to happen, we tend to constantly over deliver on our promises.
Your Premium Remodel - With Your Premium Contractor
Manteca doesn't have any big construction company, but it's full of smaller contractors offering low bids for a service that's far from perfect. Before you go head-first for the lowest bidder on your remodel, consider the journey they'll get you through and the quality you'll receive.
KHB excels in making your remodeling experience stress-free and super easy. We're taking care of everything and keeping you in full control of your project at all times. All the paperwork, materials, designing, layout, and building of your new space will be treated with maximum efficiency.
While smaller contractors can also deliver quality products, they lack the manpower and budget to offer you the amenities that we at KHB offer. These are the things that'll give a premium remodel, and you can't get them from an average contractor.
Check out our premium kitchen remodel offer and make sure you're getting the best remodelers on your project in Manteca, California!
Homeowners In Manteca Are In Love With Their New Kitchens!
Your neighbors in Manteca are falling back in love with their new kitchens! Check out what they're saying about working with an upscale remodeler that never fails to deliver!
How do I even begin to say how pleased I am with the workmanship and professionalism that Ryan and KHB provided. 
From beginning to end everything went smoothly and we are 100% satisfied with the work that was done. The employees are also professional, knowledgeable, and friendly. Any questions I had along the way they answered. Everyone was always up to date on what was happening and when. 
I would highly suggest them to anyone needing construction of any kind done on their home. Thanks again KHB!
Being no strangers to construction, we knew that 5-6 week kitchen Reno meant 3 months. We knew there'd be plenty of pain points and frustrations.
With KHB, from start to final sign off, it took 6 weeks and a day, was virtually pain free and we can't say enough about the craftsmanship. 
Every person on the job took personal responsibility and pride in their craft.
We waited MANY years to get our dream kitchen and can't thank Ryan, Bobby, Doug, George and the WHOLE team enough for a dream achieved! 
Proud to be part of the KHB family!
Materials And Upgrades For Your Manteca Kitchen Remodel
Kitchen remodels are some of the largest home improvement projects that you can undertake. A lot of things can change, and each of them will impact this room's functionality and comfort.
At our on-site visit, we'll guide you through some of the best kitchen materials for your particular space. Until then, let's see what are the most popular upgrades.
If you're looking to get the maximum ROI on your remodel, semi-custom cabinets are proved to be the best investment you can make for this. Paint grade cabinets are affordable, efficient, and can be refinished multiple times.
But if you want to create the perfect space that fulfills all your needs, custom cabinets made of hardwood will uplift your space and make it truly yours.
We tend to stay away from stock cabinets, as these have a lower quality and you'll rarely be able to find something that'll fit your space exactly.
Although replacing the appliances is not always the case, many of our customers choose to do so. If you're not an avid cook and you'd rather order in, mid-range appliance packages from Home Depot or Lowe's will work just fine, and they'll keep your remodel within your budget.
On the other hand, if you're looking for a premium remodel with upscale appliances, we've seen homeowners pay over $18k for a set of appliances. Truth be told, these are high-efficiency appliances that make cooking 10x easier and faster.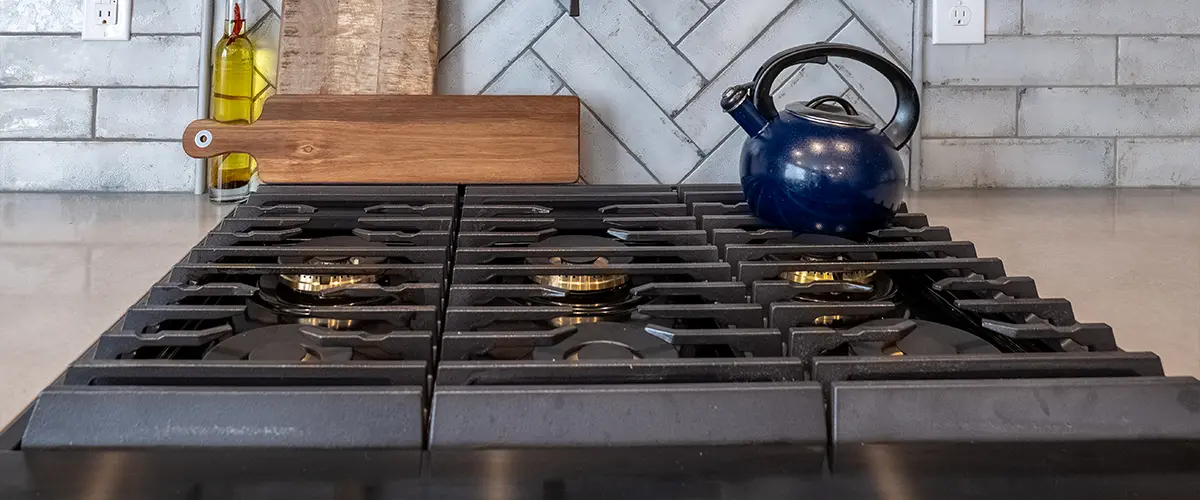 Solid surface is the best option when it comes to your countertops. These can be quartz, marble, granite, or other natural stones that'll boost your kitchen's functionality, but also make it look great.
Quartz is one of the best materials for countertops. It's a manufactured stone with a consistent pattern. Its surface is tough, durable, resistant to chips and cracks, but also extremely easy to maintain.
Marble is an upscale countertop material, but not ideal for high-traffic kitchens. These are less resistant than quartz. A more budget-friendly option will be granite counters.
Couple your countertops with a beautiful porcelain tile backsplash and create a unique and mesmerizing pattern that'll leave your guests breathless.
Older hardwood floors can be refinished to bring them to their former glory, or you can replace them altogether with a more efficient flooring material for a damp space like a kitchen.
Luxury vinyl tile and luxury vinyl planks are great alternatives to tile or wood floors, as they can mimic the look of any natural stone or species of wood. They're also easy to maintain, affordable, and fairly efficient in a high-traffic kitchen.
For a more upscale improvement, we'd recommend porcelain tile flooring, or ceramic tile flooring. These are, indeed, more expensive, but their functionality is undoubtedly going to pay off in the long run.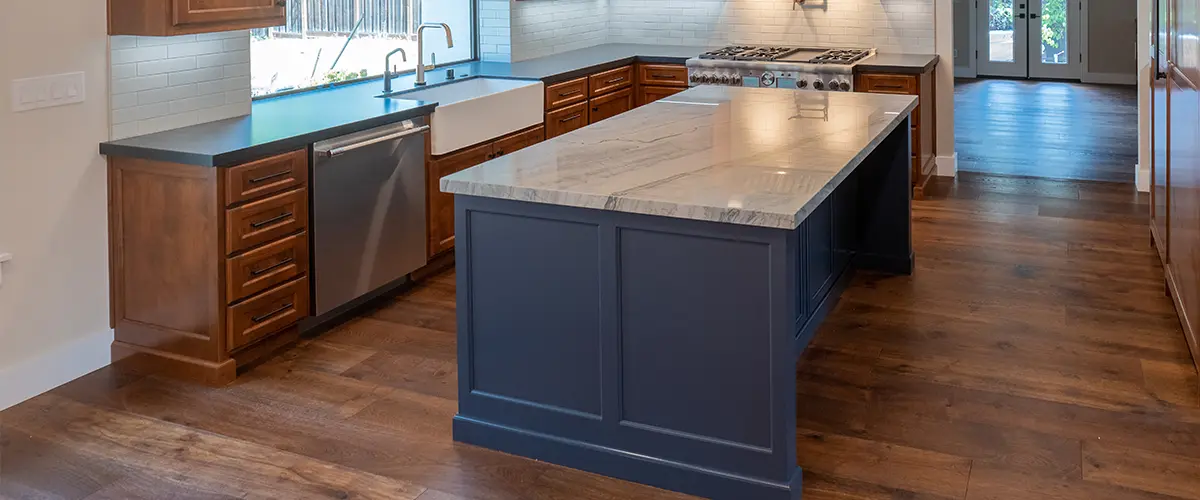 There are two popular options for sinks, and both of them will have different advantages.
Because water fixtures can really finish the look of your counter space, we'd go for an accent color that'll complement the cabinets and the countertop. Black is a very popular option that makes the entire vibe more modern, but golden water fixtures are a quick and affordable way to give your kitchen an expensive look.
Relocating appliances, although seems very easy, implies a lot more than just moving your kitchen range from one corner to another.
You'll also have to relocate the plumbing and electrical system, and this can mess up with the entire kitchen layout. Make no mistake, this is a valuable and totally possible upgrade, but it needs thorough consideration beforehand, because the rest of your kitchen remodel will depend on it.
Relocating appliances and other features means you'll have the best chance at creating a fully functional space that makes moving around and getting things done a lot easier. It allows you the perfect opportunity to create the kitchen layout that you dreamed of, so it's definitely an upgrade worth considering.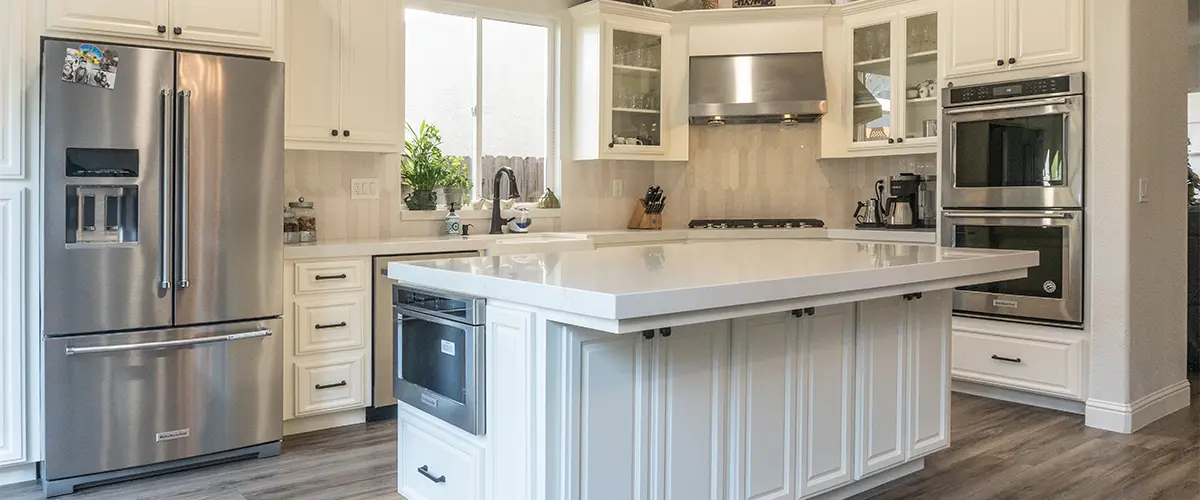 This Is How Your New Kitchen Can Look!
These kitchens in Manteca received a stunning upgrade! Check out the finished product and see what can happen in your own home if you decide to take the next step!
Get Peace Of Mind With A Process Focused On Your Well-Being
Go through a quick and intuitive process that we designed to bring you comfort and keep you on top of your remodel at all times.
We aim to minimize the stress and anxieties of doing major home improvements, and this process ensures you're getting your new kitchen in the easiest way possible!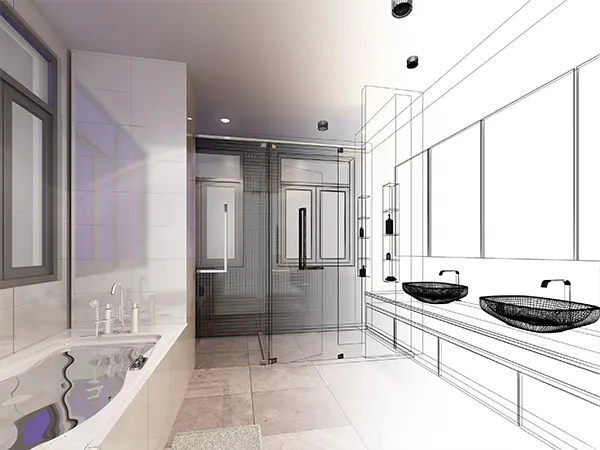 Request your free quote right now and let's start talking!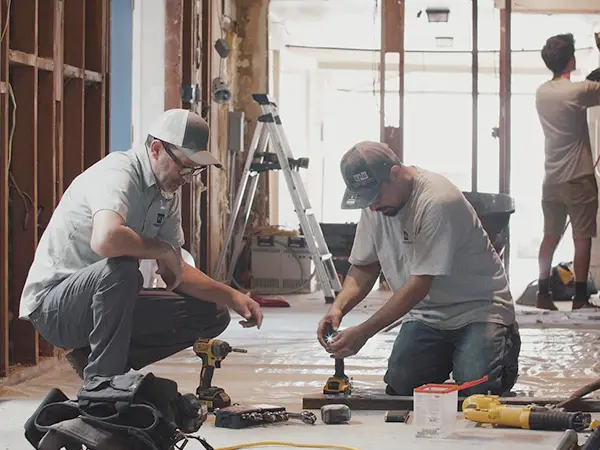 We'll discuss the details and start building your dream kitchen.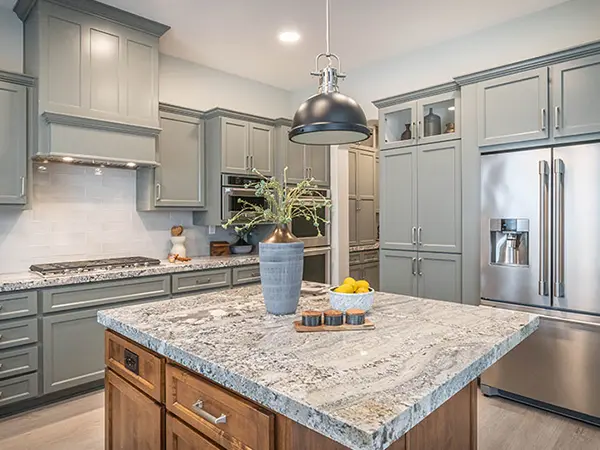 Show off your space to your friends! Your new kitchen is ready!
Frequently Asked Questions
New kitchen cabinets, countertops, backsplash, and water fixtures are upgrades that provide a good ROI and also improve the efficiency and looks of your new space. Checking the plumbing and electrical systems to make sure they're up to date is also required for a fully functional kitchen.
If you're looking to go a step further, new tile, wood, or LVP flooring is a great upgrade. New paint on the walls, matching cabinet hardware, and extra features like a kitchen island or more storage solutions will help finish the look of the new kitchen.
There are a lot of things that can change in a kitchen, so the final cost really depends on your finishes and upgrades.
While we've seen kitchen remodels in California go for as low as $20k for some new paint and countertops, we've also done kitchen remodels that cost $160k+. These included layout reconfiguration, hardwood custom cabinets, high-end appliances, waterfall countertops, new flooring, and anything else you could think of.
From the on-site consultation to the signing off the design it takes anywhere from six to eight weeks. This time frame includes the proposal, the design, the material selection, and every other logistical aspect of your remodel.
The building phase itself will take four to six weeks for a like for like kitchen, and over six weeks for a larger, custom kitchen remodel with relocating appliances.
We're experts in all fields of a remodel and work only with well-trained professionals that are familiar with our core values. You'll have your own project manager and everyone in our team will be 100% dedicated to your success.
We'll be with you every step of the way ensuring your project's successful completion from start to finish, including all the paperwork for the building permits, material selection, building phase, and regular follow-ups.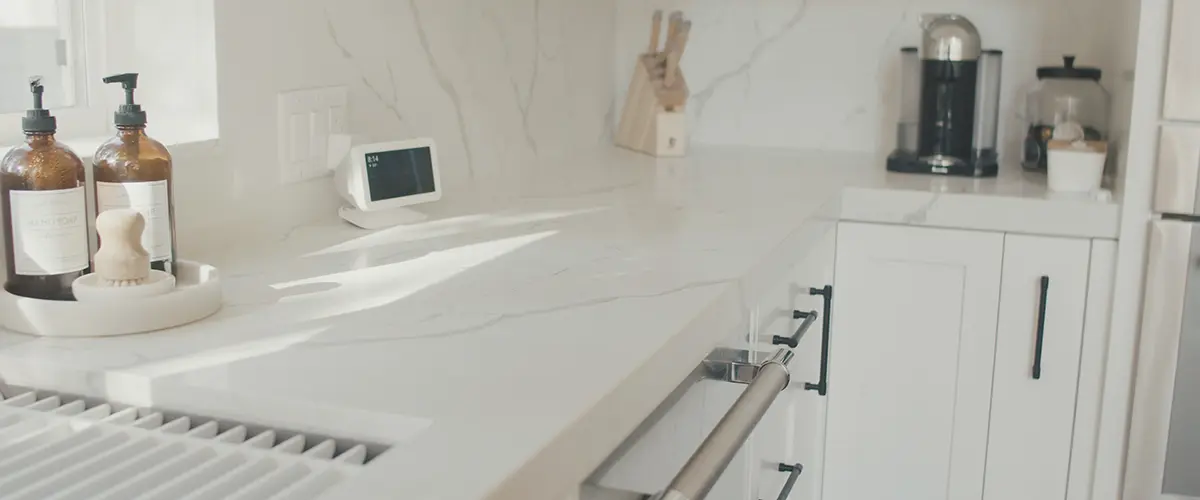 Your Premium Kitchen Remodel Awaits You!
Deciding if you want a better kitchen or a premium remodel that helps your kitchen reach its full potential is up to you.
The experience you'll be getting with KHB is beyond amazing. What we're bringing to the table is well beyond what any other contractor in Manteca offers you. Premium craftsmanship, a stress-free process that minimizes all anxieties, constant hand-holding, and full transparency are just a few things that'll make your journey with us worth every penny.
We tend to overdeliver, so get ready to enjoy:
It's Time To Get Your Well-Deserved Upgrade!