The Best Bathroom Remodeling In Modesto CA
Interested in starting your bathroom remodeling in Modesto CA? This guide will walk you through everything.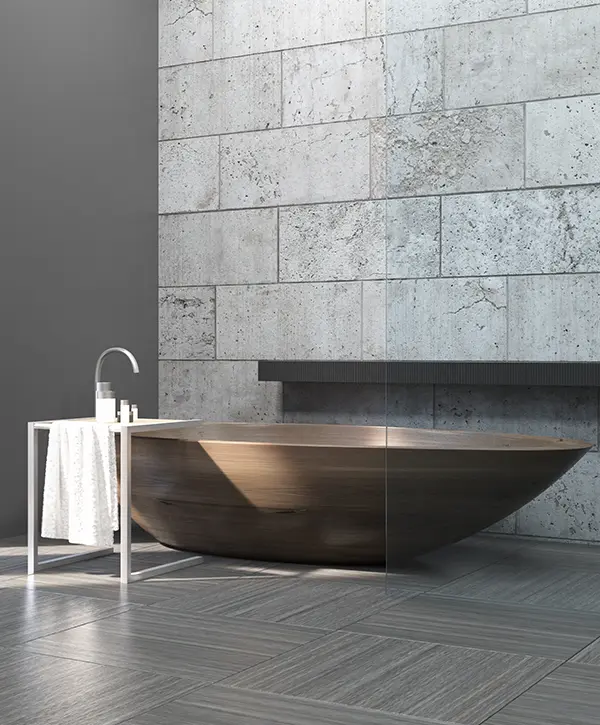 If you're interested in starting your bathroom remodeling in Modesto CA, this is your best shot at getting a new space that'll make your life much easier and impress every one of your guests.
With KHB, your new bathroom will reach its true potential and become the piece de resistance of your home. We're offering an intuitive process that makes your remodeling journey effortless and predictable.
But besides your dream bath and an excellent contracting experience, you'll get much more!
Take Full Advantage Of Your Remodel
KHB's mission is to over deliver on our promises and raise the standards of the remodeling industry in Modesto, CA.
Get A New Bathroom Tailored To Your Changing Needs
With time, our needs change and it's likely that the features in our bathrooms stop accommodating our lifestyle. Maybe stepping in a tub becomes a risky endeavor, or the vanity got outdated, or maybe you simply want to revamp your bathroom and feel proud of it again.
Here at KHB, we focus on bringing your vision to life and giving you the bathroom you always dreamed of. You'll get the most cost-effective solutions for your space to ensure your upgrade is kept within your budget, without sacrificing quality.
We developed a process that aims to minimize the stress and anxieties of remodels. It's quick, simple, and we'll take everything for you.
Check out our bathroom remodel offer and make sure you're getting the best bathroom remodeling in Modesto, Turlock, Tracy, or the rest of Central-Valley & Tri-Valley, California!
Homeowners In Modesto Love Their New Bathroom
Become one of the happy homeowners in Modesto and share your remodeling story with your neighbors! Esme and Dennis loved their remodels. You can too!
Trustworthy contractors are hard to come by but Ryan and his team at KHB followed through from start to finish they kept us informed through the whole process and kept the work on schedule.
We were really impressed with the service they offered us and are in love with our new master bathroom. We can't thank the team enough!! I'd 100% recommend KHB to anyone looking to transform their home into their dream home!
I'm glad I found KHB to perform some work on my bathroom in a new house. They were very hands-on from the original assessment through scheduling and completing the work.
They completed the work in a little less than the two days planned, and so far, I'm happy to be able to use my bathroom with a new toilet and floor.
Upgrades And Materials For Your Bathroom Remodeling In Modesto CA
The list of upgrades and materials available for your bathroom remodel is endless. At your in-home consultation, we'll guide you through every option to ensure you know exactly what you're getting.
Let's see what the most common upgrades are for your bathroom remodeling in Modesto.
New vanity is a standard upgrade that most of our customers choose to get for their new baths.
Frameless cabinets are still a popular choice, and we expect it to remain popular in the upcoming years as well. A hardwood vanity will work great in a home with many other wood features, but if you're going for a modern look, plywood and MDF are better material choices.
If you want to keep your remodel on a budget, stock cabinets might be the way to go. For a more personalized look and improved efficiency, semi-custom cabinets and custom cabinets are much better options.
Besides, the KCMA itself says that semi-custom cabinets provide the best ROI on your bathroom remodel, so it's clearly a great choice.
Countertops are also a very common thing that changes in most bathroom remodels. You don't want a new vanity with the old counter on it. It won't fit, and it definitely won't look at its best.
Here at KHB, our preferred counter material is quartz. This material is durable, resistant to stains, scratches, or chips, and fairly easy to maintain. It's a manufactured material meant to look like natural stone, so the pattern is more consistent than that of granite or marble.
Quartz is a little more expensive than the other options, but it provides a great look to your space and immense functionality. Concrete, granite, marble, or soapstone are also viable options for your countertop materials, but none compares to quartz.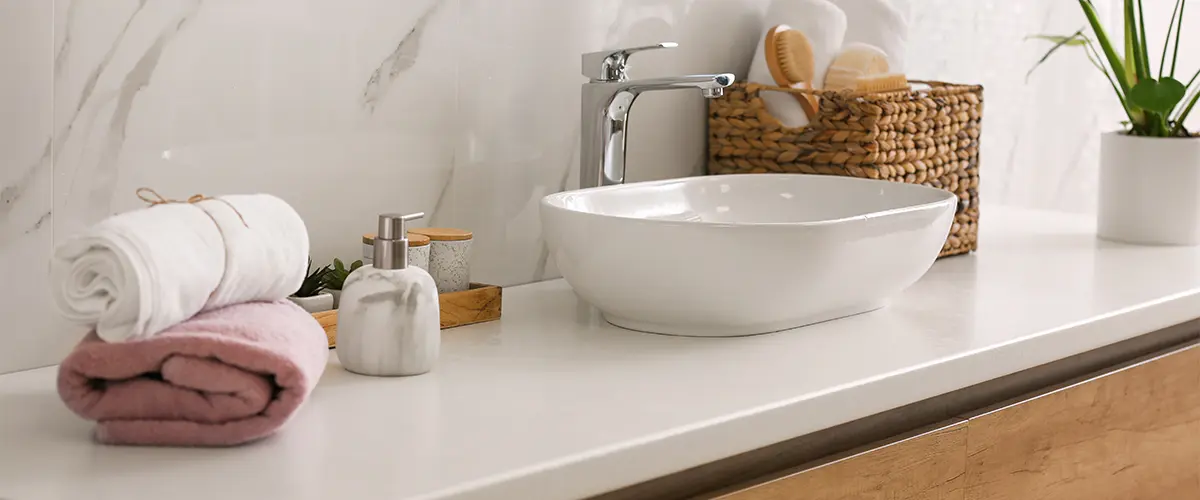 Here in Modesto, we're seeing many of our customers either converting their tub to a walk-in shower, or adding a shower and upgrading to a freestanding tub. Having both these features requires a larger bathroom, but the efficiency and possibilities in your bathroom will skyrocket.
Transforming a fiberglass pan shower into a curbless entry shower with matching tile floor and concealed drains ensures not only a more beautiful look, but also better functionality.
If you were thinking of jacuzzis and step-down tubs, know that these decrease in popularity because they create entry and exit hazards as we age.
When it comes to materials, porcelain for tubs and glass for showers remain the most popular, and also the best options on the market.
Flooring is of utmost importance for your bathroom as this is what ties everything together and creates a smooth flow from one area to another.
Besides, the floor is where a lot of bathroom issues start. Poor plumbing systems, drainage, or leaks will cause a wood floor to rot or develop mold or unpleasant smells.
Tile remains an excellent option for flooring, and luxury vinyl tile (LVT) is rapidly gaining ground. These are both functional options that will really set the mood of your new space.
Wood floors look amazing in historical homes with many wood features. However, wood is not the best choice for a bathroom floor. This room has a lot of water spills and moisture, that will cause all wood materials to rot or develop harmful bacteria.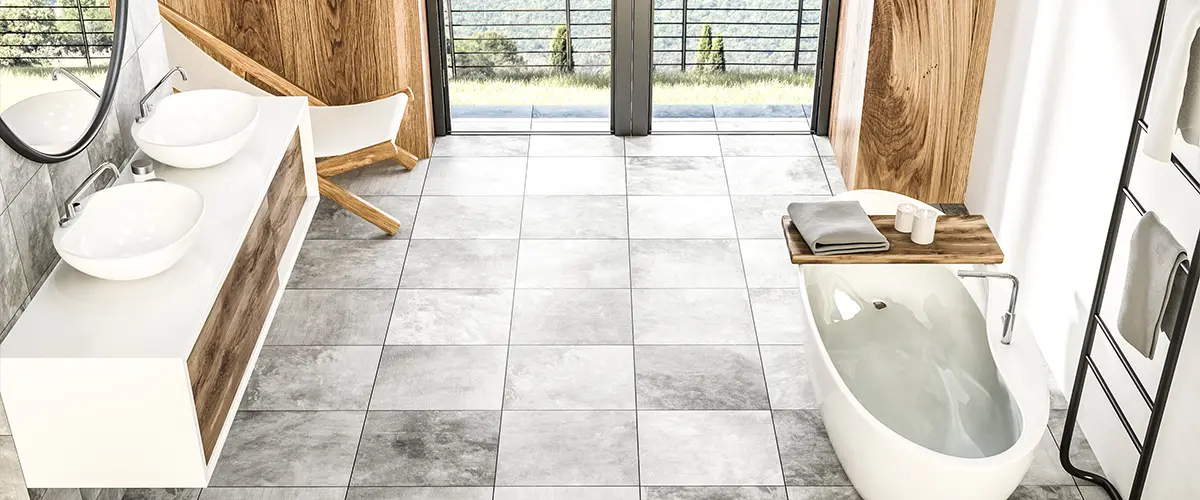 Sinks and toilets are bathroom essentials, and upgrading them will improve both functionality and looks of your space.
If you want your sink to become the focal point of your bath, go for a bowl sink made of copper, marble, or pure granite. Undermount sinks of porcelain (or the same material as your counter) will make your counter seamless, creating a smooth flow in your bath.
Pedestal sinks, wall-mounted sinks, and drop-in sinks are also common options.
For toilets, porcelain, ceramic, or acrylic remain the most common option.
See Amber's Bathroom Transformation
Here's What Your New Bath In Modesto Can Look Like
Check out these amazing bathrooms we worked on! Brose through our gallery and get some inspiration for your upcoming bathroom remodeling in Modesto CA!
Bathroom Remodeling In Modesto Has Never Been Easier!
With KHB you'll go through a fast and predictable process that aims to minimize the anxieties of doing a renovation.
We'll focus on listening and offering you the best solutions for your space, and we'll leave the building to our professional remodelers.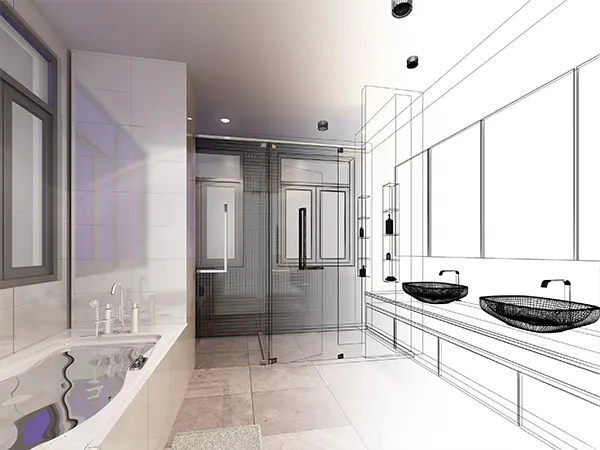 Request your free quote right now and let's start talking!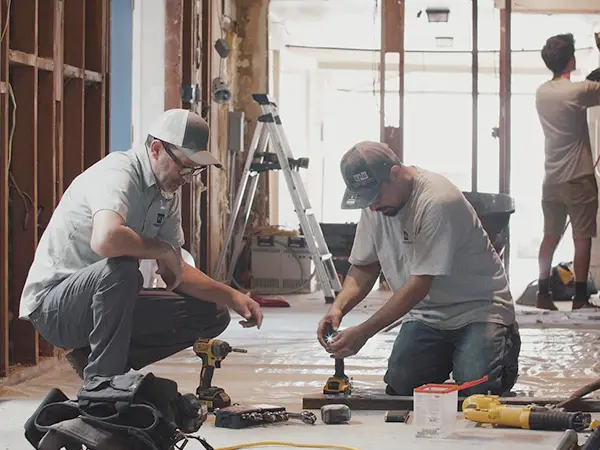 We'll discuss the details and start building your dream bathroom.
Show off your space to your friends! Your new bath is ready!
Frequently Asked Questions
Transform Your Bath With Your Local Pros In Modesto, California!
If you've been thinking of starting a bathroom remodel for a while now, this is the best moment to take the first step toward your upgrade!
We're professional remodelers, passionate about making your dreams come true and giving you a bathroom that fulfills your needs and matches your lifestyle.
With us, you're getting a simple remodeling process that puts little to no effort on you. You'll be kept in the loop at all times during your project, and you'll be in full control of everything that happens inside your home.
Get ready to receive:
Get Started On The Upgrade You Deserve The Most