The Best Kitchen Remodeling Companies In Modesto
Interested in starting your kitchen remodeling in Modesto? This guide will walk you through the best companies in the area.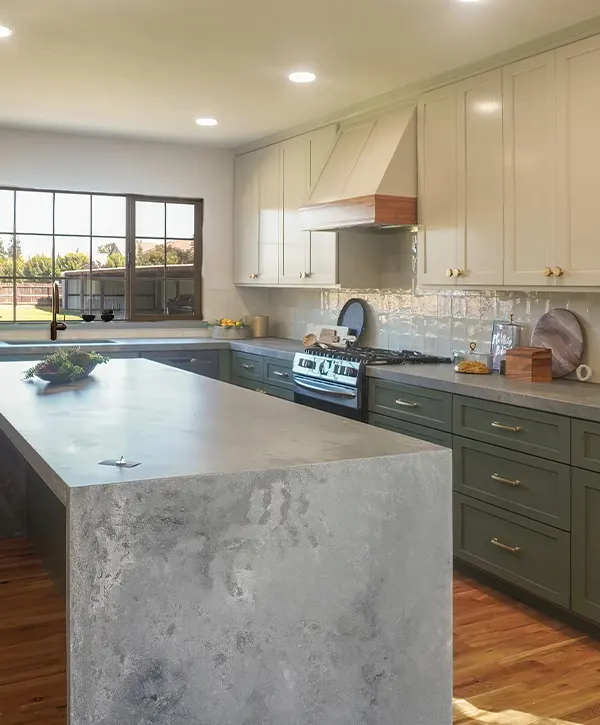 If you're searching for a kitchen remodeling company in Modesto, look no further than KHB Construction. We have an undeniable passion for our work and are dedicated to creating top-notch renovations that make life better here in the community.
But don't settle for anything less than the best. To help you find the perfect home improvement contractor to assist with such an important project, here is a list of some of this city's highly skilled and experienced kitchen remodelers: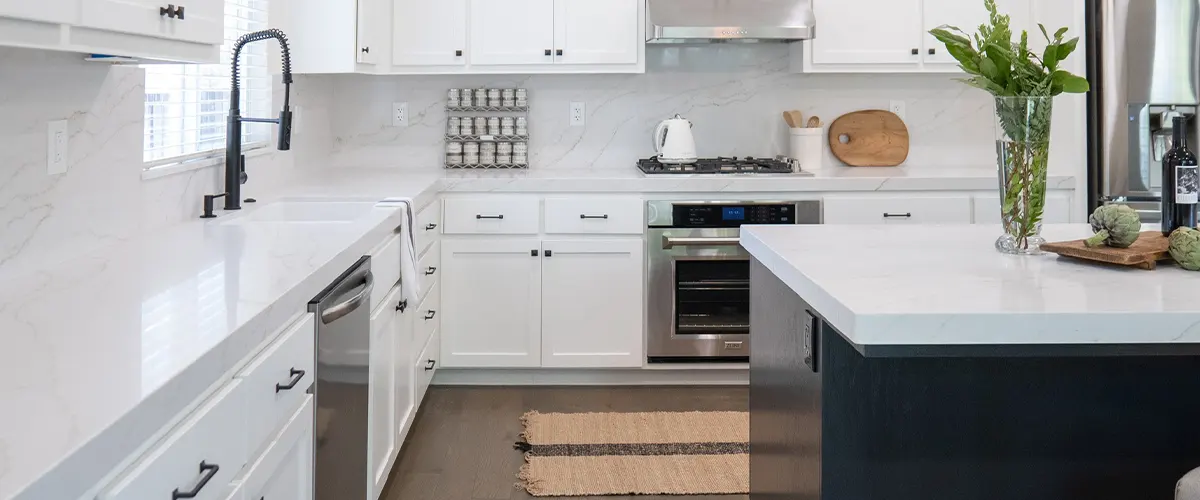 Starting With KHB Construction
We strive to revolutionize the construction industry, setting ourselves apart through our creative and superior execution. Homeowners are often skeptical of contractors, but we're determined to establish trust by surpassing all expectations every time.
KHB stands out among the rest by providing an effortless, stress-free remodeling experience. We'll take care of every detail from paperwork, materials, and designing to the construction itself – yet you will always remain in charge of your project! What's more, is that we guarantee fast completion with maximum precision for each aspect of what we do.
If you're considering a kitchen update or remodel, KHB is here to help! Whether you desire minimal adjustments or an extensive overhaul, we ensure great results with quality craftsmanship and seamless service every step of the way. Plus, our team stands at the ready should any questions arise during your project's journey — after all, our commitment to excellence makes this experience so worthwhile for those who've partnered with us in the past!
This is an excellent contractor to work with! My family and I worked with KHB to complete a number of projects for a recently purchased home. Let me highlight our experience:
1. Ryan was on time for the initial bid walk-through and provided the quote on-time as promised during the meeting. That's rare in this business. We had several bids from other contractors either come much later or not arrive at all.
2. Their pricing was very fair and the contract process was detailed and easy to complete online.
3. The crew arrived on time to start the project and kept us informed throughout the process, which took a month to complete. Special thanks here to Doug, who was just an awesome site manager to work with all around. I wish every site manager in the construction industry was like Doug.
4. The quality of the work was wonderful and we have no complaints about the end result.
5. Working with Bobby to handle payments was great as well. Very helpful and easy to get in touch with.
One more thing I should add is they managed all of the communication, updates and change orders though an app, which was a very easy way to keep tabs of everything in one easy to reference place.
We're extremely happy clients and we look forward to working with Ryan,
Doug, Bobby and the rest of the team again for our next project!
Searching for the perfect bathroom and kitchen pieces to craft your dream space in Modesto? Look no further than All About Kitchens! They offer great expertise from their years in the remodeling and home improvement businesses, allowing them to create exactly what you desire for your space.
They provide an extensive selection of styles, from strictly utilitarian, to cutting-edge trends. Choose from various tubs, sinks, faucets, tiles, flooring lighting, and more- all tailored with superior quality brands in mind. Plus, their team works collaboratively with clients throughout each task, ensuring completion without leaving any mess behind you have to clean up. Every phase is carefully orchestrated, guaranteeing 100% satisfaction at every stage!
We are very pleased with All About Kitchens with the great job they did redoing our kitchen and bathroom cabinets. Jim's designing talents are outstanding. He comes with a vision that the customer might not see.
The team is very skilled and dedicated to providing a great outcome for the owner. Jim and his team are very professional and knowledgeable. They are hard working craftsmen whose workmanship has been complimented by many guests who have entered our home. We and our future guests will continue to benefit from the skill and dedication of the All About Kitchens Team for many years to come
At Stone Crafter's & Home, we take great pride in their craftsmanship and exceptional customer service. Founded and locally owned in Modesto, CA., they specialize in kitchen and bathroom design and remodeling projects. With every project that comes through their doors, you can trust that your countertops will be crafted with skillful precision – guaranteed to leave a lasting impression!
By upholding the very best quality standards, they have established themselves as one of the leading authorities in custom solid surface and natural stone fabrication. Their passionate team is committed to helping you find the perfect design that matches your style, budget, and needs from an extensive range of granite and stone manufacturers. They take pride in offering superior products for every project with renowned excellence every step along the way.
If you are shopping around, stop now, call Israel and book this company! I did my research, read several yelp reviews and got quotes from so many companies and Israel beat them all.
We did a huge remodel of our home; new floors, kitchen, fireplace, etc. I hired Israel and the Stone Crafters team to do our floors and our kitchen. He told me that out of all the companies I would deal with during the remodel that he would be the easiest one to work with and he was absolutely right.
Here's a breakdown of it all:
-wonderful communication
-craftsmanship is amazing
-very clean, they were constantly sweeping and mopping
-hard workers
-fast, yet met all of our needs
-always pleasant, regardless of the situation
I will be a customer for life and look forward to working with Israel and his company in the future.
Since 2005, Thiel Construction has been committed to providing customers with exceptional service at an affordable price. Owner Jeff Thiel boasts more than two decades of experience in remodeling and is dedicated to working closely with each customer on personalized budgets that meet their individual needs.
Embarking on a remodeling project can be an exhilarating yet daunting journey. The first and most crucial step is finding the right contractor/builder that you can trust in your home, so it's essential to hire someone who is licensed and qualified. With Thiel Construction, rest assured that they take extra precautions to keep their workspaces clean and dust-free while considering your schedule and budget needs. They want every customer experience with us to feel peaceful from start to finish!
We did a full kitchen remodel that included the addition of a large pantry. Jeff was top notch the whole way through. From the first time I contacted him to the final day of the project, He was in constant communication with my wife and myself. Any problems that arose were dealt with in a timely manner, and done with great quality. It goes a long way to have someone that cares about the result of the work as much as you do. I always felt like the work being done was as if he were doing the work on his own home. I look forward to working with him and his team again! I highly recommend. Thanks for everything Jeff!
#5. Blue Diamond Kitchen & Bath
Blue Diamond Kitchen & Bath have over 30 years of combined experience on the remodeling field. They offer a complete package for any kitchen or bath remodel needs, a full service product, from demolition to installation. 
They have a showroom you can visit, but they also provide in-home measurements consultations, 3D designs, and more. The company is run by Jaswinder Singh.
I has a full new kitchen and bathroom made ir by Blue Diamond Kitchen and bath! They did a amazing job, our family recomend 100%. Thank you so much!
#6. Integrity Home Repair
Integrity Home Repair has over 12 years of experience facilitating residential and commercial remodeling projects. They offer all kinds of services, including kitchen remodeling, bathroom remodeling, and painting services for your home.
Integrity Home Repair is the best. Mike and Ryan did excellent work, they are friendly, efficient and know what they're doing. We plan on using them again for other projects.
#7. Aaron Richardson Construction
Richardson Construction is a custom home builder, kitchen and bath remodeler, ADU contractor in Modesto, CA. Their team has over 20 years of experience, enabling them to precisely focus and deliver any design, regardless of the budget.
They have the skill, expertise, and talent to meet the needs of any size project. Some of the services they provide are commercial and residential new construction, custom homes and ADU's, tenant improvements, bath remodeling, kitchen remodeling, full home renovations, fire and flood damage, turnkey design and construction.
Aaron remodeled our home, most excellent and professional contractor I had to work on my home, very dependable, top notch work and very friendly. I recommended Aaron to anyone…very professional 5+++ stars.
Onkar Builders has an extensive network of architects, designers, tradesmen and specialists to produce beautiful, functional structures. They work with bonded and licensed tradesmen to guarantee a quality product.
They offer residential and commercial services that include both new construction and repairs/restorations. Besides, they offer remodeling, renovation, and reconstruction following water or fire damage.
They've been in business for over 25 years, and take pride in their quality craftsmanship.
I really like the way the change my house there, was amazing jod by done thank you so much Bill and the whole Team .great job .
Stone Crafter's & Home is a local business that provides kitchen and bathroom design and remodeling. Their staff is dedicated to providing a wide array of choices to meet your design needs, budget, and personal style.
Their mission is to be the premier source for custom fabrication of quality solid surface products and natural stone. They specialize in countertop manufacturing and installation, and tile work.
Friendly staff and alot of knowledge to help you make the right picks. We are going with them for our kitchen remodel. Not to bad on price I would recommend checking them out if your looking for a home remodel.
#10. Kitchen & Bath CRATE
KitchenCRATE (originally called kitchenBOX) was founded in 2012 in Modesto, CA by Scott, his wife, and his former business partner, Jared Oller.
They're passionate about improving homes and they love the look on a customer's face when they see the completed kitchen or bathroom of their dreams. Because of that, they want to continue expanding the CRATE footprint well beyond the Modesto region.
Now, Kitchen & Bath Crate offers kitchen and bathroom remodeling services, and more!
We are so pleased with KB Crate. From start to finish our bathroom remodel progressed smoothly and on time. KB crews were courteous and professional, cleaning after each day. Wouldn't hesitate to use them again. Highly recommend.
Get Started On The Upgrade You Deserve The Most
If you're ready to have the best remodeling company on your side, call us at (209) 620-0068 and discuss your kitchen remodeling in Modesto directly with the owners of KHB, Bobby and Ryan! Or click the button below for a free quote, and we'll personally call you as soon as possible!