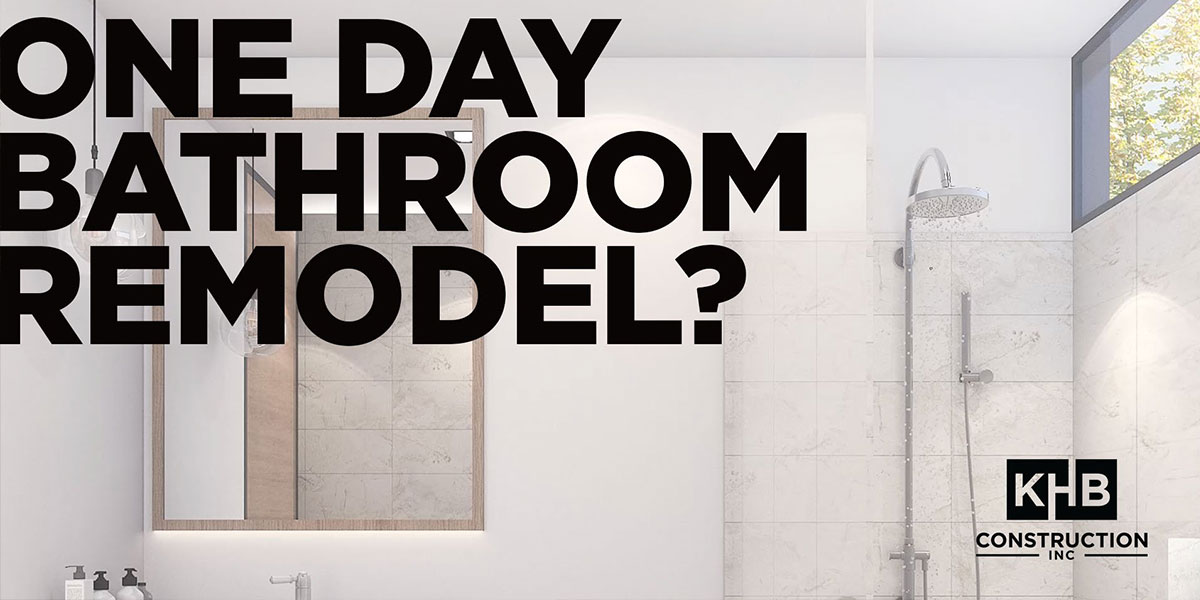 Your bathrooms are some of the most important rooms in the home, even if it seems a little funny to say. Most of us spend plenty of time in our bathrooms, and they are also a highly visible space in the home for guests. This makes them the perfect option for a home renovation.
Instantly improving your bathroom might seem like it calls for a full remodel, but this really isn't the case. In fact, there are plenty of action steps that you can take to transform your own bathroom at home with very little time and money. Let's find out what you can do to give your home a one-day bath remodel.
Why You Should Freshen Up Your Bathroom
The bathroom is a crucial space in the home that most of us can't imagine living without, but that isn't the only reason that you should consider upgrading your new bathroom.
There are a handful of great reasons that you should choose a bathroom transformation if you have been looking for ways to improve your home.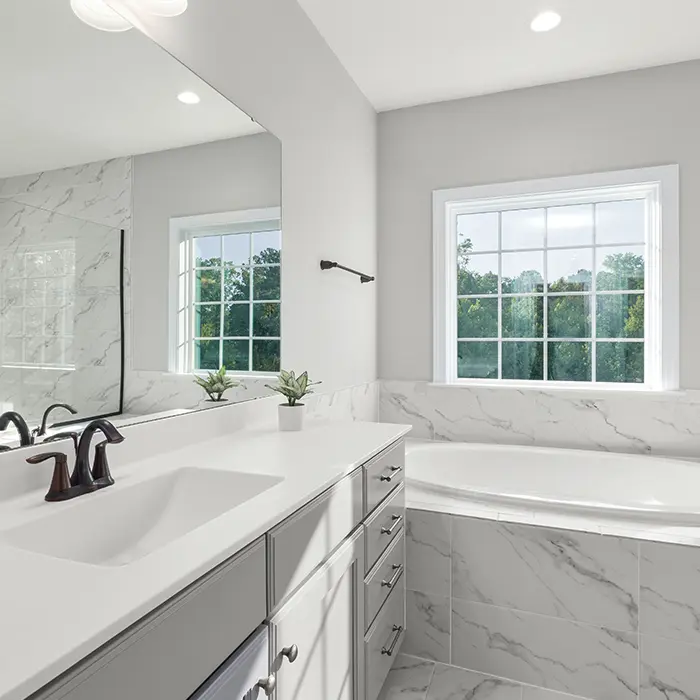 Think about the existing bath in your home. How often is it the first place that you visit to begin your day? Every day, we all wander into the bathroom to get ready and prepare ourselves to take on any challenges—and the way that our bathroom looks can influence this.
Starting your day in a cramped and uncomfortable space that you don't really like is not going to help you start your day on a high note. However, a bathroom that is vibrant and inviting—one that you love—can have a really positive impact on your day. It allows you to feel good while you get ready, and it can even help you to wake up in the morning with the right design choices!
Guest bathrooms are a wonderful opportunity to show off your preferred style to guests. Having a transformed guest bathroom is a guaranteed way to receive plenty of compliments every time that you host an event, which is always nice. You can have plenty of fun by opting for a theme or even by keeping it simple!
One of the best reasons to upgrade your bathroom is because it really is a simple thing to do. You can easily make upgrades yourself that will have a huge impact on the appearance of your bathroom. Since it is so approachable, it is a great place to start for a DIY project on a budget.
Easy Ways to Freshen Up Your Bathroom
Your bathroom is a relatively small space, making it a great candidate for easy renovations. With these three options, you can take your bathroom and turn it into the bathroom of your dreams—and it isn't even hard to do!
1. Paint Your Vanity And Walls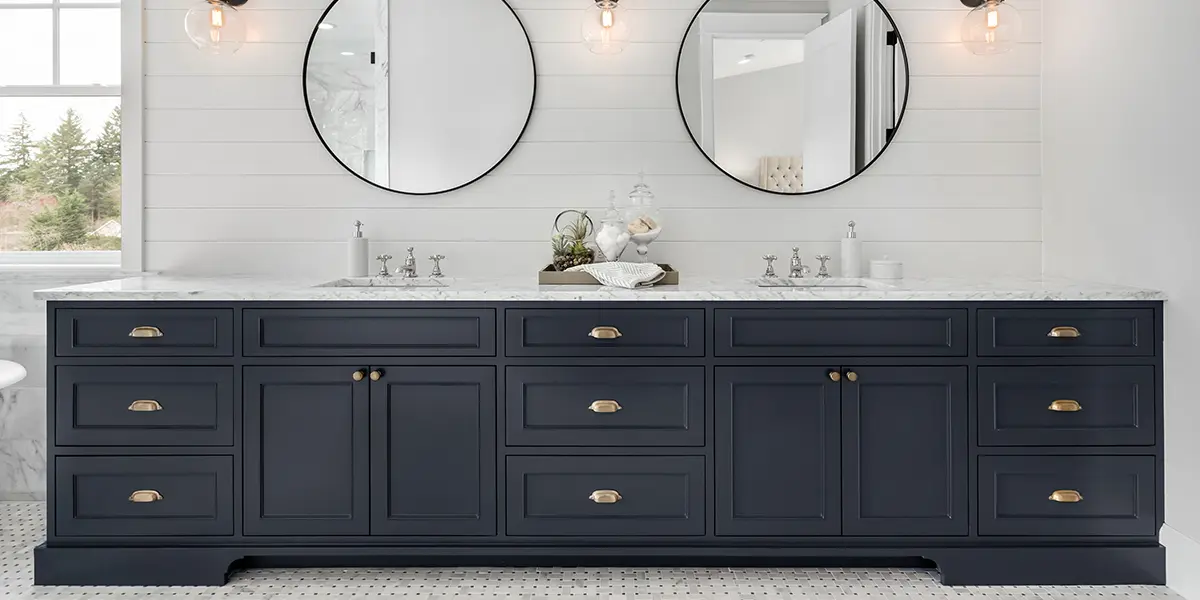 Your vanity and walls are fairly small surfaces, but they take up a lot of space in your bathroom. This is why choosing to paint over them can have such a huge impact on the overall look and feel of your bathroom. Painting these surfaces is easy and cost-effective. Even better, it should only take one day.
When painting this room, remember that most people do leave the original white on the ceiling. While you can certainly change yours, it does complicate the process. Fortunately, a white ceiling with colored walls can provide a great look.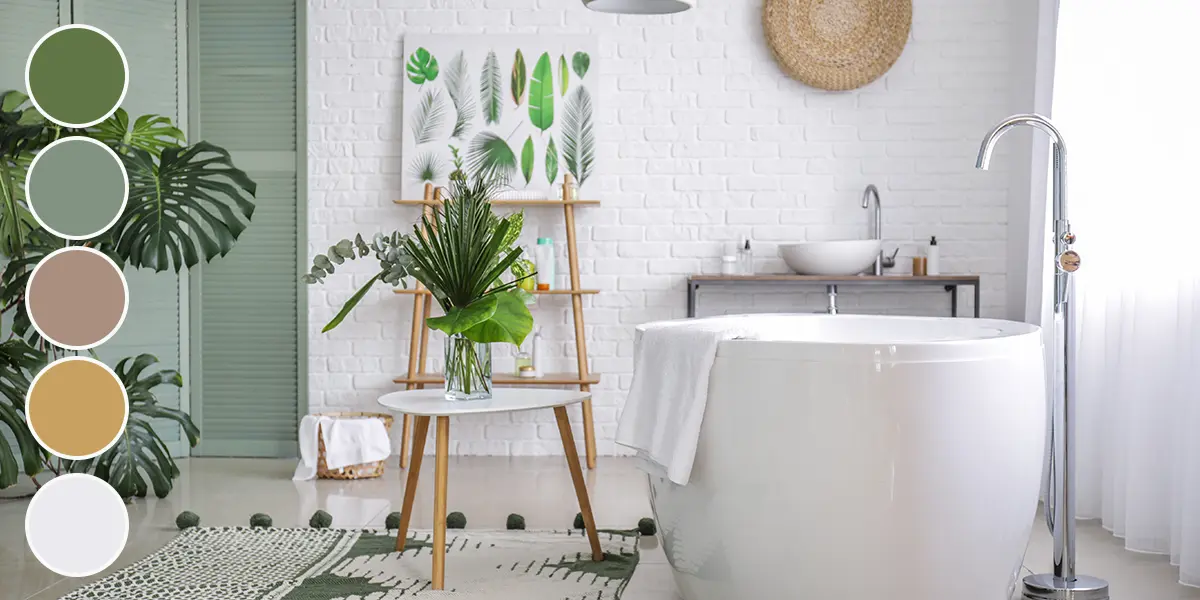 Your color scheme will be the biggest design choice that you make, so make sure that you choose wisely. You should pick a color scheme that you want to see every day, so before you pick your brightest and loudest color, ask yourself if it is the right color for the long haul. If it is, that's great!
When choosing your color scheme, you can make your bathroom even more modern by choosing to have an accent wall. Bathroom accent walls add immediate style to a room, and they are a perfect opportunity to have a little fun without necessarily overwhelming the space with a specific vibrant color.
3. Go All-In On This Change
For the best transformation, it is important to go all-in with your changes. Remember to take care when painting the corners—and don't skip out when you paint your vanity. Removing the doors and drawers to paint them can have a much better look in the end. It does add some steps, but it will pay off when your new vanity looks absolutely flawless.
4. New Hardware For Your Bathroom And Vanity
The vanity really is a central point of focus in the bathroom, which means that it is a great opportunity to make some changes.
Adding new hardware to your vanity can have a surprisingly big impact on your overall design, especially if you opt to add some other hardware upgrades around the bathroom.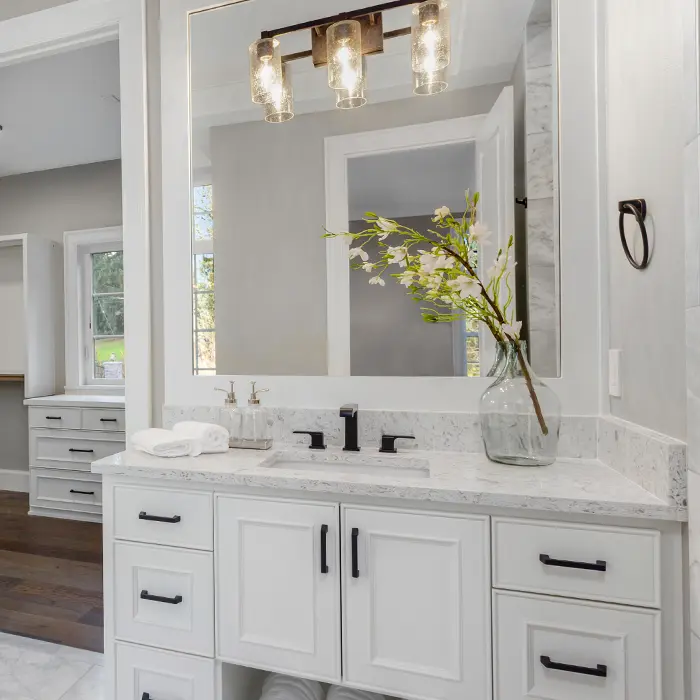 5. Consider Accessories Or Upgrades
Hardware in the bathroom used to mean about four things in total, but those days are behind us. Today's bathrooms are full of exciting hardware that can improve the look and function of your space.
You don't need a new tub or a shower conversion to make it seem you have a new bath. Just use hardware to add aesthetically pleasing organization to your space—or you use it to ensure that your getting ready process is simple and fits your flow. Look at the options, and don't hesitate to add some fun accessories!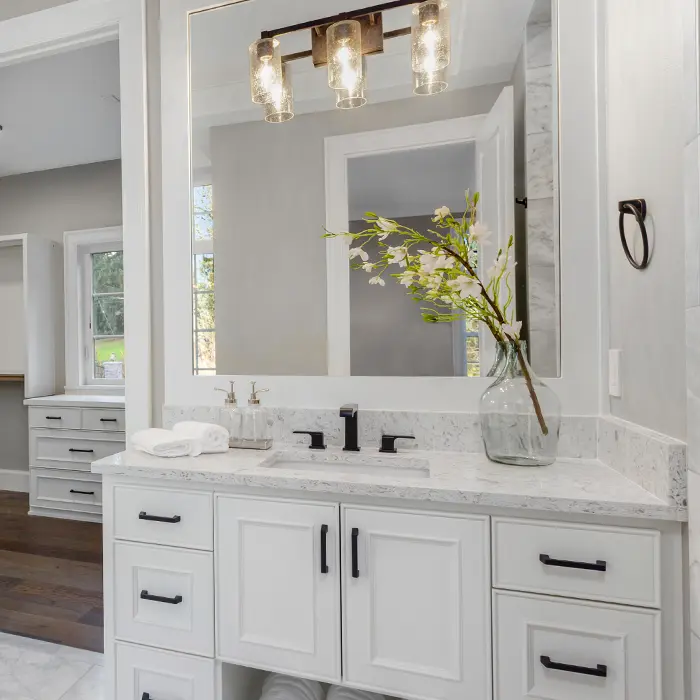 6. Add New Handles And Knobs
Putting new handles and knobs on your vanity is a great way to instantly improve the character of your bathroom. This is a simple change which anyone can do.
You can choose flashy knobs to balance a basic design or even use more traditional knobs and handles to balance the vibrancy of your other design choices. Be sure to look around for knobs that really suit your main theme. You might be amazed by how many options there are available!
Lights are one of the most important design elements that you will find during a renovation. Even the best and most attractive renovation in the world will still look terrible if the lighting is off—lighting is that powerful. So, it shouldn't come as a surprise that changing the lighting in your space can have a huge impact on your bathroom design.
If you have a walk-in tub, you can add lights around it or a big chandelier above it. Or you can upgrade the lights over your vanity or switch out the fan and light combination above the shower. This is another cost-effective change that can really influence the appearance of a space.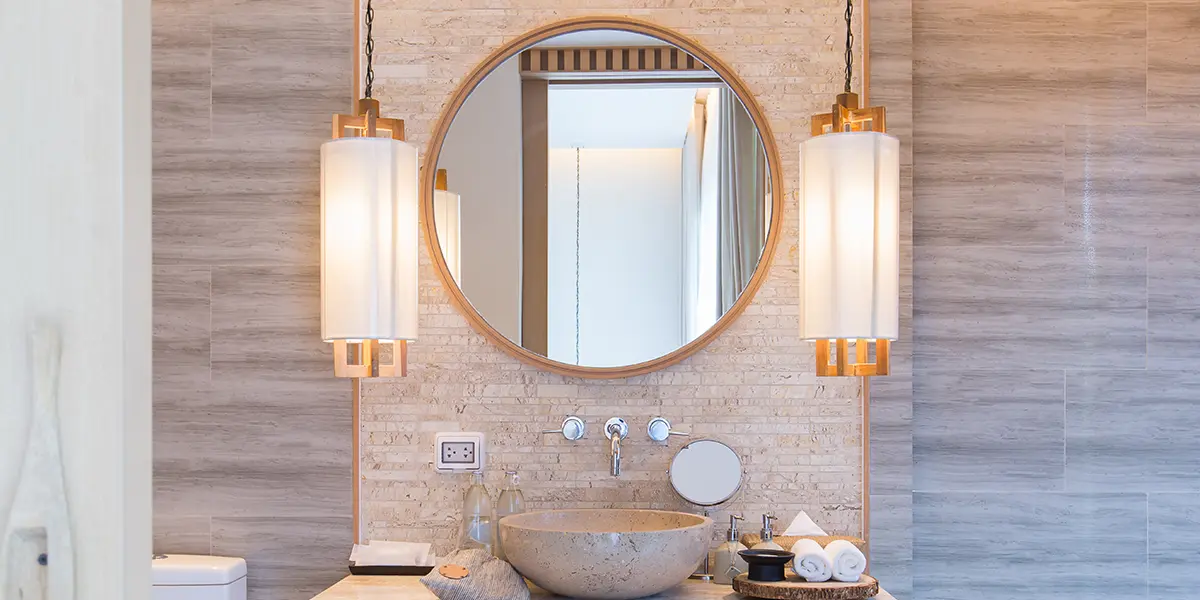 8. Choose Flattering Lighting
Your first step when you invest in new lights is to choose flattering lighting—and this means two things. First, it means picking an attractive fixture or design that really goes with the theme that you are building in the bathroom. There are so many creative options here, making it possible for you to find something perfect for your design.
Then, of course, there is the lighting itself. This is all about the bulbs—and it is one of the most important decisions that you will make. You want to invest in lighting that suits the colors in the bathroom, but you also want to choose lighting that is flattering for you. A vibrant light that helps you to glow can offer an immediate confidence boost—even before you have had your morning coffee.
9. Consider Daylight Colors To Help You Wake Up
There is actually quite a bit of psychology behind lighting, and it is something that is used all around the world in different settings. We know how to use lighting to make a meal more romantic, to help us see better, and to help us wake up. You can use this information for your benefit.
Choosing vibrant lights that simulate daylight can be a game-changer, especially if your bathroom doesn't have any of its own natural lighting. Most of us know the difference between getting ready with the sun and getting ready in a dimly lit bathroom. It is huge.
Fortunately, you can use good lighting practices to your advantage. You don't need a window in your bathroom to receive those morning sunshine vibes. Instead, choose lighting that matches it, and watch how much faster you wake up while getting ready!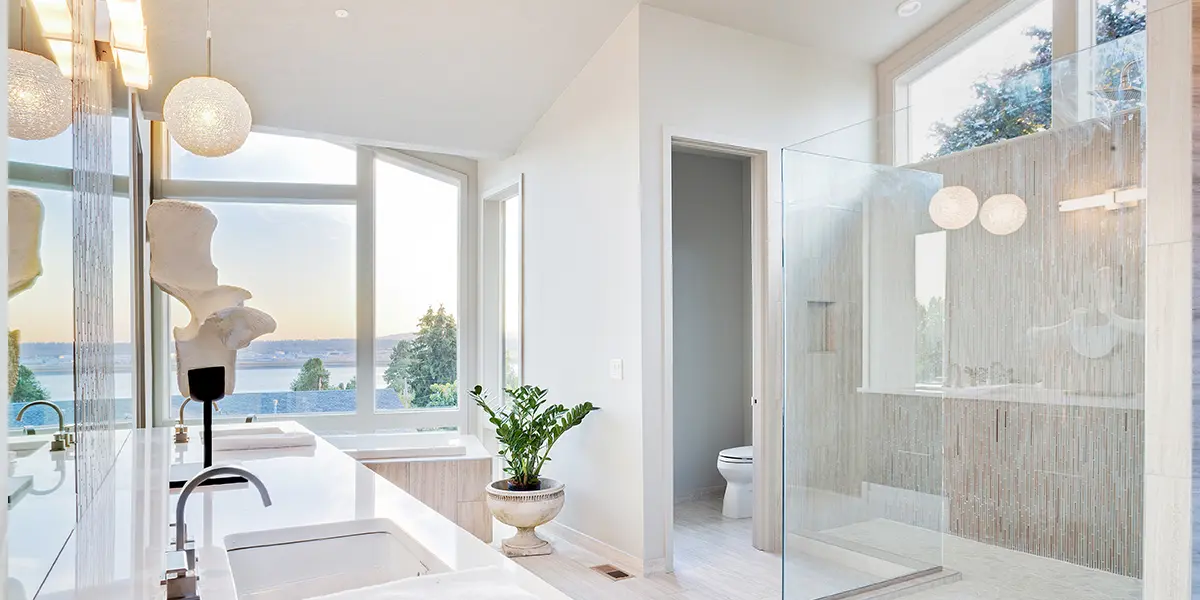 Transforming your bathroom quickly and on a budget sounds like a gimmick, but it really isn't. This is one transformation that you can do a lot with during a home improvement project, especially if you already have a fairly modern setup. Sometimes, the best decision really is to call in the professionals for a full upgrade, but it isn't the only option that is available to you. If your bathroom has left you feeling uninspired, it might be time for a trip to your local hardware store.