Bathroom Remodeling In Patterson
Interested in starting your bathroom remodeling in Patterson? This guide will walk you through everything.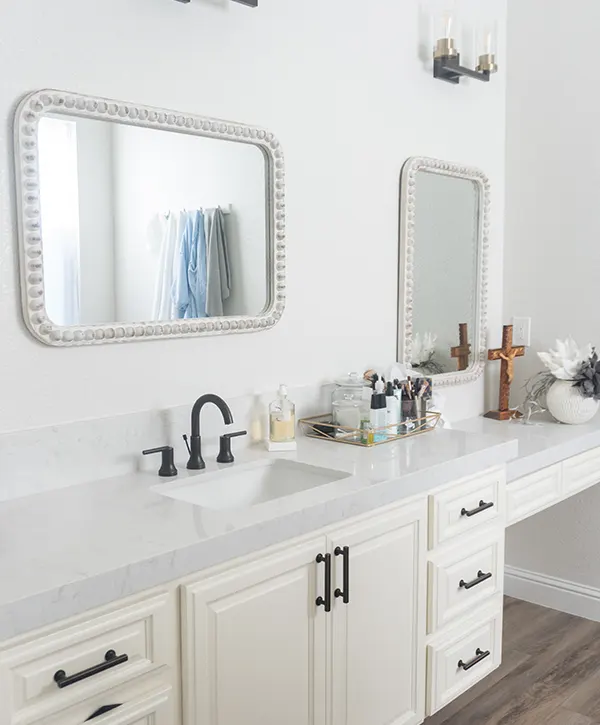 If you've been dreaming of an updated bathroom in Patterson, CA, look no further than KHB Construction. We are passionate about providing our clients with beautiful bathrooms that will leave a lasting impression.
Our process is tailored to give customers assurance, and we only use premium products in all projects. Going above and beyond is at the heart of what we do here, so our goal always is for everyone involved to be ecstatic with the results!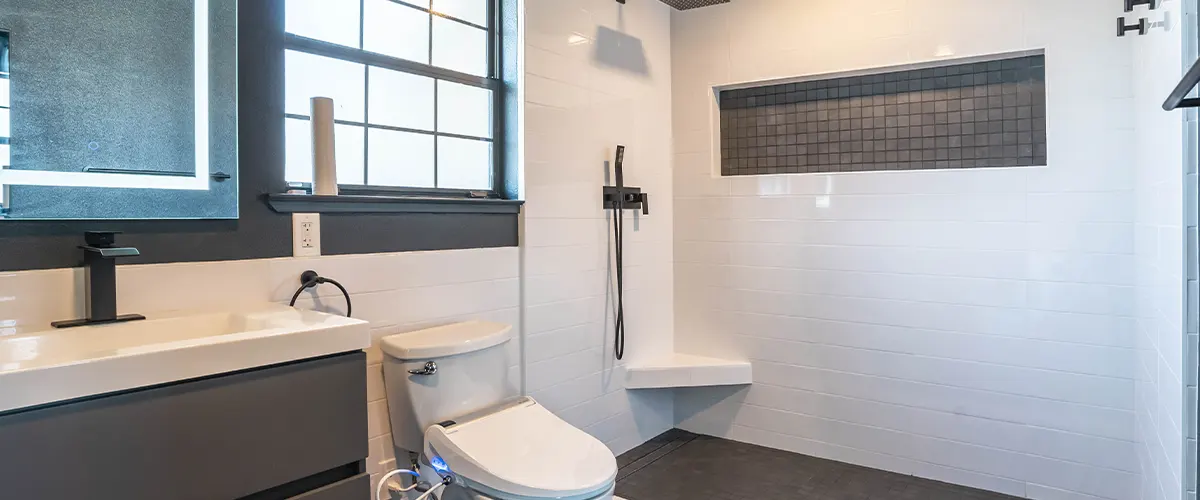 Get A Bathroom With Extra Benefits From Your Local Pros
We take pride in seeing our customers thrilled about their newly installed baths. We realize how essential these areas are, so when you hire us, we provide more than other contractors offer!
Get Your Premium Bathroom Remodeling In Patterson With KHB
KHB is the ideal choice if you're looking to spruce up your bathroom. As a well-known name in the remodeling industry, we take immense pride in providing our customers with first-rate results and an unparalleled experience. With us leading your renovation project, rest assured that this essential part of your home will receive quality workmanship!
Our devoted professionals handle your home with the utmost care and attention, ensuring 100% excellent craftsmanship. Our convenient process allows you to take every renovation step from beginning to end. Furthermore, our staff guarantees that all your needs and wants will be fulfilled during this journey!
Check out our bathroom remodel offer and make sure you're getting the best remodelers on your project in Patterson, California!
Homeowners In Patterson Love Their New Bathroom
We had our bathtub remodeled into a walk in shower. 
From the first meeting with Ryan the salesman and Doug the manager of our project it was a great experience. They worked up a quote and when it was a little over my budget they worked with me to get within my budget. 
They set us up with a decorator to help us with tile selection and design. They gave us a detailed schedule of day to day work plans and stuck to it exactly. 
We are very happy with them and will definitely call them when we're ready to do our kitchen.
Being no strangers to construction, we knew that 5-6 week kitchen Reno meant 3 months. We knew there'd be plenty of pain points and frustrations.
With KHB, from start to final sign off, it took 6 weeks and a day, was virtually pain free and we can't say enough about the craftsmanship. 
Every person on the job took personal responsibility and pride in their craft.
We waited MANY years to get our dream kitchen and can't thank Ryan, Bobby, Doug, George and the WHOLE team enough for a dream achieved! 
Proud to be part of the KHB family!
Upgrades And Materials For Your Entire Project
Deciding between the seemingly infinite materials, features, and upgrades for your bathroom renewal project can be a taxing endeavor. Don't settle for something when you are unsatisfied – let KHB help! Our capable team of bathroom designers will guide you to make decisions tailored to all your needs and wants so that, finally, seeing your dream washroom come true is just within reach. Let's take a look at the most common upgrades.
If you're looking to give your master bathroom a boost, look no further than a double vanity. Not only will it add additional storage and make the room more practical, but its stylish design can really help set the tone for the entire space! Alternatively, installing an elegant single vanity in powder rooms or half baths will bring about dramatic change with minimal effort.
For a contemporary look, frameless cabinets are an excellent choice. But if you're looking for something more luxurious and high-end, hardwood is the way to go – plus it'll complement any other wood features in your bathroom nicely. And if budget is your top priority, we suggest combining plywood and MDF cabinets! They offer affordability without skimping on quality or style.
If you want to increase your property's value more than anything else, go for semi-custom cabinets. As per KCMA, these give back the highest ROI. However, a custom vanity will be better if you want a unique vanity made exclusively for your space.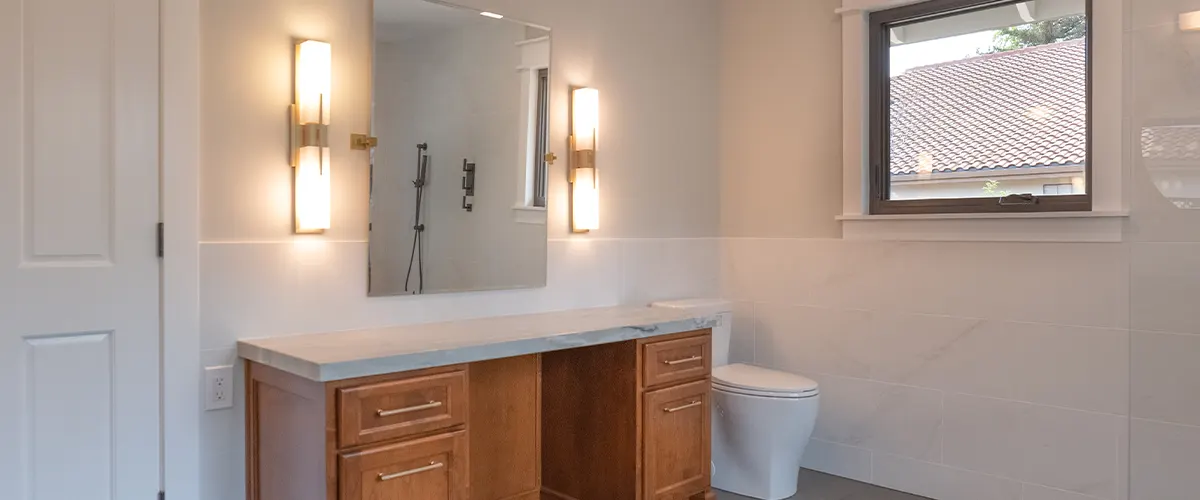 Renovating your home can be costly, but if you're hoping to save money by keeping the same countertops, make sure they blend well with both the new bath's design and its size. Despite its slightly higher price tag, quartz is undeniably the best counter material money can buy.
This manufactured stone is durable and resistant to chips, scratches, and stains, but it's also simple to keep up with – making every penny spent entirely worth it. Plus, quartz ensures a consistent pattern design for that flawless finishing touch you're after! Other viable counter materials are granite, marble, soapstone, laminate, hardwood, and more.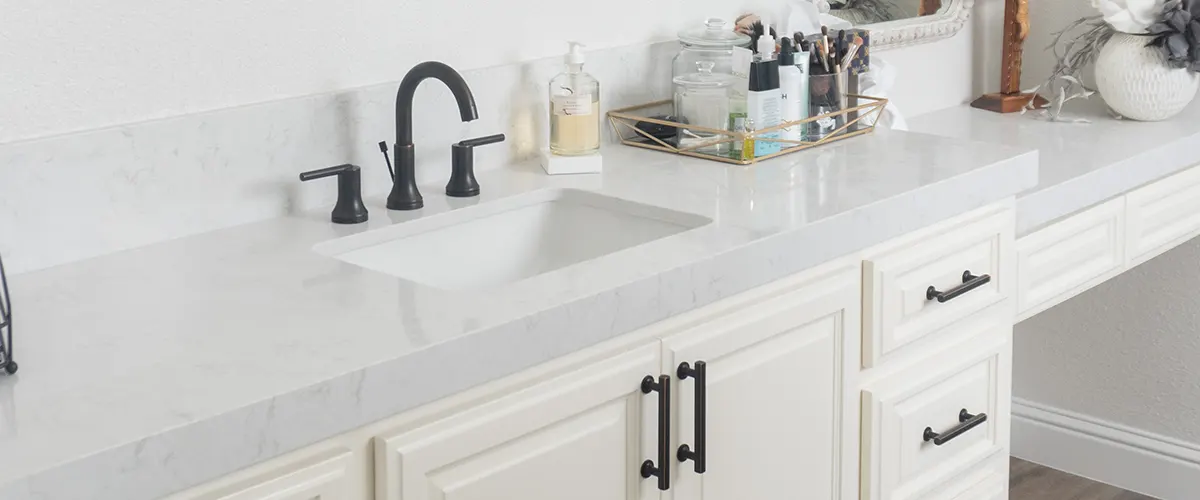 Homeowners are now embracing the idea of walk-in showers as they exude a modern and stylish look, but many individuals choose to keep their standalone tubs, too, if space is available. Even with restricted bathroom sizes, we can provide you with the ideal solution that fits your needs – no matter how small or large the square footage may be!
The ultimate bathroom upgrade is transforming an outdated pan shower into a contemporary and chic curbless, glass walk-in shower with accompanying tile flooring and concealed drains. Not only will it offer effortless access for seniors or people with disabilities, but it'll also create a delightfully modern feeling that your visitors won't be able to resist!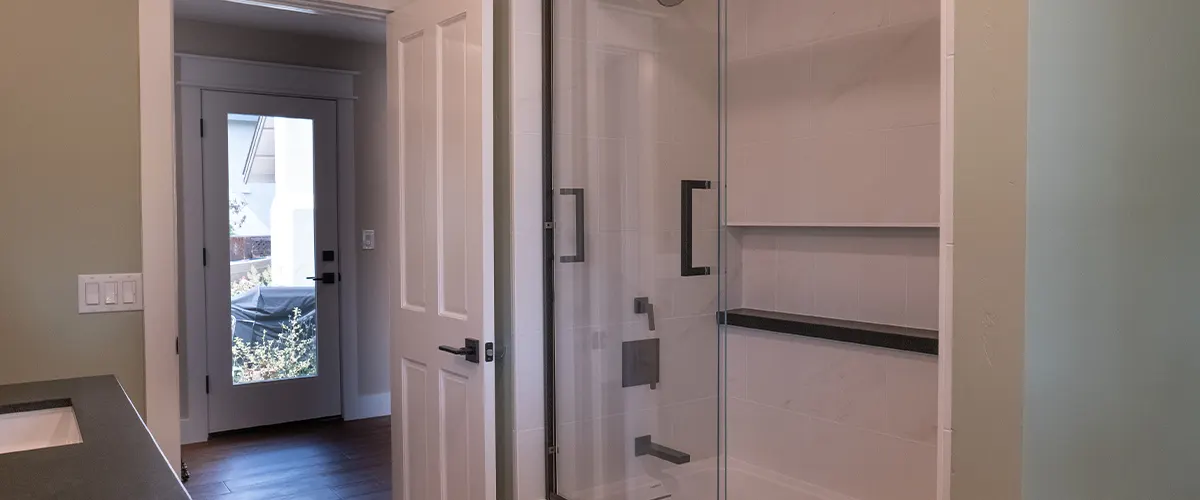 Not only should the floor in your bathroom be practical, but it should also be aesthetically pleasing. A well-installed floor can make a small room appear more spacious and help tie together all its components. When choosing bathroom flooring, many homeowners prefer luxury vinyl tile (LVT) or luxury vinyl planks (LVP).
Not only are they a breeze to install, but with their diverse selection of designs resembling different types of wood and stone, it's easy to create the perfect look for any home. While porcelain and ceramic tiles remain popular choices as well, LVT/LVP is quickly becoming the go-to option for many!
Get Inspiration For Your Bathroom Remodeling In Patterson
This is what your bathroom remodeling in Patterson can look like! Get inspiration for your upcoming project and see our finished projects right here!
The Best Remodeling Process In Patterson
Get started with a quick and intuitive process that keeps you on top of your project from start to finish.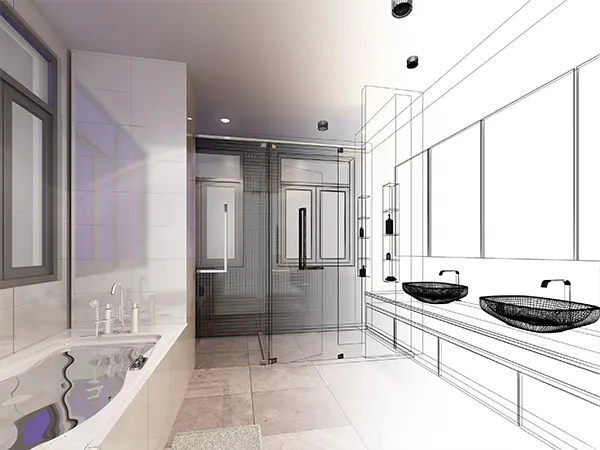 Request your free quote right now and let's start talking!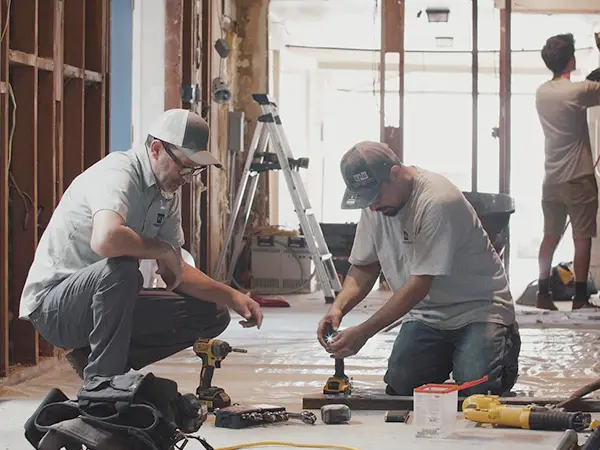 We'll discuss the details and start building your dream bathroom.
Show off your space to your friends! Your new bath is ready!
Frequently Asked Questions
Get KHB Pros On Your Bathroom Remodeling In Patterson!
When you choose the best in bathroom remodeling, KHB will guarantee your satisfaction with high ROI, utmost comfort and increased functionality. Our professional team is devoted to bringing your dream bathroom into reality through a straightforward process that puts clients first every step of the way—ensuring an effortless renovation experience like no other.
KHB gets you:
Get Started On The Upgrade You Deserve The Most