So your kitchen cabinets are looking a little worse for wear. Maybe they're scratched, dinged, or just outdated. You don't want to replace them—that would be a huge hassle and expense—but you also don't want to live with the current cabinets. 
What can you do?
Don't worry, we've got you covered. In this list, we've rounded up some ways to update your kitchen cabinets without replacing them entirely. Let's dive right in!
Option #1: Painting Your Cabinets
One option for updating your kitchen cabinets is to simply paint them. This is a relatively inexpensive option that can have a big impact. When choosing a paint color, it's important to consider the overall look you're going for in your kitchen.
You may want to paint your cabinets a color that contrasts with your countertops or backsplash for a more dramatic look. Or, you may want to choose a color that complements the rest of your kitchen for a more subtle effect. Whichever route you choose, painting your cabinets is an easy way to give them an updated look.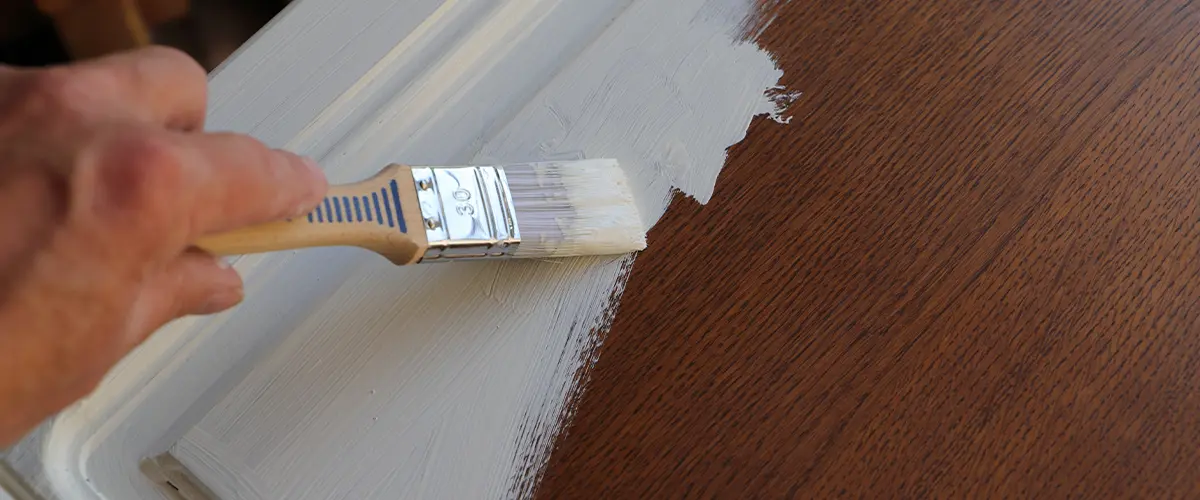 Option #2: Refacing Your Cabinets
If you're looking for a more substantial update than painting alone can provide, you may want to consider refacing your cabinets. Cabinet refacing involves replacing the door and drawer fronts of your cabinets while leaving the rest of the cabinet intact. This means that you can still use your existing cabinets while getting an updated look for your kitchen.
Cabinet refacing can be more expensive than painting alone, but it's still usually less expensive than buying new cabinets altogether. Plus, it allows you to keep your existing cabinet boxes, which can be helpful if they're in good condition and you don't want to go through the hassle of replacing them.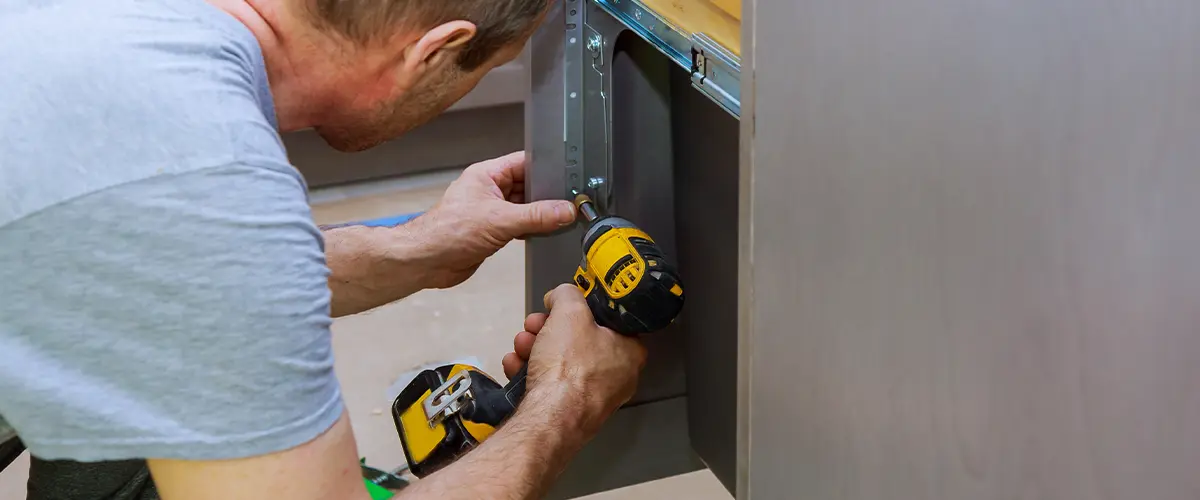 Option #3: Re-Staining Your Cabinets
Another option for updating your kitchen cabinets is to re-stain them. If you have wood cabinets, this can be an easy way to change up their look without having to paint them. Simply sand down the surface of your cabinets and apply a new stain. This is a great option if you want to change the color of your cabinets but don't want to paint over them entirely. It's also relatively inexpensive and easy to do yourself if you're handy with tools.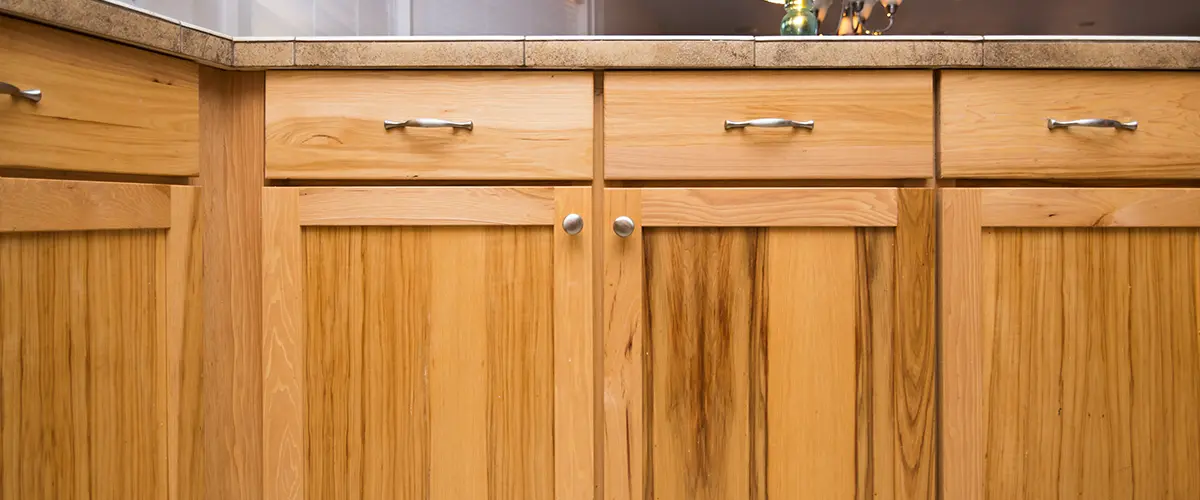 Option #4: Replacing The hardware
Swapping out old, worn-out handles and knobs with fresh, stylish ones can breathe new life into your kitchen, bathroom, or furniture pieces. 
The process is relatively straightforward and requires minimal tools, making it an accessible DIY project for homeowners. 
However, you'll want to be careful with the finishes and materials you're using, as you want your kitchen to remain cohesive.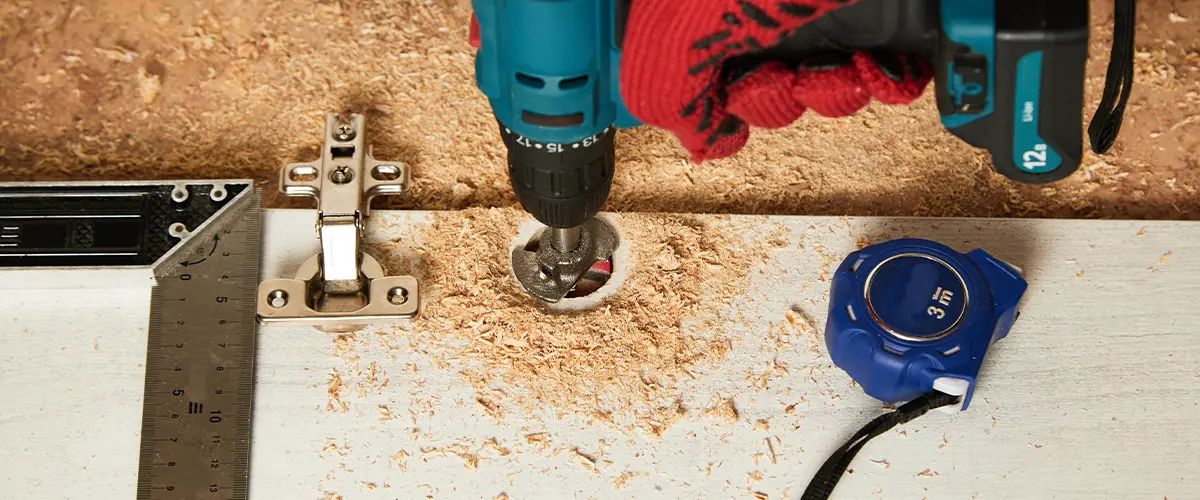 Option #5: Adding Under Cabinet Lighting
By discreetly installing lights beneath kitchen cabinets or shelves, you create an inviting and well-lit environment that not only highlights your countertops and workspace but also adds a touch of sophistication to your decor. 
Under-cabinet lighting serves both practical and aesthetic purposes, casting a soft, shadow-free glow that facilitates tasks like food preparation, cooking, or reading recipes. 
Whether you opt for energy-efficient LED strips, puck lights, or linear fixtures, the result is an elegant interplay of light and shadow that contributes to a cozy and inviting atmosphere.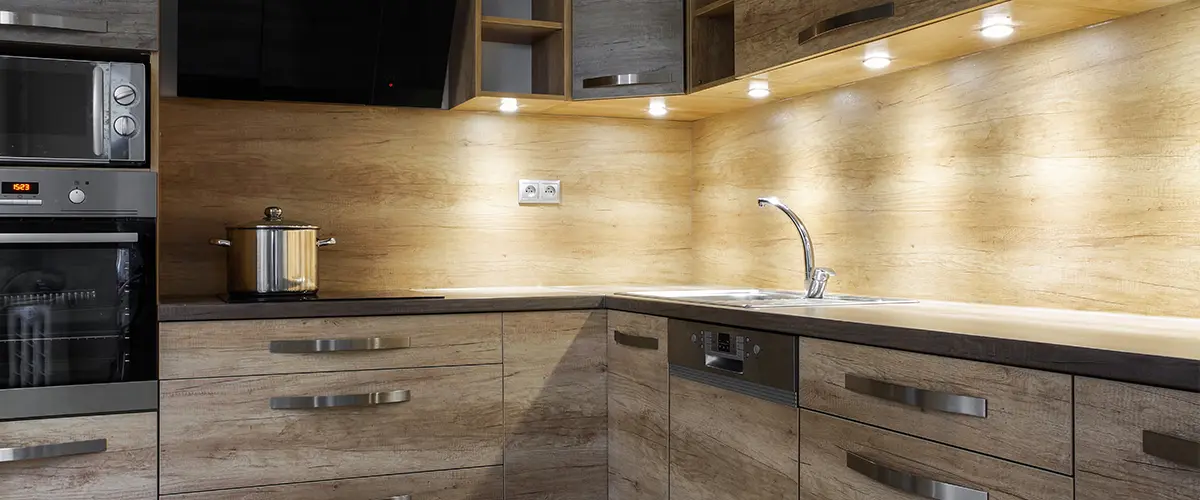 Option #6: Add Extra Features
Incorporating corner solutions and additional storage into kitchen cabinets is a clever and strategic way to optimize space and enhance the efficiency of your culinary haven. 
Solutions like rotating lazy Susans, pull-out shelves, or diagonal drawers, transform awkward nooks into accessible and organized storage areas. These corner solutions seamlessly blend functionality with aesthetics, ensuring that every inch of your kitchen is utilized effectively. 
This ingenious use of space not only streamlines your daily routines but also contributes to a visually pleasing and well-organized kitchen that reflects your personal style and culinary aspirations.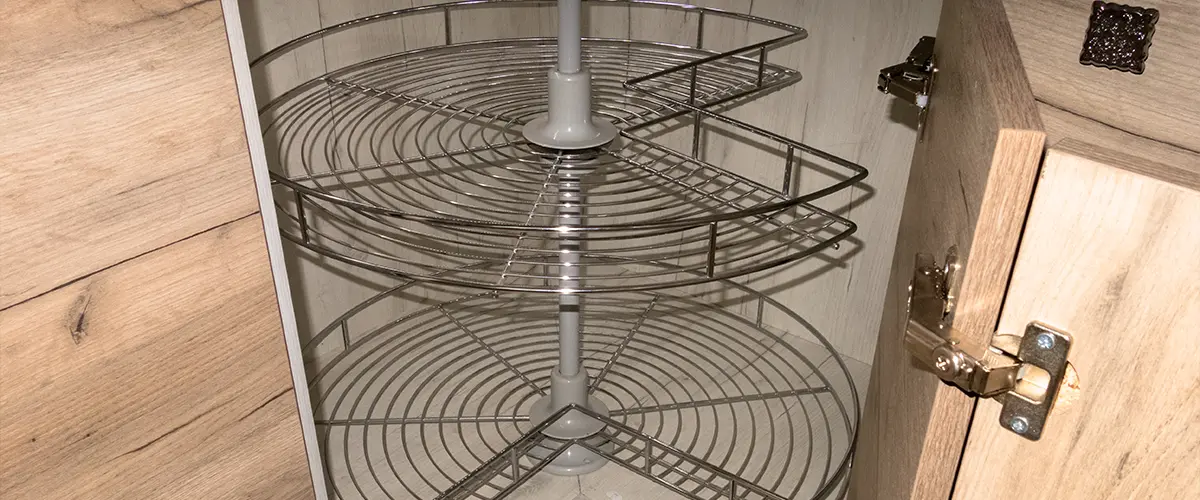 Option #7: Replace If They're Broken
When refinishing or refacing is no longer a viable option, opting to replace your cabinets represents a transformative decision that can breathe new life into your living spaces. 
Replacing cabinets offers a blank canvas for reimagining your kitchen or room design, allowing you to customize the layout, style, and functionality to align with your evolving needs and aesthetic preferences. 
This approach not only revitalizes the entire space but also presents an opportunity to integrate modern features and storage solutions that may have been unavailable with your previous cabinets. 
While it might involve a more comprehensive investment of time and resources, the outcome can be truly remarkable. And if you still want to keep your budget under control, you can always go for stock cabinets, the most affordable option on the market!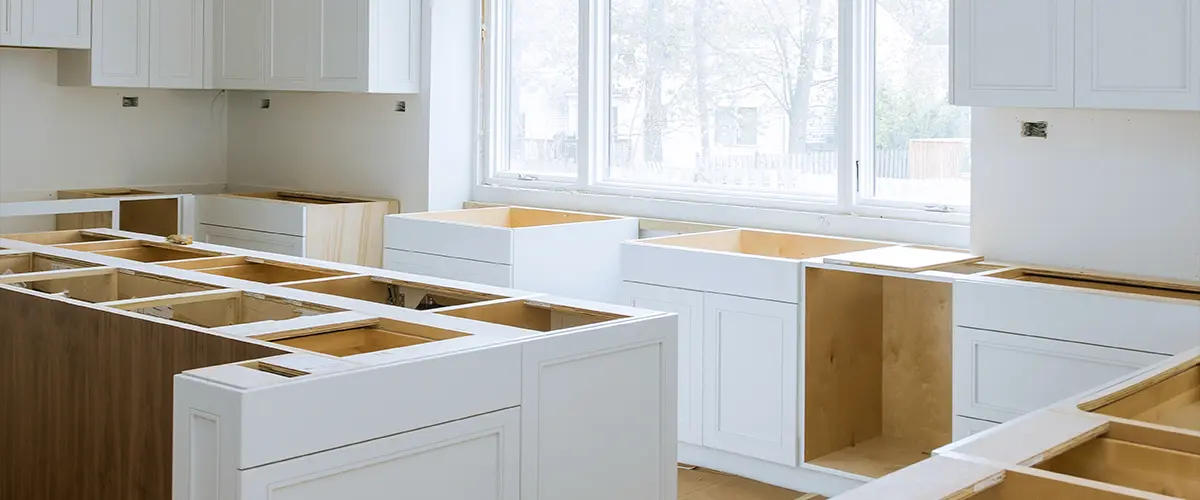 Updating your cabinets is a great way to give your kitchen an affordable facelift. By painting, adding new hardware, and accessorizing, you can change the entire look of your space without spending a lot of money. If you're not sure where to start or need help with the bigger update, our team at KHB Contracting would be happy to assist you. Give us a call or fill out our online form to get started today!