The Best Kitchen Remodeling Service In Riverbank
If you're looking to get a superior kitchen remodeling in Riverbank, you just got lucky!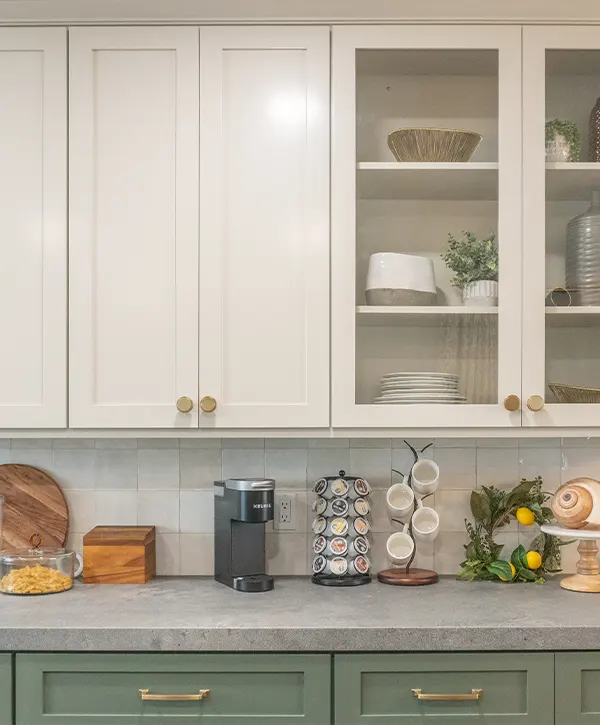 When it comes to kitchen remodeling in Riverbank, look no further than KHB Construction. We are dedicated to our craft and take great pride in investing back into the community through high-quality renovations that elevate the lives of those living here.
Our commitment is to provide a level of value that cannot be quantified – from beginning your project with ease all the way until you arrive at an impressive end result, our incredible team based out of Riverbank will treat everything with care and dedication.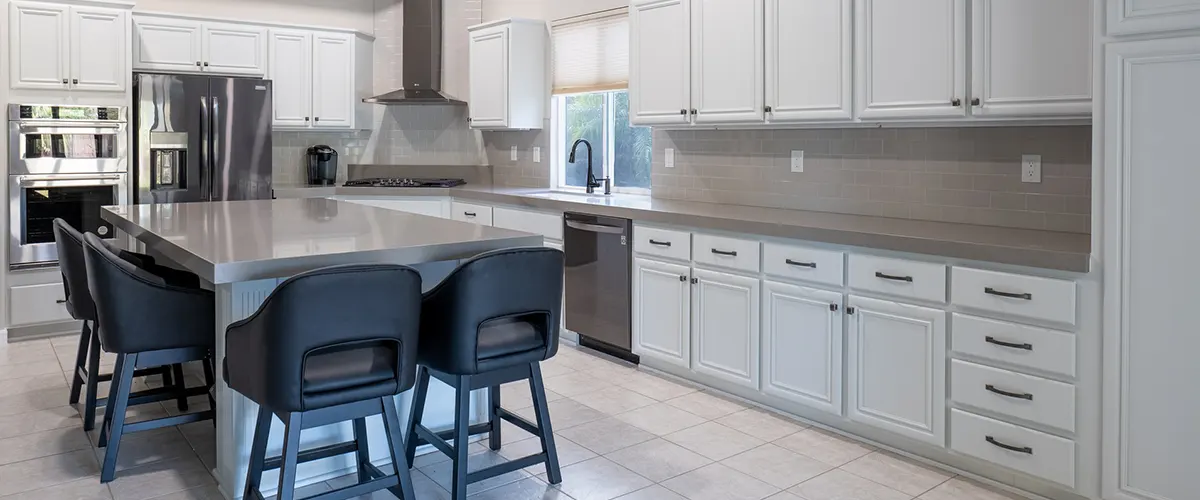 Get The Full KHB Experience And Enjoy Your Extra Perks!
Our construction company sets itself apart from the competition with its creative vision and superior craftsmanship. Unfortunately, many homeowners have become disillusioned with contractors due to their lack of reliability. However, we are determined to make a positive impact on this perception by consistently providing remarkable results that surpass expectations.
Your Go-To Contractor for High-Quality Remodeling Services
When exploring construction companies in Riverbank, you'll find no shortage of low-priced bids. But before choosing the lowest bidder for your remodel project, consider their services and quality of workmanship carefully – inferior results are never worth meager short-term savings.
KHB is different – we excel in making your remodeling experience stress-free and easy. We handle all the paperwork, materials, design, layout, and building while keeping you in complete control of your project. Plus, we treat every aspect of your new space with maximum efficiency.
Check out our premium kitchen remodel offer and make sure you're getting the best remodelers on your project in Riverbank, California!
Homeowners In Riverbank Are In Love With Their New Kitchens!
Don't just take our word for it – see what your neighbors in Riverbank are saying about working with an upscale remodeler that never fails to deliver! They're falling back in love with their new kitchens, and you can too!
How do I even begin to say how pleased I am with the workmanship and professionalism that Ryan and KHB provided. 
From beginning to end everything went smoothly and we are 100% satisfied with the work that was done. The employees are also professional, knowledgeable, and friendly. Any questions I had along the way they answered. Everyone was always up to date on what was happening and when. 
I would highly suggest them to anyone needing construction of any kind done on their home. Thanks again KHB!
Being no strangers to construction, we knew that 5-6 week kitchen Reno meant 3 months. We knew there'd be plenty of pain points and frustrations.
With KHB, from start to final sign off, it took 6 weeks and a day, was virtually pain free and we can't say enough about the craftsmanship. 
Every person on the job took personal responsibility and pride in their craft.
We waited MANY years to get our dream kitchen and can't thank Ryan, Bobby, Doug, George and the WHOLE team enough for a dream achieved! 
Proud to be part of the KHB family!
Materials And Upgrades For Your Riverbank Kitchen Remodel Projects
Home renovations are never trivial, but kitchen makeovers are some of the most transformative. Every aspect of your culinary space can be modernized to create an inviting and efficient atmosphere you'll love spending time in. At an on-site visit, we'll help you select some of the best materials for your kitchen from our wide range of options. In the meantime, here are some of our most popular upgrades:
If you're unsure which cabinets will give you the best return on investment for your remodel, don't worry – we can help! Paint-grade cabinets are a great choice if you want to save some money. They can be refinished multiple times and still look amazing.
If you would rather have one-of-a-kind storage space and budget isn't as big of an issue, then custom hardwood cabinets will be better for you. Stock cabinets aren't usually made with the same high quality, so it's less likely you'll find something that works well with your specific space.
Although it's not mandatory, some of our customers choose to invest in new appliances. If cooking is something that you're passionate about and take-out isn't your go-to option, stores like Lowe's or Home Depot offer what you need within a mid-range budget. But if money is no objection and you wish for an extravagant kitchen with the latest technology that can help make food preparation even quicker, such options are available – at a high price tag ranging from $18k-$25k.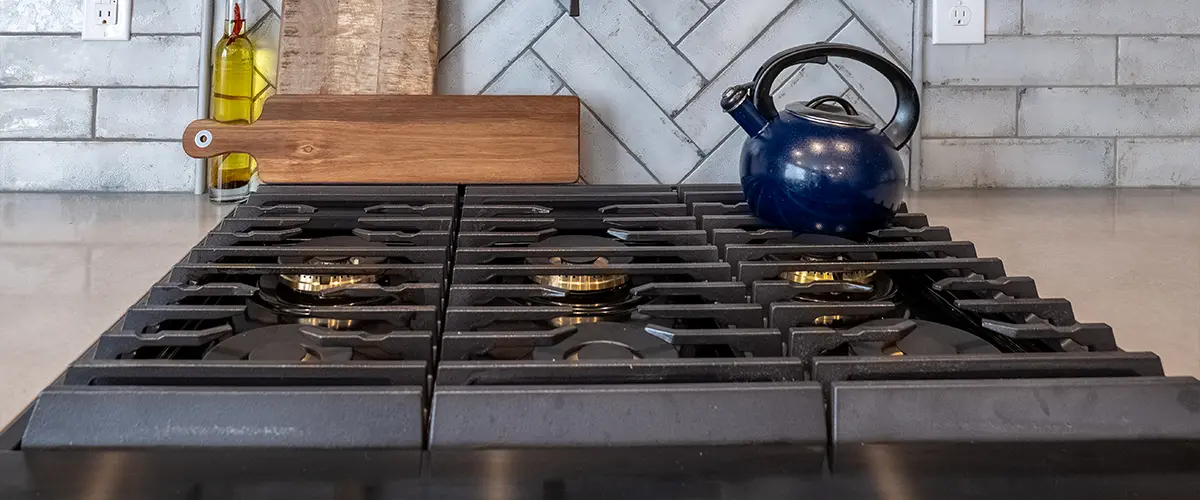 If you're in the market for a new countertop, consider quartz. Unlike natural stone surfaces, quartz is manmade, so patterning is always consistent. Plus, it's durable and resistant to chipping or breaking. And if it does get stained or dirty, no problem! Quartz is easy to clean and maintain – perfect for any home remodeling project.
Although marble presents a luxury look, it might not be best for rooms such as kitchens that get a lot of foot traffic. They're less durable than quartz surfaces, so you might have to reconsider this material. If you're seeking something more affordable, granite or laminate counters are definitely worth investigating further.
Older hardwood floors can be refinished to bring them to their former glory, or you can replace them altogether with a more efficient flooring material for a damp space like a kitchen.
Luxury vinyl tile and luxury vinyl planks are great alternatives to tile or wood floors, as they can mimic the look of any natural stone or species of wood. They're also easy to maintain, affordable, and fairly efficient in a high-traffic kitchen.
For a more upscale improvement, we'd recommend porcelain tile flooring, or ceramic tile flooring. These are, indeed, more expensive, but their functionality is undoubtedly going to pay off in the long run.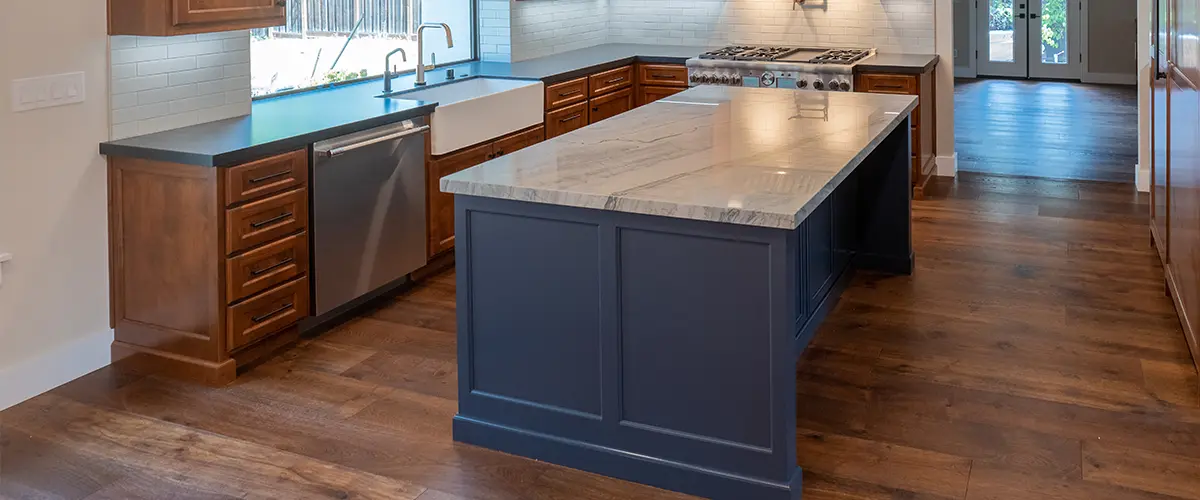 There are two main sink options, both of which have their own benefits.
Despite the modern alternatives, traditional sinks with drop-in basins continue to remain popular in older kitchens due to their low cost and ease of installation. Homeowners still favor them for secondary areas such as a basement kitchenette or an outdoor cooking space.
Undermount sinks are a more high-end upgrade that provides your countertop with a sleek and smooth look. These are more expensive upgrades, but they're easier to maintain, more attractive, and a better long-term investment.
Although it may not appear to be, moving kitchen appliances is a complex and arduous process. You must move the appliance in addition to changing the plumbing and electrical system – this can drastically alter your kitchen design. This update brings value to your space, but before starting any work, evaluate all options since how you proceed with this could influence subsequent renovations.
By moving your appliances and other features around, you are increasing your chances of having a space that is both functional and easy to move in. This also allows you the opportunity to create the kitchen layout of your dreams, so it is an upgrade worth considering.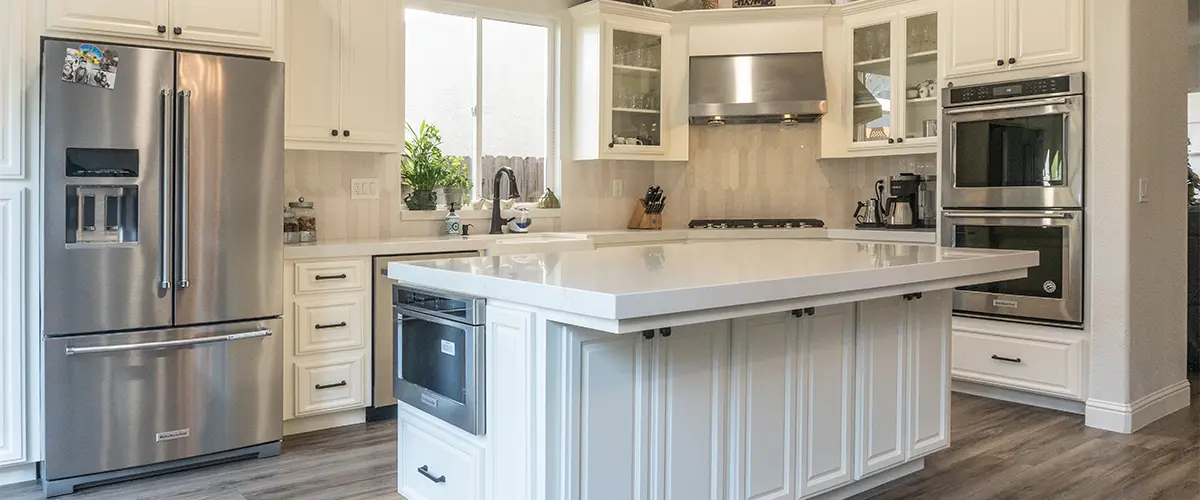 This Is How Your New Kitchen Can Look!
These kitchens in Riverbank underwent a wonderful job and upgrade! Check out the finished product and take the first step toward getting your own premium kitchen!
Get Peace Of Mind With A Process Focused On Your Well-Being
Our process is designed to be both quick and easy, so you can always remain on top of your remodel. We want to make home improvement as stress-free as possible, and this method guarantees that you'll receive your new kitchen with little effort!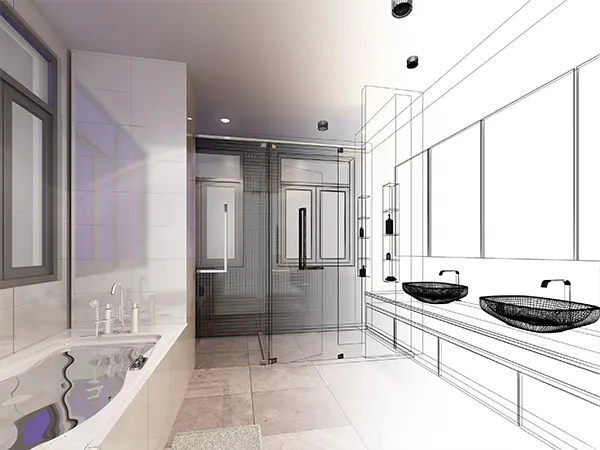 Request your free quote right now and let's start talking!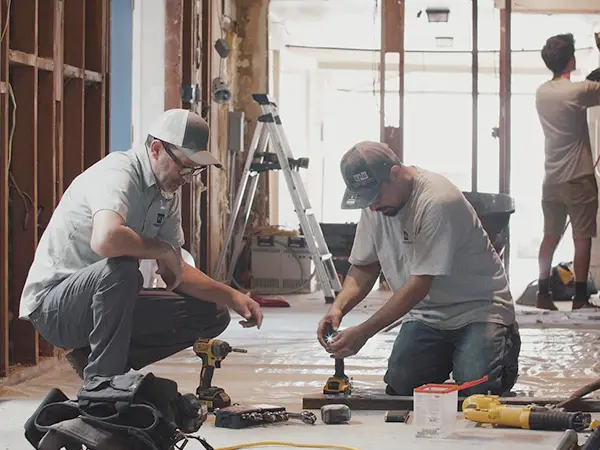 We'll discuss the details and start building your dream kitchen.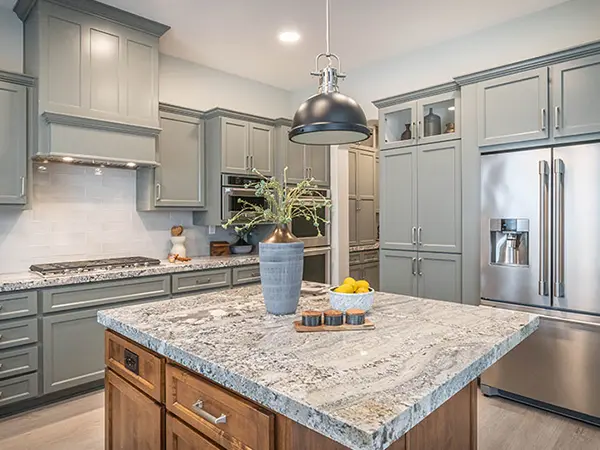 Show off your space to your friends! Your new kitchen is ready!
Frequently Asked Questions
Invest in clever kitchen updates that will make your space look fantastic and run like a well-oiled machine. New cabinets, countertops, backsplash, and water fixtures are all great options for getting the most out of what you put into it!
Make sure everything works well together by testing the plumbing and electrical systems. And to give your new kitchen an extra touch of polish, add fresh paint to the walls, matching cabinet hardware, coordinating light fixtures, or other desired features like an island or additional storage space.
When renovating your kitchen, the sky is truly the limit! Prices can range from a mere $20,000 to an impressive $160,000, depending on location and finishes. Whether you're looking for changes such as reconfiguring the layout or installing custom wood cabinets with high-end appliances, luxurious new flooring, or beautiful waterfall countertops – all of these ambitions (and more!) are possible when considering a kitchen renovation.
A kitchen remodel usually takes no less than six weeks and may even take as long as eight to complete from start to finish. This time frame incorporates the proposal, design, material selection, and other logistics necessary for your individualized renovation.
The building phase of such a project will generally require four to six weeks if you keep everything in its usual place; nevertheless, you could anticipate significantly more time if wanting to relocate various elements like appliances or make more custom changes.
All the hard work is taken care of for you, from filing paperwork to conducting a final walk-through. As your personal project manager, our devoted team will do their utmost to guarantee success with this remodel.
We understand how overwhelming it can be and so we'll provide assistance throughout every phase—from paperwork organization, material selection, construction process, and regular follow-up meetings until completion. Everything is necessary for an efficient remodeling journey!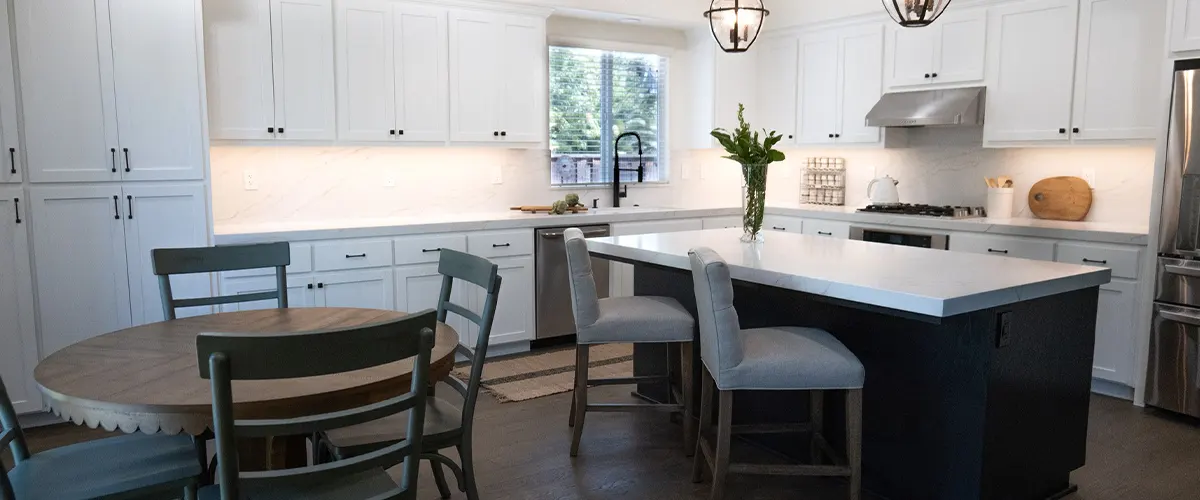 Your Premium Kitchen Remodel Awaits You!
Are you looking for a few minor tweaks, or do you hope to create something remarkable? Here at KHB, we offer nothing short of an exceptional experience – from the highest quality craftsmanship and smooth process from start to finish.
We promise that if anything arises during your journey with us, there's always someone here ready to help! Those who have already partnered with us know that our guarantees make it all worthwhile. Let us unlock the possibilities and transform your kitchen into something truly amazing!
We tend to overdeliver, so get ready to enjoy:
It's Time To Get Your Well-Deserved Upgrade!
Nestled within the heart of California's Central Valley, Riverbank is a charming city that exudes a unique blend of small-town ambiance and modern conveniences. This tight-knit community is characterized by its picturesque landscapes and serene atmosphere. One of Riverbank's notable landmarks is Jacob Myers Park, a sprawling recreational haven along the Stanislaus River, providing a haven for outdoor enthusiasts. Another prominent site is the Riverbank Historical Museum, a treasure trove of local history that showcases the city's evolution. With its rich natural beauty and cultural heritage, Riverbank beckons those seeking an idyllic retreat and an opportunity to connect with the essence of California's Central Valley.