Bathroom Remodeling In Stockton
Interested in starting your bathroom remodeling in Stockton? This guide will walk you through everything.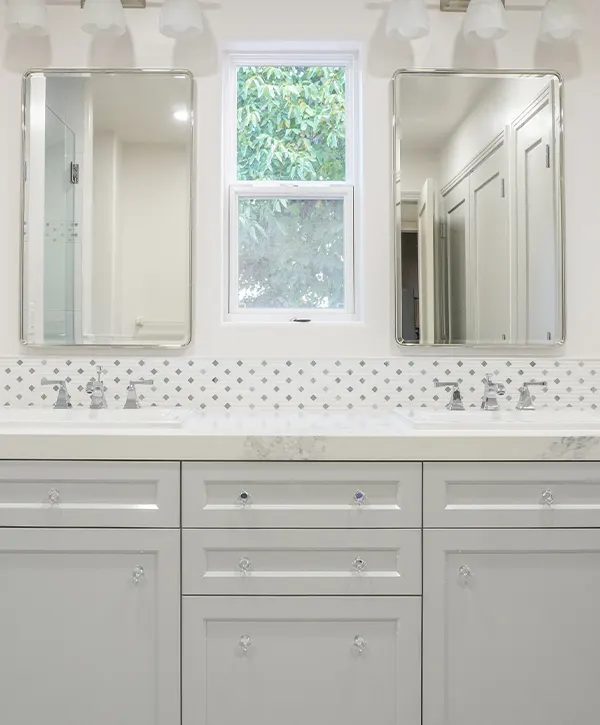 If you've been considering a bathroom remodel, look no further than KHB Construction. We're dedicated to providing our clients with beautiful bathrooms that amaze everyone who sees them. Our process is designed to offer peace of mind, and we only use high-end materials in our projects. We consistently overdeliver on every project because we want our customers to be delighted.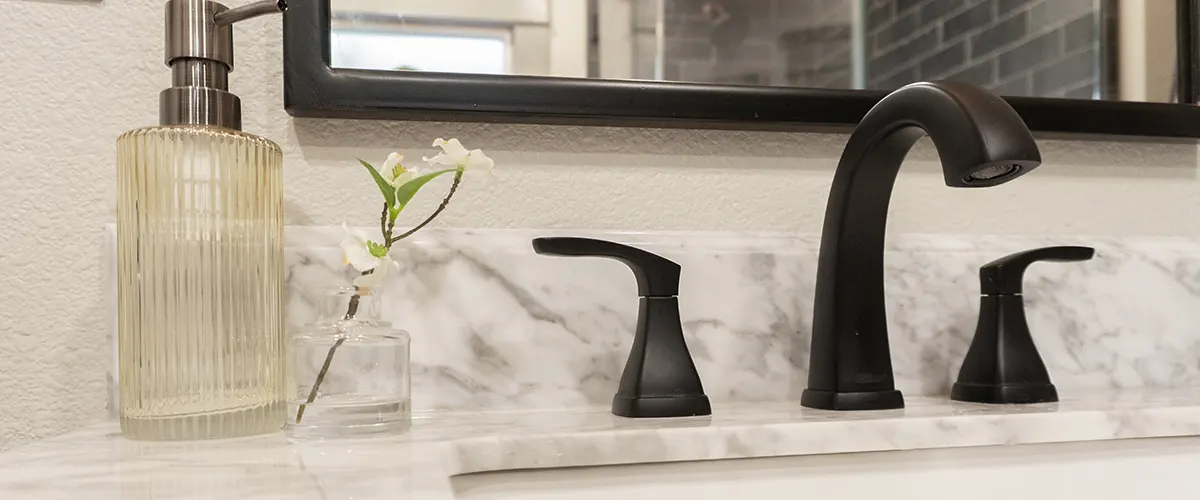 Get A Bathroom With Extra Benefits From Your Local Pros
We love seeing our customers getting excited about their new baths. We know these are essential spaces, so with us, you're getting more than other contractors are offering.
Get Your Premium Bathroom Remodeling In Stockton With KHB
If you're considering revamping your bathroom, KHB is a perfect choice. We are a renowned name in the bathroom remodeling business that prides itself on delivering top-notch results to our customers. Enjoy an exceptional experience and quality craftsmanship when it comes to renovating this integral part of your home!
Our team of dedicated professionals will treat your home like their own and provide you with 100% quality craftsmanship. Our simple and easy process lets you control everything that happens during your renovation – from start to finish. And our team guarantees that your needs and wants will be met throughout the process!
Check out our bathroom remodel offer and make sure you're getting the best remodelers on your project in Stockton!
Homeowners In Stockton Love Their New Bathroom
We had our bathtub remodeled into a walk in shower. 
From the first meeting with Ryan the salesman and Doug the manager of our project it was a great experience. They worked up a quote and when it was a little over my budget they worked with me to get within my budget. 
They set us up with a decorator to help us with tile selection and design. They gave us a detailed schedule of day to day work plans and stuck to it exactly. 
We are very happy with them and will definitely call them when we're ready to do our kitchen.
Being no strangers to construction, we knew that 5-6 week kitchen Reno meant 3 months. We knew there'd be plenty of pain points and frustrations.
With KHB, from start to final sign off, it took 6 weeks and a day, was virtually pain free and we can't say enough about the craftsmanship. 
Every person on the job took personal responsibility and pride in their craft.
We waited MANY years to get our dream kitchen and can't thank Ryan, Bobby, Doug, George and the WHOLE team enough for a dream achieved! 
Proud to be part of the KHB family!
Upgrades For Your Bathroom Remodeling In Stockton
With a multitude of materials, features, and upgrades to choose from for your bathroom renovation project, it can be time-consuming and difficult to narrow down the options. You may end up settling for something you're not entirely happy with – but luckily, KHB is here! Our expert bathroom designers will assist you in making decisions about material selection so that your custom-made dream bathroom finally becomes a reality – one designed specifically to meet all your needs and increase your home's value.
Let's take a look at the most common upgrades.
If you're looking to revamp your master bathroom, a double vanity is an ideal choice. Not only could it provide extra storage and make the space more functional, but it also set the tone for the entire room! Similarly, in powder rooms or half baths – one exquisitely designed single vanity can dramatically alter its overall look.
Most people are drawn to frameless cabinets because of their modern aesthetic. However, if you're looking for something a little more upscale, hardwood might be the way to go – especially if there are other wood features in your bath that you'll want to match. We recommend mixing plywood and MDF cabinets together for those searching for a more affordable option.
If you want to increase your property's value more than anything else, go for semi-custom cabinets. As per KCMA, these give back the highest ROI. However, a custom vanity will be a better choice if you want a unique vanity made exclusively for your space.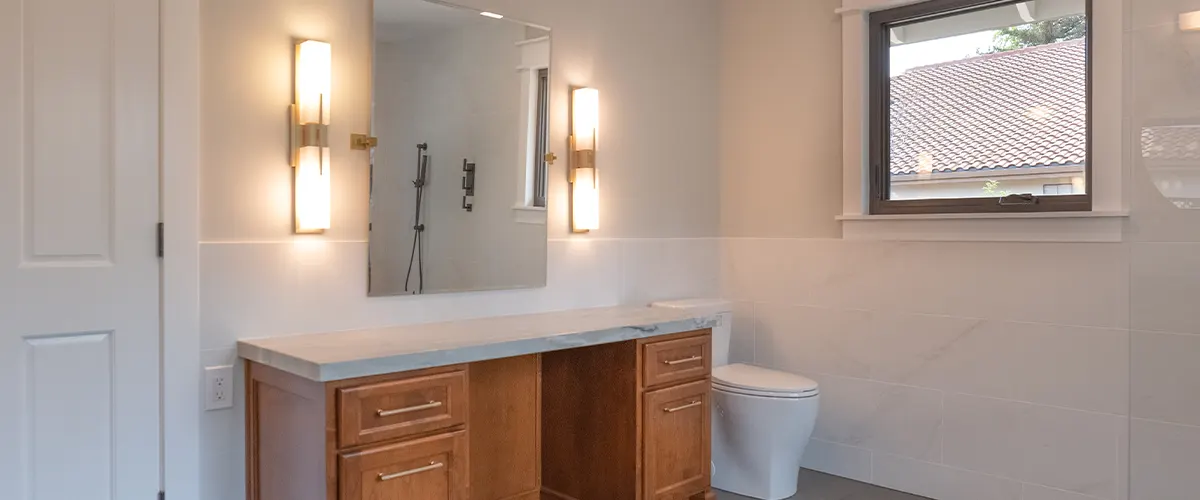 We all know how quickly going through a makeover can get expensive. If you had planned on keeping your old countertops, think about whether or not they'll match the style of your new bath and their dimensions.
Despite its slightly higher price tag, quartz is undeniably the best counter material money can buy. This manufactured stone is not only durable and resistant to chips, scratches, and stains, but it's also simple to keep up with – making every penny spent entirely worth it. Plus, quartz ensures a consistent pattern design for that flawless finishing touch you're after!
Other viable counter materials are granite, marble, soapstone, laminate, hardwood, and more.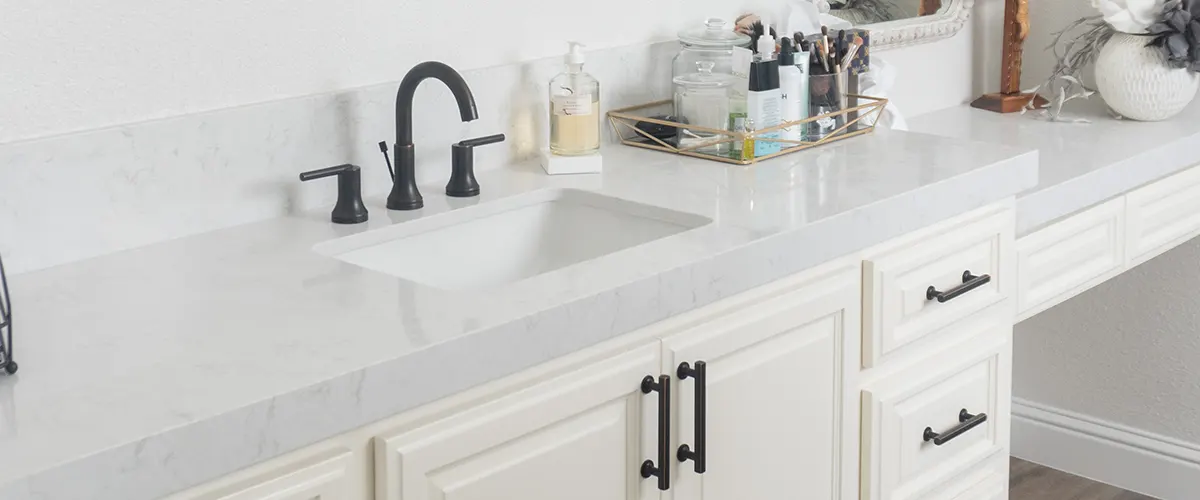 Homeowners are now beginning to choose walk-in showers in place of traditional bathtubs. However, if you have the resources and space, many available customers decide to keep a standalone tub and shower instead! Even with limited bathroom sizes, it's possible for us to find the ideal solution that fits your needs – no matter how little square footage there may be.
Replacing older pan showers with a curbless, glass walk-in shower and adding a matching tile floor and concealed drains is probably the best shower upgrade you can get. It ensures immense accessibility for older homeowners while also offering an impressive look that'll make your guests want one themselves.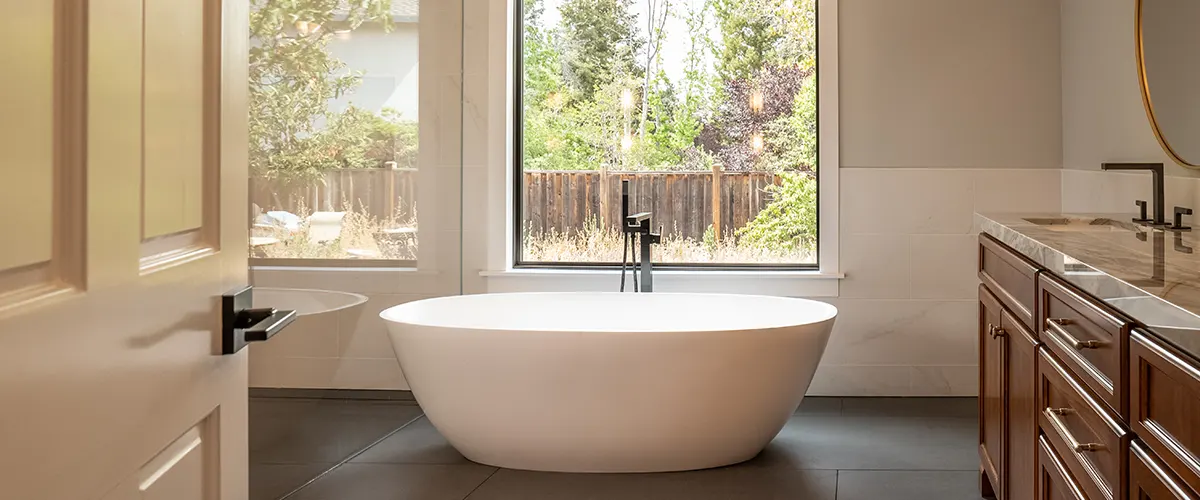 Not only should the floor in your bathroom be practical, but it should also be aesthetically pleasing. A well-installed floor can make a small room appear more spacious and help tie together all its components.
For bathroom flooring material, some popular options include porcelain or ceramic tile. However, luxury vinyl tile (LVT) or luxury vinyl planks (LVP) are becoming increasingly popular among homeowners because they are quick to install and come in a variety of designs resembling different types of wood or stone.
Get Inspiration For Your Bathroom Remodeling In Stockton
This is what your bathroom remodeling in Stockton can look like! Get inspiration for your upcoming project and see our finished projects right here!
The Best Remodeling Process In Stockton
Get started with a quick and intuitive process that keeps you on top of your project from start to finish.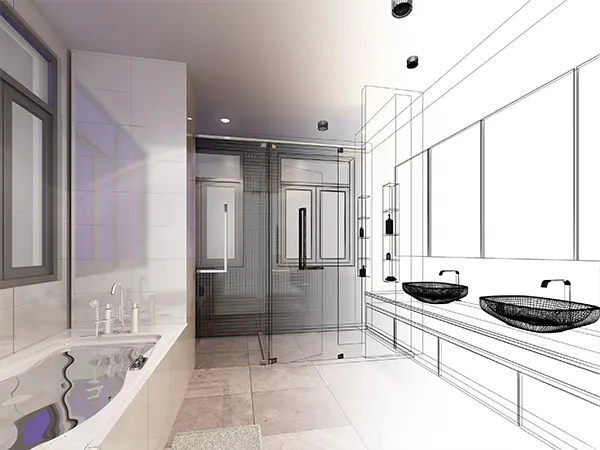 Request your free quote right now and let's start talking!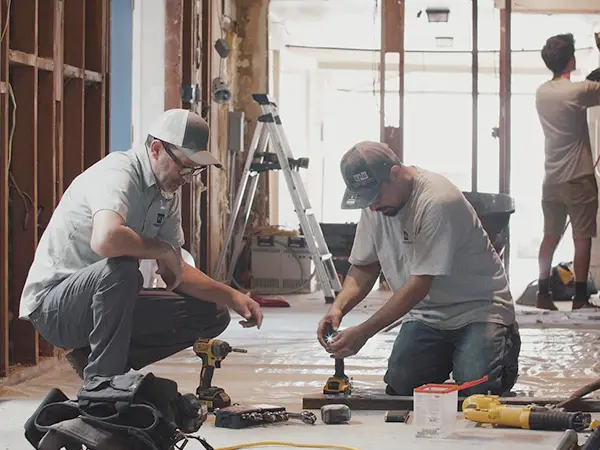 We'll discuss the details and start building your dream bathroom.
Show off your space to your friends! Your new bath is ready!
Frequently Asked Questions
Get KHB Pros On Your Bathroom Remodeling In Stockton!
When you work with the best in the industry, you can expect your new bathroom to bring a high ROI, immense comfort, and enhanced functionality. Here at KHB, professional bathroom remodelers are dedicated to making your dreams come true. You'll go through a simple process that puts your needs and wants first—guaranteeing you a smooth remodeling experience.
KHB gets you:
Get Started On The Upgrade You Deserve The Most