The Best Kitchen Remodeling Companies In Stockton
Interested in starting your kitchen remodeling in Stockton? This guide will walk you through the best companies in the area.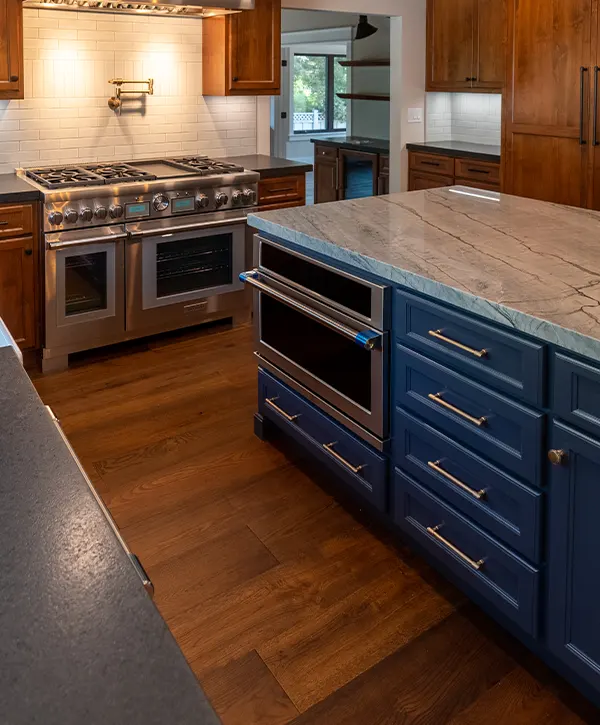 If you're searching for a kitchen remodeling company in Stockton, look no further than KHB Construction. We have an undeniable passion for our work and are dedicated to creating top-notch renovations that improve community life.
Don't compromise on the best. To assist you in finding a reputable home improvement contractor for such an essential task, here is a compilation of some of this city's most talented and experienced kitchen remodelers: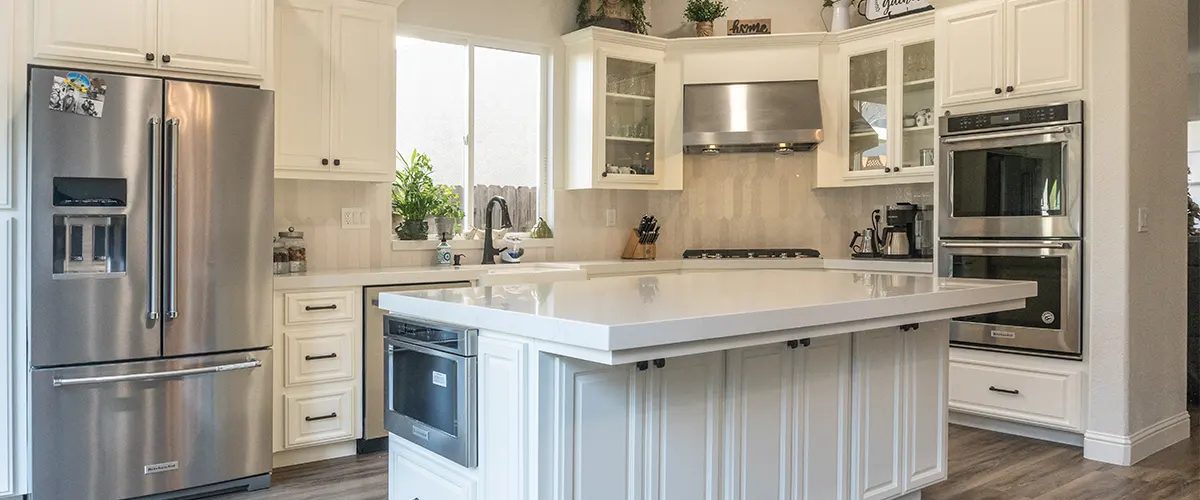 #1. Starting With KHB Construction
Our mission is to revolutionize the construction industry by providing exceptional and innovative services. We understand that homeowners can be wary of contractors, but we are committed to developing trust through our reliable practices and superb results – always surpassing expectations!
KHB is the best choice for anyone looking to make remodeling easy and stress-free. We handle all paperwork, materials, design, and construction – but you stay in control of your project every step of the way. Plus, we guarantee a fast turnaround with maximum accuracy on everything we do! Experience effortless remodeling without sacrificing quality today with KHB.
Are you thinking of renovating your kitchen? KHB is here to assist! We guarantee exceptional results regardless if you're making minor changes or a total transformation. Our team prides itself on quality workmanship and excellent service throughout the process, so don't hesitate to reach out with any concerns. And our unparalleled commitment to excellence leaves past customers pleased that they opted for KHB!
This is an excellent contractor to work with! My family and I worked with KHB to complete a number of projects for a recently purchased home. Let me highlight our experience:
1. Ryan was on time for the initial bid walk-through and provided the quote on-time as promised during the meeting. That's rare in this business. We had several bids from other contractors either come much later or not arrive at all.
2. Their pricing was very fair and the contract process was detailed and easy to complete online.
3. The crew arrived on time to start the project and kept us informed throughout the process, which took a month to complete. Special thanks here to Doug, who was just an awesome site manager to work with all around. I wish every site manager in the construction industry was like Doug.
4. The quality of the work was wonderful and we have no complaints about the end result.
5. Working with Bobby to handle payments was great as well. Very helpful and easy to get in touch with.
One more thing I should add is they managed all of the communication, updates and change orders though an app, which was a very easy way to keep tabs of everything in one easy to reference place.
We're extremely happy clients and we look forward to working with Ryan,
Doug, Bobby and the rest of the team again for our next project!
With its extensive background and numerous successes, Philips Construction is the perfect remodeling company for any residential or commercial project in Stockton. With years of experience and many accomplishments, this team guarantees you will be satisfied with their professional handling of your endeavor.

Phillips Construction stands out from the rest with its hands-on management style: they keep clients informed and involved in every stage of the process. Not only are the results striking, but having experts specialized in all construction fields makes them a cut above other firms. Rather than "jack of all trades" workers, Phillips Construction has staff experienced in each field to ensure successful projects that meet or exceed expectations. 
The outcome is a project team full of knowledge and skill that will help accelerate the construction process while reducing the chances of avoidable delays.
Phillips Construction did a phenomenal job in our home! They took on several projects, the biggest of which was a complete fireplace rehab – they built and installed floating shelves with lighting, cabinetry, and floor-to-ceiling stonework. They also installed a barn door, moved electrical, and did drywall repair. 
Every aspect of their work is top notch and I especially appreciated their ongoing communication and commitment to doing the job right. Shelley, Joe, Norman, Javi, Jason, and Kris were such a pleasure to work with. They also showed up on time, were so respectful of our home and left it just as clean as it was when they came in. I would use Phillips Construction again in a heartbeat!
#3. JC Construction & Renovations INC
JC Construction & Renovations INC is an established, locally-owned and operated construction service provider that Stockton residents have trusted for years. Specializing in excellent kitchen and bath remodeling projects across the town, they are a team of experts with extensive knowledge ready to help you achieve your dream space.
With years of experience in kitchen and bath remodeling, their team is equipped with all the know-how to make your home look exactly how you want it. Understanding that each property is unique, they provide custom services tailored to both your needs and budget – ensuring an ideal fit for any project!
The owner and his employees were amazing throughout the whole process. Thank you again I will definitely hire you again for my next project.
#4. Home Savers Painting And Construction
Investing in your home can be a great decision, not only for the aesthetic appeal but also because it increases resale value. When you don't have time or energy to take on these projects yourself, Home Savers Painting And Construction LLC is here to help with fast and affordable services that will make Stockton homes look better than ever!
This professional team of contractors makes sure your house looks pristine while ensuring minimal effort from you. As such, they are dedicated to providing quality work at an unbeatable price so that everyone can enjoy their dream homes easily whenever necessary.
Home Savers Painting and Construction has the expertise of years in the contracting industry, making their remodeling services unparalleled. They are dedicated to providing superior workmanship along with top-notch materials when they enter your home. Home Saver's team members will collaborate with you every step of the way, helping transform your vision into a reality that exceeds even your wildest expectations!
Home Savers painted the interior of my condo and after a day my power went out in the kitchen area and I called Derek to see if he knew a electrician because mine was out of state. Derek got right back to me letting me know that he would bring someone by and he came as promised with his electrician, and even went on a dry run to home depot but my power is back up and running !! 
I'm so thankful for Home Savers help with getting all my home repair needs done!! I don't call around I just call Home Savers!!And I get quick professional service without the run around and reasonable prices!! Derek I appreciate everything you do!! I know you are a busy man but you always fit me in and make sure I'm straight. you are appreciated!!
#5. EG Custom Construction Inc
EG Custom Construction Inc. is a remodeling company in Stockton that offers designing services for people looking to change the look and feel of their home. Their design service starts at $500 per room and can go up to $1,500 for their luxe offer.
The company also has a showroom that you can visit to meet them in person, choose the materials that you want, try out different designs, and more.
Huge shout out to EG Construction on the beautiful and professional job remodeling my kitchen. From the design process to the finished product, I am so impressed with the talent and integrity of this company. I highly recommend EG construction for your next project!!
#6. We Paint & Renovate Inc
Owner Jason Gonzalez has more than 30+ years of painting expertise and 19 years in business, with a degree in construction management and various industry certifications.  Jason is also a youth sports coach, donating his time and money to various non-profits, and volunteering at his church.
We Paint & Renovate Inc has coverage certificates, warranties, and can provide computer-generated proposal for your project. They believe in delivering a superior product through through honesty, timeliness, and professionalism.
Wonderful and professional. Great team of men. They did an outstanding job painting my business office!!! I would definitely recommend.
#7. Haggerty Construction
HAGGERTY's purpose is to build, restore, and maintain your story; advising you through all steps of planning, preparation, production and presentation. This is a rather large construction company that might not have the same values as a local business, but it's definitely a business capable of seeing any project through.
They value team collaboration and accountability through development quality projects and a culture of safety. They take pride in fine tuning their skills to provide clients a trusted and knowledgeable construction team. 
They worked on large projects that you must've seen around town, like Cushman & Wakefield, Skyzone, UPS Lathrop, and Holly A&B.
I have been an employee at Haggerty for 9 months now. Switching companies can be a challenge and nerve wrecking for some, but the team here has been very pleasurable to work with. It's a friendly/ family environment and the support system is great! Haggerty is a great company to work for.
#8. Bickford Construction
Bickford Construction offers you a team of experienced contractors that can help in all aspects of a home remodeling or construction project, from pre-construction phase through completion. 
Bickford Construction handles both commercial and residential construction, including custom homes, subdivision tract homes, tiny homes, vacation property, maintenance and service, tenant improvements and more!
Bickford Construction is run by Paul and Colton Bickford.
Very helpful in finding solutions to upgrade and transform my spaces. Made sure everything was done right and my happiness was guaranteed. Brought my ideas to life and exceeded beyond expectations!
#9. Banning Construction Inc.
Banning Construction Inc. is dedicated and devoted to their clients by providing a complete and quality service throughout. They're licensed, bonded and insured contactors that provide custom builds, kitchen & bathroom remodels, additions, framing, drywall, electrical, plumbing, flooring, tile, decks, fence repairs, and more!
They work with skilled tradesman that will help you with any remodel and construction services needed.
Jordan and the guys at Banning Construction are absolutely incredible. We had our kitchen remodeled and added on 100+ sq ft and it looks amazing. Their attention to detail and professionalism are top notch and I would absolutely recommend using them for all your construction needs.
Get Started On The Upgrade You Deserve The Most
If you're ready to have the best remodeling company on your side, call us at (209) 620-0068 and discuss your kitchen remodeling in Stockton directly with the owners of KHB, Bobby, and Ryan! Or click the button below for a free quote, and we'll personally call you as soon as possible!