The Best Kitchen Remodeling In Stockton
If you're looking to get a superior kitchen remodeling in Stockton, you just got lucky!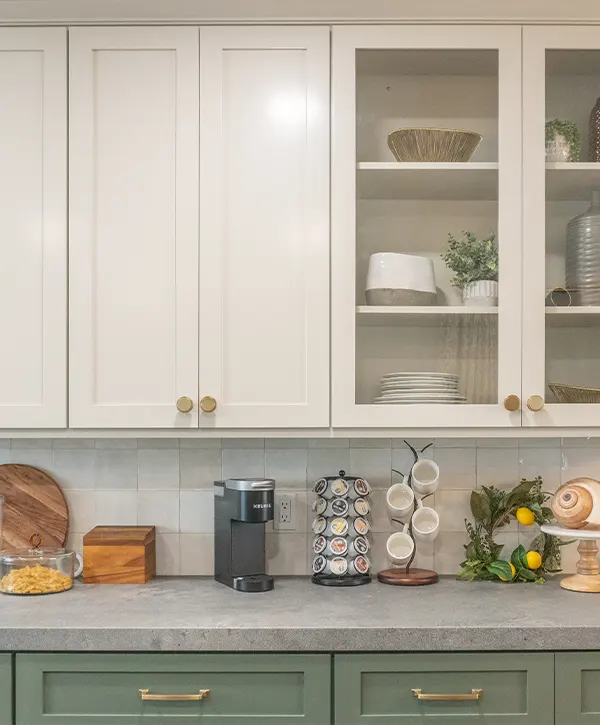 KHB Construction should be your first pick for kitchen remodeling in Stockton. We're passionate about our work and love investing in our community by providing top-tier renovations that improve residents' lives. 
Our team's goal is to provide a value that cannot accurately be measured. From the straightforward start of your project to the impressive end result, great care and attention will be given throughout by our fantastic Stockton team.
Kitchen Remodeling Cost In Stockton
Our kitchen remodeling projects in Stockton, CA, start at around $35k for a basic kitchen remodel with the highest ROI possible and can get up to $100k+ for a large, upscale remodel, ideal for your forever home! To avoid any guesswork, request your free pricing quote now!
Get The Full KHB Experience And Enjoy Your Extra Perks!
Most construction companies are the same, but we stand out because of our innovative perspective and unmatched workmanship. Homeowners typically have a negative opinion of contractors, but we're trying to change that by consistently exceeding expectations.
Your Go-To Contractor for High-Quality Remodeling Services
While in Stockton, you may not find many large construction companies; however, what you will find are countless small contractors who bid low for shoddy services. If you're considering using the lowest bidder for your remodel, take into consideration everything they'll have to fix and the quality of workmanship their company offers. Inferior quality workmanship is generally not worth any short-term savings.
KHB is different–we excel in making your remodeling experience stress free and easy as pie. We handle all the paperwork, materials, design, layout, and building while keeping you in full control of your project at all times. Plus, we treat every aspect of your new space with maximum efficiency.
Check out our premium kitchen remodel offer and make sure you're getting the best remodelers on your project in Stockton, California!
Homeowners In Stockton Are In Love With Their New Kitchens!
See what your neighbors in Stockton are saying about working with an upscale remodeler that never fails to deliver! They're falling back in love with their new kitchens!
How do I even begin to say how pleased I am with the workmanship and professionalism that Ryan and KHB provided. 
From beginning to end everything went smoothly and we are 100% satisfied with the work that was done. The employees are also professional, knowledgeable, and friendly. Any questions I had along the way they answered. Everyone was always up to date on what was happening and when. 
I would highly suggest them to anyone needing construction of any kind done on their home. Thanks again KHB!
Being no strangers to construction, we knew that 5-6 week kitchen Reno meant 3 months. We knew there'd be plenty of pain points and frustrations.
With KHB, from start to final sign off, it took 6 weeks and a day, was virtually pain free and we can't say enough about the craftsmanship. 
Every person on the job took personal responsibility and pride in their craft.
We waited MANY years to get our dream kitchen and can't thank Ryan, Bobby, Doug, George and the WHOLE team enough for a dream achieved! 
Proud to be part of the KHB family!
Materials And Upgrades For Your Stockton Kitchen Remodel Projects
Some of the most substantial home improvement projects are kitchen remodels. Many aspects of the kitchen can be updated, each one affecting how comfortable and efficient this room is.
At an on-site visit, we'll help you select some of the best materials for your kitchen from our wide range of options. In the meantime, here are some of our most popular upgrades:
If you're looking to get the maximum ROI on your remodel, semi-custom cabinets are proved to be the best investment you can make for this. Paint grade cabinets are affordable, efficient, and can be refinished multiple times.
If you would rather have one-of-a-kind storage space and budget isn't as big of an issue, then custom hardwood cabinets will be better for you. Stock cabinets aren't usually made with the same high level of quality, so it's less likely you'll find something that works well with your specific space.
Though it's not required, some of our customers do choose to replace their appliances. If cooking isn't your forte and you don't often enjoy take-out, Lowe's or Home Depot will have what you need in terms of a mid-range budget. However, if money is no object and you want a luxurious kitchen with cutting-edge technology that can make food preparation much quicker, it is available–for the high price tag between $18k-$25k.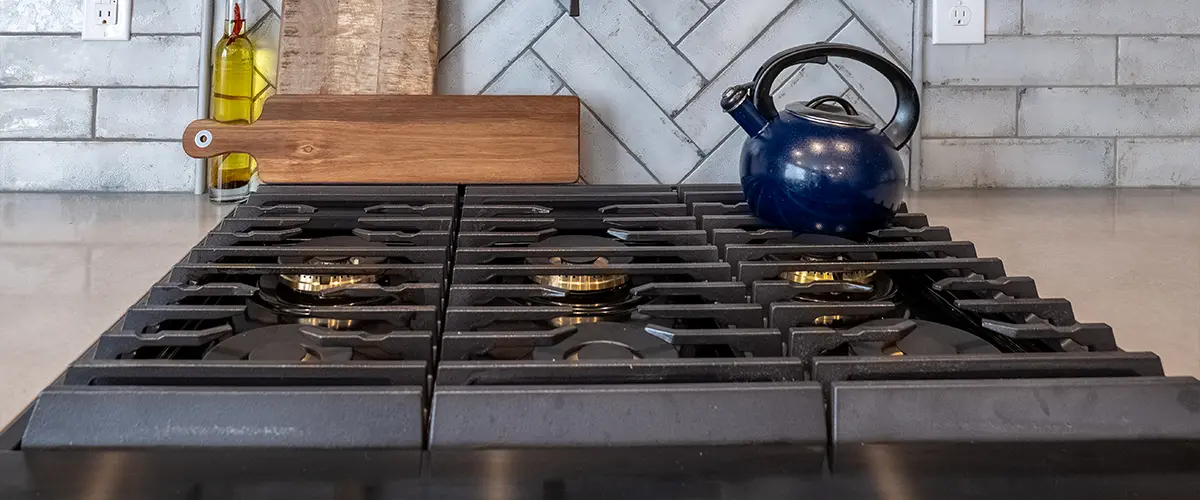 When you're searching for the best countertop surface for your kitchen, make sure to keep quartz in mind. Quartz is created artificially, so you'll never have to worry about an inconsistent pattern. It's also durable and doesn't break or chip easily. And even if it does get stained or dirty, quartz is simple to clean and maintain – perfect for home remodeling projects, big and small!
Although marble presents a look of luxury, it might not be best for rooms such as kitchens that get a lot of foot traffic. They're less durable than quartz surfaces. If you're seeking something more affordable, granite counters are definitely worth investigating further.
Older hardwood floors can be refinished to bring them to their former glory, or you can replace them altogether with a more efficient flooring material for a damp space like a kitchen.
Luxury vinyl tile and luxury vinyl planks are great alternatives to tile or wood floors, as they can mimic the look of any natural stone or species of wood. They're also easy to maintain, affordable, and fairly efficient in a high-traffic kitchen.
For a more upscale improvement, we'd recommend porcelain tile flooring, or ceramic tile flooring. These are, indeed, more expensive, but their functionality is undoubtedly going to pay off in the long run.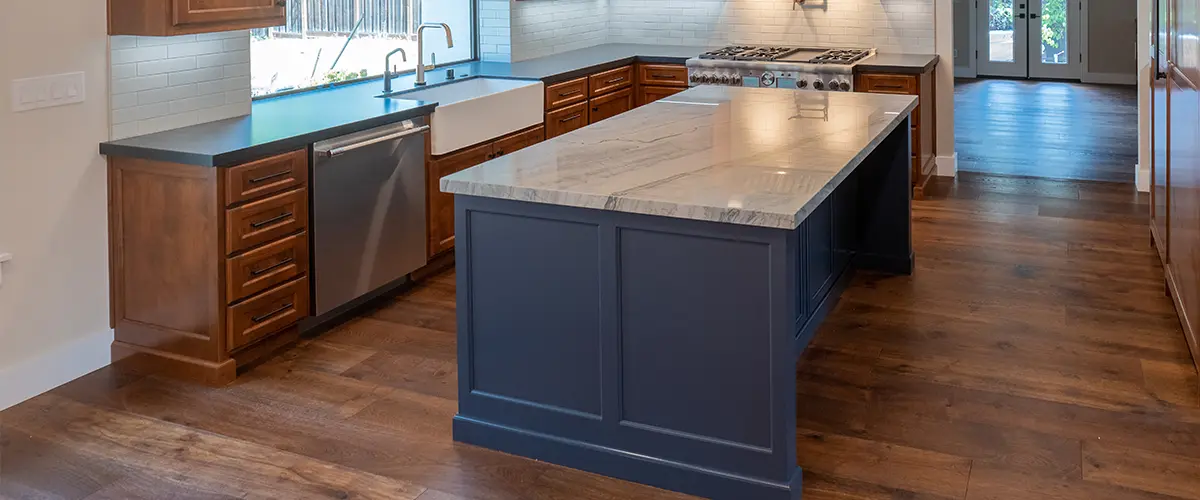 There are two popular options for sinks, and both of them will have different advantages.
Because water fixtures can really finish the look of your counter space, we'd go for an accent color that'll complement the cabinets and the countertop. Black is a very popular option that makes the entire vibe more modern, but golden water fixtures are a quick and affordable way to give your kitchen an expensive look.
Though it may not seem like it, moving appliances is complex and difficult. You must physically move the appliance, but you must also change the plumbing and electrical system- which can dramatically change your entire kitchen layout. Yes, this upgrade creates value but before starting any work, weigh all options because how you proceed with this will affect future renovations.
By moving your appliances and other features around, you are increasing your chances of having a space that is both functional and easy to move in. This also allows you the opportunity to create the kitchen layout of your dreams, so it is an upgrade worth considering.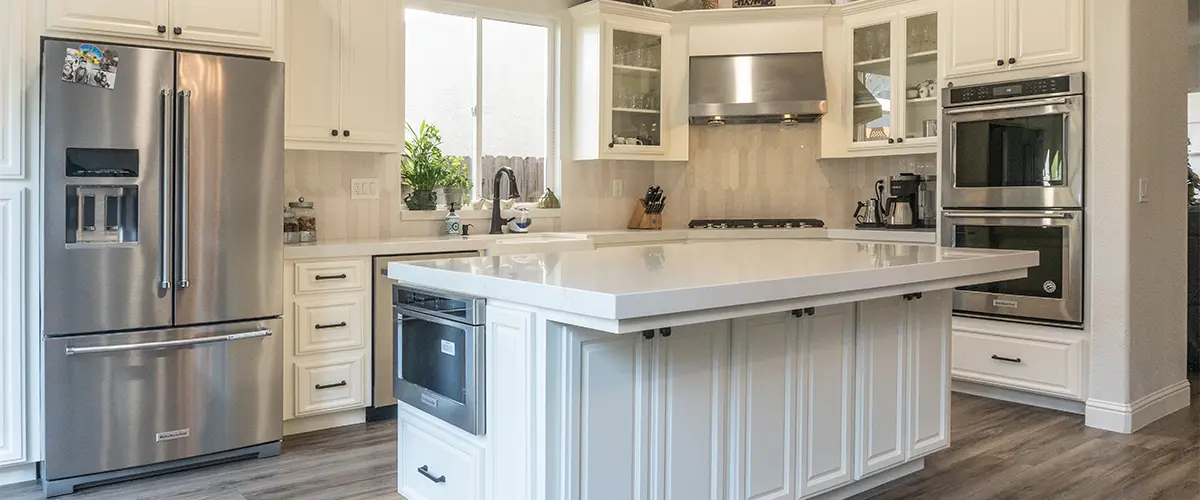 This Is How Your New Kitchen Can Look!
These kitchens in Stockton underwent a wonderful job and upgrade! Check out the finished product and take the first step toward getting your own premium kitchen!
Get Peace Of Mind With A Process Focused On Your Well-Being
Our process is designed to be quick and easy, so you can stay on top of your remodel at all times. We want to make home improvement as stress-free as possible, and this method guarantees that you'll get your new kitchen with minimal effort!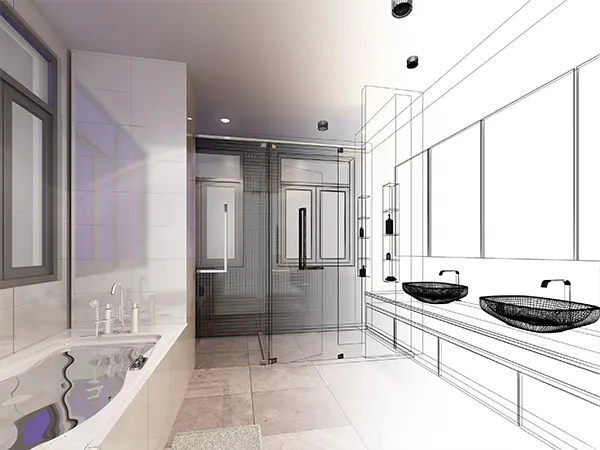 Request your free quote right now and let's start talking!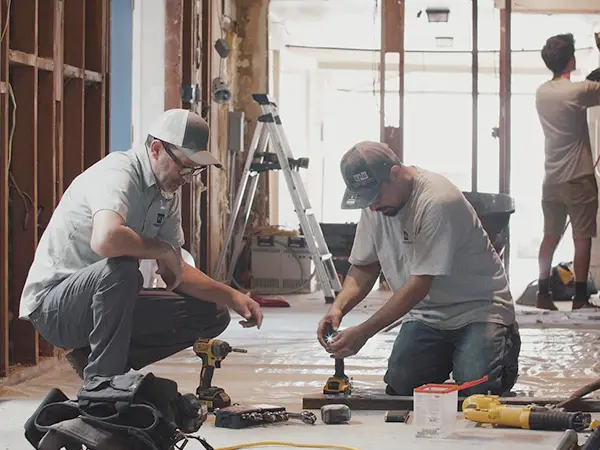 We'll discuss the details and start building your dream kitchen.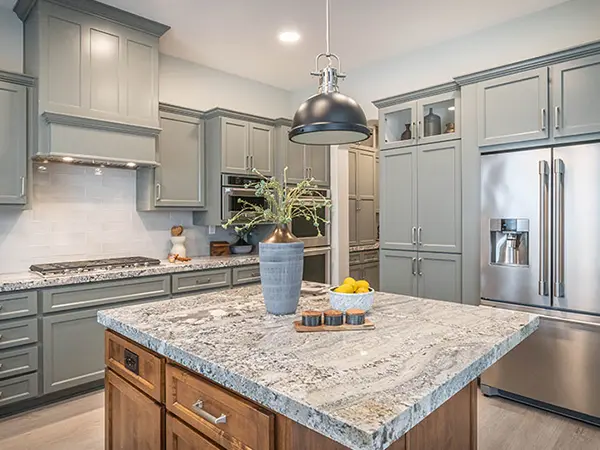 Show off your space to your friends! Your new kitchen is ready!
Frequently Asked Questions
Here are some kitchen improvements that will make your space more efficient and good-looking while also giving you a great return on investment: new cabinets, countertops, backsplash, and water fixtures. Make sure everything works well together by testing the plumbing and electrical systems. And to give your new kitchen an extra touch of polish, add fresh paint to the walls, matching cabinet hardware, coordinating light fixtures, or other desired features like an island or additional storage space.
You can pay anything from $20,000 to upwards of $160,000 for your kitchen renovation, depending on a variety of factors such as location and desired finishes. Some common improvements that people choose are reconfiguring the layout, custom wood cabinets, high-end appliances, new flooring, or waterfall countertops.
A kitchen remodel usually takes six to eight weeks, from beginning to end. This time frame includes the proposal, design, material selection, and all other logistical elements of your remodel. The building phase will only take four to six weeks for a similar kitchen renovation. However, a larger custom makeover that involves relocating appliances will obviously take significantly longer.
We will take care of everything for you, from the initial paperwork to the final walk-through. You'll have your own project manager, and our team will be 100% dedicated to ensuring your success. We know that remodeling can be a daunting task, so we're here to help you every step of the way—guiding you through all the paperwork, material selection, building phase, and regular follow-ups until completion.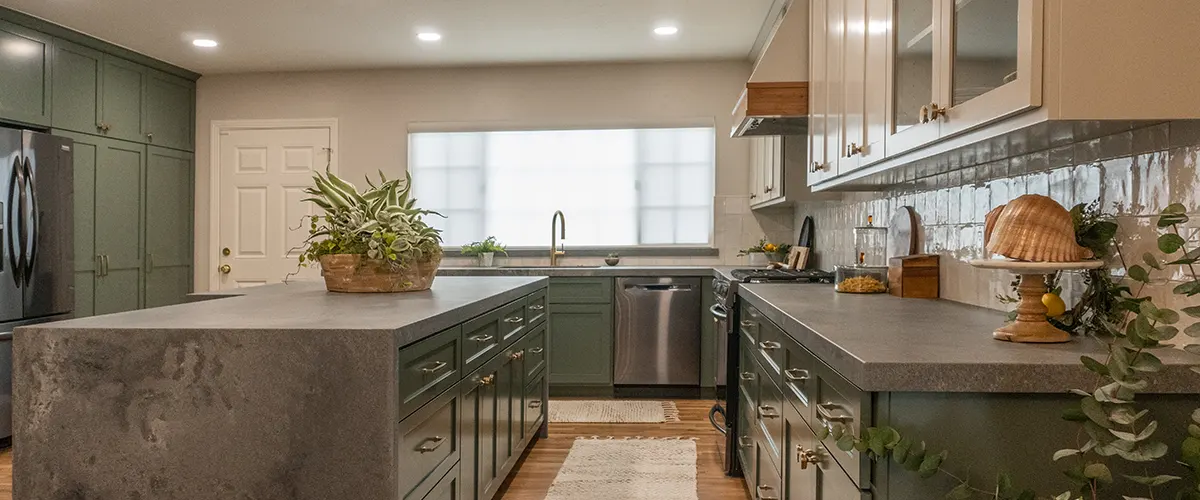 Your Premium Kitchen Remodel Awaits You!
Think about how much you want to change your kitchen. Is it a few minor updates or do you want us to help turn it into something truly amazing? With KHB, we guarantee an amazing experience–top-notch craftsmanship and a seamless process that will minimize all anxiety from start to finish. And if you have questions along the way, we're always available to answer them. People who've worked with us know that our promises are what make it all worthwhile!
We tend to overdeliver, so get ready to enjoy:
It's Time To Get Your Well-Deserved Upgrade!
Stockton, situated in California's Central Valley, is a city that reflects a blend of history, diversity, and resilience. Known for its roots as a vital inland port during the Gold Rush era, Stockton retains echoes of its past through historic architecture and landmarks such as the Bob Hope Theatre and the Weber Point Events Center. The city's rich cultural fabric is evident in its vibrant arts scene, annual festivals, and a variety of culinary offerings influenced by its diverse population. While Stockton has faced economic challenges, its community spirit and ongoing revitalization efforts are evident in the Stockton Waterfront and its commitment to fostering a thriving urban environment.