The Best Bathroom Remodeling In Tracy, CA
Interested in starting your bathroom remodeling in Tracy CA? This guide will walk you through everything.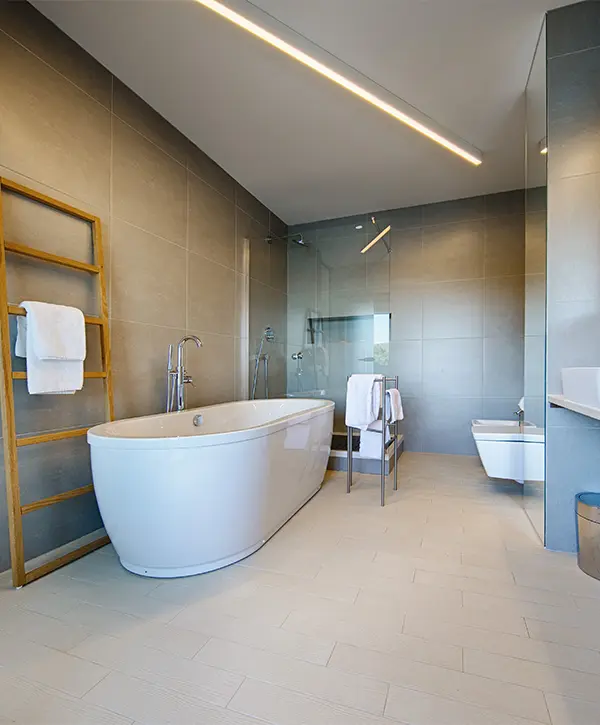 If you're looking into getting a bathroom remodeling in Tracy CA started, you're in the right place.
KHB Construction Tracy is your local bathroom remodeler that's dedicated to giving you a beautiful bath that'll leave everyone in awe. Go through a process that'll offer you peace of mind at all times during renovation, and let your bathroom reach its true potential with the best high-end remodel in Tracy.
We tend to over deliver on every project we work on as we know this is what makes you fully satisfied.
Get A Bathroom With Extra Benefits From Your Local Pros
We love seeing our customers getting excited about their new baths. We know these are important spaces, which is why with us, you're getting more than what other contractors are offering.
Get Your Premium Bathroom Remodeling In Tracy With KHB
Bathrooms are important spaces that need to be treated as such. And when you're starting to consider a bathroom remodel project, you'll want the best people in town to come do it.
At KHB, we're a leader in the bathroom remodeling industry in Tracy. You'll be working with dedicated professionals that treat your home like their own, so you'll receive 100% quality and superior craftsmanship.
A simple and intuitive process makes it easy for you to be in control of everything that happens during your remodel, and our team will ensure your needs and wants will guide the renovation.
Check out our bathroom remodel offer and make sure you're getting the best remodelers on your project in Tracy, Modesto, Turlock, or the rest of Central-Valley & Tri-Valley, California!
Homeowners In Tracy Love Their New Bathroom
Become one of the happy homeowners in Tracy and share your remodeling story with your neighbors! Terry and Pam loved their remodels. You can too!
We had our bathtub remodeled into a walk in shower. 
From the first meeting with Ryan the salesman and Doug the manager of our project it was a great experience. They worked up a quote and when it was a little over my budget they worked with me to get within my budget. 
They set us up with a decorator to help us with tile selection and design. They gave us a detailed schedule of day to day work plans and stuck to it exactly. 
We are very happy with them and will definitely call them when we're ready to do our kitchen.
Being no strangers to construction, we knew that 5-6 week kitchen Reno meant 3 months. We knew there'd be plenty of pain points and frustrations.
With KHB, from start to final sign off, it took 6 weeks and a day, was virtually pain free and we can't say enough about the craftsmanship. 
Every person on the job took personal responsibility and pride in their craft.
We waited MANY years to get our dream kitchen and can't thank Ryan, Bobby, Doug, George and the WHOLE team enough for a dream achieved! 
Proud to be part of the KHB family!
Upgrades For Your Bathroom Remodeling In Tracy
There are plenty of materials, upgrades, and features available for your bathroom remodel project. Choosing between all of them can be overwhelming and you can end up with a bath that simply doesn't fit your style and meets your expectations.
Our bathroom designers from KHB will help you through the material options and all the features you can get, so you can get a bathroom that's made exclusively for your changing needs.
Let's take a look at the most common upgrades.
A double vanity is a popular upgrade for most master bathrooms. They boost the functionality of your space by providing extra storage space, but they'll also set the style of the room. For half baths or powder rooms, a unique vanity with a beautiful design is all it takes to uplift the room.
These days, most people choose frameless cabinets because of their modern look. Hardwood is an upscale option and it's great if you have other wood features in your bath that you'll want to match. For a more affordable option, we recommend a combination of plywood and MDF cabinets.
If you're looking to increase your property's value more than anything else, go for semi-custom cabinets. As per KCMA, these give back the highest ROI. However, if you want a unique vanity made exclusively for your space, a custom vanity will be a better choice.
Changing a vanity usually comes with replacing the countertops as well. If you were planning to keep it, consider how it'll match the style of the new bath, but also if it'll match in dimensions.
The best counter material is undoubtedly quartz. This manufactured stone is durable, resistant to stains, scratches, or chips, and very easy to maintain. Because it's a man-made material, quartz has a more consistent pattern and design, making it flow and appear seamless.
Other viable counter materials are granite, marble, soapstone, laminate, hardwood, and more.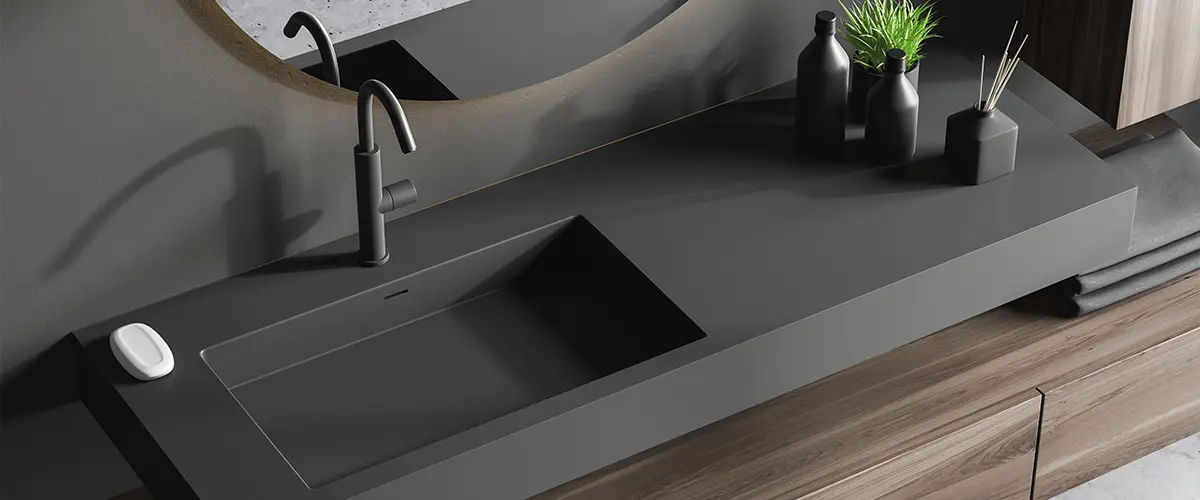 Lately, we're seeing a lot of homeowners replacing their tub with a walk-in shower. And if the budget is not a problem, many of our customers decide to keep a freestanding tub for relaxation, and a shower for functionality.
Naturally, the space in your bath will be an issue if you want to keep both, but we can work with any size of bathroom and find the best solution for your needs.
Replacing older pan showers with a curbless, glass walk-in shower and adding a matching tile floor and concealed drains is probably the best shower upgrade you can get. It ensures immense accessibility for older homeowners while also offering an impressive look that'll make your guests want one themselves.
The bathroom flooring needs to be functional, but also aesthetic. It ties everything together and makes the room flow when installed properly.
For flooring materials, porcelain or ceramic tile remain excellent options. Luxury vinyl tile (LVT) or luxury vinyl planks (LVP) are rapidly gaining ground, as more and more homeowners appreciate the quick installation and their accessibility. Besides, LVP and LVT can resemble different species of wood or stone.
For a master bathroom, the essentials need to look great and function properly. For a powder room or a guest bathroom, they'll need to be a focal point.
Upgrading your sink and toilet will improve both the functionality and the looks of your space, and these upgrades are actually relatively affordable.
Ceramic, porcelain, and acrylic are the most popular materials for toilets. But don't stop there; add some new technology to make things even better. These little details are the ones that boost functionality the most.
Get Inspiration For Your Bathroom Remodeling In Tracy CA
This is what your bathroom remodeling in Tracy CA can look like! Get inspiration for your upcoming project and see our finished projects right here!
A Quick And Intuitive Remodeling Process In Tracy
Get started with a quick and intuitive process that keeps you on top of your project from start to finish.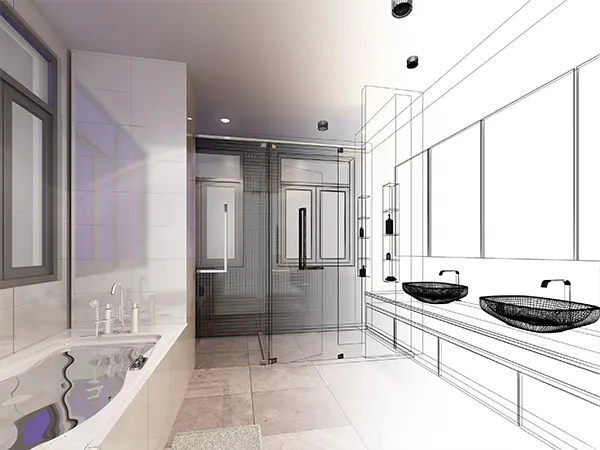 Request your free quote right now and let's start talking!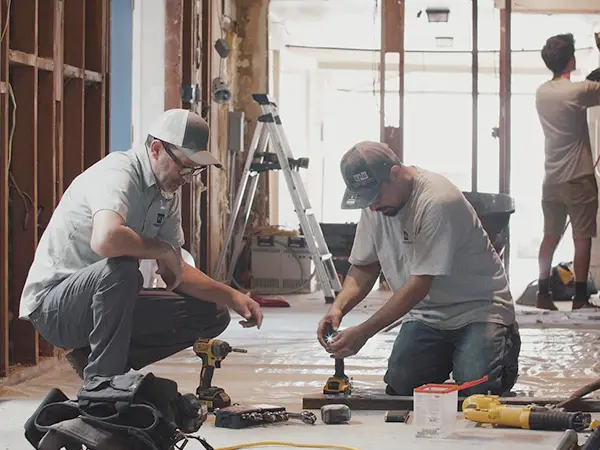 We'll discuss the details and start building your dream bathroom.
Show off your space to your friends! Your new bath is ready!
Frequently Asked Questions
Get KHB Pros On Your Bathroom Remodeling In Tracy!
Needless to say that new bathrooms bring a high ROI, immense comfort, and a huge deal of functionality. But for your project to be 100% successful and for you to be fully satisfied, you'll have to work with the best in the industry.
At KHB, we're professional bathroom remodelers, dedicated to making your dreams come true and offering you a new space that matches your lifestyle. You'll go through a simple process that puts your needs and wants first, so you can have a smooth remodeling experience.
KHB gets you:
Make The First Step Toward Your New, Well-Deserved Bath
Call us at (209) 620-0068 and discuss your bathroom remodeling in Tracy directly with the owners or KHB, Bobby and Ryan! Or click the button below for a free quote, and we'll personally call you as soon as possible!