Until the time comes when you choose a set of kitchen cabinets for yourself, you might not really know what to expect. The majority of us wouldn't think past the color or general style of a cabinet, but in reality, cabinets can have a long list of differences between them—and these differences can impact the cost.
If being thrown into the world of cabinetry feels overwhelming for you, don't worry. You're not alone. In fact, most homeowners are surprised to learn what kind of options are available for the cabinets around various parts of their home. Learning what goes into these cabinets and what your options are can help you to purchase cabinets that you love, and that suit your preferred budget.
What to Consider with Your Cabinets
People often make the mistake of assuming that their cabinets are simply something to look at. Unless you know what is available, you can't truly understand the benefits that the right custom cabinet set can offer your kitchen experience. Learning what cabinets can bring will help you to find a system that supports you every single time that you walk into the kitchen.
Semi-custom cabinets are often the most noticeable part of a kitchen remodel, which makes them very important. You want cabinets that will look good with your personal design preferences.
Your cabinets might vary depending on the appliances that you have or even the color scheme that you prefer to keep. Certain aesthetics might clash with the material or color of your cabinets, so you want to think about the big picture if you want to have sleek cabinets decorating your kitchen.
Most people think that cabinets are really just a basic storage space, and while that is true, it also isn't that simple. Your drawers and cabinets can be altered to support your needs in a space. If you know that you use a lot of materials that you need space for in one area, you will want to consider that.
Having enough storage for your cooking materials and any extras is always important, but the options that cabinets come with can stretch well beyond that. Modern cabinets can offer specific spaces for something like a trash can or even be fitted with additional internal organization systems.
Any chef will tell you that there is nothing more important in a kitchen than the flow. When you are cooking, if your environment does not support it, you will feel it. You want a space that accommodates how you move and cook. This might mean providing specific spaces in one area or even having something like a spice rack fitted right next to your stovetop.
To find the best design for your flow, it can be beneficial to sit down and truly document how you cook. What is important to you, and what changes can be made to offer support for your process? Maybe you need a lot of storage or counter space in one area, or maybe you need a setup that supports certain appliances in very specific places. The more that you know about your flow, the better your final cabinet design will be. When you have an accommodating design, you will feel the difference.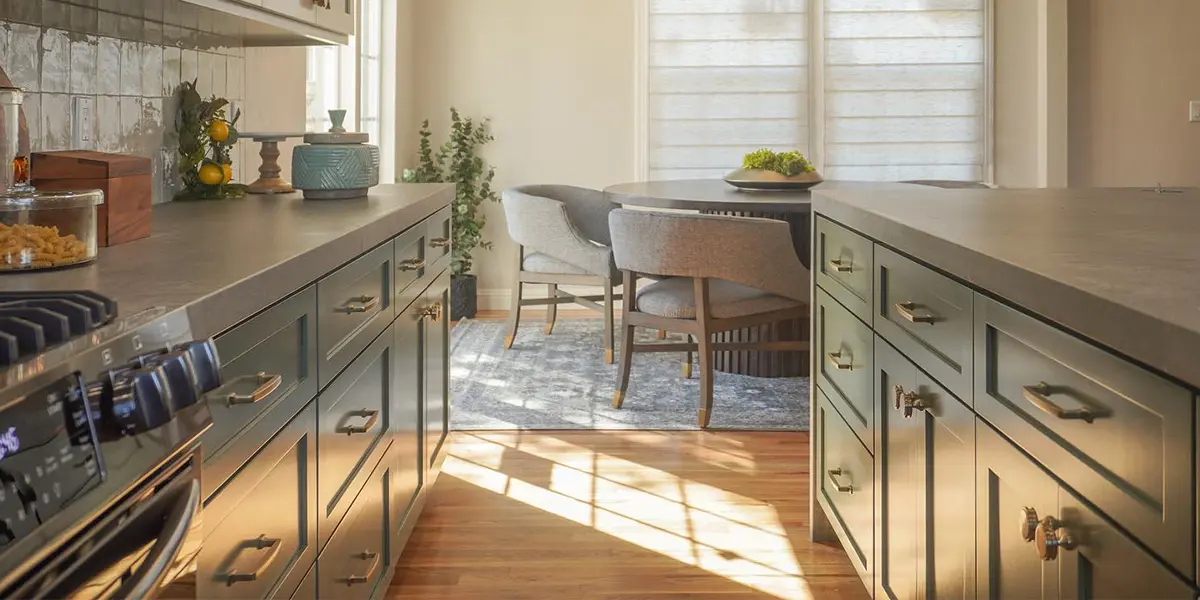 Factors that Influence Cabinet Cost
There are so many different components of a cabinet that will influence their cost. Every cabinet set comes with different parts and different materials. Depending on what you choose, you might end up with a highly affordable cabinet set or one that is destined to break the bank.
While most people think of cabinets as a set, it helps to break them down to their components so you can understand what is actually driving up the cost. Knowing these details will allow you to find small savings in your cabinetry purchase, but it can also help you to create the perfect cabinet design for your home.
The first primary cost difference comes from the materials that the cabinets are made from themselves. This factor includes the materials chosen for the physical wood or wood-like structure of the cabinet. The materials you pick and what can be done with them can play a big role.
Your big cost difference between these two is often based on what goes into preparing the materials. You can expect more effort to go into stain-grade materials a lot of the time. Paint-grade materials are often more simplistic and don't require as much.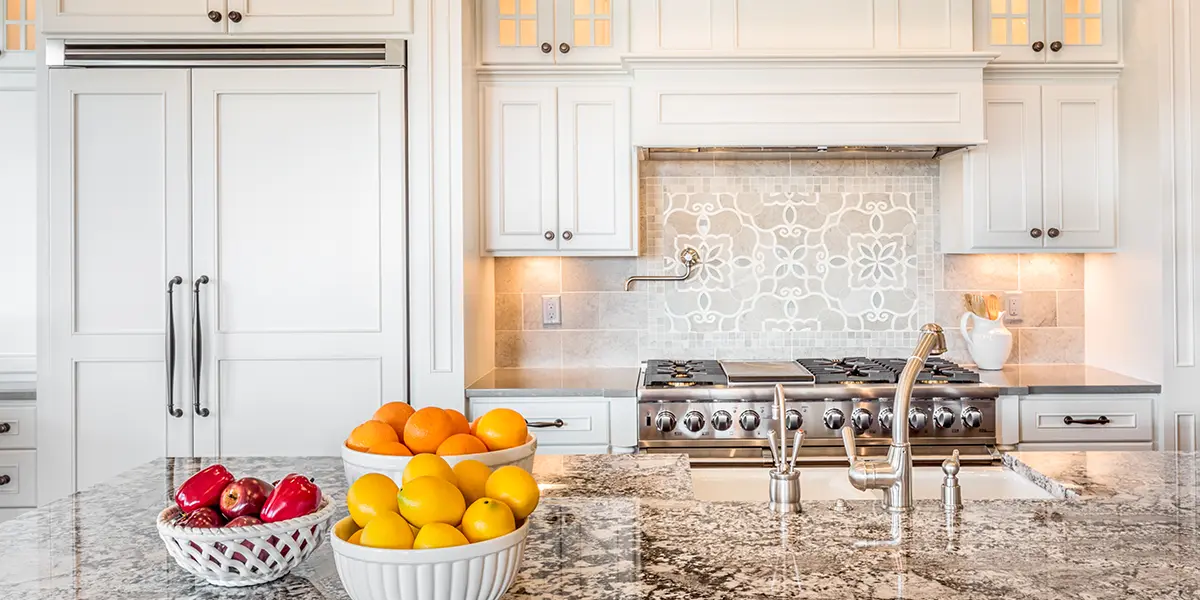 In the majority of cases, stain-grade material is made entirely from wood. It has a very specific finish, and it doesn't leave room for cosmetic brush-ups. With stain-grade material, what you see is often what you get. Of course, staining can also lead to a beautiful finish, particularly when you like the stain of the materials.
With paint-grade materials, you will often receive cabinets that are made up of two different materials. The surrounding piece can be made of poplar, which is a cheap type of hardwood. Then, the middle of each cabinet will be MDF, which will be paint-grade.
Regardless of whether or not you choose stain-grade or paint-grade materials, you will have a long list of additional features that are available to you. Each cabinet set is different and can come with different components that are designed to provide a unique user experience. With time, more exciting upgrades are becoming available, and they can provide a long list of perks.
Depending on the cabinet hardware, you might find that the entire experience changes. Of course, this can cause the overall price to change too, which is something to keep in mind. Stock cabinets are usually cheaper than custom ones. But don't worry, not every upgrade costs a lot of extra money. They vary depending on what goes into making them!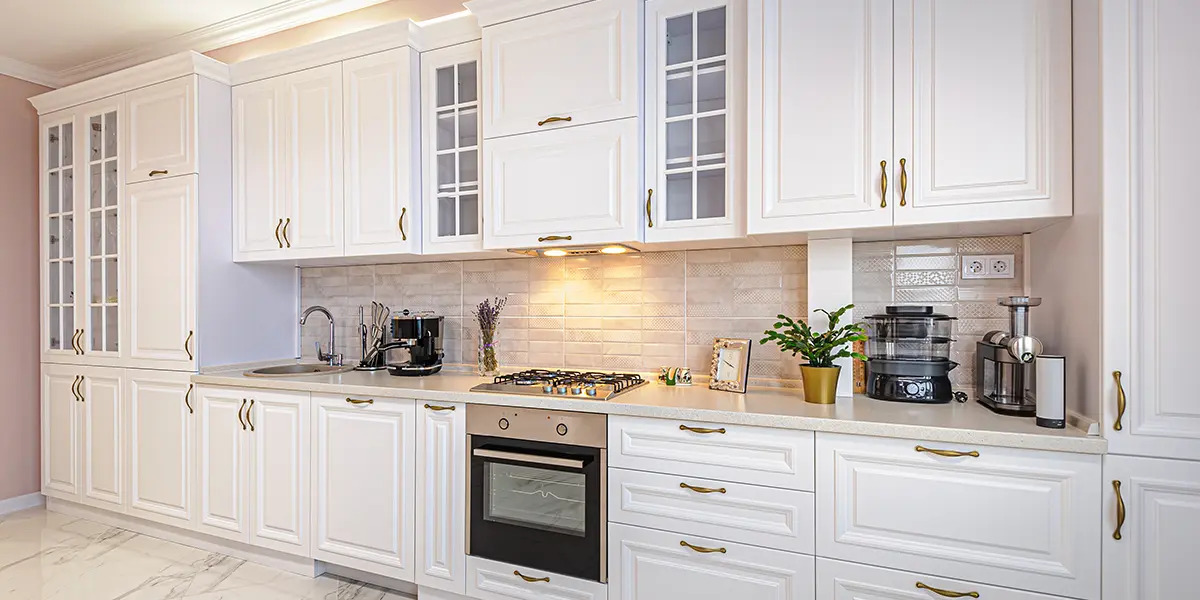 As more talented designers spend their days making cabinets with potential users in mind, we are seeing some truly incredible upgrades. A Kessebohmer pullout is one of the more popular features available, but it isn't all that cabinets have to offer.
The features that you choose can influence your cost based on the effort that goes into making them possible. A feature that takes a lot of additional design work can drive up the price because it requires more labor. Depending on the complexity of these builds, you will find that the price can go up a little—or a lot.
In the majority of cases, stain-grade material is made entirely from wood. It has a very specific finish, and it doesn't leave room for cosmetic brush-ups.
With stain-grade material, what you see is often what you get. Of course, staining can also lead to a beautiful finish, particularly when you like the stain of the materials.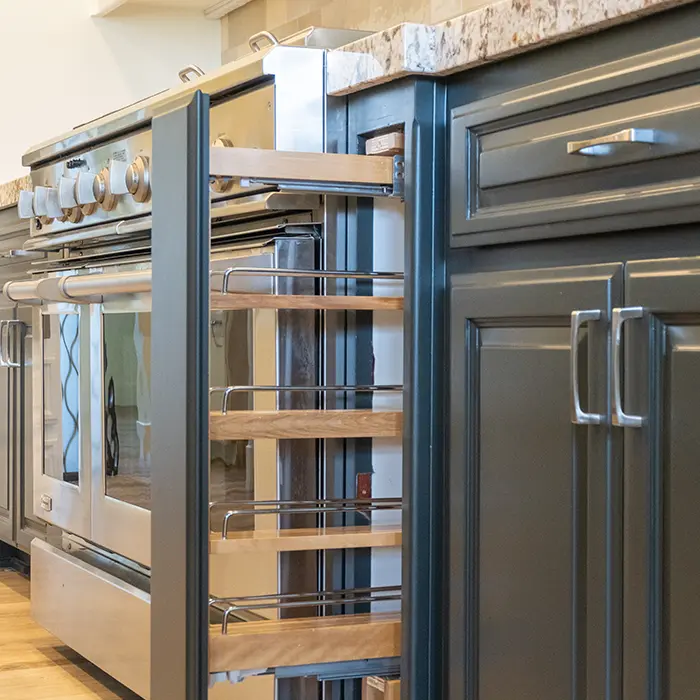 6. Door and Drawer Hardware
As you might have noticed, doors and drawers can look different—and not just because of the materials that are chosen. Custom wall cabinets allow you to choose from a wide range of options to design a cabinet that perfectly matches your kitchen.
The choices that you make on accessories can influence the price for better or worse in some cases.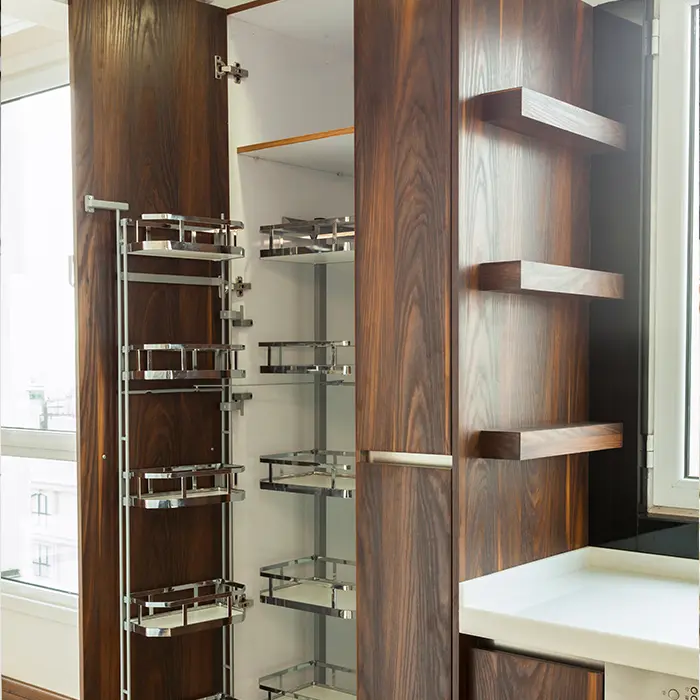 The handles and knobs on your upper cabinets can play a role in the price, but also the overall appearance and comfort of your cabinets.
You might want something large and easy to grab, or you might prefer understated and barely visible options that blend in more effectively with the kitchen. The options that you choose can come in different materials and different designs, but they can also require different installation in some cases too.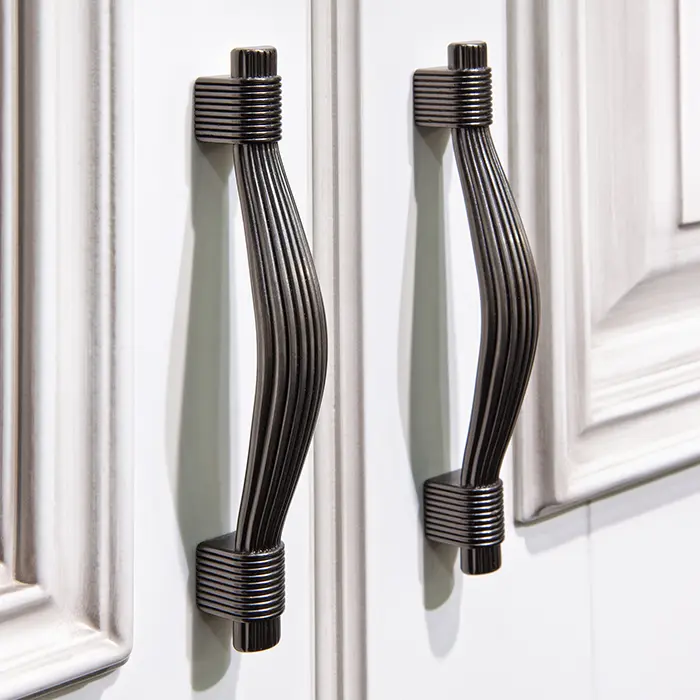 When purchasing pantry cabinets, you might not think too much about the hinges—but you should. Modern solutions offer a wide variety of different benefits in this space. You can choose soft-closing hinge options that will offer a quiet experience, or you can even choose hinges that subtly close the cabinets themselves.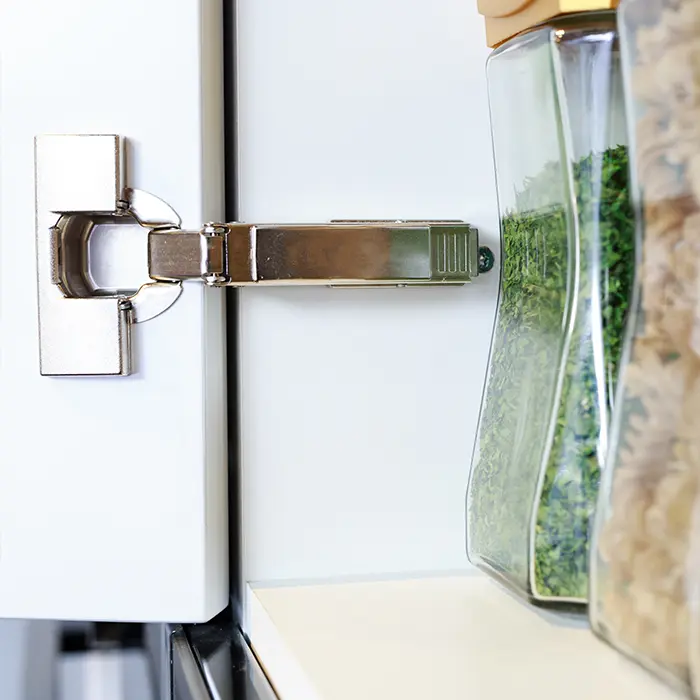 Just like with cabinet doors, cabinet drawers also have newer technology options. Unfinished cabinets that are slightly older won't have these newer upgrades. A soft-closing drawer can be a lifesaver, particularly if you keep different hours than others in your home or if you have kids you don't want to wake up. They're also less likely to be broken by use in some cases. Self-closing drawers are another great option that can bring some pretty amazing conveniences while you are busying yourself in the kitchen.
Automatic drawers are a great option that can make you feel like you are living in a home straight out of the future. These drawers are easy to use and take the human element out of regular use, making it easy to keep them lasting longer without damage throughout the years.
We live in a technology-driven world, and that is not going to change any time soon. Outlets are a very important part of any room. Whether you need a place to plug in some accessories, or you just want extra space to charge your tablet while you try out all of those fun recipes from Pinterest, we can accommodate that. Drawers and cabinets can be fitted with these upgrades to help bring a little more convenience to your kitchen in a big way.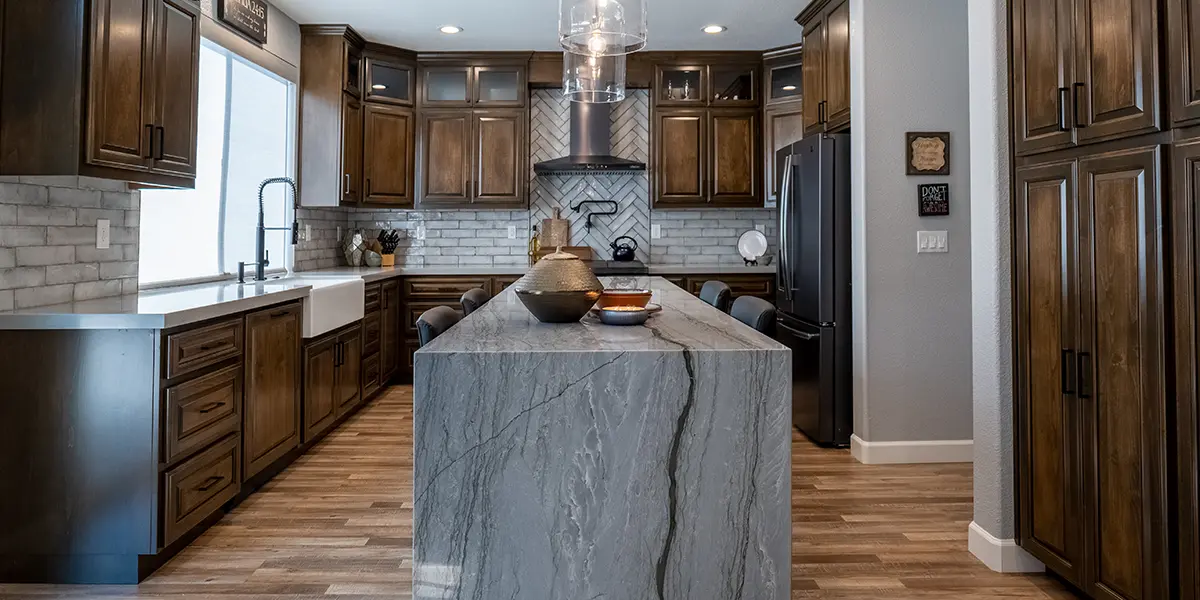 The cabinets in your kitchen play a huge role in how your kitchen will look, but also in how you will use it. Choosing the right cabinet setup to support your needs is a matter of finding a set that looks nice, offers the upgrades you need, and supports your flow while you cook.
With so many options of your favorite kitchen cabinet ideas available, anyone can have the cabinet set of their dreams at a price that feels comfortable to them. Don't hesitate to explore what options are available that can make you love your kitchen more than you already do!