If you're like most people, your bathroom is one of the most used rooms in your home. It's also a room where you need to be able to store a lot of things without it feeling cluttered. That's why we've put together this list of bathroom storage ideas. Whether you're renting and don't want to do any remodeling, or you're remodeling your bathroom and are looking for clever ideas, we've got you covered. Keep reading for inspiration!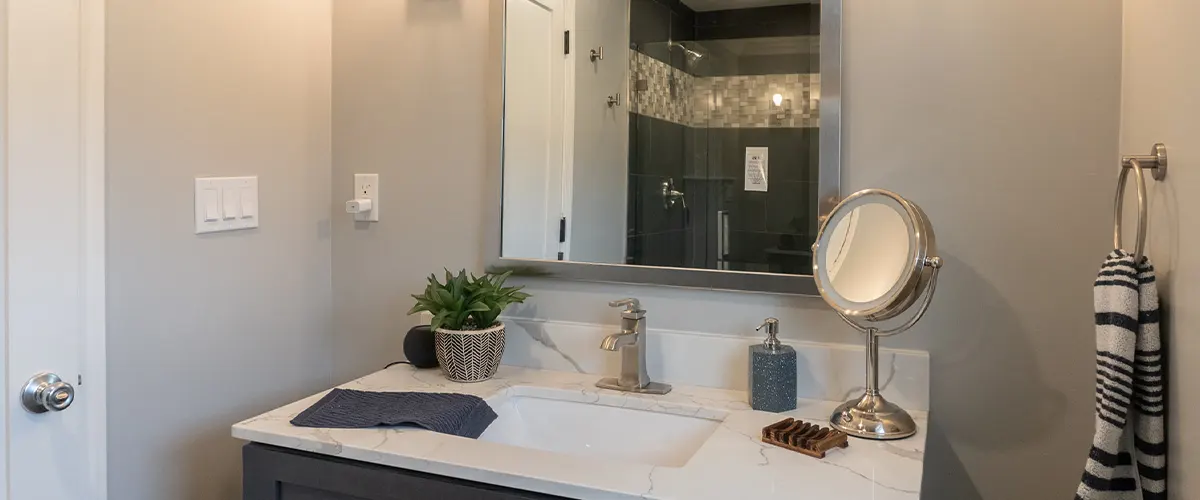 1. Create Nooks For Your Shower Essentials
A well-organized shower can be a game-changer when it comes to starting your day on the right foot. By carving out a dedicated storage spaces for your shampoo, conditioner, body wash, and other essentials, you can ensure that everything is within easy reach. 
Decanting your go-to products into pretty glass bottles can also help to create a more streamlined look. Not only will this make your shower look tidier, but it can also help you avoid waste. When it comes to storage, less is definitely more in the shower. By decluttering your space and streamlining your products, you can start each day feeling refreshed and ready to take on the world.
2. Install Floor-To-Ceiling Shelves
Floor-to-ceiling shelving is a great way to make use of an otherwise neglected corner. By installing floating shelves that go all the way to the ceiling instead of a bathroom cabinet, you can create a lot of additional storage space. Baskets are a great way to corral clutter and add a bit of décor at the same time. Closed cabinets can be used for storing items that you don't want on display, while open shelving is perfect for displaying more stylish items. This combination of open and closed storage can give your space a clean, finished look.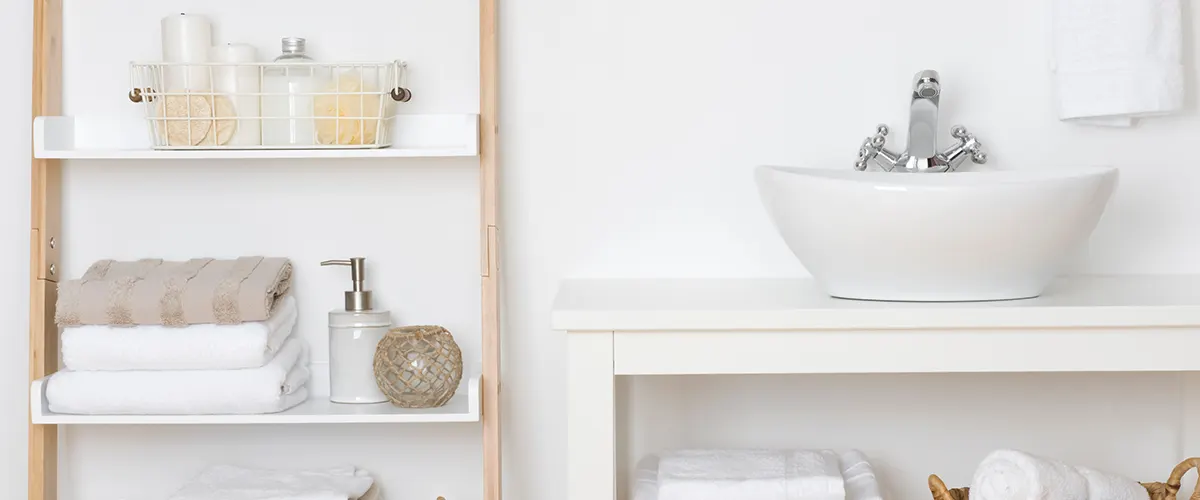 3. Go For Wall-To-Wall Vanities
When it comes to bathroom storage and wall space, bigger is almost always better. That's why opting for a wall-to-wall vanity can be such a game-changer—especially if you're working with a small space. Not only does it provide plenty of room to stash all your towels, linens, and bathroom products, but it also frees up valuable floor space.
And when your tiny bathroom is short on square footage, that's priceless. Of course, a wall-to-wall vanity isn't just about function. It also adds a touch of luxury to any space. You can use a custom wall-to-wall vanity to create an elegant and inviting retreat.
4. Forget About Medicine Cabinets
Many people choose to store their medicine in their bathroom cabinets. However, this can take up a lot of space, especially if you have a small bathroom. A better option is to use your vanity drawers to store your medicine. This way, you can keep the cabinet free from other things.
There are a few things to keep in mind when organizing your vanity drawers. First, make sure that all of your medicines are clearly labeled. Second, group them together by type. For example, put all of your pills in one drawer and all of your liquids in another. Finally, be sure to keep dangerous chemicals out of reach of children and pets. By following these simple tips, you can maximize the space in your bathroom and keep your family safe.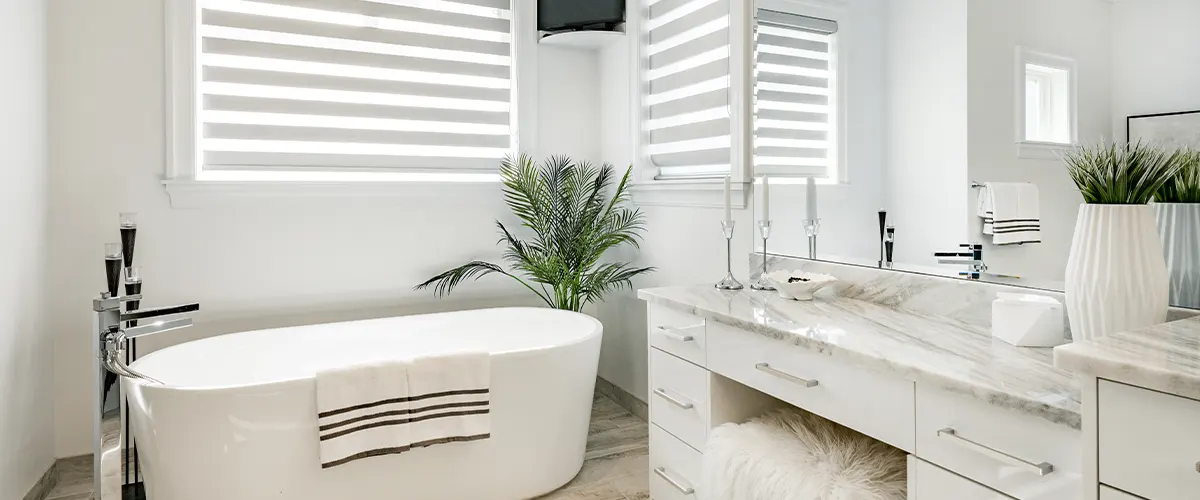 One easy way to add a touch of style to your bathroom is to wrap your pedestal sink in patterned fabric. This not only hides any under-the-sink clutter but also adds a bit of color and personality to the space. If you have the extra room, you can even sneak a few baskets or containers behind the curtain to keep things organized. Just be sure to choose a fabric that is easily washable, as bathrooms can be messy places. With a little effort, you can turn your ordinary bathroom into a stylish oasis with this hidden storage space.
A ladder can be a great addition to any bathroom, providing a spot to hang towels and baskets full of extra toilet paper. Ladder shelves are a great way to add storage to a bathroom without taking up too much space. They are perfect for small bathrooms or half baths where you don't have much room to spare.
A ladder shelving unit comes in a variety of styles and can be made from different materials, such as wood or metal. You can also find them in different finishes, so you can find one that matches the other fixtures in your bathroom. Ladder shelves are a great way to keep your bathroom organized and tidy.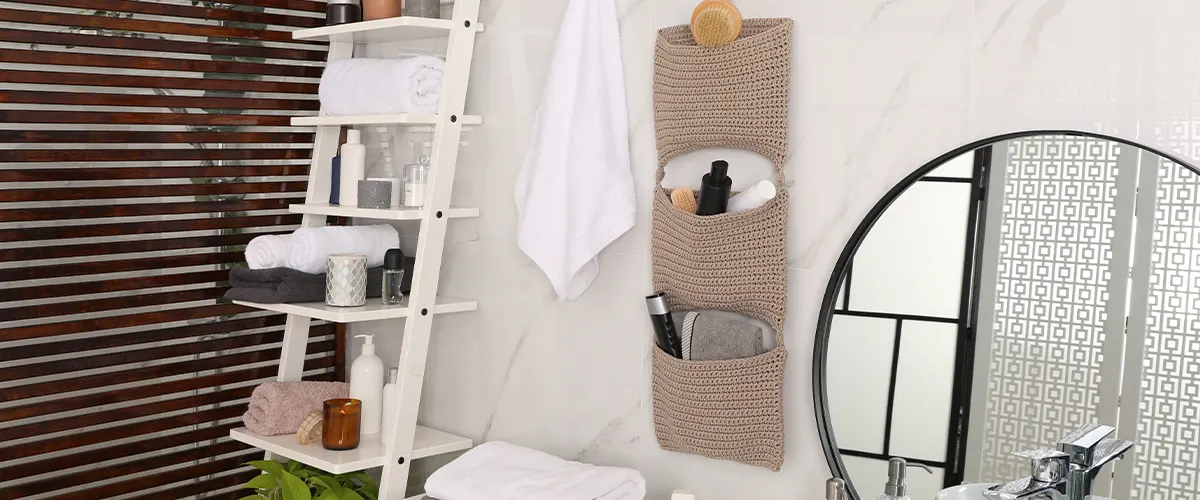 7. Install An Over-The-Door Shelf
Towels and linens are a necessary part of any household, but they can be difficult to keep organized. If you don't have a linen closet, consider hanging a tiered shelf over your door frame. This will keep towels and linens within easy reach, and it's a great way to make use of otherwise wasted space. Just make sure that you also have a step stool nearby so that you can easily reach the top shelf. With a little bit of planning, you can easily keep your towels and linens neatly sorted and within reach with some extra storage solutions.
If you're looking for more storage space in your small bathroom, don't despair. There are plenty of easy small bathroom storage ideas that can help you get organized and maximize your available space. For more design ideas you can check out NKBA's website and if you need help renovating your bathroom, our team at KHB Construction is here to assist you. Contact us today to learn more about our services and how we can help you create the perfect bathroom for your home.