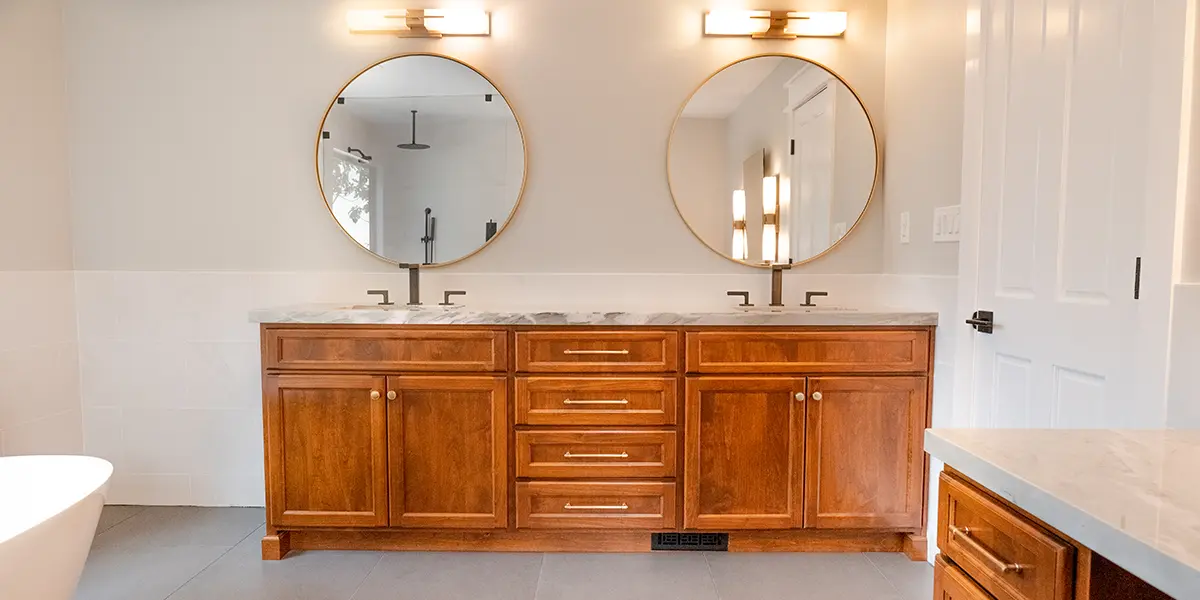 Every morning, we prepare for our day in one special part of the house: the bathroom. It's where we brush our teeth, take refreshing showers, and where we secretly practice our speeches and possible arguments that we could've won.
A beautiful home and a pristine bathroom is also a great confidence booster. It allows you to show it off to anyone who visits and see their amazement when they walk out.
The best part? A bathroom remodel budget is more forgiving when you have the right plan!
In this article, we're going to explore your dream bathroom remodel cost, and how this will undoubtedly be your best investment.
The decision to invest in bathroom remodels isn't one that most people make lightly. Before you shell out the cash to get the bathroom of your dreams, you are probably going to take some time to consider whether or not you really want to do it.
Some homeowners invest in a bathroom remodel just because they want one. Others do it because they feel their baths are outdated and could be more functional and stylish. And others are doing it because they're planning to sell their property, and they're looking to get more money for it.
If you're collecting pins and bookmarking Instagram posts, it's probably time to start planning your own bathroom remodel and start budgeting.
Determining Your Bathroom Remodel Budget
Your remodeling budget can be as reasonable or as over-the-top as you want it to be. If your looking to get a glass walk-in shower and a freestanding tub, along with porcelain tiling and a double custom vanity, it's important to remember that these upgrades will influence your bathroom remodel budget.
The price of a bathroom remodel can vary by tens of thousands of dollars depending on what you want.
While bathrooms are a great place to spend a little extra money, no one wants to break the bank on a remodel. Which is why you need to determine your bathroom remodel budget wisely.
Your budget will vary depending on the remodel itself, and there are several different ways to manage it. You might consider saving up for a remodel in advance, using equity from the house, or even financing it.
The great thing about your budget is that you have the ability to decide how much you want to spend, and as long as you work with a team of professionals, you can find an effective way to meet that budget and get a great new bathroom too! Here at KHB, after our on-site consultation we want to make sure you're 100% positive about your budget.
While being fully committed to an established budget will get you an anxiety-free process, not being confident enough in it means you'll always question your decisions. To fix this, don't commit to a budget that you aren't comfortable with, and you will be thrilled to experience your new bathroom.
Understanding the Scope of Your Remodel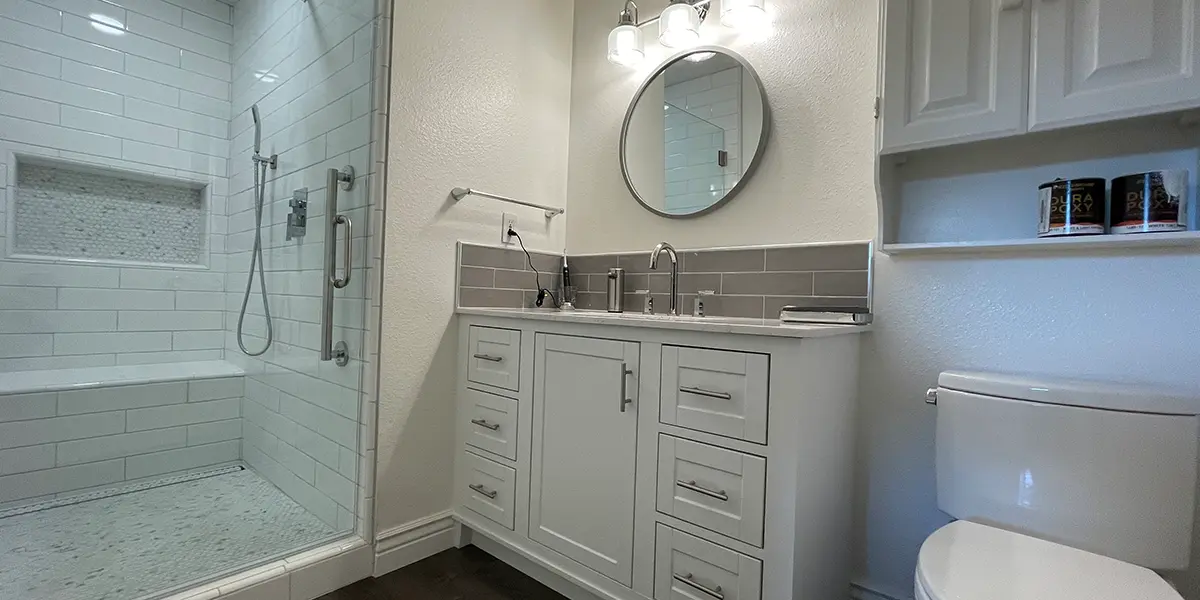 Remodels can vary in intensity, and as professionals in the industry, we've seen it all. There are so many different ways to change up a bathroom. Some people commit to a partial remodel while others prefer a full remodel instead.
And these aren't the only options.
You can decide that you'll only want a new custom vanity, and that would be perfectly fine. As long as that's what you feel is missing from your bath, you'll be more than happy with the end-product. At the same time, if you feel like it's time for a full remodel, there shouldn't be anything stopping you.
Point is, there is no rule that says a remodel must mean throwing out the entire old bathroom. Your general contractor will help you decide and put into balance the most important things that need to change.
Factors That Influence Your Bathroom Remodel Cost
Your remodel won't look like anyone else's, and that is just part of what makes them so special. With our team from KHB, you'll be in complete creative control of your space.
You'll decide what you need and what you want. But it's important to take into account that different upgrades come with different costs.
Let's see the most important factors that go into your bathroom remodel costs.
A major influencing factor when it comes to remodels is the size of the bathroom.
As you might expect, the bigger the bathroom is, the more it will cost to remodel. A larger space means more work, more materials, more builders, time, and, ultimately, a higher cost.
The easiest example would be a bathroom floor. Installing tile flooring for a 250 square foot space won't be nearly as expensive as installing tile flooring for a 600 square foot space.
The materials that you choose for your snazzy new bathroom will play a big role regarding how your wallet feels when you are done. By default, some materials can cost quite a bit more than others.
Choosing materials to meet a budget can be managed as long as you consider the full scope of the remodel. Working with a professional is a great way to ensure you're getting not only the best price on your materials, but also superior quality.
The best way to choosing the right materials is to operate with a set budget and to keep an open mind when it comes to materials. Spending an extra couple hundreds of dollars for a much better material will probably be a good investment.
We don't like to brag, but our team has a lot of really talented people. A bathroom remodel can require various areas of expertise. Plumbers, electricians, painters, designers, and other specialists might be called in to ensure that you get that dream bathroom. But these added skills come at a certain cost.
The more expertise your project requires, the more you'll have to budget for your remodel, as the labor costs will pile up. A good example are older bathrooms where the work tends to be more extensive. We don't do construction the same way that we used to. In fact, a lot has changed.
When we update an older bathroom, we end up dealing with older wiring and plumbing. In some cases, the amount of work that goes into updating these older features can be notable.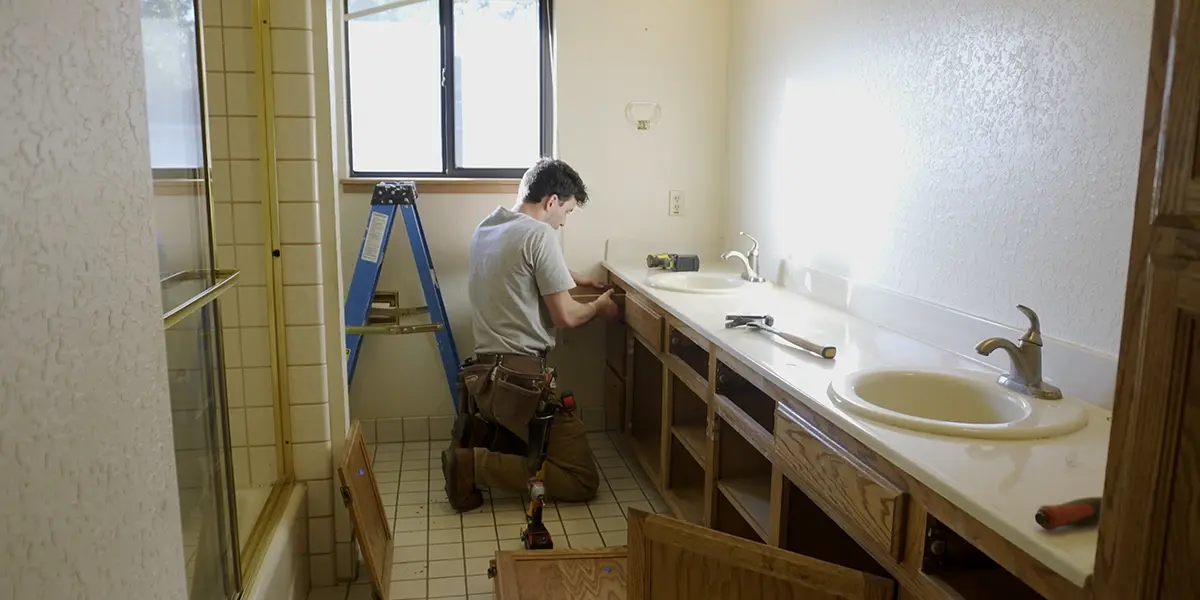 Our bathrooms have a lot of complex systems running through them and it is fairly common for damage to occur, particularly in older bathrooms.
Any time that there is damage, you can expect it to add to the cost of the remodel—and trust us, you do not just want to cover these problems up. Unfortunately, there's no way around it, and simply covering the damage is just asking for trouble that'll end up costing way more in the long run.
For example, covering mold on bathroom walls or not treating it the right way will just cause the damage to extend and cause more serious issues.
One of the biggest influences on that final budget is dependent upon how well you communicate with your team. Being open and honest with your remodeling crew can help you to save a lot of money, but it does require keeping us in the loop.
If you are going to be working with a set budget or you have a specific vision that you are hoping to make work, your construction team can help. When we know what you are looking for, we can make recommendations to help you receive an amazing remodel while also finding a balance with that budget. We know the insider tricks that can keep costs low.
Here at KHB, we keep communication lines open as this allows us to create a design that matches your preferences and stays within budget at the same time.
How Much To Budget For A Bathroom Remodel
Bathroom renovations are custom products that comes at a custom price. There is no real way to guarantee how much your remodel will cost until we have priced out every single element individually.
However, there is a general range to go by.
For a full bathroom remodel, the cost generally falls between $35,000 and $100,000. In most cases, the average remodel is about $50,000.
Remodels generally breakdown in this way:
When pricing out a remodel, we generally charge by square footage. For a recent client, the price came out to $350 per square foot to fully gut and transform a 10×10 bathroom not including the material costs.
A primary bath with a double vanity, tile floors for the new floor plan, a walk-in shower and a freestanding tub with premium features and materials can be considered a high-end project that'll cost way over $50k.
How to Save on Your Bathroom Renovation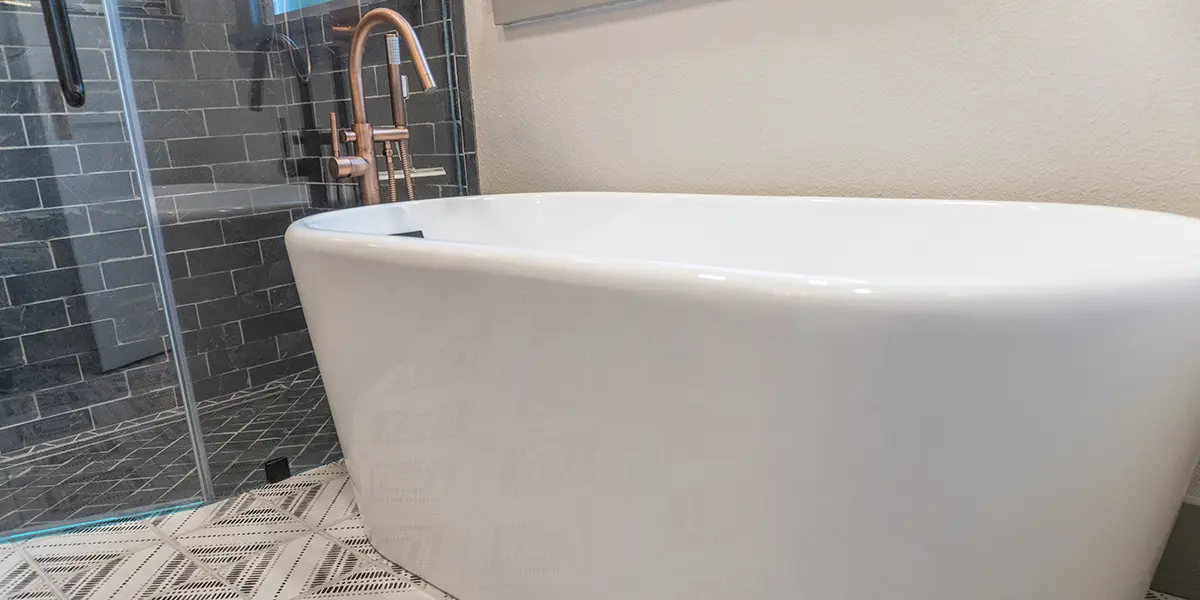 Saving money has nothing to do with a DIY bathroom remodel, as these will most likely turn unprofessional and will look like DIY and cost you more on fixes later on.
Saving on a remodel is all about being informed and prepared for your remodel. You don't need to know everything, but the more that you know, the more likely you are to get a great remodel at a price that feels comfortable to you.
Your remodel team will be happy to guide you through your process, but it really does help if you have a clear vision and budget for your remodel. Even if you aren't quite sure where you want to fall, being able to share your dreams with your team will help you to communicate effectively so you can stay in budget and love your new bathroom too!
You can have that perfect bathroom, and we are here to make it possible!
We offer professional bathroom remodeling services in Modesto, Turlock, Tracy, and more of Central-Valley & Tri-Valley, California. Contact us today for a free quote and take the first step toward your new bath!