What Influences the Kitchen Remodeling Cost in Pleasanton, CA
Stay on top of the kitchen remodeling cost in Pleasanton, CA, and talk to the local renovation experts!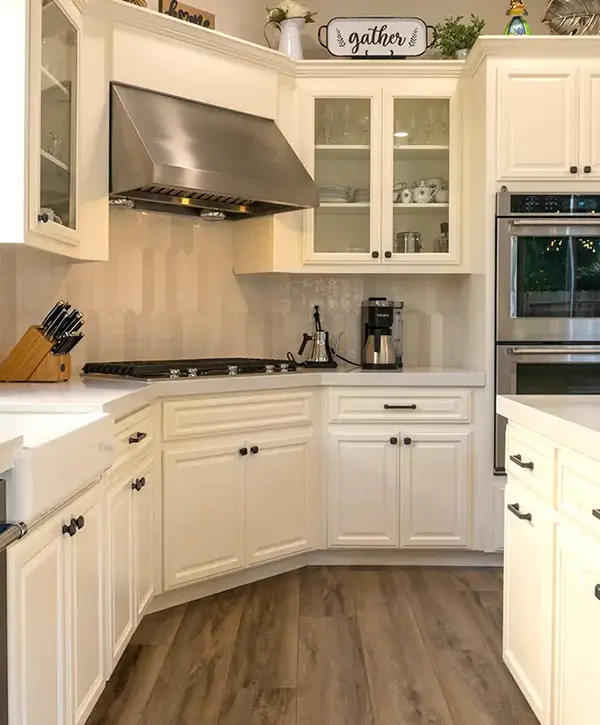 A Cost vs. Value Report from 2022 estimates that the average kitchen remodeling cost in Pleasanton, CA, is roughly $26,000. This makes it one of the three home improvements with the highest return on investment.
In particular, the ROI for a small kitchen redesign is 68.6 percent, whereas the ROI for a major kitchen remodel is 53.7 percent.
With kitchen remodeling being so valuable and sought-after, homeowners should never feel intimated about the cost considering the many benefits that arise in the long run.
With KHB Construction, you can get a fair price estimate based on what your dream kitchen should look like. We work with every customer to match their expectations and budget, never skimping on quality, even if you choose the most affordable services.
Factors that Change the Kitchen Remodel Cost in Pleasanton, CA
Putting a price tag on a kitchen makeover can be difficult. Most individuals believe that home furnishings and appliances will use most of their budget. Several other remodelers anticipate rising labor costs will increase your kitchen remodeling cost in Pleasanton, CA.
While neither of these is necessarily false, there is much more to the typical kitchen remodel cost than just the materials and labor.
We'll give you an itemized quote for the whole job after our in-house consultation is finished. For the sake of not breaking the bank on the building project, we will also offer cost-cutting recommendations. Start your kitchen remodeling journey here!
Kitchen remodels costs are influenced by the size of your kitchen. It will be less expensive to rebuild a smaller kitchen because there won't be much room to work with. For instance, a kitchen that is smaller than 100 square feet in size is regarded as small. As a general rule of thumb, kitchens between 150 and 250 square feet in size are considered average.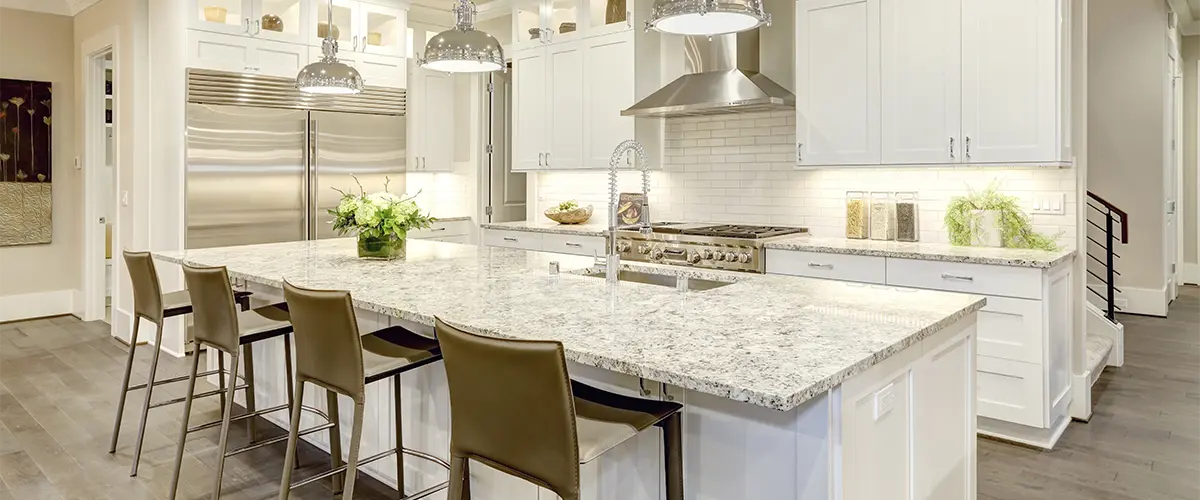 There is a big difference between the amount of flooring needed to cover 170 square feet and the amount needed to cover 70 square feet. There won't be a need for quite as many storage units, work surfaces, or home gadgets.
Hence, the whole cost of your renovation, including new lighting, wall coverings, etc., will likely be less than it would be for someone remodeling a larger space.
How you want to use the room will influence your motivations for remodeling your kitchen. Some remodel their kitchens to make them their "forever kitchens" rather than selling them soon.
All that matters are your priorities, intended uses, and the time you anticipate spending in the kitchen. How many people do you cook for? Is your kitchen a place for family/social gatherings? What kitchen appliances do you use the most? How much storage space do you need?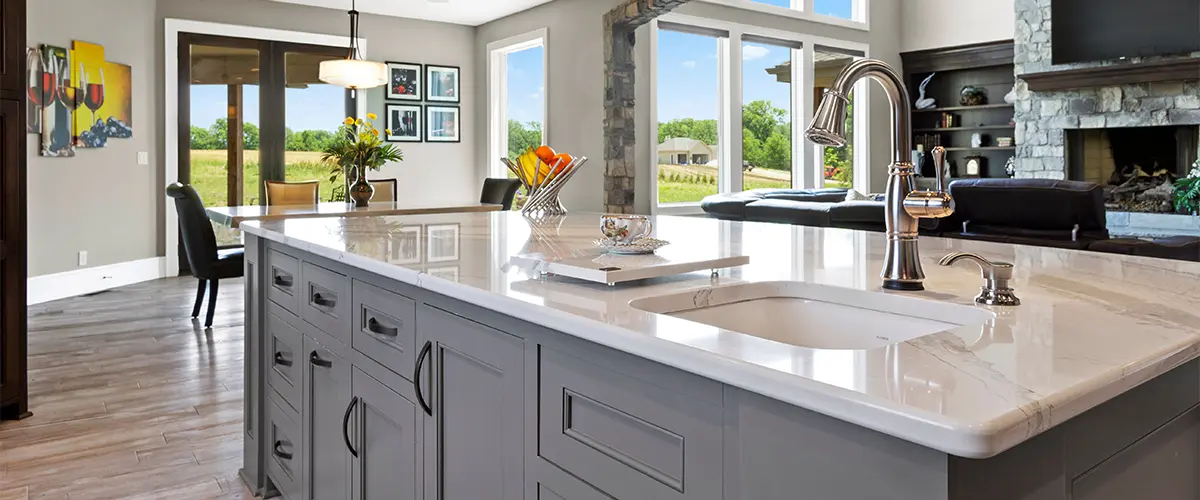 As you can see, all these questions revolve around you and your family. To determine the best kitchen remodeling approach, we talk to our clients to understand what they need and expect when choosing KHB Construction for their remodeling experience.
It's possible that your kitchen's existing layout isn't working for you because it's not conducive to how you plan to use the room. Moving things around, like sinks, stoves, refrigerators, ovens, lights, etc., can do wonders for a room's layout.
Yet, this addition will make your kitchen renovation more expensive in the long run. Moving these features could add thousands of dollars to your renovation budget due to the need to relocate plumbing, electrical, and gas lines.
Kitchen Cabinets Number and Quality
If you want to save money on your kitchen renovation costs, be careful which cabinets you pick. Prefabricated stock cabinets are only available in a small range of standard dimensions and door and drawer combinations.
They are more affordable than semi-custom or custom cabinets of the same quality. Custom cabinets are more expensive but likelier to match your dream kitchen vision.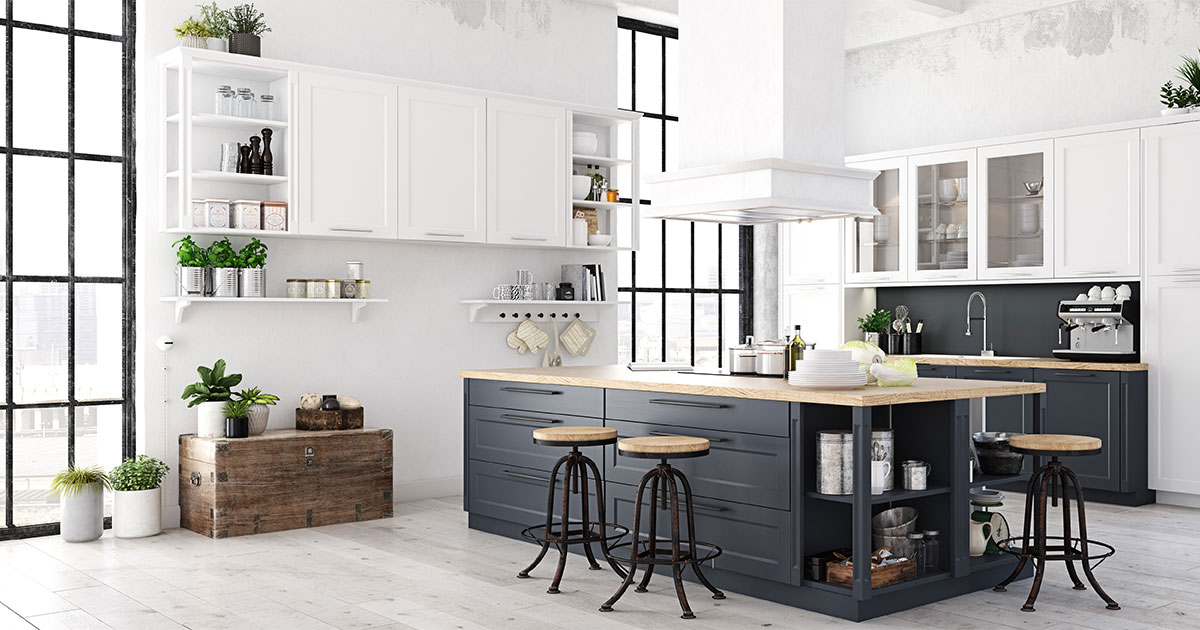 Getting the most bang for your buck out of your cabinets requires matching these items' value and construction quality to your budget and needs. 
Superior glides, hinges, handles, soft closing drawers, and doors are just some of the upgrades you can expect to find in higher-end bespoke cabinets. Various internal configurations will be available, allowing for highly individualized storage solutions.
There is more specificity in everything down to the joinery techniques. This process produces top-notch cabinetry that serves its purpose well and lasts for as long as you call your current residence home.
The cost of your new kitchen will rise naturally as you add cabinetry. Cabinets that are wider and taller and those with additional amenities will cost more than standard-sized cabinets.
At KHB, we aim to grasp how you plan to utilize the space and your aesthetic and practical preferences. Then, we will be better able to give you solutions to achieve the desired results. If you want the finest overall result and years of satisfaction, you should incorporate the pantry and storage layout into the planning of the cabinets.
When you walk into a kitchen, countertops are likely the first ones to meet the eye. They offer an excellent method to put your own stamp on your kitchen's decor. You probably use it more than anything else in your kitchen.
Making smart choices when picking a countertop means balancing form and function. Depending on the desired/required surface size and the variety of natural stone and synthetic materials from which to choose, the price of your countertops might vary widely.
Granite countertops usually cost between $40 and $80 per square foot, while marble countertops can be as expensive as $120 per square foot.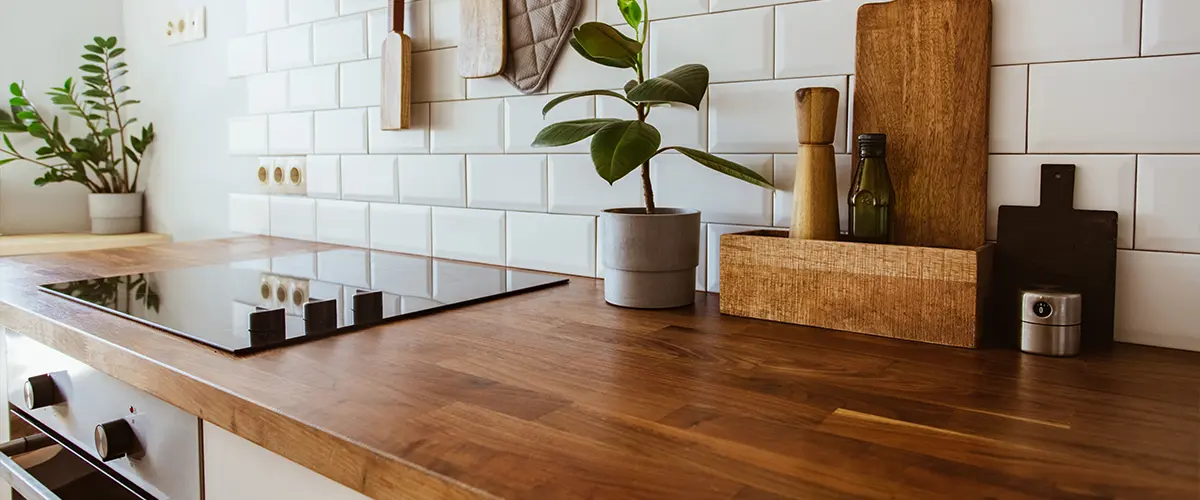 Some countertop materials are more resistant to wear and tear than others, while others stand out more because of their attractive design. Depending on the type, upkeep might range from minimal to annual. As the total cost of ownership is calculated, certain options will be more costly than others.
Appliances Upgrades and Relocation
The price of your kitchen redesign could increase if you switch from an electric to a gas oven/stove. Perhaps your home's gas lines already connect to where your stove and oven are installed, saving you the trouble and expense of installing additional connections.
In the same way that the amount and quality of your chosen cabinets and countertops may greatly affect the overall cost of your new kitchen, so too can these decisions regarding your key appliances.
You might go for a sleek stainless steel style or choose to have your equipment discreetly tucked away behind a veneered cabinet door.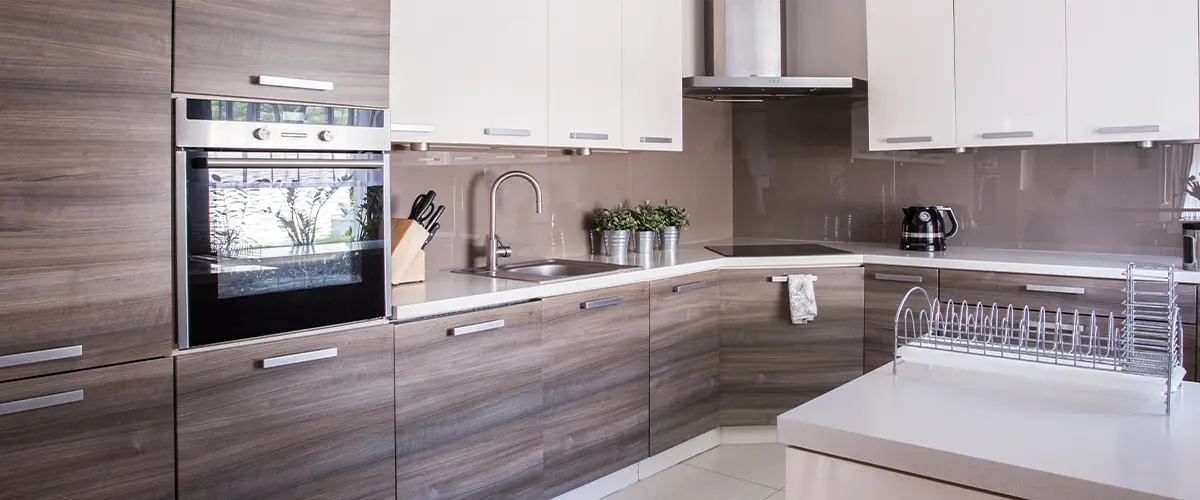 If your home's electrical system has not been updated in a while, you want to consider supplementing it with additional wires and circuits. These have to meet your appliance needs and be in line with California safety codes.
Light and Lighting Fixtures
If you're planning a kitchen remodel, lighting probably won't be a huge expense. The majority of modern kitchens incorporate a mix of both ambient and task lights.
Cost is typically not a major consideration when determining the number of lights required to adequately enlighten and enable useful functioning. Dimmable LED lighting is only marginally more expensive than standard lighting.
However, opting for intricate custom lighting fixtures throughout the entire kitchen will add to the end cost.
Changing the Kitchen Layout
A poorly planned kitchen that is installed with sloppy workmanship will almost always end up costing more than a well-thought-out kitchen that is constructed by professional contractors.
Some of our clients want to change the layout and structure of their kitchens to a considerable extent. That means they choose to move their walls, add breakfast nooks, or add doors and windows to the kitchen. All of these can add to the total end cost of your kitchen remodeling project.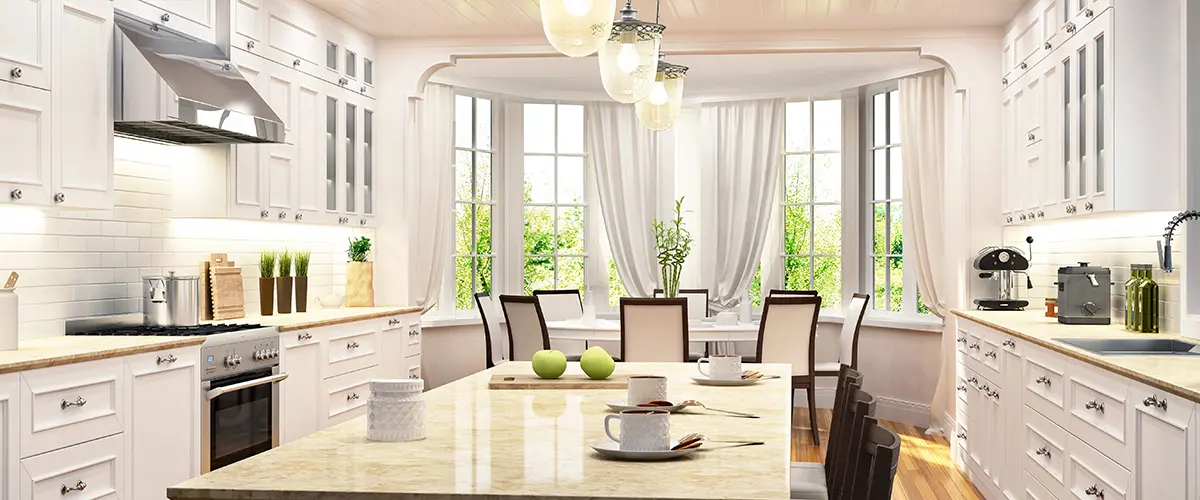 Quality construction adds lasting value to a home's redevelopment project, and homeowners almost never regret this investment.
Spending more money to get the task done properly the first time around is money well spent. Doing so will improve your kitchen and house's livability and make you feel more proud of your kitchen remodeling choices.
Other Kitchen Remodel Costs
There are other factors that influence a Pleasanton kitchen remodeling cost. You might want to choose to upgrade your tiles or installing hardwood floors. New flooring can be just as expensive as new cabinets based on the exact items and material costs.
Enjoy a Transparent Kitchen Remodeling Cost in Pleasanton
Gone are the days of worrying about kitchen remodeling going beyond your budget. With KHB Construction, you know how much everything is going to cost and explore options tailored to your budget!
We'll give your project our undivided attention without ever making you feel rushed. From the very first day of the project until its final conclusion, a project manager will be present and accessible to you.
Turn Cooking Spaces into Perfect Family Gathering Spots!
Call us at (209) 528-0255 and discuss your kitchen remodeling cost in Pleasanton, CA, directly to the owners or KHB, Bobby and Ryan!
Because we know you've waited a long time to finally move into your ideal house, we prioritize speed and accuracy.
We will go above and beyond to ensure that your project is completed on schedule, no matter what obstacles we may face. Schedule an in-home consultation and let's discuss your Pleasanton kitchen remodeling project!