When renovating your bathroom, you may be considering a curbless walk-in shower. This type of shower has several advantages over traditional showers with barriers, such as a curb or wall. However, before making the decision to go curbless, there are a few things you should consider. In this blog post, we will discuss about the curbless shower cost and some of the factors you need to take into account when remodeling your bathroom.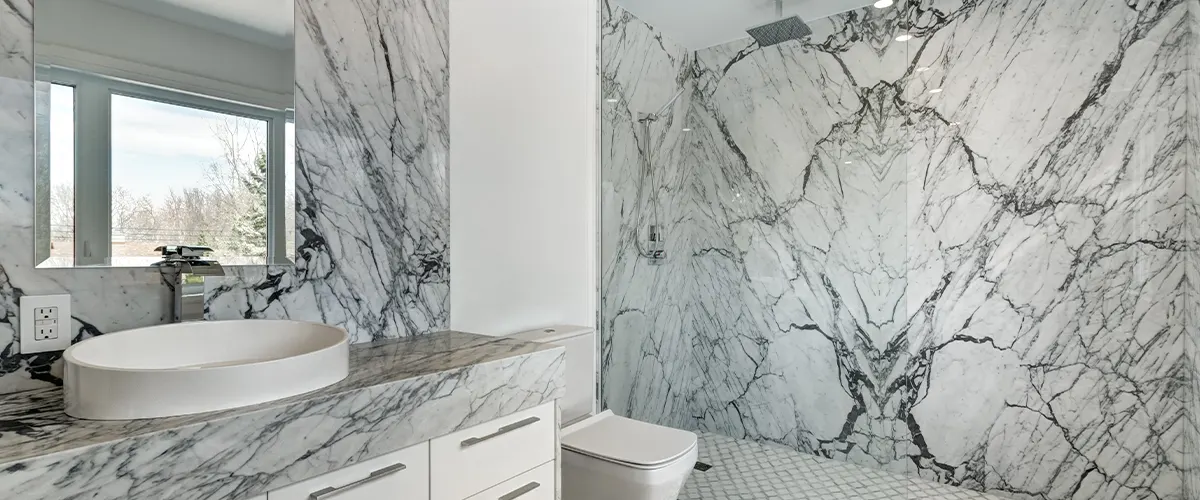 The Benefits Of Curbless Showers
A curbless shower is a type of shower that is designed without a raised threshold or curb at the entryway. This type of shower offers many benefits for both homeowners and those with mobility issues. Here are just a few of the advantages of having a curbless shower in your home.
Another great benefit of curbless showers is that they can greatly improve accessibility for those with mobility issues. Traditional showers with raised curbs can be difficult or even impossible for some people to use without assistance. However, with a curbless shower, there is no need to worry about lifts or other specialized equipment.
Accidents on a bathroom floor or shower floor are all too common, particularly in homes with small children or elderly family members. By eliminating the need to step over a raised threshold, a custom walk-in shower can help reduce the risk of slips and falls.
Another advantage of ditching the curb is that it makes cleaning your shower much easier. With no nooks and crannies for dirt and mold to accumulate, you can say goodbye to those pesky cleaning issues. All you'll need is a good squeegee after each use to keep your shower looking sparkling clean.
Plus, since there's no threshold to trip over, you won't have to worry about accidental falls when carrying laundry baskets or other items into the bathroom. For this reason, walk-in showers with no shower curtain are easier to maintain and are popular for most bathroom remodels.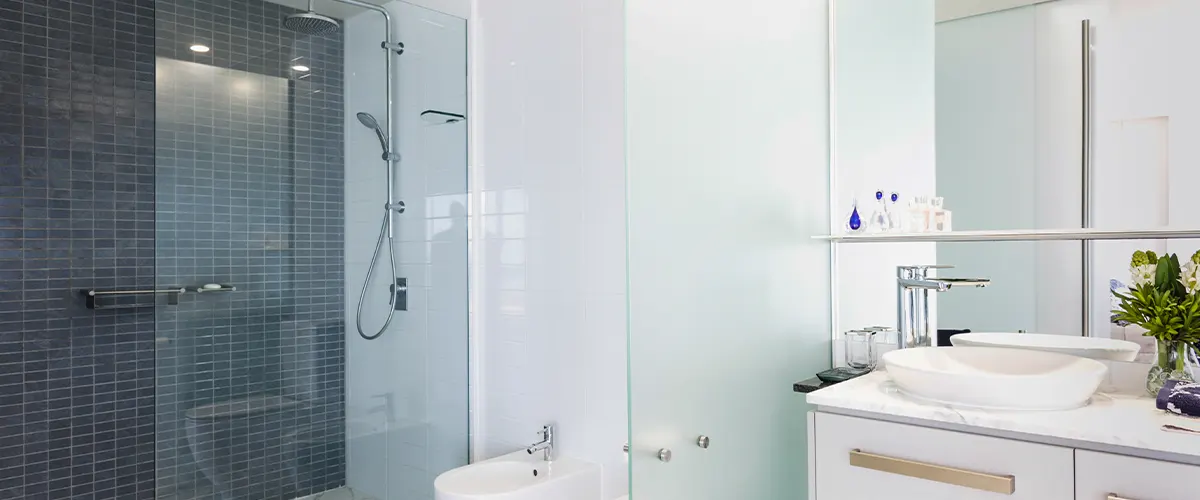 If you've ever stepped out of the shower only to find water all over the floor, you know how frustrating it can be. With a curbless shower, however, water containment is no longer an issue. The lack of a threshold means water will stay right where it belongs—in the shower. This means fewer wet footprints tracking through your bathroom and less risk of slip-and-fall accidents.
Aesthetically Pleasing Design
In addition to being functional, curbless showers also have a sleek, modern look that can give your bathroom an instant upgrade. Whether you're planning a total renovation or just want to refresh your space with some minor changes, ditching the shower threshold is a great way to achieve a contemporary look.
The Disadvantages Of Curbless Showers
Before you install a curbless shower in your home, there are also a few potential drawbacks to take into account, including:
Without a threshold to contain water, it's more likely that water will spill out of the shower when you're taking a shower. This means you'll need to be extra vigilant about wiping up any water that does spill out and you may want to consider installing floor drain covers to catch any water that does escape.
Curbless showers typically cost more than traditional showers because they require specialized materials and installation techniques. But we'll talk about costs and what you have to keep in mind before jumping into a bathroom remodeling project later on.
Most people opt for glass door enclosures with curbless showers. However, because there's no lip or threshold for the door to close against, these doors require special hinges and latches that can add to the overall cost of the project.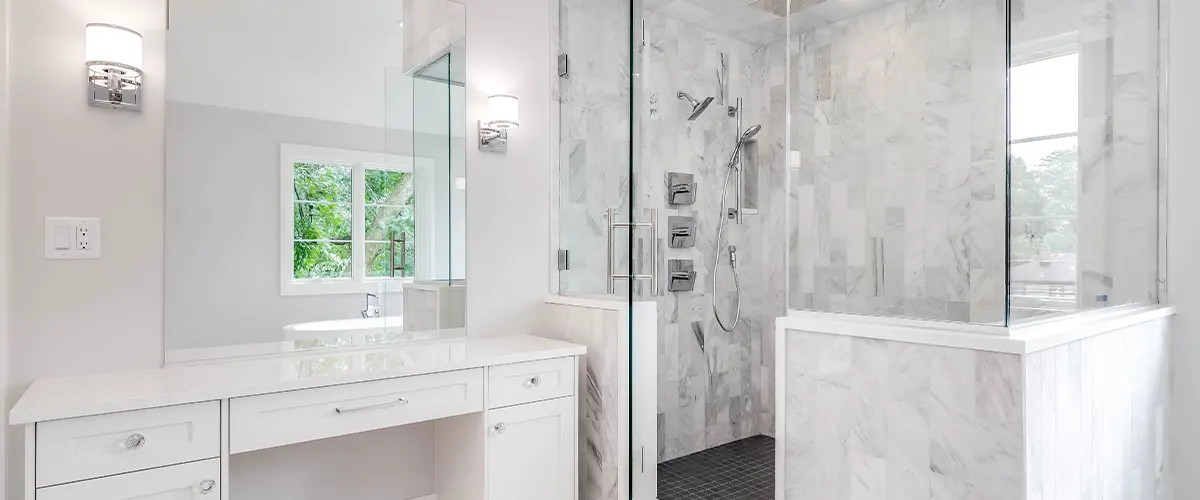 The Costs Of A Curbless Shower
A curbless shower, also known as a walk-in shower, is a type of shower that does not have a raised threshold or curb at the entrance. This design element can add a touch of luxury to your bathroom while also increasing accessibility. However, before you install a curbless shower in your home, it's important to understand the walk-in shower cost associated with this type of project.
The first cost you'll need to consider is the cost of materials. A typical curbless shower will require a custom shower pan, which can be made from either tile or stone. If you choose tile, you'll also need to purchase grout and sealant. Stone showers generally require less maintenance than tile showers, but they are typically more expensive to install. In addition to the cost of materials, you'll also need to factor in the cost of labor. Installing a curbless shower is generally more time-consuming and therefore more expensive than installing a traditional shower.
Another cost to consider is the cost of permits. Depending on your municipality, you may need to obtain a permit before beginning any demolition or construction work in your bathroom. The cost of permits can range widely, so be sure to check with your local building department for more information.
Finally, you'll need to factor in the cost of waterproofing. Because a curbless shower doesn't have a raised threshold, it's important to make sure that the entire space is properly waterproofed to prevent water damage. Waterproofing your shower may require an additional investment upfront, but it will ultimately save you money in the long run by preventing costly repairs down the road.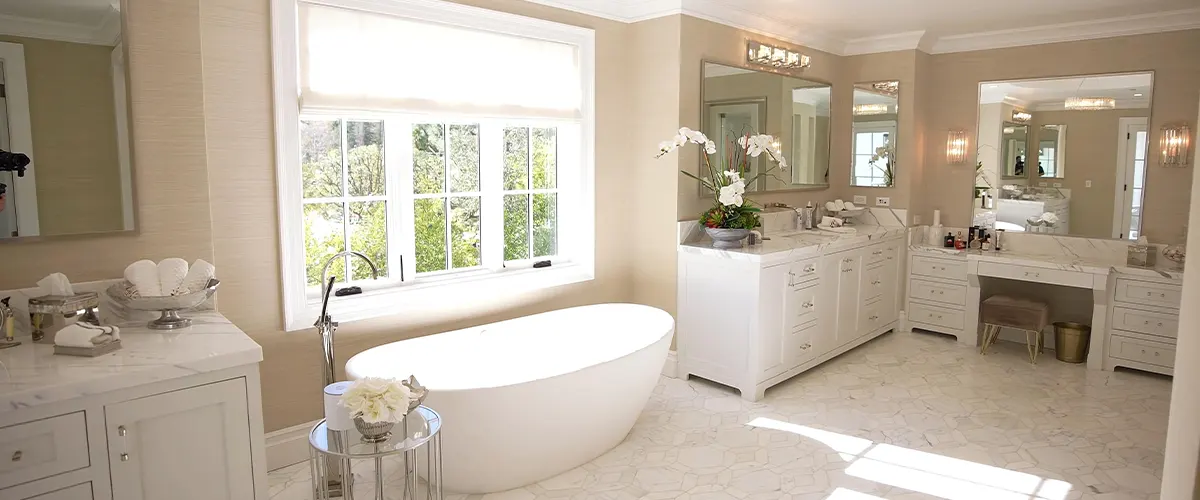 If you're considering a bathroom renovation project, a curbless shower may be the perfect choice for you. Curbless showers offer many benefits, such as added convenience and accessibility, and they are becoming increasingly popular due to their contemporary look and feel. The cost of installing a curbless shower varies depending on your specific needs and preferences, but it is typically more affordable than other types of showers available on the market today. For more design ideas and inspiration, you can check out NKBA's website or reach out to professional contractors.
Contact us today if you need help upgrading your current shower area – our team can provide expert advice and assistance to make sure your new walk in shower meets all your needs and expectations.