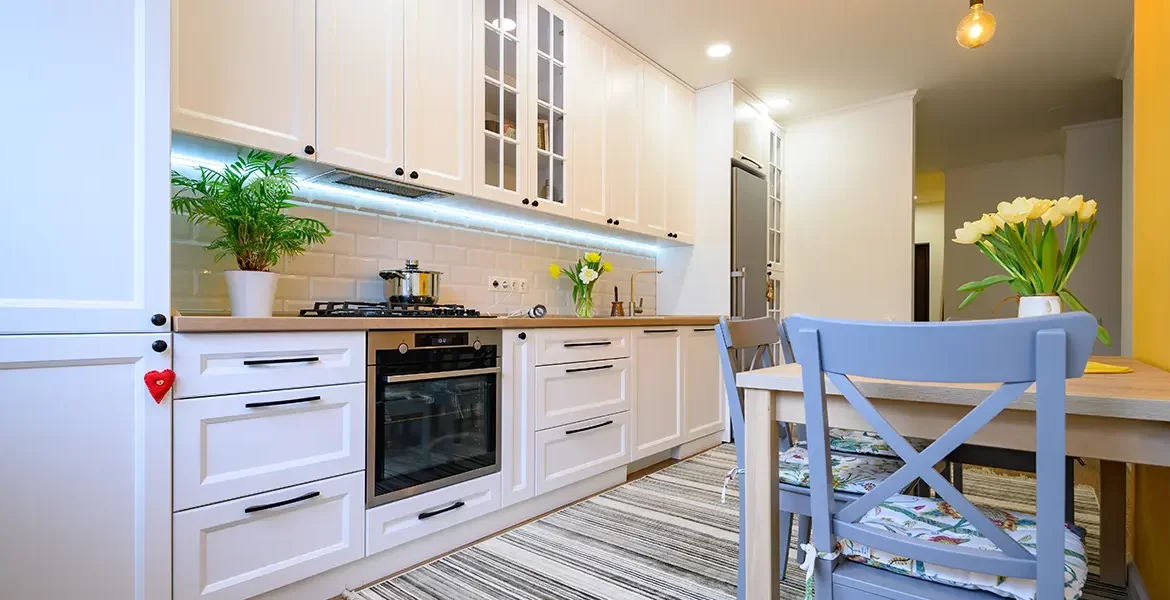 Getting new cabinets is always an exciting part of a home renovation, but it isn't always as simple of a choice as you might think. Most homeowners assume that aesthetics are the biggest point of focus when selecting cabinets, but that is actually only the start.
Custom cabinets create an experience that is tailored to your needs, preferences, and exact space.
But for that to happen, a lot of things need taken into account. Point is, you can invest in cabinets that suit your lifestyle and create a unique vibe in your new kitchen – by considering these custom cabinets options.
Let's begin.
1. The Look of the Cabinet
It's true that the first thing you'll consider when buying new stock cabinets will be the style and the vibe it'll bring to your new space. And given how much room cabinets take in a room, it makes sense that most of us value their looks first and foremost.
However, there is a lot more to cabinets than just their color and materials.
The real power of custom cabinets is in the design of these cabinets themselves. Custom cabinets often have different design features available that can have a huge impact on the way that they look. Compared to stock cabinets or semi custom cabinets, custom made cabinets are made to fit your specific dimensions, style, needs, and preferences.
Note: Custom cabinets are perfect for more difficult places, like in a corner. Corner cabinets need to be custom if you want them to fit perfectly in that particular place, without wasting any space.
overlay or Face Frame cabinets
Cabinets with a face frame will have a notable surrounding barrier that outlines the drawers and cabinet doors themselves.
Think of this as a sort of border that travels around the overall forward-facing cabinet design. Though this is a simple cosmetic addition, plenty of homeowners like the more polished and traditional look that comes with it. A cabinet frame will also make your cabinets heavier and more resistant, which will help them sustain more weight.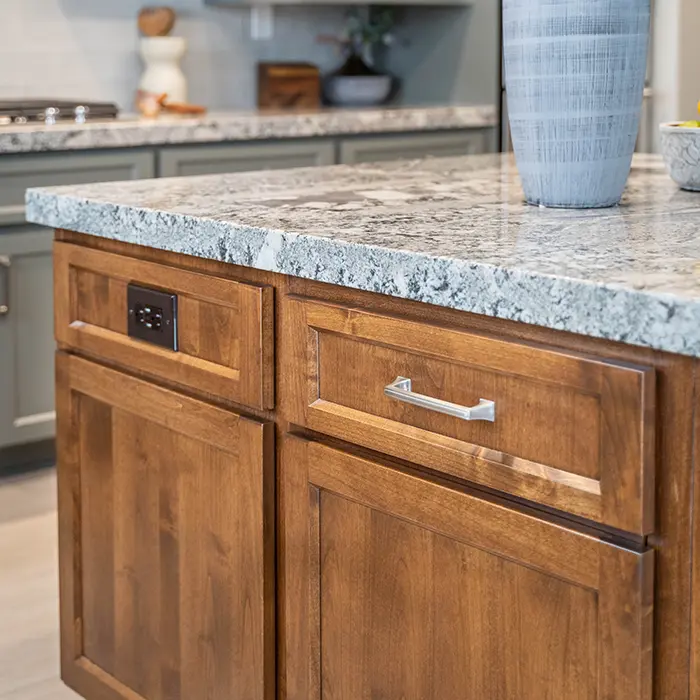 Inset And Frameless Cabinets
Frameless cabinets are cabinets that travel to the very edge of the system itself. Unlike their framed counterparts, there is no clearly defined border running around the outside, and the door is mounted directly on the cabinet box.
Insets are a big favorite in modern design because they provide a flat and polished look that homeowners cannot get enough of. With these cabinets, rather than resting against the outer barrier of the cabinets, doors and drawers will actually press into the overall design itself, creating a flat surface where only the handles will stick out.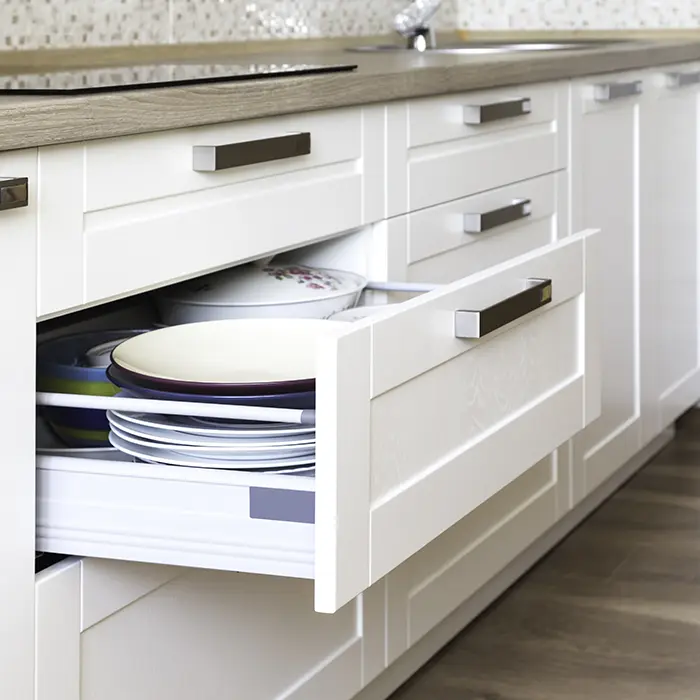 Not only does this offer that picture-perfect modern home look, but it also stays out of the way when compared to traditional cabinets. With the flat design, these cabinets are more subdued—but the look itself really stands out!
Note that the style of your stock cabinets, semi custom cabinets, or custom cabinetry, is mostly given by the cabinet door. Shaker cabinet doors, for example, are some of the most popular option because of how flexible they are.
2. How Do You Want Them To Function?
Functionality is a huge consideration when you're investing in custom cabinets. If you go back a few decades, cabinets really were a sort of you-get-what-you-get situation, but those days are certainly behind us now.
Modern cabinets can come with all kinds of options that influence their functionality. For example, the cabinet hardware will complement the style of the cabinets, but will also work to improve their functionality and ease-of-use.
When we look at drawers, the most common functional component is the glide system. This is a big one. Glide systems are responsible for allowing the drawer to open and close during use. If you're using cabinets with rather old, dated drawers, you probably noticed how inconvenient it is to open and close them.
Some of the older glide systems have been retired—and with good reason. Older systems are known to fail or even break, leaving homeowners frustrated.
Modern glide systems are a work of art. These powerful systems make it possible for your drawers to glide in and out, and if you're coming from one of those older systems, you won't believe the difference.
There are two prominent kinds of glide systems: side and undermount.
Side mounts provide a smooth opening and can be great for most drawers.
With that being said, they are also more prone to breaking and can end up needing to be replaced.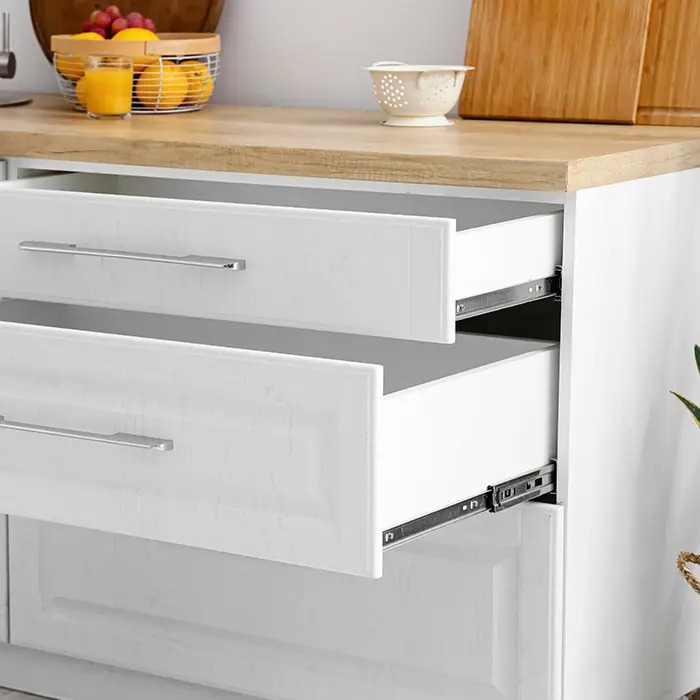 Undermount systems, on the other hand, are located on the bottom of each drawer, and they are a very strong and sturdy fit.
These mounts tend to work better and last longer. You will find these mounts in the majority of modern cabinets because they are just a nicer fit.
Regardless of which system you choose, soft-close, which allows your drawers to quietly glide shut, is a standard feature that you can ask for.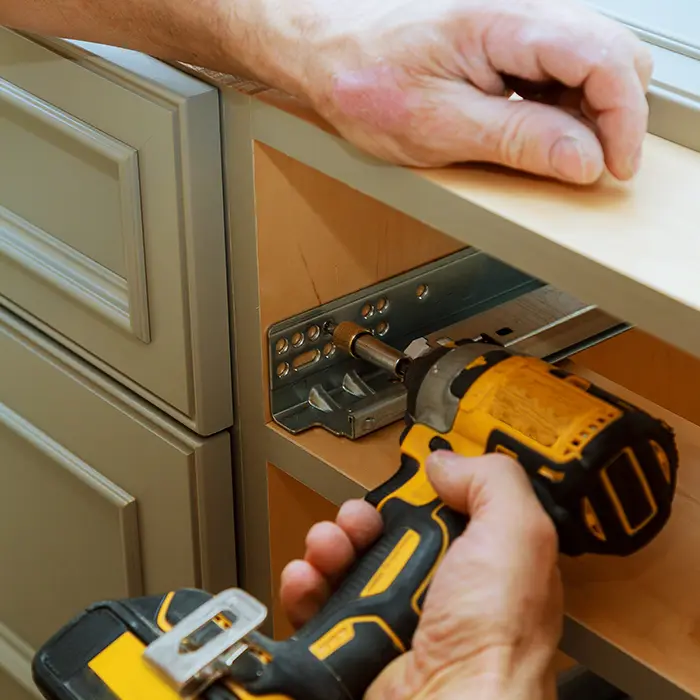 Doors themselves can sometimes influence the functionality that comes with them, and it almost always comes down to door hinges.
Again, the soft-close hinge is the most popular option, and you can add them to pantry cabinets doors, wall cabinets, framed cabinets, or any other type of cabinet with a door.
Most homeowners don't reflect too hard on the hinges behind their doors, but it might be in your best interest to try them out. Having cabinets that look nice won't be nearly as pleasant when you keep hearing the door shut with a slam.
Being aware of your options can help you get the perfect cabinet set that fulfills all your expectation, rather than just some of your preferences. Our designers from KHB can help you out with the right hardware that will not only match, but also complement your cabinets.
3. What About The Cabinet's Inside?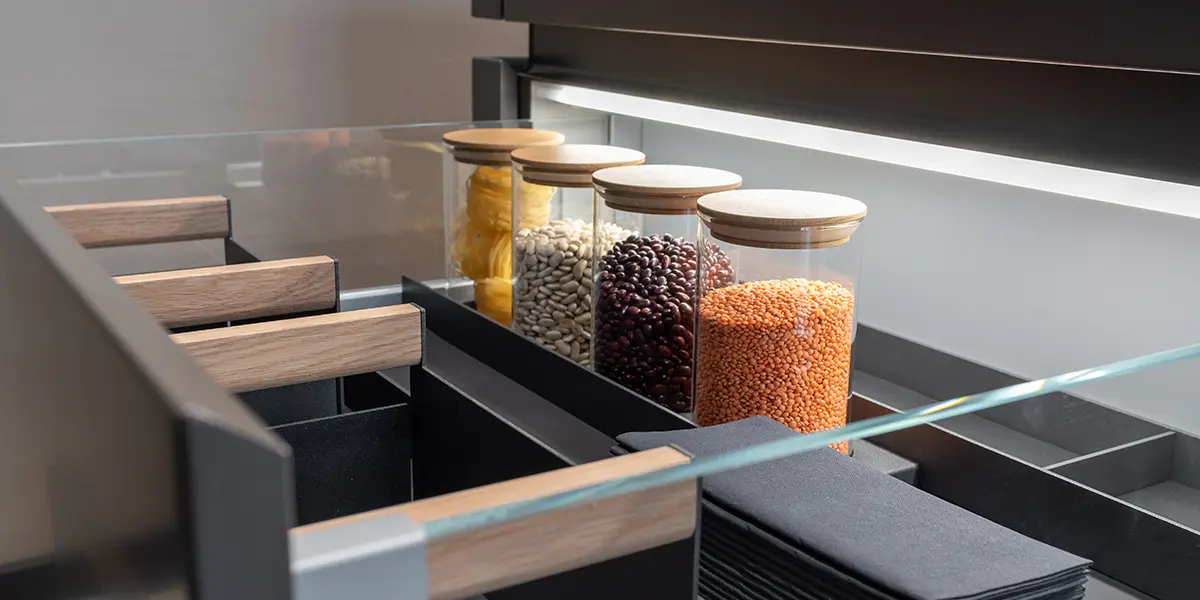 There was a point in time where cabinets were fairly lackluster. Back then, it was good enough to make a cabinet set that had genuine craftsmanship and looked nice. Really, that was just phase one.
Since then, cabinet makers have already had a bit of time to improve the world of cabinets, and you might not be aware of just how amazing modern cabinets can be.
These cabinets are designed to spoil homeowners and can be altered to provide the perfect experience that will meet your needs and help to support your flow whether you are cooking or getting ready in the morning.
One of the most helpful new features being offered in modern cabinets is the addition of power supplies to drawers. With this upgrade, you can fit your drawers with outlets so you can plug everything in. Anything from an electric toothbrush to a hairdryer can be charged inside of these drawers, allowing you to keep the clutter away from your counters.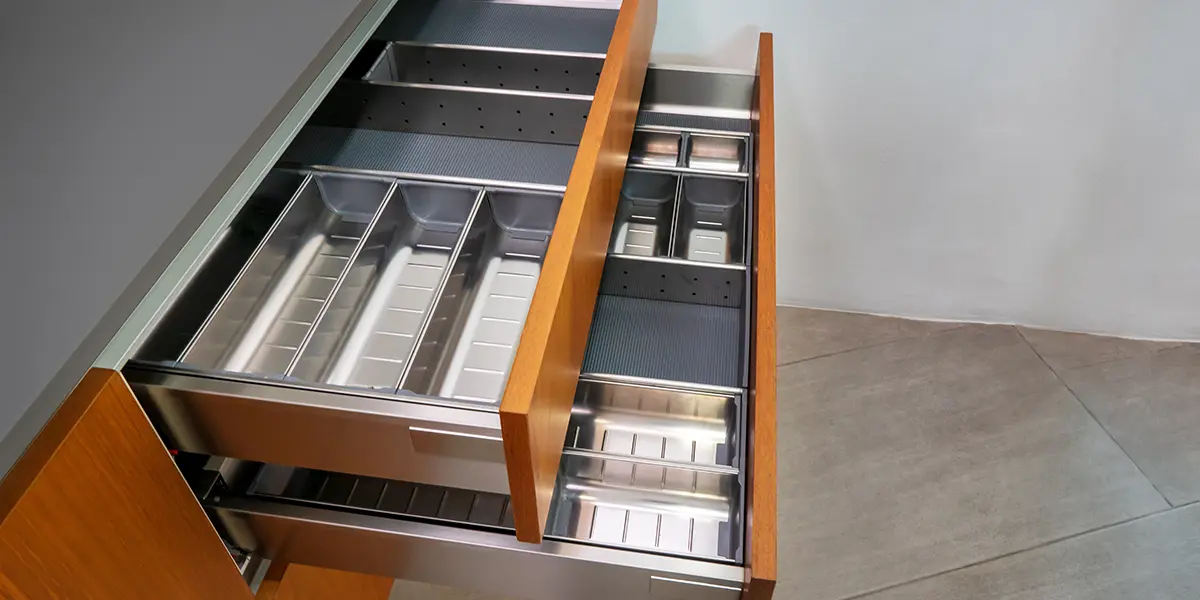 Another exciting addition for drawers is the available storage options. These options might vary depending on the drawers that you select, but having built-in storage can be a game-changer for anyone looking to have a little more control over their cabinets.
Rather than filling your cabinets with the cheap plastic bins that most of us use to add storage, you can include storage options right out of the gate. This might mean adding shelves into deeper drawers or adding in systems to give multiple tiers. There are all kinds of simple organization options available that can help keep your personal space nice and tidy.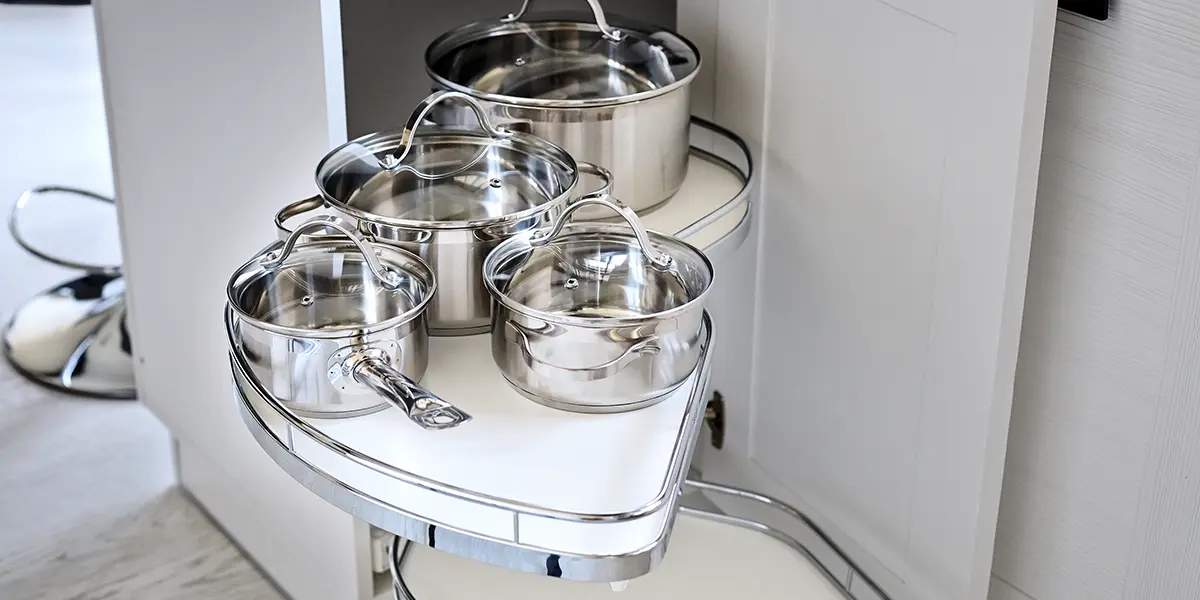 Cabinets have also received a recent upgrade that allows them to add more functionality for the convenience of homeowners. For a purely cosmetic change, we can add in a false front to cover plumbing under the sink, leaving your cabinets looking much nicer than the standard setup.
Of course, there is one area in cabinets where function and design come together, and that is storage space. You can add storage options that will allow you to drastically improve how things look under your cabinet, but storage isn't just there to make things look nice—it also provides a wonderful functional addition to any space by helping you to more easily access your items.
Rollout storage and shelving is one of the more popular available options that can be used to improve any cabinets. These shelves are fitted to a track and can easily be pulled out to offer you more access to your items. Rather than getting on the floor to dig through, you can simply pull the shelf out to gain easy access.
5. Choosing Custom Cabinets Materials
Materials play a big role in the functionality and style of not only your kitchen, but the entire space. For example, if you live in a rather old home that has a lot of hardwood features, solid wood cabinets will be the best choice you can make.
For more modern homes, plywood cabinet boxes and MDF cabinet faces are the best match. Plywood is strong, durable, and fairly resistant to water, while MDF faces can be easily refinished and painted.
If you're going for natural wood, you're also going for stained cabinets, as paint doesn't look great on hardwood. With MDF faces, you'll have painted cabinets, as MDF takes paint really well.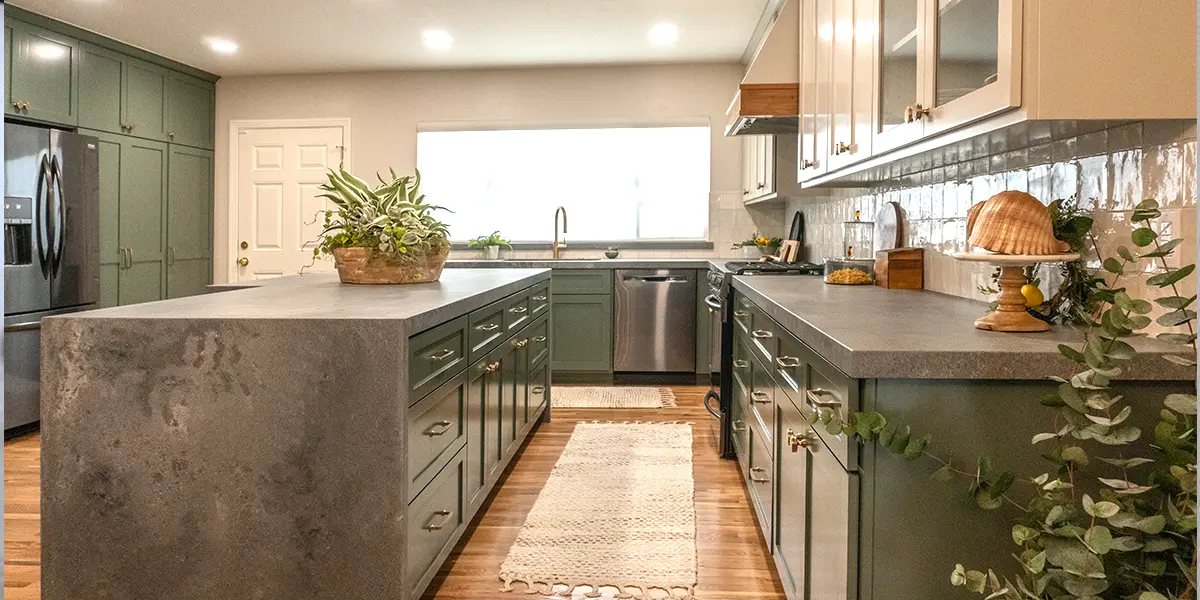 Cabinets are a prominent addition to any room, be it a kitchen or a laundry room. They give you a much better time at home, making your life easier in many different ways.
Although choosing cabinets begins with finding a good design that you love the look of, it continues with extra upgrades and features that help them reach their true potential. Different features will improve the way you interact with them, based on your needs and preferences.
Sometimes, the simplest upgrades can have the biggest impact on how you feel about your new space.
At KHB, we offer premium kitchen and bathroom remodeling services for all homeowners in Modesto, Turlock, Tracy, and more of Central-Valley & Tri-Valley, California. Contact us today for a free quote and take the first step toward your ideal cabinets.