If you're in the process of renovating your kitchen (or just dreaming about it), and you're probably wondering what countertop material to choose. There are so many options available these days, from marble to concrete to zinc.
In this blog post, we will discuss the pros and cons of several popular countertop materials. We will also provide tips for choosing the right countertop for your kitchen. So whether you're looking for a practical option that is resistant to stains, or you want something luxurious and extravagant, we have you covered!
The Benefits Of Custom Kitchen Countertops
Planning a kitchen renovation? Considering custom countertops? You're not alone – according to NKBA, in 2019, the average return on investment (ROI) for a midrange kitchen remodel was over 70%. But with so many choices on the market, how do you choose the right material for your needs? This guide will help you understand the benefits of custom kitchen countertops so you can make an informed decision for your home.
When you opt for a custom countertop, you are not limited to the pre-fab options that are available at your local home improvement store. You can choose from a wide range of materials, colors, and styles to create a countertop that perfectly suits your needs and compliments your kitchen's overall design.
Custom countertops are also much more durable than their mass-produced counterparts. They are less likely to crack, chip, or stain, and they will last for many years with proper care. This increased durability is due in part to the fact that custom countertops are made from higher-quality materials than pre-fab options.
Perhaps the most significant advantage of custom countertops is that they offer homeowners the opportunity to make a unique style statement in their kitchen. With so many options available, it's easy to create a one-of-a-kind look that perfectly reflects your personal taste. Whether you opt for sleek stainless steel, rich granite, or something else entirely, you can be sure that your custom countertop will turn heads and leave a lasting impression.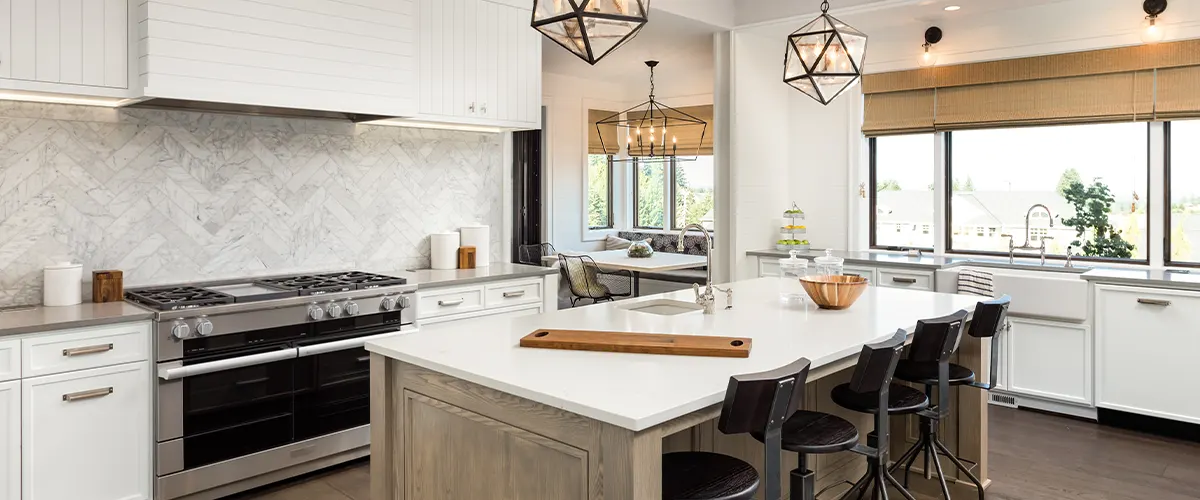 Types of Custom Countertops
When it comes to outfitting your kitchen, a few things are as important as choosing the right countertop. After all, the countertop is where most of the action happens in the kitchen! It's where you prep your meals, where you do your chopping and slicing, where you roll out the dough, and where you set down hot pans. In short, it's one of the most hardworking surfaces in your home.
That's why it's so important to choose a countertop material that will be up to the task. But with so many different materials on the market, it can be tough to know where to start. Here's a quick overview of some of the most popular types of kitchen countertops.
Granite is a timeless classic when it comes to kitchen countertops. It's heat-resistant, scratch-resistant, and stain-resistant, which makes it ideal for busy kitchens. Plus, granite comes in a huge range of colors and patterns, so you're sure to find something that fits your style. The only downside to granite is that it requires regular sealing and maintenance to keep it looking its best.
Quartz is another popular choice for kitchen countertops. Like granite, quartz is heat-resistant, scratch-resistant, and stain-resistant. It also comes in a wide range of colors and patterns. However, unlike granite, quartz doesn't require any sealing or maintenance—which makes it a low-maintenance option for busy families. The only downside to quartz is that it tends to be on the pricier side.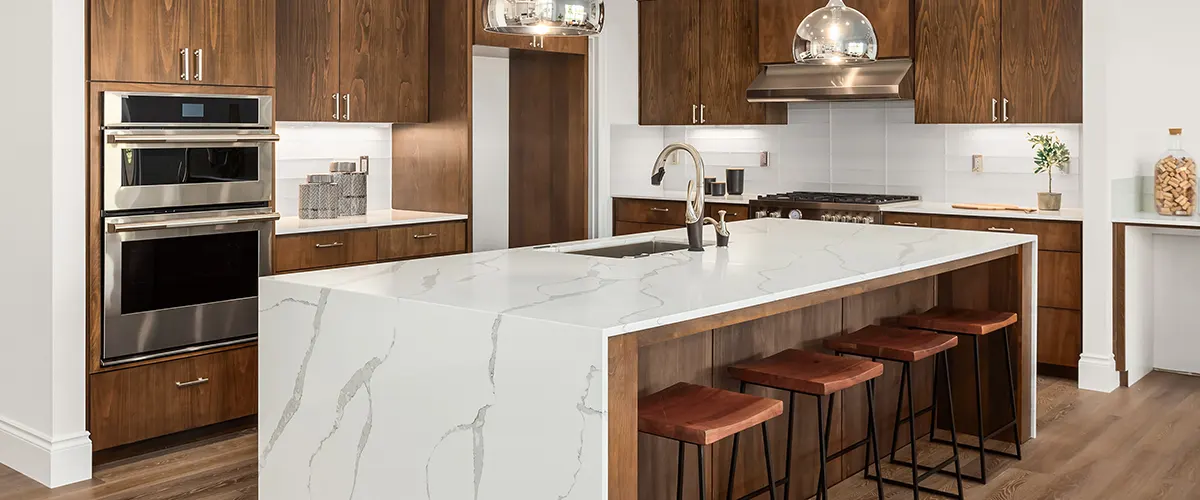 Soapstone is a unique option for kitchen countertops. It's heat-resistant and scratch-resistant, which makes it ideal for busy cooks. Soapstone also has a natural patina that gives it a beautiful aging effect over time. However, soapstone is not stain-resistant, so it requires more care than some other materials.
Marble is another popular countertop material that is both beautiful and durable. It's important to note, however, that marble is not as resistant to staining and scratching as granite. As with granite, marble countertops will require periodic sealing in order to stay looking their best.
Concrete is a great choice for homeowners who want a truly unique look for their countertops. Concrete can be customized with all sorts of colors, textures, and finishes. Plus, concrete is extremely durable and low maintenance. The only downside to concrete is that it tends to be on the pricier side.
Laminate countertops are made from layers of melamine bonded together with heat and pressure. Laminate is available in a wide range of colors and designs, including ones that mimic stone or wood surfaces. Laminate is much less expensive than natural stone but it's also not as durable; it can chip, scratch, stain, and burn easily.
Solid surface countertops are made from acrylic or polyester resins combined with fillers like limestone powder or wood flour. Solid surface countertops are available in many different colors and designs, including ones that mimic stone surfaces. They're resistant to staining and burning but can scratch easily. They're also less expensive than natural stone but more expensive than laminate.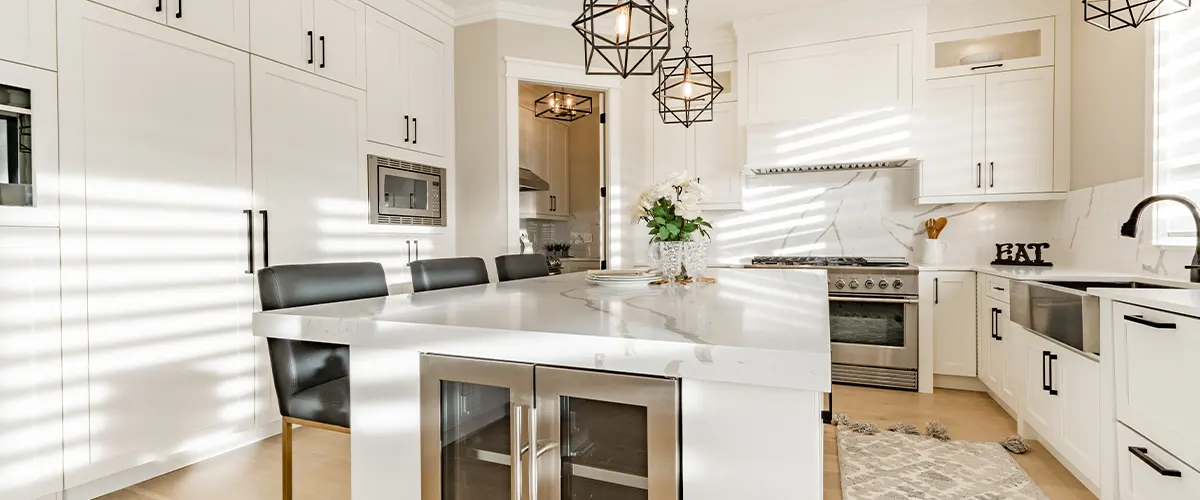 Butcher block countertops are made from strips of wood glued together. They're a popular choice for country-style or vintage kitchens. Butcher block countertops are softer than granite or quartz, so they can be scratched or gouged more easily. They also require more maintenance, as they need to be oiled regularly to prevent drying and cracking.
So, what type of kitchen countertop is best for your home? It really depends on your needs and preferences. If you're not sure which type of countertop is right for you, our team can help. We offer a wide range of kitchen countertops to choose from and we'll work with you to find the perfect fit for your needs.
From wood countertops to natural stone options for your kitchen island, we can help with your kitchen remodeling needs. Plus, we provide tips on how to care for and maintain your new kitchen counters so they look beautiful for years to come. Ready to upgrade your kitchen counters? Get in touch with us today!