Many homeowners shy away from vintage bathrooms because they assume that the design details are outdated. However, this isn't always the case! In fact, many vintage bathroom design details are still popular today because they're timeless and better than ever. In this blog post, we'll take a look at some of our favorite vintage bathroom ideas and show you how to update them for a more modern look.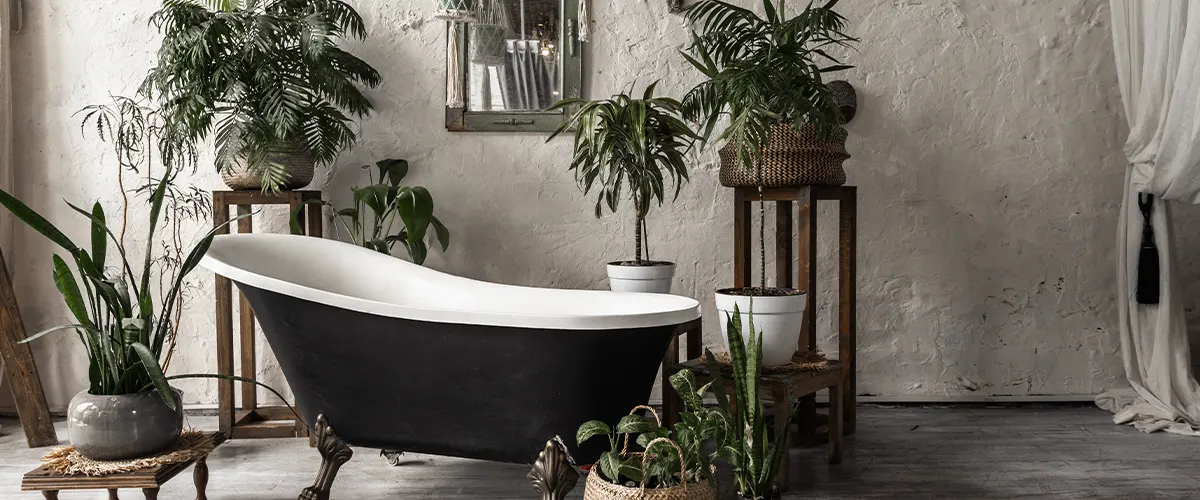 1. Introduce Vintage Items To Your Bathroom
When it comes to designing a luxury bathroom that embraces a vintage aesthetic, materials matter. Tactile finishes please the senses and introduce visual style to a vintage scheme that puts comfort over style. For many years, bathrooms have been all about ultra-practical smooth surfaces, brassware, and tiles.
However, there is a growing trend for bathrooms that are more luxurious and inviting, with a focus on comfort and relaxation. One way to achieve this is to incorporate vintage-inspired materials into the design. For example, using plush rugs or towels can add a touch of luxury, while incorporating antique furniture can add a sense of history and sophistication. Ultimately, by carefully selecting materials, it is possible to create a stunning bathroom that is both stylish and comfortable and can beat any modern bathroom.
2. Add A Claw-Foot Bathtub
One of the most popular trends in bathrooms today is the claw-foot tub. Originally popular in the 19th century, these tubs are valued for their classic silhouette, deep basin, and highly ornamented feet. Today, they are still a popular choice for those who want to add a touch of old-world elegance to their bathroom. 
You can add a clawfoot tub flanked by two roomy granite countertops featuring silver-capped feet and a handheld shower head to your bathroom for a vintage feel. Whether you're looking for a luxurious spot to relax after a long day or a stylish centerpiece for your bathroom, a claw-foot tub is sure to make a splash.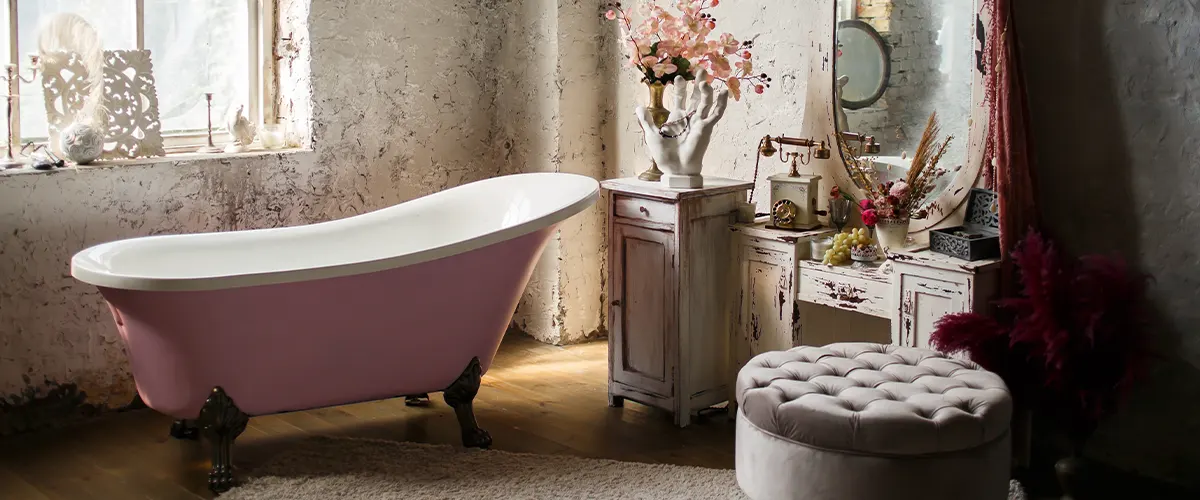 If you're looking to create a vintage-inspired space, choosing the right color scheme is key. While neutral tones are always popular, they can often feel a bit safe and bland. If you really want to capture the feeling of a bygone era, opt for richer, more dramatic colors. Turquoise is the perfect example – it's eye-catching and unique but still calming and serene. By avoiding bland neutrals, you can create a vintage-inspired space that feels fresh and inviting.
4. Try Using A Pedestal Sink
When it comes to bathroom design, there is no one-size-fits-all solution. Instead, the best approach is to tailor the space to suit the specific needs and aesthetic preferences of the homeowners. If you want to embrace a vintage aesthetic in your bathroom, you can do so by installing porcelain pedestal sinks complete with a gold lavatory faucet and cross handles. The basketweave tile floors and gray wainscoting add to the retro feel, while the modern fixtures provide a touch of luxury. By seamlessly blending old and new elements, you can create a small bathroom with amazing retro vibes and antique pieces.
5. Embrace Unique Vintage Tile Patterns
Statement tiles are a great way to add personality to your space. They come in a variety of colors, shapes, and sizes, so you can easily find a style that suits your taste. Plus, they're easy to install and care for, making them a great option for busy homeowners. If you're looking for something truly unique, try using sweet floral tiles or pink like the ones in this vintage bathroom. 
The pink and white design are eye-catching and timeless, and they would look beautiful in any room. So if you're looking for a way to add some extra flair to your home, statement tiles are the way to go
6. Try Adding Fabrics To Your Bathroom
A basin skirt is a fabric panel that attaches to the lower portion of a bathroom sink, and they are a quick and easy way to add a touch of vintage charm to any space. There are many different ways to style a basin skirt, but for a simple yet effective look, try choosing a fabric that coordinates with your towels and floor mat.
Alternatively, you can also check our post on simple bathroom renovations that add value such as replacing old fixtures or giving it a new look with a fresh paint.
If you want to make a more dramatic statement, opt for a bold print or bright color. Either way, a basin skirt is an easy way to add personality and style to your bathroom décor. Or, you can always add a vintage shower curtain to your bathtub for an extra touch of style to your retro bathroom.
If you're on the hunt for a bathroom renovation that will never go out of style, look no further than vintage. With its timeless design details and ability to be styled in a variety of ways, a vintage bathroom is perfect for anyone who wants an elegant, classic space.
And if you're working with a tight budget, don't worry – there are plenty of ways to get the vintage look without spending a fortune. For more design ideas, check out NKBA's website and don't forget to contact us today for help updating your bathroom with our team of experts – we can provide all the tips and advice you need to achieve your dream vintage space!