The bathroom is one of the most important rooms in the home. Not only is it a place where you can relax and rejuvenate, but it's also one of the most profitable rooms when it comes to renovation projects. If you're looking to revamp your home, then consider making some simple renovations to add value to your bathroom. You don't need to go for smart home technology to add value. Instead, to help you out, we made a list of investments that can add the most value to your house.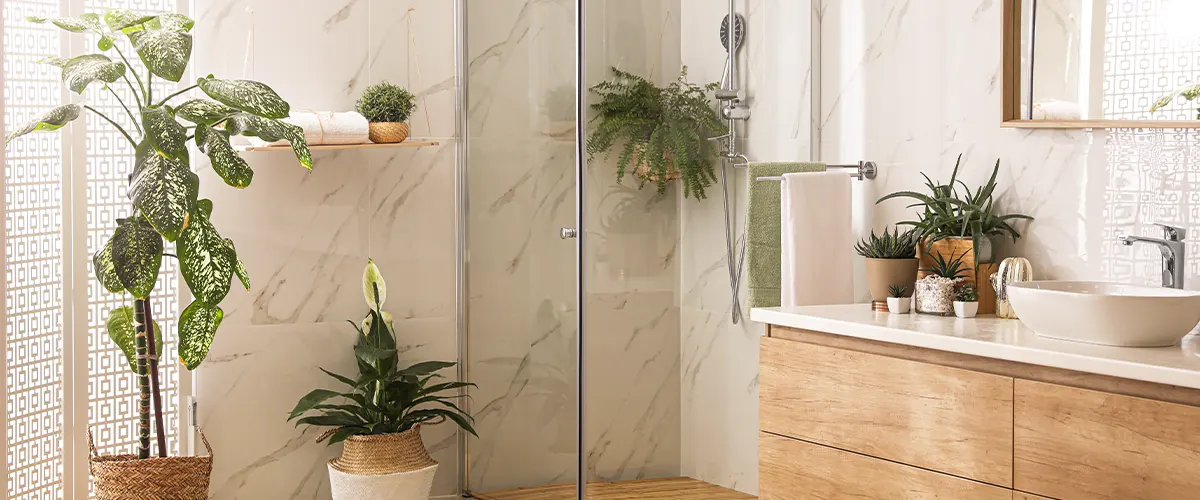 The Benefits Of A Bathroom Remodel
Bathroom remodels can provide many benefits for homeowners. Not only can they add value to your home, but they can also make your life easier and more comfortable. Here are some of the main benefits of bathroom remodels:
Increased Value – One of the biggest benefits of a bathroom remodel is that it can add value to your home. By making simple changes to your bathroom, you can increase the overall value of your house by 5%. This is a great way to get a little return on your investment and make your home more appealing to potential buyers.
Improved Functionality – A bathroom remodel can also improve the functionality of your bathroom. If you're not happy with the way your current bathroom functions, then a remodel can help solve those problems. You can add features like new cabinets, sinks, and toilets that will make your life easier and improve the overall look of the room.
More Comfort – A bathroom remodel can also make your bathroom more comfortable. You can add features like heated floors, towel racks, and rainfall showerheads to create a spa-like atmosphere in your home. This is a great way to relax after a long day or prepare for a night out on the town.
Increased Efficiency – Finally, bathroom home renovations can also increase the efficiency of your bathroom. You can install features like low-flow toilets and water-saving faucets that will help you save money on your water bill each month. This is a great way to reduce your monthly expenses and improve the overall function of your home.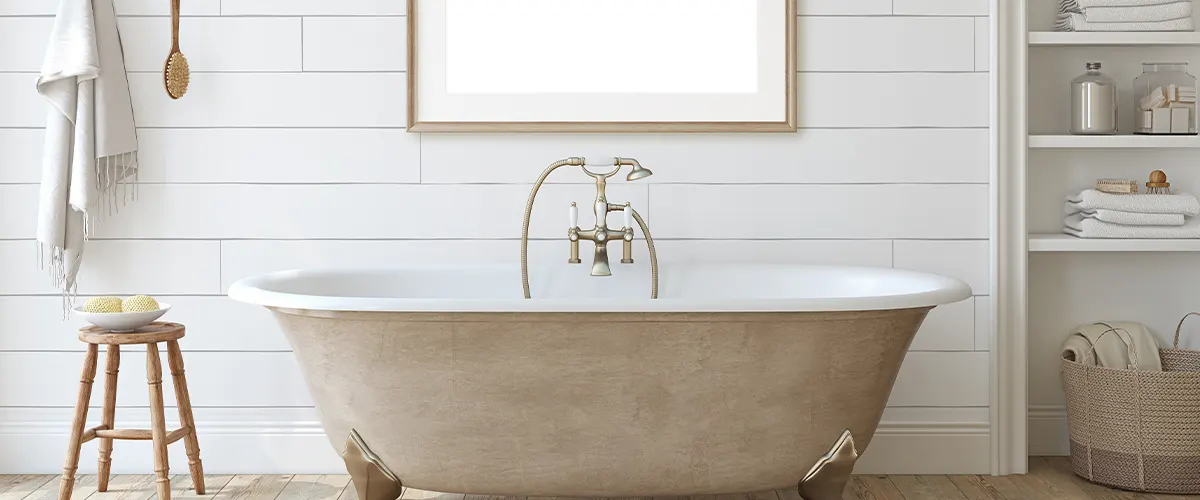 Simple Renovations To Add Value To Your Bathroom
Making your home more energy-efficient is not only good for the environment, but it can also be a selling point when it comes time to put your house on the market. Low-flow fixtures are an easy and relatively inexpensive way to make your home more energy-efficient. Low-flow toilets use less water per flush, and low-flow shower heads can save water and energy by heating less water.
Installing these types of fixtures is a hit with buyers because they know they will save money on their utility bills and heating and cooling costs. You shouldn't have to spend more than a couple hundred dollars on low-flow fixtures, making them a very cost-effective way to have energy-efficient models in your home and increase its overall curb appeal.
Try A Fresh Coat Of Paint
A fresh coat of paint can do wonders for any room in your house, but it can be especially helpful in the bathroom. In a small space like this, bright colors can make a big impact. Whether you're looking to add a pop of color or simply want to freshen up the space, repainting your bathroom is an easy and inexpensive way to do it. Plus, it's an improvement that will always add value to your home. So, if you're thinking about selling or just want to give your bathroom a little makeover, consider repainting it. It's a small change that can have a big impact.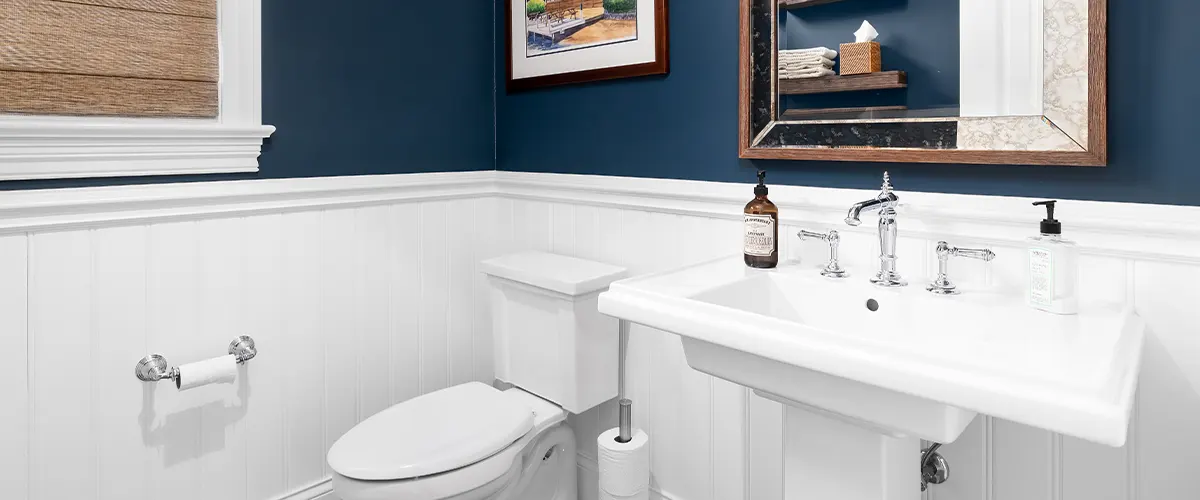 Replace Your Shower Or Tub
When it comes to home improvements, few things have as big an impact as a new bathroom. A well-designed bathroom can add resale value to your home and make it more appealing to prospective buyers. However, if your bathroom is old or in poor condition, simply refinishing the surfaces may not be enough to make it look its best. In such cases, replacing the shower or tub altogether may be the best option.
Although it will be more expensive than reglazing, a new shower or tub will give your bathroom a much more polished look. Plus, prospective buyers are likely to appreciate the fact that they won't have to do any work themselves. So if you're thinking about selling your home in the near future, investing in home improvement projects may be worth the expense to increase home value.
When considering a bathroom makeover, many people focus solely on the flooring. However, the walls can also play a big role in the overall look and feel of the room. If your bathroom walls are looking dated or worn, replacing the tile can give the entire space a fresh new look.
There are a wide variety of tile materials and styles to choose from, so you can easily find something that fits your personal taste and budget. Plus, installing new tile is relatively easy and can be done in just a few hours. So if you're looking for a quick and easy way to give your bathroom an update, consider replacing the wall tile.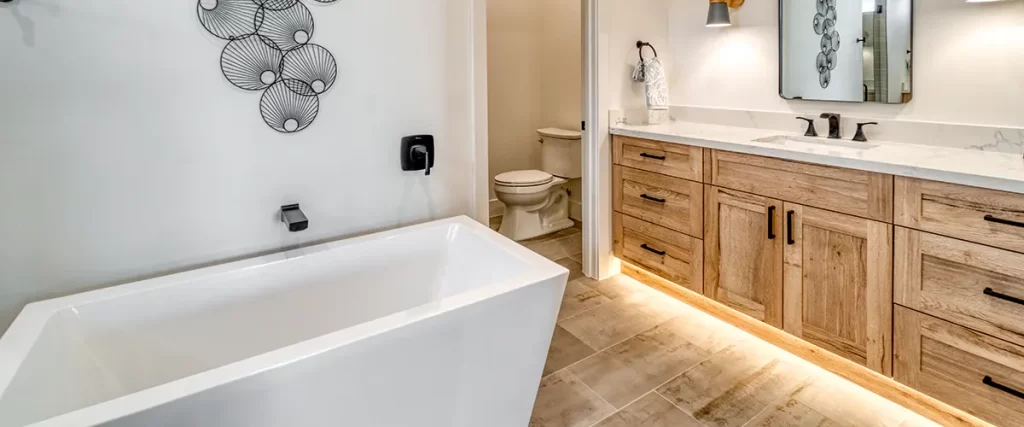 Replace Your Old Light Fixtures
Lighting has power, and it can completely change the look of a room. By simply altering the light fixtures or changing the bulbs, you can give any room a more modern, luxurious, or even spacious look. One of the easiest ways to brighten up a room is to add some lamps or new light fixtures.
Any real estate agent will tell you that if you want to make a room look more luxurious, try using dimmer switches to create a softer ambiance. And if you want to create the illusion of more space, try using recessed lighting or track lighting. With a little creativity, you can use lighting to totally transform the look and feel of any room in your home, from an unfinished basement to your beloved bathroom.
Redesigning your bathroom doesn't have to be a huge, expensive project. With just a few small changes, you can create an entirely new look and feel for the space. For more design inspiration you can check out NKBA's website and if you're not sure where to start or need some help getting started, our team of experts is here to help. Contact us today for a consultation, and let us show you how we can help make your bathroom worthy of a remodeling magazine.