There are a lot of factors to consider when choosing the best countertops for bathrooms. You need to take into account the style of your bathroom, as well as the type of material that will best suit your needs. All bathroom countertop materials have their own set of pros and cons, so it can be tricky to decide which one is right for you. In this blog post, we'll discuss the best materials for bathroom countertops and what to look for when making your decision.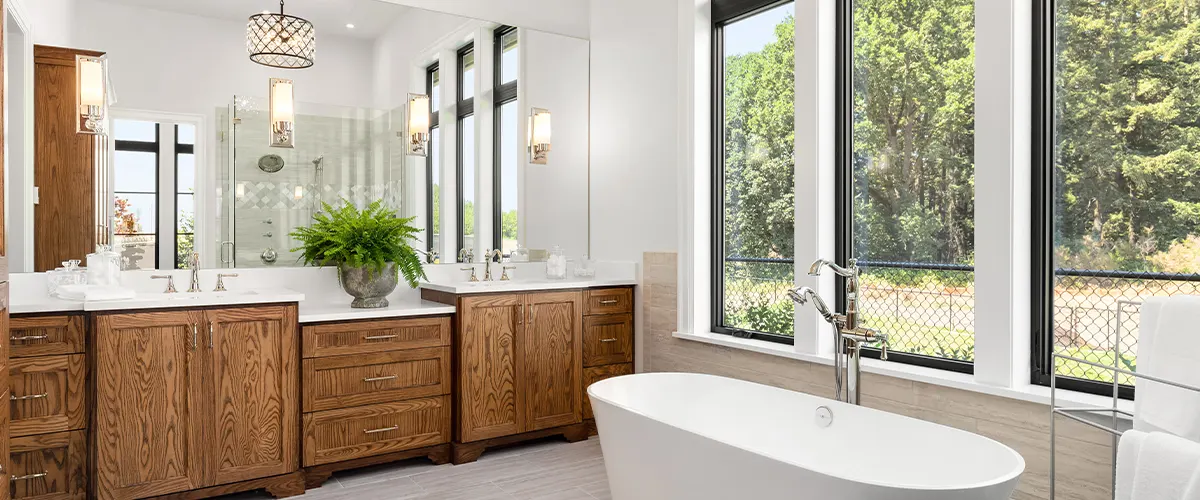 Laminate countertops are a popular choice for many homeowners due to their durability, affordability, and ease of installation. They are made from layers of plastic that are bonded to a particleboard core, creating a solid surface that is resistant to scratches, stains, and burns.
In-stock laminate countertops are available in a variety of colors and patterns, making it easy to find a style that coordinates with your bathroom décor. They can also be custom-made by fabricators who can create countertops with custom edges and other designer features.
While laminate countertops are an excellent choice for guest bathrooms or powder rooms, they may not be the best option for master baths or other places where style is a primary feature. They are a good choice if you need to redecorate a bathroom quickly, such as when staging your home for sale.
Ceramic, porcelain, and glass tiles have been used for centuries as decoration and functional elements in homes and public spaces. These materials are durable, easy to clean and come in a wide range of colors and styles. Thanks to recent innovations, tile countertops are becoming increasingly popular in traditional and modern homes.
Porcelain tiles, in particular, are a versatile option that can be used to create either a classic or contemporary look. Glass tiles are also a popular choice for those seeking a more modern aesthetic. Whether you're looking for a timeless backsplash or an on-trend countertop, tile is an excellent option.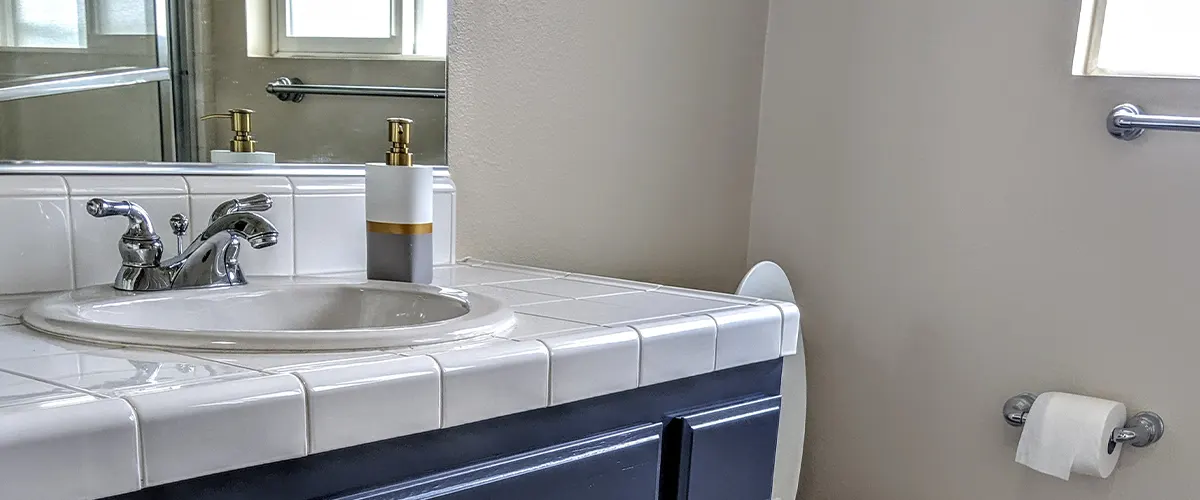 3. Natural Stone Countertops
Homeowners considering new countertops may be wondering whether to choose natural stone or ceramic tile. While ceramic tile has long been a popular choice for countertops, natural stone is increasingly seen as a step up in terms of both beauty and durability.
There are many different types of natural stone that can be used for your bathroom, including slate, soapstone, limestone, travertine, marble, onyx, and granite bathroom countertops. Each type of stone has its own unique properties that can add beauty and functionality.
In general, natural stone is more heat-resistant than ceramic tile and is less likely to chip or crack. Plus, these countertops can also add value to a home, making them a wise investment for any homeowner.
Quartz bathroom countertops are one of the most popular choices for bathroom surfaces. They are beautiful, durable, and easy to care for. However, many people are unaware that quartz countertops are not made entirely of quartz. Instead, they are a composite material from 70-90% ground quartz mixed with other stone minerals, resins, and pigments. This blend is then shaped into bathroom countertop slabs.
Quartz countertops are still very durable and long-lasting, but they may not be as pure as some consumers expect. When making a decision about countertops, it is important to be aware of all the facts so that you can choose the best surface for your needs.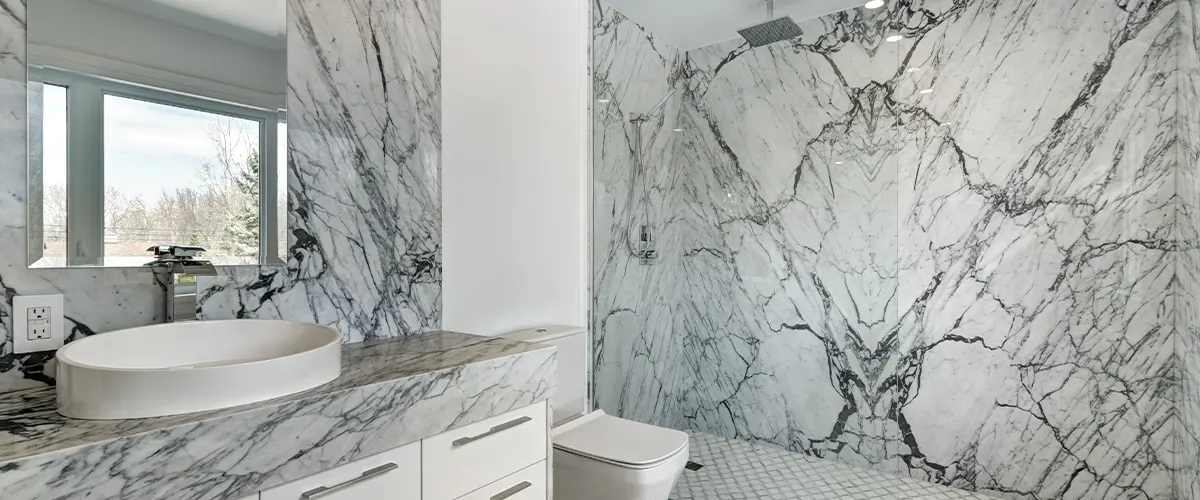 5. Solid Surface Countertops
Solid surface bathroom countertops are an essential part of any bathroom, and there are many different styles to choose from. This option is made from a blend of acrylic and polyester particles bonded together with resins. These solid surface materials are generally formulated to resemble stone, and they can be shaped into a variety of different shapes.
In addition, dozens of different colors and styles are available from many manufacturers. When choosing a countertop material, solid surface countertops offer a variety of benefits that make them a great option for any bathroom.
Concrete countertops are becoming increasingly popular due to their many advantages. First of all, concrete is a very durable material, so it is ideal for areas that see a lot of wear and tear, such as a bathroom. Not to mention, concrete is very easy to clean and maintain, making it a low-maintenance option for busy families.
Concrete countertops can be customized to suit any taste or budget. Installers can create any color or design scheme imaginable so that everyone can find the perfect look for their home.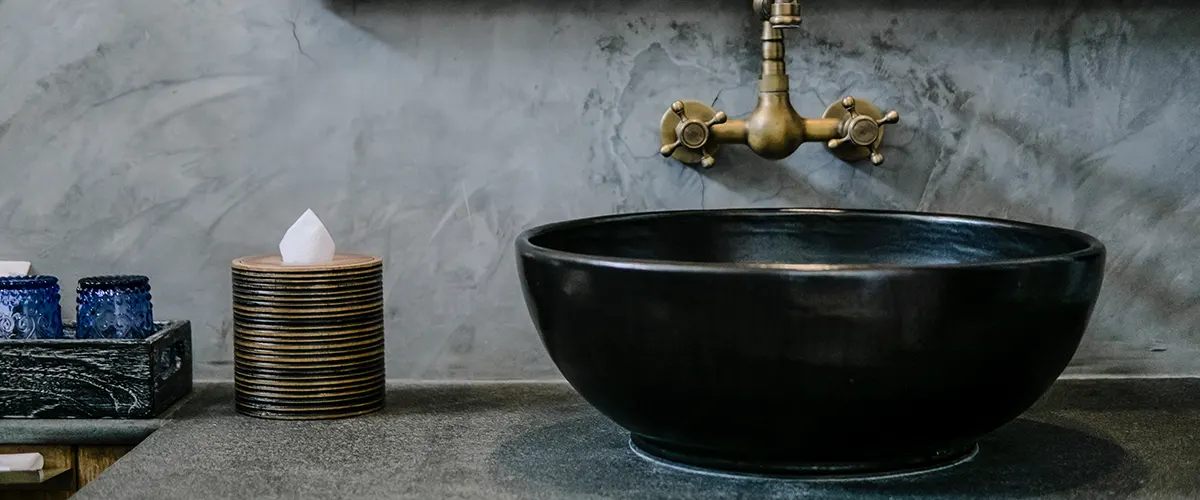 So, what are the best countertop materials for your bathroom? It depends on your needs and preferences. If you need a durable countertop that doesn't require much upkeep, granite or quartz may be a good choice. Laminate is a budget-friendly option that can look like more expensive materials, while solid surface countertops are versatile and easy to clean. For more design ideas you can check NKBA's website or let our team help you.
No matter what type of countertop you choose, our team at KHB Construction can help you select the right one for your home and install it quickly and easily. Contact us today if you have questions about choosing or installing bathroom countertops!